Atlanta's art scene has grown from a community of tight-knit graffiti artists, a smattering of high-end galleries, and a handful of notable arts education avenues (looking at you, SCAD Atlanta and Portfolio Center) to a place that deserves its own spot on the map as one of the top cities for creatives in the nation. Thanks to the Atlanta Office of Cultural Affairs' increasing support of public art and programs like Living Walls -- which have gathered an international roster of mural artists to "paint the town" -- ATL is fast becoming a mecca to nurture and support both up-and-coming and established artists. From the infamous Krog Street Tunnel to the airport (for real!), here are nine spots boasting the best public art around town.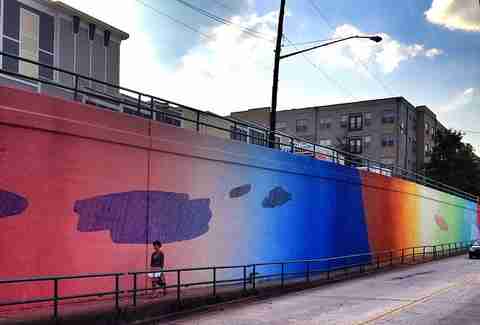 The Boulevard Tunnel
In 2014, a group of people who were tired of looking at the decrepit state of the Boulevard Tunnel -- which connects the Old Fourth Ward to Cabbagetown -- decided that instead of sitting back and complaining, they'd do something about it. Thus, the Boulevard Tunnel Initiative was formed. Soon after, they teamed up with street art nonprofit Living Walls to commission California-based artist MOMO to splash both walls of the tunnel with a rainbow-colored mural that's completely transformed the space.
The Atlanta BeltLine
The Art on the Atlanta BeltLine program started as a fun way to feature the work of local creatives, while also inspiring more people to park their cars and hop on the greenspace trails that snake through the city. Since 2010, they've displayed a rotating roster of murals, sculptures, installations, and performance pieces from dozens of ATL artists including Brandon Sadler, William Massey (art pictured above), Colleen Jordan, and Mike Stasny.
Cabbagetown
Now in its sixth year, the annual live painting event Forward Warrior has done its part to give some of the city's lackluster walls a much-needed makeover. In Cabbagetown, they've effectively taken over the formerly blasé walls just outside of the Fulton Cotton Mill Lofts and transformed them into public canvases that feature colorful works from the likes of Peter Ferrari and Jonny Warren, along with Ashley Anderson and Sam Parker. Even more impressive: many of the murals that've been there for years remain largely untouched or tagged over.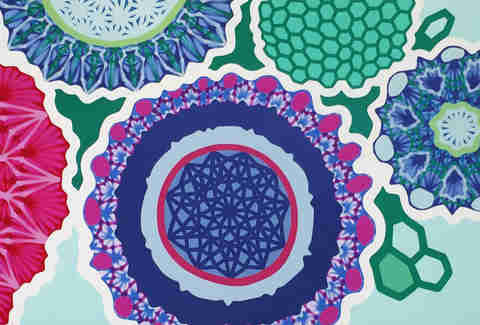 Hartsfield-Jackson International Airport
The country's busiest airport is also the site of some undoubtedly cool public art, thanks namely to local artists like Molly Rose Freeman. Commissioned by the Department of Aviation, her mural, dubbed "Salvation in the Land of Flowers and Honey," showcases her signature colorful, geometric style across the 136' by 8' wall at Concourse C. Freeman describes the mural as a "meditation on the magnetic power of color and geometry to attract agents of cross-pollination." We describe it as something attractive to look at while you pray your flight hasn't been delayed.
Piedmont Peachtree Crossing
We know, Buckhead's not exactly known for its gritty arts scene, but hear us out. Have you seen this amazing mural next to Disco Kroger? In 2012, Binders Art Supplies commissioned Atlanta artist Dr. Dax to paint a 100' by 20' mural that pays homage to the notorious, long-defunct Limelight disco club which was in the same building that now houses the grocery store. The mural features a heavily made-up blonde, a colorful disco ball, and a Saturday Night Fever-esque dude hitting the dance floor. Rumor has it that Andy Warhol used to party there. And dude knew how to party.
East Atlanta Village
EAV is an eclectic neighborhood with a concentration of everything from dingy dive bars and and fitness studios to intimate music venues and trendy food hot-spots (anchovy and peanut brittle from Gaja, anyone?). So, when groups like Living Walls and the outdoor mural event series OuterSpace Project went scouting for spots to deck with artist murals, the hip 'hood was an obvious choice. As part of OSP, artist Sanithna Phansavanh painted this angel figure on the side of EAV eatery Tomatillos.
The Krog Street Tunnel
The graffiti, wheatpastes, stencils, and murals that cover the Krog Street Tunnel -- which links Cabbagetown to Inman Park -- have served as the backdrop for countless photo shoots and music video recordings. If you drive through it enough, you'll be hard-pressed not to see someone posing or rapping in the dark tunnel opposite a bright camera light. A few years ago, the whole thing was painted over as a protest by local artists when it was announced that the space would be roped off and used as the backdrop for a pricey avant-garde ball with questionable operations. Artists have since reclaimed the space, and the tunnel was quickly restored to its former glory of graffiti tags, upcoming festival announcements, and politically tinged art.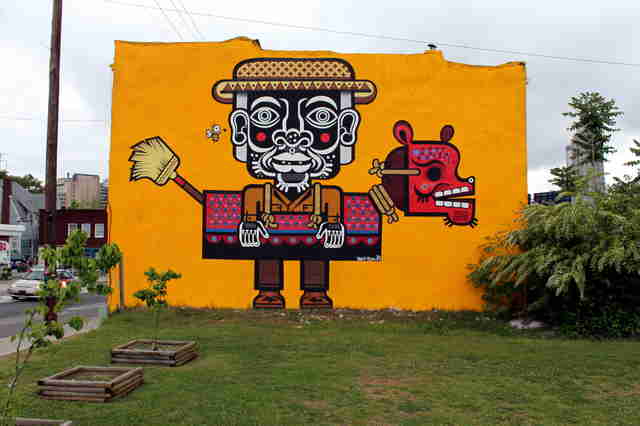 Edgewood Ave
This stretch of Old Fourth Ward, arguably the neighborhood's most popular street, houses a mix of bars named after your mom, bars named after that place you used to go on Sundays, vape shops, eateries, and unique outposts like a speakeasy and an underground performance venue. It's also where you can see a good selection of Living Walls murals by Gaia x Nanook, Caroline Caldwell, John Tindel, and Joshua Ray Stephens. Plus, the street is also often the site of art-centric events like Flux Night and the Living Walls Block Party.
Westside Cultural Arts Center
The King Plow Arts Center, the Goat Farm Arts Center, and the Westside Cultural Arts Center all call the Westside home -- that's a lot of art centers, y'all. The latter is especially impressive, as it's a massive warehouse that opened its doors a few years ago as an event space, gallery, and, private venue. It's hard to miss the WCAC, too, thanks to an abstract mural by internationally acclaimed artist Alex Brewer, aka HENSE, that covers the entirety of the building in bold lines and bright colors from top to bottom.
Sign up here for our daily Atlanta email and be the first to get all the food/drink/fun the ATL has to offer.
Caroline Cox is a content marketing specialist, and freelance writer and editor who prefers writing about art to making her own. Follow @carolinecox on Twitter and Instagram.