Typically, winter is a decidedly unsexy time of year, as everyone's bundled up, cold, and has some variation of chapped lips that makes kissing seem like a torture method rather than a romantic gesture. HOWEVER, it is Hotlanta we're talking about, which means the winters here are typically so mild you can still enjoy some time outside. That doesn't mean it won't get chilly, but when it does, we've got you covered. These are the best winter date ideas in Atlanta that'll ensure you keep things hot this season... just don't forget the ChapStick.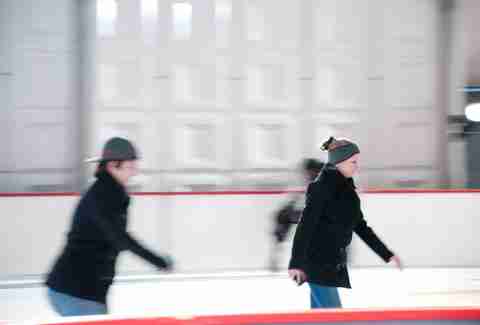 Barring the (minimal) risk of physical injury, ice skating makes for an amazing date. Why? It's really only viable once a year, it encourages hand-holding, and people stumbling and tripping around is always good for a laugh. Besides that, how many people are gutsy enough to attempt to spit game while successfully balancing on slivers of sharp metal? This date will scream confidence even if you don't actually have much. Either way, since confidence is always ice-meltingly hot, it's a win-win.
There's something enthralling about twinkling lights, and that magic is in full effect at the botanical garden. With more than 1 million of them, they create a beautiful, romantic ambience that will be hard to Instagram, but whatever, talk to your date instead. Grab a cocktail (or three) and sip on them as you stroll the grounds. If for some strange reason you can't find anything else to talk about, you can at least both be pumped you don't have to front that power bill.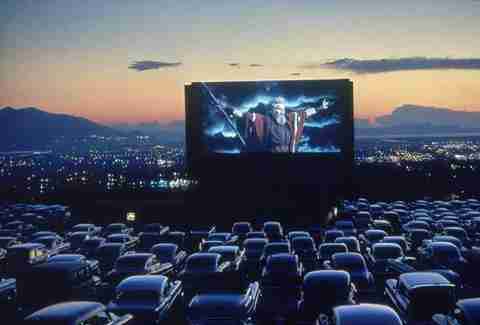 Looking to recapture those teenage feelings of excitement and spontaneity? The drive-in is always a good play, maybe even more so in the winter. There are great movies showing, snacks, and generally fewer people there to interrupt (or be privy to) any weird, steamy backseat make-out sesh you attempt.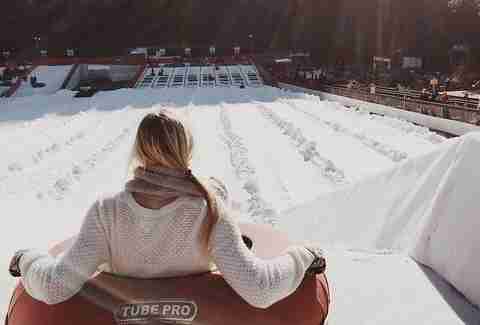 Sadly, ATLiens don't get much snow -- and because it was totally devoid of fun, Snowpocalypse 2014 doesn't count. But during the winter months at Stone Mountain, you can pretend you're in Aspen by tubing, throwing snowballs, making snow angels, and more. Side note: you will get super cold, so have a contingency plan for warming up after... WINK WINK.
Sure, there are other seasonally appropriate performances you could take in, but none of them will make you howl with laughter like this one. Based on comic writer David Sedaris' unfortunate stint as a Macy's elf, this play will expand your horizons, fill you with holiday spirit without the schmaltz, and give you a mini ab workout so later on you look and feel sexier in your skivvies.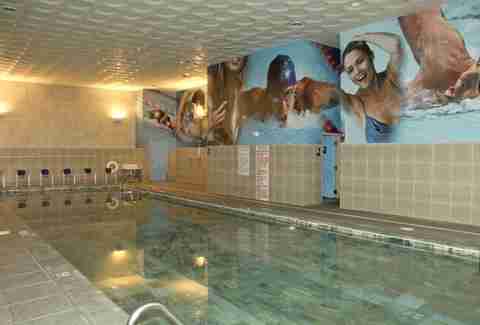 With over 35,000sqft, Jeju Sauna is a megachurch-sized oasis whose therapeutic offerings include nine different saunas, ice rooms, a saltwater swimming pool, out-of-this-world body scrubs, and a whole lot more. As a traditional Korean public bathhouse, it offers gender-segregated spaces as well as unisex areas where you and bae can relax. And there's a Korean food court (with some seriously legit eats like killer bibimbap). It's an unconventional, yet unforgettable date experience.
National Geographic named Callaway Gardens' Christmas-themed Fantasy in Lights display as one of the top 10 in the world, so you know it's unquestionably baller. In addition to the resort's beach and golf course, there's also a Christmas village with solid food options, a semi-cheesy -- but charming -- trolley ride, and much more.

Find a warm patio to enjoy, enjoy said patio
You don't have to wait until spring to enjoy patios -- there are a number of good options. Our favorite? Cypress Street. It has incredible food and drinks, as well as fun nightly specials (like half-off wine bottles and trivia!). Kick back, get cozy, and drink inexpensive wine by the light of the fire pit.
Winter necessitates a lot of time indoors, so why not make your indoor experience as exciting as possible? The Westin Hotel's lux Sun Dial Restaurant -- located on the 72nd floor -- offers absolutely breathtaking views of Atlanta and pairs them with some of the most luscious food around. Either one alone would inspire ardor, but together? A deal-sealer.
Have you ever been to a Christmas-themed amusement park? Everything is covered in luminous, twinkly lights -- from the roller coasters, to the, uh, other roller coasters, to the delicious-smelling trailer selling red velvet funnel cakes. Stroll hand in hand and ponder which rides you want to try and how many funnel cakes you want to order. Probably stick with one if you're hoping to get some other kind of sweet action later.
Sign up here for our daily Atlanta email and be the first to get all the food/drink/fun the ATL has to offer.
Brook Bolen loves going on dates with her husband in every season. Follow her at @BrookBolen for observations on love and other stuff.