If one were so inclined to go back through Atlanta's musical catalog, one might remember that our city is responsible for some of the world's greatest acts, from Collective Soul to Society of Soul, SOS Band, and hell, even Silk, if we're keeping it real (if you're a millennial there's a good chance you were conceived to "Freak Me"). That's all well and good, but in reality it's about time we, as America's unparalleled Mecca of musical creativity, figured out what's next. Here's a list of locally based musical talents we think you should be listening to... at least until a new Silk album drops.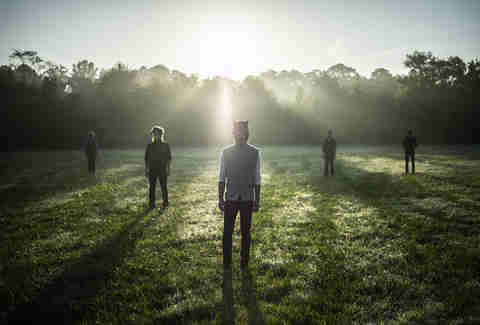 Known for giving rare concert performances in mask-covered faces, this soulful indie rock/pop outfit released their fourth five-track project, Shake Don't Shatter, last year (even with one of the bandmates relocating to Cali to take an un-turn-downable gig with Apple). Still, their selective taste in where and how often to show their talents (and faces) has turned into steadily building anticipation for what's next, especially after their sold-out, ghost-story-themed Masque show at Ponce City Market last Halloween. Listen here.
 
With a sound that lands right where '60s soul-funk samples-meets-modern melodies, Ruby and the instrumentalists that support her have been in business for several years, going back to a residency at Star Bar, and a debut LP release in 2012 called "It's About Time". We think it's about time for new music, and with Adele's world takeover as evidence, this homegrown old-school/new-school act seems due for some ruby-esque nationwide shine. Listen here.
Dasher's a punk trio led by drummer/vocalist Kylee Kimbrough, who is some kind of badass. They're currently doing shows outside ATL, but since it's been two years since they've released so much as a 7" single, we just may get another Dasher banger in the same vein as "Go Rambo," or "Soviet." Listen here.
This guy has gone through proper artist development thanks to being signed to Janelle Monae's Wondaland record label (if anybody knows what to do with a supremely talented, started-from-the-bottom ATL musical act, it's her). He's got a great voice, personality, guitar skills, and can two-step as he plays. If you're not yet familiar, get that way by listening to his infectiously freaky "I-69", and then check out his Radiohead/D'angelo-inspired mixtape, "OK Lady". Listen here.
Raury
2016 could be his year. Instead of just a bunch of weird, eccentric singles, videos, and a music festival at the Freight Depot or some random art gallery, Raury could take his new-age alt-soul-hip-hop thing to the next plateau. He's got a large and growing fan base inside and outside ATL, and he's already been spotted everywhere from Teen Vogue to The Late Show with Stephen Colbert. All he needs is to follow up his 2015 debut album All We Need, with consistency, and one solid hit. Listen here.
Depending on where you kick it in Atlanta, you've likely run into Brittany Bosco hosting a party or just getting shouted out at one she happened to attend. That's all fine, but you could still benefit from hearing her voice over slow-thump, trance-inducing alternative-trip beats, and saying you'd been a fan before she blew up will instantly up your local music credibility, so start listening to the lady once called "cyborg Aaliyah" before the future shows up and makes you look behind the times. Listen here.
They're named after a man who was killed while helping abolitionist John Brown attempt to raid Harper's Ferry before the Civil War, so before you go thinking it's a feel-good segmentation of what you'd call Rodney Dangerfield's infant sons, it's not that happy. But the music these three guys make is quite liberated in its funk/soul/blues/jazz elements, which come naturally together thanks to the skilled musicianship and trained ears of DJs Jamal Ahmad and Mark Angel (both of WCLK-FM), and keyboardist Darren "DJ" Wagner. Listen here.
Doria Roberts
She tells us her new album will drop in spring, which is great news. How she had time to finish it, we may never know. When she's not making music, she's working with her partner Calavino Donati (of Urban Cannibals fame) on the recently opened Tipple + Rose Tea Parlor and Apothecary, or "nuevo Latino" restaurant Madre + Mason. Doria is not only giving us a new musical project, but says she's going to put on a show in tribute to the infamous James Brown concert performance the night Dr. King was assassinated, on some queen shit. So yeah -- watch the throne. Listen here.
Lily and The Tigers
We love the world "folk" in Atlanta. This folk group is loved because of a 2014 album called The Hand You Deal Yourself, which they made in Vermont in 2014 (ATL loves Vermont). But there's something about how lead singer Casey Hood's voice melds with the string ensemble of her bandmates that connects to the cerebral feeling that tells you it's OK to listen to LaTT for the first time and land somewhere between feeling like a flower and a wild animal. Listen here.
Chantae Cann
If waiting until the second week of March for her debut album, Journey to Golden, seems too long, you can hit YouTube ASAP to receive the vocal healings of Chicago native Chantae Cann, who has already been cosigned by the likes of Robert Glasper, The Foreign Exchange, Jaspects (if you like Bruno Mars, you like Jaspects but might now know it), and others, and that was before the jazzy, breezy sound of her single "Da Da 'N Da" got out to the public. Listen here.
All Cows Eat Grass
From "The Pastures of Atlanta, Georgia" comes this eargasmic threesome of urban-electro-alternative sound. Seriously, you need to hear The Kool Collection LP, and you need to spread the word that you heard it so you'll seem ahead of the curve. Oh, and by the way, once again, this is another group that's been touched by the invisible musical octopus that is Janelle Monae's Wondaland conglomerate. You've been sleepin' while standing if you haven't heard. Listen here.
Does it matter that she's a female rapper? Nope. Does it matter that she's from Detroit but lives in Atlanta now? Nope. Does anything matter, besides how nice she sounds over beats? Nah, unless you count the questions you keep asking and whether or not you know you're about to miss out on some great hip-hop music. Listen here.
Sign up here for our daily Atlanta email and be the first to get all the food/drink/fun the ATL has to offer.
Mike Jordan is always looking for some good ATL-made music to support, so send some recommendations his way at @michaelbjordan.