Traffic in Atlanta is irrefutably bad. First, we dutifully investigated just how it could suck so terribly. Then we wondered what major flubs earned a spot in our city's history for their pure lunacy and embarrassment. And finally, we rounded all of them up for you. Perfect for reading on the train, or while you are essentially parked on the Connector listening to a cacophony of car horns blare angrily all around you.
1. The Snowpocalypse
There are 6 million people in the metro area and enough snow plows and brine for exactly two driveways. It's remarkably embarrassing that 2in of snow and ice even necessitates a state of emergency, but it would have been nice if Governor Deal had actually called for one beforehand... or at least ordered a million piping-hot pizzas for those of us who were stuck on the nightmarish Walking Dead highways all day and night.

2. The removal of the original streetcar system
Back in the '50s, Atlanta had one of the most expansive streetcar systems in the world. It wound its way through all of Downtown and most of the surrounding neighborhoods, for miles on end. If we had only stuck with it and completed regular maintenance on the system, instead of tearing up or paving over all the rails and abandoning it completely, we wouldn't have just spent $100 million to build one streetcar loop that -- until it is expanded to the Beltline on either side of town -- will take you to a few places you might one day want to visit at a breakneck speed of approximately "just get out and walk."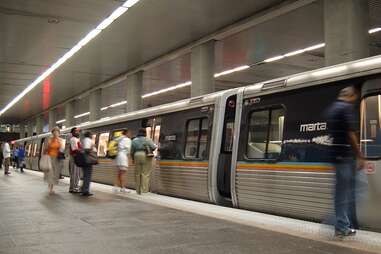 3. The MARTA charter
Only Fulton, DeKalb, and the City of Atlanta ratified the original charter in the 1960s, so Cobb and Gwinnett never joined, resulting in absolutely no alternatives to freeway commuting in two out of three of the most heavily populated counties in the state (Fulton is the third). The entire north side? Well, they're eternally screwed. Clayton County also rejected the original charter on the south side, but they have since joined MARTA and are planning for rail expansion south of the airport. It sounds a little more optimistic, but the entire thing is just… in shambles.

4. TSPLOST
This was an abject failure of a bill for highway and transit projects all over the metro area that was defeated by a large margin in 2012. It proposed a one-penny sales tax increase in a 10-county area to cover billions of dollars worth of highway and mass transit improvements. Urban transit enthusiasts hated it because half of it went toward suburban highway projects. Suburban highway commuters hated it because half of it went to urban transit projects. Most people just hated it because it had the word "tax" in it. It was doomed from the outset. Unsurprisingly, many of the porkiest pork barrel projects on the list are still being planned (or are close to implementation through other funding means). Oh, GDOT... is there nothing you can't charm us into throwing our millions at?
5. The Freeway Revolt
Jimmy Carter attempted to level a ton of old neighborhoods in Atlanta while he was governor of Georgia and build freeways through them. They began construction on one of them, but were eventually shut down by residents. Hence, Freedom Parkway. Have you ever wondered why it's kinda freeway-ish and then just stops at Ponce? There you have it. Also, the interchange of the east-west freeway and the planned north-south freeway ironically became the site of... you guessed it... the Carter Center.

6. The Northern Arc
Just mentioning this phrase will start an all-out brawl in the northern suburbs. The Northern Arc was a planned east-west freeway bypass between 75 and 85 on the north side during the '90s, but was defeated by NIMBYs and landowners. It's now so notorious that politicians under the Gold Dome dare not utter the phrase for fear of being "primaried" by the Tea Party and their ilk.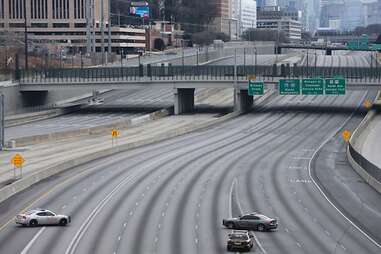 7. Pinhole camera on 17th Street Bridge
An art project that was mistaken for a bomb, this camera made from a soda can and duct tape shut down 75, 85, AND Marta, meaning pretty much everyone was stranded. We're relatively certain the college kid who created this art project did not receive an A.

8. TomorrowWorld
Think Snowpocalypse, but with mud instead of ice, woods instead of highways, and over 100,000 "medicated" ravers instead of frozen commuters. One of the all-time worst festival debacles in the history of festival debacles, TomorrowWorld 2015 will be remembered solely for its inability to plan an outdoor festival that might have to contend with... the outdoors. If you made it through this one with your enthusiasm for techno music not having soured even a little bit, you're a true believer of the highest order. Or the drugs did their job stupendously.

9. Moving the Braves
If you've ever driven through the Cobb Cloverleaf in any direction during rush hour -- which in Atlanta, means "daytime" -- you are probably trying to think of ways to avoid doing so after SunTrust Park (the new home of the Braves) opens in April 2017. Most everybody that commutes through Cumberland is dreading what will happen on weeknight games, especially Friday nights. If you thought the Braves traffic on the Downtown Connector was bad, just wait until they have the ballgames in an area that has almost nothing in the way of transit, and is completely devoid of any semblance of a surface street grid. If you know all the back ways in and out of Turner Field through the surrounding neighborhoods, give yourself a pat on the back. There are about three ways in and out of SunTrust Park, and 40,000 people will be fighting you for access to them.
Sign up here for our daily Atlanta email and be the first to get all the food/drink/fun the ATL has to offer.
Brook Bolen is an Atlanta-based writer who wrote a lot of this sitting in traffic. Follow her at @BrookBolen.