Pouya Dianat/Atlanta Braves
Dammit Atlanta, why aren't you crying right now!? Don't you know the Braves, aka "America's B-Team," are leaving us? It's true. And though the statue of Hank Aaron will remain through whatever ends up happening to the land, our official status as a city with an MLB team will be technically gone, along with a few other things that we'll miss.
The Atlanta-Fulton County Stadium
What will happen to the last remaining wall of the OG Braves stadium, built back when we first stole them from Milwaukee? Our guess is probably that it will come tumbling down, or if a certain person is elected president, relocated to a desolate border town.
Hank Aaron's marker
The fence where Hammerin' Hank's 715th homer left the building still stands. It's not really like it would have the same appeal if you just moved it.
MARTA accessibility
According to the site MartaGuide, public transportation will mean taking a 45min bus ride from the Midtown station, then a 30min walk that takes you through Cumberland Mall and over the interstate.
The secret bathroom
Hidden behind an oil painting on the 200 level is a men's bathroom that is usually always empty, in case you don't have time for any other games when it comes to relief.
Autograph hacks
Rumor has it that on nights when the team heads out of town for road games, they usually go straight to the airport on the same bus that sits behind a barricade in Turner's player parking lot. If you can get behind the stadium a few minutes before the game ends, you'll have a better chance to get right at the front of the barricade where they board the bus and get autographs as long as you're equipped with stuff like a Sharpie, good manners, and you know, a nice dry patch of skin.
Bill Murray insults
The greatest living human being attended a Braves-Cubs game this year, where he made jokes about Turner Field smelling like a hamburger and rooted for one of our outfielders to run into the wall chasing a fly. We'd allow it again and again, because it's fucking Bill Murray.
Flo Rida concerts
Because nothing makes it alright to feel the Low, Low, Lows of a lost game quite like a free post-game concert by your mom's favorite rapper.
Bringing your own food
You could pack sandwiches, chips, and whatever else you eat in a soft cooler and bring it to the game. They'd even allow you to bring, ahem, "liquid" to drink as long as it wasn't alcohol -- which of course you'd never do -- and wasn't in a glass bottle.
The giant Coke bottle
Sure, during some home games, it would have been nice to have a giant bottle of Jack or some sort of spiced rum to ease the pain, but even then you'd need some big-ass hands and arm muscles just to hoist the thing up for sipping. Honestly, it was just nice to look at.
Field tours
Entering and exiting through the gift shop, you and whoever's kids you borrowed could take a walk around the press box, broadcast booth, the dugout, Scouts Alley, and the Braves Museum and Hall of Fame.
Sky Field
You're probably not going to come close to the grand view of the Downtown skyline from the Coca-Cola-sponsored pavilion. Get a good look before it's gone!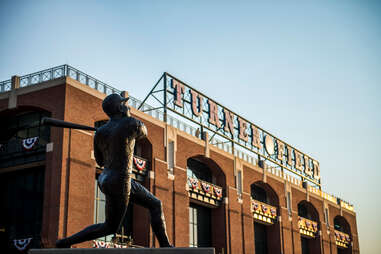 The Henry Aaron seats
No one expects the Braves to just forget about their G.O.A.T. player, but even if they name a few seats behind SunTrust Park's home plate after him and let you order food while sitting down, you'll be looking at a different view in a different place.
David Cross
The comedian and local restaurant investor is a lifelong Braves fan who was at the 1995 World Series victory game and told the AJC that he's probably spent around $40k on the team over the years. He's now boycotting SunTrust Park.
Ted Turner's aura
You can't be inside The Ted and not have visions of the caterpillar-like hair streak running across his top lip as he rides off into the sunset on a bison with Wolf Blitzer and his other CNN homies.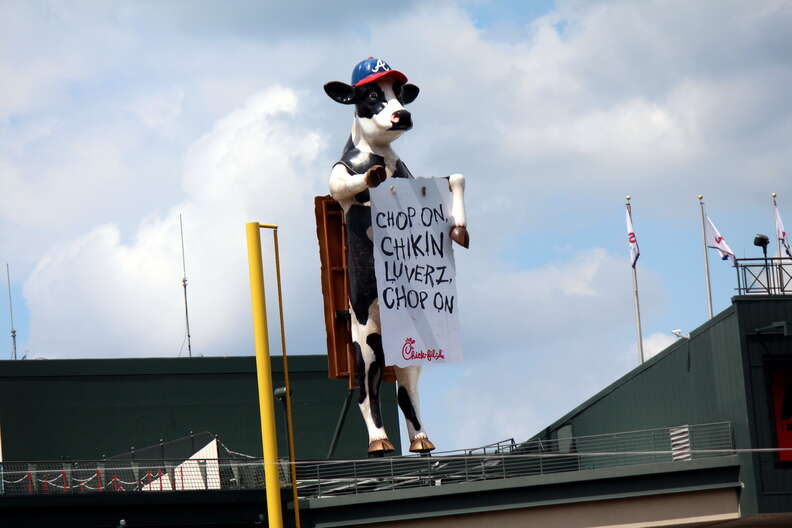 The Chick-fil-A cow
The Big Chicken lives in Cobb County and has a motorized beak, but Fulton County had something arguably better: a 40ft-tall, tomahawk-chopping Chick-fil-A cow. The cow's actually moving with the team to SunTrust Park, after spending a few months in New Orleans getting a makeover that'll include 40 gallons of paint and a new 217,000-pixel LED signboard.
Memories of the good times
Remember the 2000 All-Star Game? Chipper Jones' 400th home run in 2008? Andruw Jones' 11th inning walk-off in '99, which sent the Braves to their fifth World Series of the 1990s? Well, you can actually keep remembering them, you'll just have to make your brain even more functional, since you won't actually be able to reimagine them from wherever you were in the stands.
Reasons to tour Mechanicsville
Well, maybe we won't miss driving through Mechanicsville all that much, and apparently the area will be redeveloped to look like a vibrant Southside neighborhood instead of a giant hole in the ground, but still. You always felt a little grittier parking somewhere off Ralph David Abernathy and pretending through your toughest mean-mug not to be unreasonably scared of the locals.
Traffic
Haha! Just playin'. Aside from the lucky feeling you get when you're already seated at a game before rush hour hits, no one will miss the traffic near the Connector. All yours, Cumberland!
Sign up here for our daily Atlanta email and be the first to get all the food/drink/fun the ATL has to offer.
Mike Jordan admits to having the most fun at Braves games when it comes to professional sports in ATL, although in fairness the beer is a little bit colder at Falcons games. He tweets from @michaelbjordan when the time for tweeting is right.