Everything You Need to Do at Turner Field Before the Braves Leave It Forever
The 1996 Summer Olympics brought the city of Atlanta a lot of things; a ton of revenue from tourism, international recognition, increased population, Izzy the mascot (which no one's ever understood), and, of course, Turner Field. Formerly known as Centennial Olympic Stadium, Turner has been the home of the Braves since 1997. After nearly 20 years, quite a bit of history and tradition has been made there. So here is a list of things to do before Atlanta's best (and only) MLB team heads to its new home in Cobb County. 
See a game for a buck
Two and a half hours before every game, the Braves sell 200 $1 general admission tickets. That's some cheap entertainment! The catch? You have to pay in cash, there's a one-ticket-per-person limit, everyone in your party has to be at the window to get their ticket, and you have to go into the park immediately after purchase. Pro tip: show up early. 
Catch a baseball game and stay for a concert
Baseball and a concert? Who wouldn't want to take advantage of such a fun combination? The Braves Summer Concert Series will combine the Marlins/Braves and Chris Stapleton on May 29th, the Mets/Braves and Flo Rida on June 25th, and the Nationals/Braves and Tori Kelly on August 20th. If you get a $1 ticket for any of these games, know that you're walking away with a steal. 
Friday night fireworks!
Celebrate America's favorite pastime with America's favorite thing ever... shooting things into the air that explode into awesome light-shapes! After every Friday home game, you can feel like it's the Fourth of July. America! However, if there's a rain delay that pushes the game near midnight, there won't be any fireworks because of a local ordinance that doesn't allow the shooting of fireworks after 11:59pm.
Courtesy of accessatlanta.com
Take kids to run the bases
If you want to be known as the best mom and dad, or the cool aunt or uncle among the younger generation, then take them to run the bases. During Sunday home games, guests aged four to 14 can line up by the Hank Aaron Ramp during the seventh inning for the chance to feel like a big leaguer and run around the bases. Getting on the field is a truly rare, unique experience.
 
Sit in the Henry Aaron seats
The Henry Aaron seats are considered the best seats that money can buy for an individual game. They're located right behind home plate, and offer the best view of all the on-field action. Another bonus: you can order food and drinks right from your seat.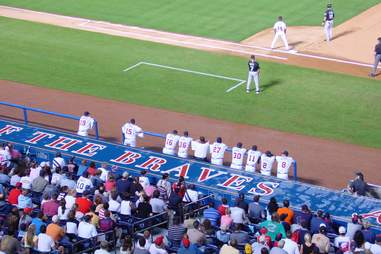 Courtesy of Gregor Smith
Sit behind the dugout
Seats are available behind both dugouts. Bring a glove for the chance to catch some foul balls.
Sit in the Outfield Pavilion
If you've ever dreamt about catching a home run ball, then this is the section you want. Tickets are moderately priced, and you get a great view of the field in seats that aren't bleachers. Plus, catching a home run ball is something you'll always remember.
Sit near the bullpen
If you're a fan that likes your voice to be heard in a positive way -- or even a negative one -- then sit by the bullpens. Whether you decided to show your support for Braves pitchers warming up, or your displeasure for the opposing team's pitcher, it's a cool experience. If you're more of the silent type, sit there nodding and giving a thumbs up or down until someone acknowledges you.
Watch a game at the Chophouse
The Chophouse is a popular Turner Field staple. It offers indoor dining, with ballpark food like burgers, hotdogs, sandwiches, and wraps, as well as booze. It also has a very popular outdoor patio that overlooks the outfield, where a lot of people go to catch the game. Get there early for the good seats.
Simply go for the food
Some people don't care about sports... and that's fine. If you happen to be one of those people, one thing you have in common with the hardcore sports fan is a love of food. Turner Field offers a wide variety of options... even a gluten-free concession stand, if you're about that life. You can even get all-you-can-eat seats for anywhere ranging from $55-$80 (depending on the game) where you can indulge in as many hot dogs, burgers, and chicken tenders, and as much soda and draft beer that you want. Also, in honor of last year, the Braves are offering the Burgerizza which you can get at Taste of the Majors. It's a grilled 20oz all-beef patty, covered in cheddar cheese, crispy bacon, and served between two 8in pepperoni pizzas, all for $26. So, if you're feeling brave... do that. Go here for a listing of more concession options.
Shell out for a private suite
Whether you want to show appreciation for your employees, have a reunion with your entire Braves-loving family, or show your friends how much money you make, look into getting a private suite for a single game. Suites have outdoor balcony seating, flat-screen televisions, private bathrooms, and concierge service.
Watch batting practice
Check out your favorite ballplayers practice their swing before every game. For 7:10pm games, the Braves hit from 4:25-5:40, and the visiting team from 5:40-6:20. For 7:35pm games, it's the Braves from 4:40-6:05, and the visitors from 6:05-6:45. For games that are at 1:35pm, the Braves bat from 10:50-12:05, and visitors 12:05-12:45.
Get the Batting Practice Experience
For $55-$90 (depending on the game), you can get on-field access and watch practice from behind home plate. Batting practice experience doesn't include a game ticket, so you'd have to purchase that as well, but it's another great way to be down on the field. You can't ask for autographs during this time, but you can take pictures. It begins three hours before first pitch and doesn't take place on Sunday games or afternoon day games.
Perfect your swing at the batting cages in Scouts Alley
You ever think that you could probably hit the ball as good as Aaron or Chipper Jones? Or throw heat like Glavine or Maddux? Well, stop thinking that. They're legends. You can, however, see how you measure up by heading to Scouts Alley, where there are interactive games like Pro Batter and Pro Batter Jr, and speed pitch games called Throwing Heat and In Control. You'll need to purchase tokens from the token booth, which go for $2 each.
Flash your military or college ID for a discount
To thank you for your service -- or if you need a study break -- half-off tickets are available for the Upper Box and Outfield Pavilion sections. The tix can range between $7 and $16 depending on the game.
Take a Turner Field tour
Taking a tour of Turner Field is awesome and highly recommended if you want to fully learn the history of the Braves and see things you normally wouldn't. They are offered all year and start and end in the Braves Museum. Some of the stops are the broadcast booth, press box, and the dugout, with some other fun surprises along the way. Tickets are $17 for adults, $13 for kids aged 10-13, and $9 for younger children between 3pm and 9pm. During the season, tours run Monday-Saturday at 9am, 10:30am, 12pm, 1:30pm, and 3pm, and Sundays at 1pm and 2:30pm. Tours are not available on game days.
Walk around the Braves Museum
If group tours aren't your thing, but you still want to indulge in some Braves history, then the Ivan Allen Jr. Braves Museum & Hall of Fame is for you. The museum opens to ticket holders two hours before each game, and stays open until the seventh inning. It features hundreds of Braves artifacts and photos from the team's beginnings in 1871 as the Boston Red Stockings. You can see things like Warren Spahn's Cy Young award and Purple Heart, the 1995 World Series trophy, and be in the presence of Hank Aaron's 715th home run bat and ball.
Tailgate in the parking lot
Pre-gaming is the best. Hang out in the Green parking lot of Turner Field with some of your friends and grill out in the grass, throw around a ball, listen to music, drink some America, then make your way across the street to enjoy a game.
Send a message on the Strike Out Board
Have a special occasion coming up? Why not display a message on the Braves Strike Out Board? Whether you want to wish someone a happy birthday, ask that special someone to marry you, or tell your roommate to stop leaving dishes in the sink in a decidedly non-passive-aggressive way, you need to make your request no later than two days prior to when you want your message to be displayed.
Belt out the National Anthem
Almost all sporting events have the National Anthem, but at Turner Field, patriotism is truly shown. During the anthem, every single employee stops, takes off their hat, and salutes the flag. So if you're in line to get a ticket, asking an usher to show you to your seat, etc, expect to put things on pause and show respect.
Belt out "Take Me Out to the Ball Game"... duh
A seventh-inning stretch staple sung at every single baseball game, it's one of those songs that you wonder how you know the lyrics, even if you've never even been to a baseball game.
Witness Timothy Miller sing "God Bless America"
After 9/11, ballparks around the country started to complement "Take Me Out to the Ball Game" (or replaced it) with "God Bless America." Some parks only do it on major national holidays like Memorial Day, Fourth of July, Labor Day, etc, and others do it every Sunday. The Braves are an every-Sunday team. Timothy Miller, the singer from the Braves' commercials, belts it out during the seventh-inning stretch. And that guy has some pipes.   
Get an autograph
If you want to see how someone like Freddie Freeman signed his eight-year, 135 million dollar contract, then you should try to get a player's autograph. From the time the gates open until one hour before game time, fans are allowed to seek autographs from the outfield side of each dugout -- under the direction of an usher, of course.
Watch the Braves play a divisional rival
Division rival games are the most fun to watch. Records are thrown out the window and pride is at stake. Usually the fans of each given team have a lot of pride at stake, as well. The Braves are part of the National League East and face teams like the Mets, Nationals, Phillies, and Marlins. Catch at least one series (or all) while they're still at Turner.
Watch the Chicago Cubs play the Braves
The Cubs are one of the hottest teams in baseball, so this will definitely be a highly sought-after ticket. Buy your tickets as soon as possible, because it will more than likely be a sellout. Cubs fans travel. The series is Friday, June 10th, to Sunday, June 12th.
Get a picture of the Atlanta skyline
If you want to watch a game while having the Atlanta skyline as your backdrop, then consider buying Skyline/General Admission tickets. You can see the skyline from most of the seats on the first base side, but the higher up you are in the stands, the better the view.
Show up to the game in the fourth or fifth inning
You'd be surprised by the number of people that show up when the game is half over. You can buy a cheap ticket and walk around, go to the Chophouse, drink, and be merry. This is a super-popular option among the college crowd in Atlanta, naturally. Also, the ticket office closes at the end of the sixth inning.
Stroll through Monument Grove
Located by Grand Entry Plaza is Monument Grove. It's free to the public, and it's where you can see and snap photos of statues like Hank Aaron, Phil Niekro, and Ty Cobb from the Atlanta-Fulton County Stadium. Warren Spahn, the winningest pitcher to wear a Braves uniform, also has a statue there.
Take pictures with Braves Hall of Famers
Well... kind of. Located around Grand Entry Plaza, in front of the ticket office and Braves Museum, are the retired numbers of Braves Hall of Famers like Hank Aaron, Eddie Mathews, and Chipper Jones. Eleven players have had their numbers retired: Hank Aaron (44), Eddie Mathews (41), Phil Niekro (35), Warren Spahn (21), Dale Murphy (3), Greg Maddux (31), Tom Glavine (47), John Smoltz (29), Chipper Jones (10), Javy Lopez (8), and Bobby Cox (6).
Grab a free bobblehead
People love bobbleheads. It's a fact. A game ticket is required to get one, and fans come out of the woodwork to get these collectibles, so don't miss out on your chance. The dates and type of bobblehead are:
May 28 vs Marlins: Chipper Rescues Freddie ATV
June 23 vs Mets: Nick Markakis
July 1 vs Marlins: Star Wars
August 18 vs Nationals: Andruw Jones "Spiderman catch"
September 10 vs Mets: Chipper Jones "2000 All Star Game"
Meet a Braves legend
Two hours before first pitch on Sunday home games, you can meet a Braves alumnus and get an autograph in the plaza. You can find the list of scheduled alumni and other promotions, theme nights, and giveaways right here.
Bring your pooch to the park
On September 18th, the Braves are allowing your furry best friends to enjoy a game. A portion of the park is transformed into dog paradise, with on-site vets, doggie pools, cool water misters, and watering holes. More info can be found here, and you must pre-register for the event. Proceeds from this event will benefit the Atlanta Braves Foundation.
Become a "true" fan by nabbing some merch
Sometimes people become fans of a sports team for the first time when they go to their first game. Other times, people just want to be well-equipped and decked out in team gear when they go to a game, even if they can't name a single player on the team. You should definitely commemorate the occasion by purchasing merchandise at the Majestic Clubhouse store located right inside the main gate. If you want to be a fan, you gotta dress the part.
Be immortalized on the Dance and Kiss Cams
Everyone loves these famous cams. Show off your best dance moves, or lay one on the person sitting next to you, when you show up on the big screen.
Do the Tomahawk Chop
One of the most popular Braves traditions is the Tomahawk Chop. When you hear the music play, raise your hand or styrofoam tomahawk and "Fear the Chop!"
Go to Fan Appreciation Weekend
Fan Appreciation Weekend will be the Braves last three games ever played at Turner Field. The series will be against the Detroit Tigers on September 30th through October 2nd. These games WILL be sold out, and emotions will be running high. Buy your tickets ASAP. There will also be a mystery gate giveaway, so come find out what that is, and bid Turner Field a fond farewell.
Sign up here for our daily Atlanta email and be the first to get all the food/drink/fun the ATL has to offer.
Damian Jason White is a New York native who has enjoyed the feeling of heartbreak that comes from supporting Atlanta sports teams for quite a few years now. Follow him on the Twitter @DamianJsonWhite.