Sometimes all you have in this world is a dollar and a dream. Other times, you have $10 and the same dream, which is just enough to make yourself sad if your dream costs $11 and everybody else is tired of your dollar-borrowing dream chasing. Pull yourself up by the bootstraps and try one of these $10-or-lower activities the next time payday is a long ways away and all you've got to hold onto is a Hamilton.
Buckhead
Most of the other local breweries just missed out on the threshold with $12 tours, but it's not like you have two more dollars to spend right now, otherwise we wouldn't be here in this story together. Plus, it's not like SweetWater just stopped making very good beer when everybody else came to town. Show some loyalty and walk around drinking on Alexander Hamilton's tab.
Recommended Video
Wine Workouts Are Just What We Need in our Fitness Routines
Little 5 Points
Nothing's funny about being broke, but at least you can giggle at the fact that you got free entry to see the long-running amateur comedy show put on by a dude named Rotknee and see some of ATL's up-and-coming talent.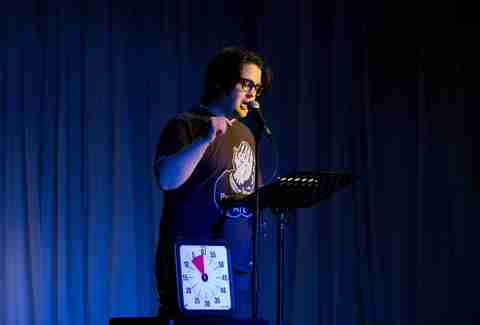 Poncey-Highlands
You won't even need change -- you also won't get any back -- from your $10 bill by going to this favorite monthly event among ATL's reading community (like you, who is reading this right now). Here's how it works: two people present their takes on a topic, and then battle-read their own material opinion in front of each other (and you) for charitable winnings in what the organizers call "the tenderest bloodsport."
East Atlanta
You get to stay in your car and watch new releases for $9. Not only is that better-than-matinee pricing, but obviously nobody's checking you at the door for all those Twizzlers you're smuggling in. Hell, Starlight is awesome even if the price is over $10, so this is just an all-around bonus.
Downtown
You can't logically expect your meal at the top of the downtown Westin to be included for just $10, but at least you'll have the same 72-story view of the entire city that people who spend $60 on lobster pot pies get, at one sixth of the cost (although sadly with zero sixths the lobster pot pie).
Old 4th Ward
Here's the thing about Eats: people dog it, but it's actually good. And you can get a four-veggie plate for just a quarter over $6, or pay $8 flat and get a half jerk chicken and three sides, which for most people lasts, like, a day and a half.
Lithia Springs
It's actually only $5 to get into the park, but dig this. You can actually get in free if you plan ahead. Go to one of the state public libraries and ask them to loan you a ParkPass or Historic Site pass. Show it at the park gates and it's now free of charge. This is good, because you spent your last $10 at the other SweetWater.
Druid Hills
It's just $7 bucks to sit down in the 70ft, full-dome digital projection theater. Take a space-aged view of any evening's current sky and all the stars in it, thanks to the BB-8 lookalike Zeiss projector, and the astronomer on hand to explain the universe and other things -- guidance that comes in even more handy if you come in smelling like you've been hitting deGrasse.
Midtown
Every Friday the High takes half off the $19.50 admission fee from 4-9pm, and any Fulton County resident can walk-up and get in free every first Saturday of the month (if you arrive early enough). It's probably the best move if you spent all the rest of your monthly income getting a High experience somewhere else.
Virginia-Highland
You're probably angry about only having $10 dollars. At Metalsome, the live band heavy metal karaoke hosted at 10 High, you pay no cover and your first song performance is free, so you can put all that hostility into screaming "I'M BROOOOOOOOOOOOOKE!!", death-metal-style, until somebody either buys you a couple Yuenglings or calls you an Uber. Maybe you can even buy your own with the savings.
Sign up here for our daily Atlanta email and be the first to get all the food/drink/fun the ATL has to offer.
Mike Jordan loves paying less than $10 for things that should be more, especially at Dollar General. He's on Twitter, only because it's free, at @michaelbjordan.