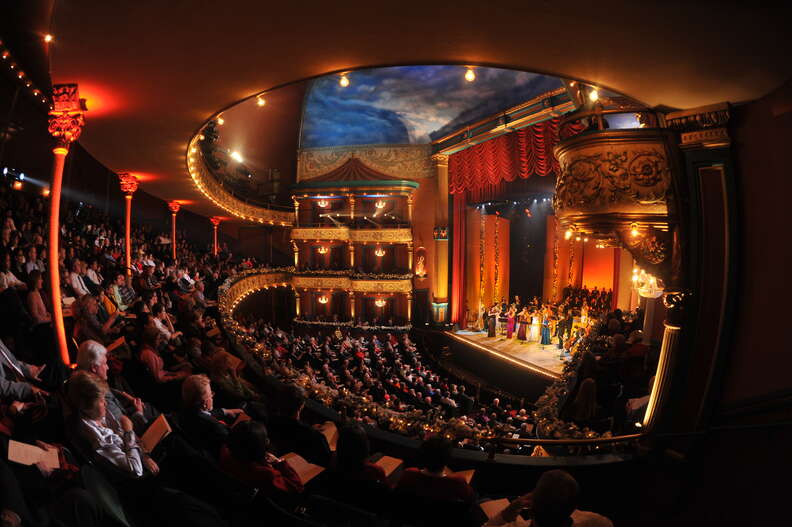 Do you remember about 10 years ago, when everybody in Atlanta was first starting to buzz about Chattanooga and Birmingham? Of course you don't, because you were living in Chattanooga or Birmingham at the time and you moved here right around then because there's no place like Atlanta. However, if there was such a thing as a new version of these cities as they were a decade ago, a pre-boom Chattingham or Birminooga if you will, it might very well be Macon, Georgia.
Closer than both cities (only one hour south) and within the state, Macon is actually a great value of a road trip from ATL if you know how to do it right. And lucky for you, I'm here to help you with just that.
Sample Macon's great local beers
Macon Beer Company, which opened two summers ago in the Downtown area, is making a lot of beers with Macon in them. Those include Macon Progress, their flagship 5% ABV pale ale, and Macon Love, their pink-tinted blonde rye ale brewed with sweet cherries. Also check out Ocmulgee Brewpub, named to honor the city's historic Indian mounds, where burgers and hand-cut fries are served to accompany their Muscogee Curse citrus IPA and creamy Oxbow American stout. Then hit Piedmont Brewery & Kitchen to try their low-gravity farmhouse ale or the White Rabbit Belgian Wit paired with a large pretzel, smoked wings, or your choice of brisket sandwich, such as a patty melt, Philly, or banh mi. And if you're there toward the end of September, check out the arrival of Society Garden, an eight-tap outdoor beer garden of local and seasonal craft brews.
Eat the most delicious burger south of ATL
The Rookery, which has been around since America's leader was Jimmy Carter, is well-regarded for its burgers. Decide what type of patty you want -- black Angus, prime, turkey, chicken, or veggie – then pick from styles that include the Jimmy Carter with peanut butter and Applewood smoked bacon, or the Jerry Reed, which boasts jalapeños, Sriracha mayo, and pepper jack cheese.
Find out what the hell Macon-style pizza is
Macon-style pizza seems to follow a theme: They give you a metric shit ton of toppings. The locals will tell you to go to Ingleside Village for their excellent white pizza. But you should also try the mom-and-pop operated Macon Pizza Company, where the pies have wider crusts and thick layers of toppings, particularly on the 14-inch Big Kahuna, which is covered with pepperoni, mushrooms, green peppers, sausage, ground beef, black olives, onions, tomatoes, banana peppers, and ham. And then there's Sauced, which is near Mercer University and offers fancier pies such as The Popeye (a ricotta-base pie with double cheese, feta, spinach, mushrooms, and prosciutto) and The Pimento (fried chicken, fried green tomatoes, bacon, and pimento cheese). If you're not entirely sick of pizza after all that, try the relatively new Macon location of Milledgeville's pizzeria The Brick, where you should snatch the supreme Brick House or the Pizza of the South, which is studded with fried chicken, ham, and honey mustard.
Embrace your inner nerd far, far away from your social circle
Basically the Macon version of ATL's Joystick Gamebar (but of course ain't nothing like the real thing), Reboot Retrocade & Bar has seven pinball machines and 35 arcades that hold a total of 50 games, plus events like movie bingo on Thursday nights, fighting game tournaments (Tekken, Mortal Kombat, and Street Fighter), and a two-hour "Big Kids Brunch" on weekend afternoons with $6 Sriracha Bloody Marys. They also display and sell geek art for local and regional artists, so if you've been looking for a new market for that pervy Blanka-meets-Chun Li watercolor you've been working on, look no further.
Discover Macon's burgeoning music scene
Every month The Library Ballroom, located in the Old Macon Library, hosts an ongoing series of live music called Listening Room Series, inviting local and regional acts to rock, or folk, the stage. You can also catch performances at The Grand Opera House, including a Fleetwood Mac symphony tribute just before Halloween, as well as assorted gritty indie rock at The Hummingbird Stage & Taproom.
Go skating near one of America's oldest ballparks
Clint Eastwood filmed Trouble With the Curve at Luther Williams Field in Central City Park; Harrison Ford also used LWF for his Jackie Robinson biopic 42. You will never be any of these people, but you can take a stab at pseudo-sports greatness in the brand new skate park that's been added to the freshly renovated public grounds, where the second-oldest minor league ballpark in the country is located. There'll be even more ollies, flips, slides, and grinds once the second phase is complete by year's end, which will see the park double in size with a huge non-round bowl with various nooks, lifts, ramps, and a transition skate that'll cost around $800,000.
See Macon like you've never seen it before
You'll have to climb a staircase that will feel like the one from Kill Bill: Volume 2, but once you've reached the top of the Great Temple Mound at Ocmulgee National Monument you'll have that Rocky-ish feeling of conquest and accomplishment, staring out into the wide view of the Macon skyline. OK, the Macon skyline isn't exactly competing with Dubai or anything, but it's still a nice scene for staring.
Pay homage to one of the greatest rock bands in history
Though museum touring can be a corny undertaking in many cities, Macon actually has some unexpectedly good spots to visit for your historical fix. Dig into southern rock at The Allman Brothers Band Museum at The Big House, where the band spent the '70s living in Macon, as well as writing songs to be recorded nearby at the studios of Capricorn Records. They even created their famous instrumental song "Hot 'Lanta" -- which was featured on their live album at the Fillmore East -- in The Big House. Don't hold that song title against them.
Don't leave without getting brunch
If biscuits with maple and bacon compound butter, a fried chicken Benedict with bacon jam, or smoked brisket hash mixed with pimento cheese grits and roasted potatoes isn't enough to get you out of bed on a Saturday afternoon, nothing will. Between Dovetail's menu options and an oenophile's hunter's lodge vibe, you might forget to order the best seasonal cocktails in the city. Try their creative variations on the classics, which might include peach and mezcal mint juleps, cacao sidecars, cucumber jalapeño margaritas, and crème de pêche boulevardiers. Then go back to sleep and plan to be back Sunday morning.
Sign up here for our daily Atlanta email and be the first to get all the food/drink/fun the ATL has to offer.
Mike Jordan is always surprised at how quickly he gets to Macon, but then realizes he needs to slow down because the state troopers are thirsty on 75 South. Follow him on Twitter and Instagram but not in your car on the highway because he can't drive.