There's a prodigious amount of creative talent in Atlanta. Especially when it comes to visual art. However, it's not always easy finding out where to pick up pieces, portraits, prints, or OG creations... particularly since art galleries open and close like elevator doors in today's economy. Most artists will tell you that you can get great deals -- almost always cheaper than purchasing them from galleries -- simply by reaching out to them directly. Then again, some artists can also be weird when it comes to negotiating prices for their works -- the commerce side of art can be a beast. If all you want is to outfit your crib with their beautiful designs, use this guide to find out where you can easily score some of the best custom creations.
Recommended Video
This Sport Takes Ice Skating to Extreme Heights
Old 4th Ward
Greg Mike, the surrealist pop artist whose visual inventions can be seen all over the city from murals to fences near pizza restaurants, is the owner of this innovative hub for Atlantans. Not only will you see his teeth-chomping "Loudmouf" character (and others from the inside of his mental universe), but you can also expect shows supporting other A-towners, including heavier material from expressionist Trey Moseley, to funner stuff from fellow character-creators R.Land (the guy behind the "Pray for ATL" image seen everywhere), and Chris Hamer.
Downtown
Along with regular dance nights where local DJs and beatmakers play their/your favorites, Eyedrum's art skews exclusively toward conceptual, noncommercial, and ambitious emerging experimentalists. Though most of the time people are there for their intense concert performances from bands like EDM-ers E.Mills and Shiny Baubles, and the monthly Invent Room Pop shows, where six musicians are randomly put in pairs and trios and made to perform together.
Little 5 Points
If the piping hot (or iced) joe doesn't jolt you, you'll get a kick out of the communal vibe that sets Hodgepodge apart from some of Atlanta's more established art houses. That means you'll see a bit of everything -- surreal visuals from established talents like Sean Fahie, plus pro-am photography, comic illustrations, cartoon monsters, aliens, flowers, sketches of people smooching, vivid word-jumbles, and even art on coffee cups.
Midtown
With recent shows such as "MyBFisBLK" (My Boyfriend is Black) by pop culture mash-up artist and American flag remixer DL Warfield, the large, brilliant, paint-covered complex has an in-residence gallery called Collective One, where they let folks like abstract expressionist Anthony Liggins display mixed media wall-candy.
Castleberry Hill
Family-run ZuCot is unique due to its creative philosophy of welcoming/schooling collectors on the experience of purchasing and owning original art from African-American artists, from their "Art Tasting" education series to their painting parties. Realism, mixed media, sculpture and watercolor works are frequently displayed. Oh, and inventive mashups like "Future Hendrix" by Lobyn Hamilton, in which Jimi and ATL's own "Dirty Sprite" rapper are combined via cut-up album vinyl.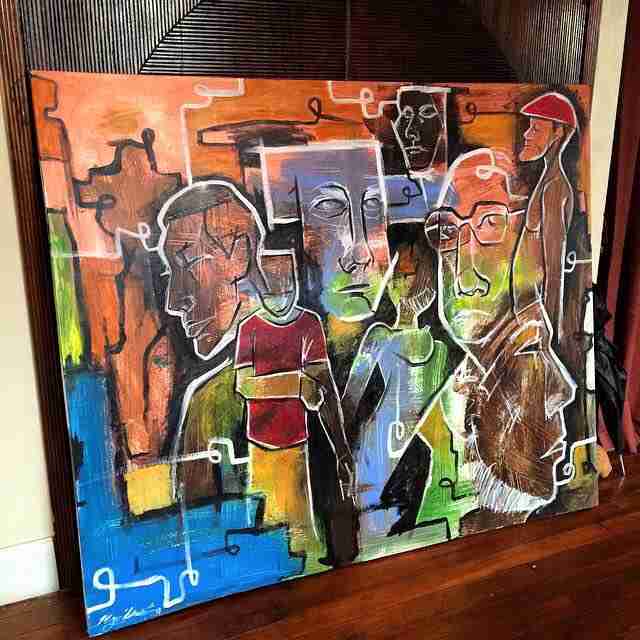 Castleberry Hill
One of Atlanta's -- and the world's -- most respected tattoo artists Miya Bailey sells his stuff from time to time at the gallery/studio he co-owns, and if you can't find what you want for your home walls, he's always willing to create something custom on your skin by appointment. Locally famed ATL artists like C. Flux Sing,  Dubelyoo, Kevin "Mr. Soul" Harp, Daniel "DTM" Flores, and others routinely display art here, along with co-owner Corey Davis.
All over Atlanta
Both traditional and alternative, MINT is all about challenging guests. For example, they throw shows like "Blind Faith" which took on religion via "sex, servitude, and self." While they search for a new venue after moving from their former North Highland space in April, MINT is embarking on their "Salon Series" which will begin at MOTHER and continue in other non-art spaces where they can host workshops, screenings, performances, and other cool stuff as needed, all in the name of building participation from the public and fostering collaboration between artists and their admirers.
Westside
Some of the first residents of today's Goat Farm were artists who were specially invited by the property owners to live and work onsite. Today, various artists like Alessandra Hoshor and Addison Adams have studios, and you can frequently find visiting artists on the farm grounds creating works at events like the weekly "Sketchbooks & Chill" meetup, where you can hammer out any sort of design that comes to mind while hanging with people of various skill-levels (Dubelyoo is a regular, but let that inspire rather than intimidate you).
Midtown
Home of The High, ATL's world-class art museum, Woody is usually considered a place where collections from legendary international names such as Dalí, Basquiat, Gordon Parks, and even people who are still living are exhibited. Sometimes though, a people's champ such as Fahamu Pecou, the Emory scholar, Killer Mike album cover designer, and artist set to repaint four MARTA stations in the near future is chosen. Visit the new Octane Arts Center this summer if you're fiending for a decidedly more indie fix of art with a fancy side cup of French press.
East Point
Lord Yatta, a resident tattoo artist who started at West End Tattoo (also where Miya Bailey began inking bodies), is still tatting today, but you can also find his paintings on skate decks, canvas, vinyl album covers, and more. His designs include lots of soul/funk iconography, such as trippy Storm-like African goddesses, '70s-era Stevie Wonder, and a haloed Haile Selassie.
Grant Park
One of the most beloved and defended places to admire art in the city, WR is known for supporting emerging artists before they've usually had a chance anywhere else. The organization behind the gallery has long been an advocate of social change presented in art, which is apparent in their current exhibit "A Bad Question: An Exhibition and Forum on Race + Feminism," presented by ATL-based think tank Smoke School of Art, and NYC's feminist outfit tART Collective.
Downtown
The city's Office of Cultural Affairs runs this municipally owned gallery, where the theme is always locals-first. They've hosted shows like "The Art of Organized Noize," in which shots taken by premiere hip-hop photographer Jonathan Mannion and artifacts from the original Dungeon studio were displayed. They also allow and encourage exploration of heavy topics like human trafficking, and civil/human rights.
Downtown
As part of Georgia State University, the Rialto is a performing arts center where live acts entertain residents and visitors of downtown Atlanta, and is part of the monthly First Thursdays Artwalk from 5-8pm. The first floor is where you can find visual arts from folks like Julio Mejia, a respected Latin artist whose "Darkness Breaching" show featured the application of archival oil, solvent, ink and chemicals to create color choices that translate into emotional interpretations of war, childhood, and the like.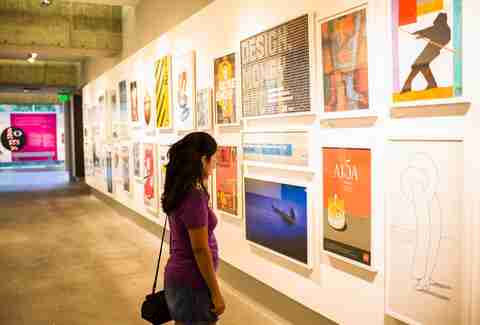 Midtown
Across from the High is the Museum of Modern Design Atlanta, which focuses on design and its impact on creativity and function. Hence you'll see stuff like motorcycles, skateboard art, African-American fashion, all-American cultural outreach from the Cold War era, and an upcoming exhibition on wearable tech.
Kirkwood
This artist-owned space belongs to Spelman graduate Monica Tookes, who shows her own energetic acrylic paintings, from colorful collages to representations of human intimacy. She also uses the gallery to "redefine the value of art and its appreciation" by using original works of art, such as the abstract contemporary works of Damon Mescudi, in the design and decor, giving the space a dynamic pop.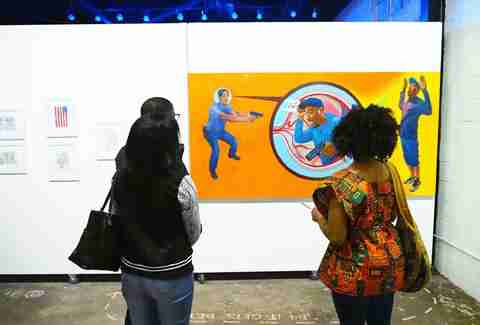 Lakewood
This popular gallery is tucked behind a southeast Atlanta neighborhood, and features some of the city's most revered street artists from Miya Bailey's recent "Before I'm Gone, Vol. 1" (in which he sold 100% originals for as low as $100 and sold out in minutes), to the recent "Contraption" show by Fabian "Occasional Superstar" Williams, which took on societal ills through a series of Rube Goldberg-inspired paintings of how bad things happen.
Sign up here for our daily Atlanta email and be the first to get all the food/drink/fun the ATL has to offer.