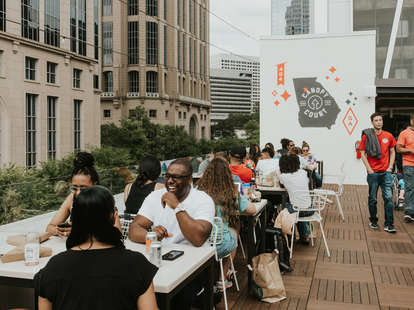 We know it and you know it: Whole Foods is way more than a grocery store. It's a full-on way of life, and its presence can transform a neighborhood and the lives of all of its residents. Think we're being dramatic? Well, Whole Foods' newest location (its 500th!) in Midtown Atlanta has a veggie butcher. That's right, someone to cut up your veggies for you (but more on that later).
The 70,000-square-foot store opened for business this past weekend, and we needed to check it out. With a coffee shop, rooftop lounge, over 1,500 local items, and more, there is truly something for everyone at this Southeast flagship. Here's a rundown of the most unique -- and delicious -- things you'll encounter.
DIY bars the likes of which we've never seen
Calling all avocado toast and lettuce wrap lovers! Located in the hot bar area adjacent to prepared foods, you can build a meal to your heart's desire. Start with your toast of choice and a healthy portion of avocado -- or Bibb lettuce in the case of the lettuce wraps -- and top it off with whatever tickles your fancy. Whether that's a boiled egg, red onions, chicken, or really anything on the salad bar, you'll leave with a snack fully customized to your tastes and cravings. You can catch us hanging out here every day of the week starting at lunch time… until closing.
Capital Commons' laid-back vibes
In this cozy nook fashioned to be a quaint cafe, Capital Commons is a full-service Allegro Coffee Roasters espresso and coffee bar. Since you can access the shop through a separate street-level entrance, it's easy to pop in and out without having to elbow past shoppers on the lookout for fresh produce on a Sunday morning. Here, they serve up both cold and hot drinks, nitro coffee, teas, and tons more. If you're looking to stay a while, Capital Commons has tons of seating, including comfy couches and long wooden tables -- perfect for co-working or taking a meeting. And it's not just for a lazy morning. You can grab a beer on tap, a glass of wine, or a snack like baked goods, sandwiches, or the very special Callie's Biscuits of Charleston.
Local cheese for your cheeseboard
Featuring a whopping 15 local cheeses, the cheese selection at Whole Foods Midtown Atlanta is not to be missed. Highlights include Capra Gia's honey and fig fresh chevre, Calyroad Creamery's camembert (both from the state of Georgia), and a buttery, earthy Cottonbell from Boxcarr Homemade Cheese of Cedar Grove, NC.
Every two months, look for the highlighted pairings placard in the cheese section for easy tips as you make your selections. If you're still struggling to come up with a great selection of cheeses for your next charcuterie and wine session, elicit the help of certified cheese professional Amanda, who patrols the section here looking to dole out slices of her infinite wisdom to any shopper in need of help.
Canopy Court's rooftop terrace
Skyline views of Midtown Atlanta, seating with a view, cornhole, and Jumbo Jenga are just an elevator ride away here at Whole Foods. Rooftop terrace Canopy Court features beer on tap at 14th Street Bar and hot pressed sandwiches, including hot honey chicken, grilled cheese, pulled pork, and even a vegan fried green tomato option. Also on the menu are tater and sweet potato tots, which can be ordered sea salt, truffle, or barbecue flavored.
In the weeks and months to come, fitness programming -- including yoga and hip hop Zumba -- will also be offered free of charge. Those interested can register, first-come first-served, via Eventbrite. Open mic night and Drag Bingo are also planned for Canopy Court.
Tons of Southern fare
As is the standard in all Whole Foods hot bars, offerings shift seasonally. At Whole Foods Midtown Atlanta, however, there are a few Southern staples that make for a truly unique experience. We're talking fried chicken, soul food, and classic comfort food like catfish battered in cornmeal and fried to crispy perfection, collard greens, creamy mac & cheese, cornbread, and sweet yams. Another Southern-inspired hot bar offering is a variety of boiled peanuts -- brined in seasonings like Cajun, pickle juice, and even sweet pepper. Until you perfect your mom's recipes (which, face it, might be never), these Southern specialty hot bars will be your best friends.
A butcher station just for veggies
We all dread chopping veggies for weekly meal prep. Well, Whole Foods Midtown Atlanta is here to change the game. In an area of the produce section named the "Veggie Butcher," you can either choose from pre-selected fruit or veggies behind the counter or any from the produce floor (for a separate price per pound) and have them cleaned then cut… in one of 12 different ways. Choose from the more traditional Julienne, sliced or diced, or get crazy with waffle cut. We didn't know we needed a veggie butcher until now, but we'll never go back.
An incredible European-inspired floral market
The perfect bouquet makes any and every occasion all the more special, whether it's prom, a birthday, Valentine's Day, or a big anniversary. Whole Foods Midtown Atlanta wants to help, and hopes to be the go-to floral destination for residents in and around the area. Highlights include long-stemmed roses, a petite rose bouquet paired with baby's breath, and floral arrangements from North Carolina's Castle Hayne through a whole and fair trade program.
Exclusive products from Atlanta favorites
At Whole Foods Midtown Atlanta, you'll find exclusive products from local vendors. King of Pops, the ever-popular Atlanta brand of popsicles, created the Peach Praline pop, while marshmallow candy brand Malvi Mallow, based in nearby Cumming, created a banana pudding marshmallow just for the store's shelves. Additionally, customers will find a custom spice blend, "Midtown Magic," from Beautiful Briny Sea, four specialty blends from BRASH Coffee Roasters, cucumber lemonade from Arden's Garden, and tons more to come.
The tastiest and cheapest oysters in town
Just wait until you see the store's oyster menu, flaunting an extensive selection at an unbeatable price: 10 for $10. Choose among oysters from Maryland, Maine, Massachusetts, Canada, Washington, and Virginia -- and even take them home to prepare them yourself. The pros will shuck them for you, so you can elevate your game day parties, backyard bashes, or baby showers -- you name it.
Whole Foods Midtown Atlanta is located at 22 14th Street NW. Please try the catfish. Actually, just try everything. You won't be sorry.