With 100+ people moving to Austin each day, the pool of original Austinites -- or, at least, those who moved here, ya know, before it was cool -- is becoming increasingly diluted, making it difficult to differentiate between ATX locals and just-moved-here-from-California'ns. Fortunately, there are a few ways to tell Austinites and imported impostors apart, and we've compiled some for you here.
Transplants: When people bring up Leslie, ask "Who's she?"
Locals: Know the man, the myth, the legend.
Transplants: Go for the movie, not the theatre.
Locals: Haven't seen a film sober since the Alamo Drafthouse opened.
Transplants: Go to ACL for Skrillex and Instagram ops.
Locals: Go to Fun Fun Fun Fest for Big Freedia and taco cannons.
Transplants: Love talking about how "weird' Austin is.
Locals: Could not care less. Anyway, what's so weird about a guy riding a bike in a G-string?
Transplants: Complain about how hot it is.
Locals: Complain about people who complain about how hot it is.
Transplants: Probably live in a condo.
Locals: Have a favorite bar/venue/restaurant that was shut down because of condo construction. And probably still haven't psychologically recovered.
Transplants: Have no idea how to pronounce Manchaca.
Locals: Have no idea how someone could possibly not know how to pronounce Manchaca. Seriously.
Transplants: Order whatever beer is on special.
Locals: Basically own stock in Lone Star.
Transplants: Get stuck in traffic, whine about traffic, become traffic.
Locals: Live in a neighborhood with a bar and tacos within biking distance. And will never, ever leave.
Transplants: Immediately hit Dirty Sixth when friends come to visit.
Locals: Would drink warm wine coolers alone in their backyard before setting foot in Dizzy Rooster.
Transplants: LOOK! It's Matthew McConaughey!!
Locals: Think he's all right (all right all right), I guess. But don't like, freak out.
Transplants: Miiight go to church on Sunday mornings.
Locals: Miiight attend Hippie Church at Maria's Taco Xpress. (Brunch is a religion, right?)
Transplants: Know Emo's as the giant, warehouse-like venue on Riverside.
Locals: Remember Emo's as the grungy, legendary spot Downtown. And still haven't been to the current location.
Transplants: Are buying houses on the East Side now because it's trendy.
Locals: Bought houses on the East Side years ago because it was cheap.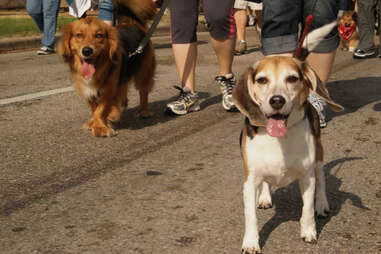 Transplants: May well have a dog that isn't adopted.
Locals: Are probably going to yell at you if your dog isn't adopted. (Also, you're a monster.)
Transplants: Wait in line for five hours for big SXSW parties.
Locals: Have been volunteering at SXSW for the last 15 years.
Transplants: Don't play bingo.
Locals: Know the glorious game is best played in Chicken Shit form.
Transplants: Dress up to go out. And actually own heels and/or button-downs for that purpose.
Locals: "We're wearing our formal sandals -- WHAT MORE DO YOU WANT FROM US?!"
Transplants: Answer "What time is it?" with... the time.
Locals: Aren't shocked, confused, or frightened when "3:27" is followed by someone screaming, "And OU still sucks!"
Transplants: Say Lady Bird Lake instead of Town Lake.
Locals: Go to the Greenbelt.
Transplants: Drive out to Salt Lick or wait in line seven hours for Franklin.
Locals:Have their own less-crowded, just-as-awesome barbecue spots.
Transplants: Think 12th and Chicon is kind of a sketchy area.
Locals: Remember the days when 12th and Chicon was actually a sketchy area.
Transplants: Go see Dave Matthews Band -- or someone equally awful --at the Austin 360 Amphitheater.
Locals: Go see their friend's band -- or someone equally awful -- at Hole in the Wall.
Transplants: Complain about people moving to Austin.
Locals: Complain about people moving to Austin.
Sign up here for our daily Austin email and be the first to get all the food/drink/fun in town.