Dinner and a movie? Snore. Netflix and chill? Meh. Wine bars? KILL ME NOW. If these common dates ideas bore you, too, perhaps you need to try something a little less law-abiding. Here are nine Austin date ideas for those with poor legal judgement that we would in no way recommend you do. At all.
Take a moon-lit skinny dip in a hot tub
How to pull it off despite our explicit disapproval: Quickly think back to all the hot tubs you've encountered in Austin, then go to the nearest one. Next, stroll in like you own the joint; nonchalance is key! Next, turn on those jets. Now, quickly strip down to your skivvies (or less) and get in. The bubbles created by the jets are the perfect cover for nakedness and you know... other stuff.
Laws you'd be breaking: Trespassing and permanently scarring any children or elderly peeps who spot you.
A secret beer picnic at Zilker Park
How to pull it off despite us very clearly advising against it: Go to Whataburger and order a #1 burger (with cheese, no onions!) and two large waters. Walk over to the park, dump your water out, and place the cold can of beer you brought into the cup, replace the top and insert straw. Boom, camouflage AND insulation. Now you have adult beverages to go with the iconic burger we hope you share Lady and the Tramp-style with your date.
Laws you'd be breaking: Consuming alcohol in open air at the park, duh. This isn't New Orleans. Also, don't even consider having a second secret beer or playing frisbee while under the super fun influence of alcohol. Don't even think about littering, that's just wrong.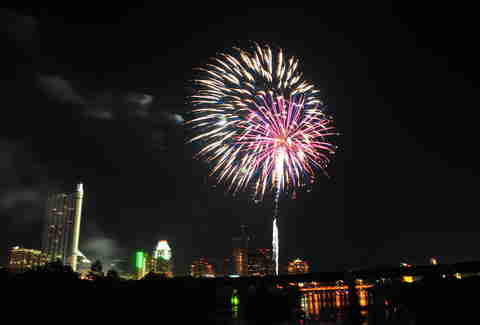 Set off some fireworks
How to pull it off even though, again, this is not an idea we'd condone: Just outside of Austin's city limits, there are stands that sell colorful pyrotechnic goodies ripe for the popping. Grab a few and head out to your favorite sketchy parking lot. Pop those babies and watch your date's face light up with glee. Then, then get hell out of there because someone has likely already called the cops. Pro tip: Sparklers are totally A-OK.
Laws you'd be breaking: It is illegal to possess fireworks within the City of Austin... so don't get caught!
Free brunch at your local motel chain
How to pull it off despite our repeated pleas not to do it due to legal issues: Wearing your best dressy casual, pick out a nice hotel chain (they usually have less nosey employees), walk up to the front desk and ask what time checkout is. Then confidently stroll right over to the free continental breakfast set up and enjoy those tiny boxes of Froot Loops, liquid egg forged into fluffy scrambled goodness, DIY waffle stations, and all the single-serving grape jelly packets a man could need (and hey, maybe a few may make their way into your date's purse/prop briefcase).
Laws you'd be breaking: Theft... waffle theft, specifically.
Dinner for two at the movie theater
How to pull it off despite us repeatedly begging you not to do this: Take your date to a movie at a regular theater (NOT our beloved Drafthouse that serves food and drinks!) and find a seat away from other guests. When the lights go down... pull those warm tacos out of your purse/coat pocket. For dessert, Reese's Peanut Butter Cups you got at the gas station on the way.
Laws you'd be breaking: Probably none, but it's pretty tacky. Nevertheless... OWN IT.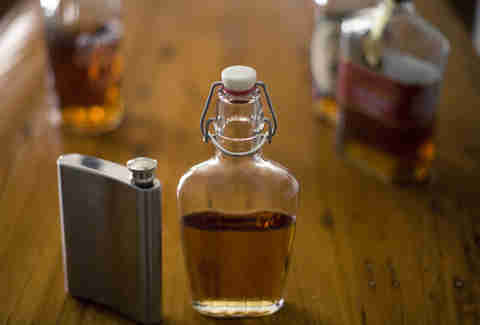 BYO booze to a show
How to pull it off despite the fact that we've said we'll call your parents if you actually do it: Get a nice stainless steel flask, fill it with bourbon and shove it in your boot, bra, or undies. When sipping with your date, be as discreet as possible. And this way, you'll have enough money left over to buy your date a slice of pizza at Hoeks Death Metal at 2am.
Laws you'd be breaking: Multiple laws; drinking in an establishment that serves alcohol, public intoxication... I don't know, do I look like a lawyer???
Sex in public dressing room
How to pull it off despite us desperately wishing you'd stop all illegal behavior this minute: Large department stores at malls are the best for this illegal activity since they are largely unattended. Grab a couple of shirts off the rack, head into a dressing room with your boo, and let the magic unfold. If someone walks in just say things like, "This store is too expensive, let's go to Ross Dress for Less," or "Omigod, I look so freakin' fat in this," combined with sobbing. These are perfect ways to get the salesperson to run the other way.
Laws you'd be breaking: Public lewdness and indecent exposure.
Sneak into Hippie Hollow
How to pull it off despite our disappointment in the person you've become: According to locals, it is possible to sneak into the infamous watering hole after dark. Park in the residential neighborhood nearby, and wait until the park is closed. Walk into the park and down the rocks -- now you not only didn't have to pay the $15 entry cost, but you'll have an entire beach to yourself sans naked leathery dudes. Pair this experience with a sixer... perfect.
Laws you'd be breaking: Trespassing, public display of consumption of alcohol.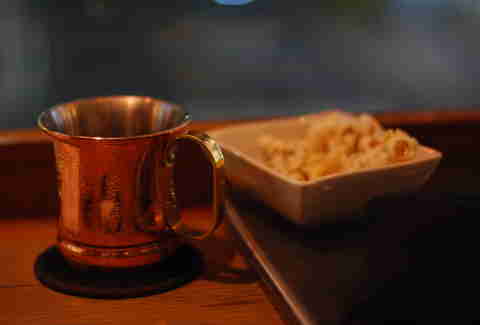 Take your Moscow mule to-go
How to pull if off before you move on to espionage, treason, and grand larceny: Pick up your date, take her to a trendy bar, watch her order the world's most basic beverage. When she's done, dump out the ice and mint, and shove that bad boy into your date's giant Michael Kors purse.
Laws you'd be breaking: Theft... and having questionable taste in cocktails. If a bar hasn't learned their lesson yet in regards to serving mules in real (and really expensive) copper mugs, shame on them.
Sign up here for our daily Austin email and be the first to get all the food/drink/fun in town.
Anastacia Uriegas is an Austin writer who would never, ever break the law. Except for romance. Follow her at @AnaUrie.