Everything You Need to Do in Austin This Spring
It's easy to tell when spring arrives in Austin; you'll know it by the mass of humanity lolling about in Zilker Park, or when friends start posting their #bartonsprings and #bluebonnet selfies, or when everyone collectively agrees that it's time to sport a crop top. We're all trying to cram in as much fun time before the summer sun starts relentlessly ruining our lives. This spring finds you perfectly positioned to fill your calendar with food festivals, fun runs, laugh-a-minute comedy, dramatic theater, and thought-provoking art events.
March 11
ACL Live
There are few things more Austin than Austin Music Awards: it's a huge night for our local musicians and the folks who love them. Chris Cubas and Jackie Venson host this year's awards (famous in their own right) with musical performances by the likes of Jack Ingram, Sir Woman, Blackillac, Grupo Fantasma, Hard Proof, and tons of others across all genres. It's a musical smorgasbord and a star-packed night. 
Cost: $30
March 14-15
Old Settlers Park
The Austin Arts Festival is a glorious mashup. Live music from eight different performers, 50+ visual artists and vendors, a classic car show, boat show, and a custom motorcycle show, plus dozens of other activities, contests, and giveaways. Have a frosty beer and some bites at the Taste of Austin Food Garden, pet all the animals at the petting zoo, check out the interactive farm garden, and more. This is an all-ages, family-friendly event. 
Cost: $5
March 14-28
Expo Center
While the Houston rodeo has long been the stuff of legend, Austin's "where weird meets western" has done a remarkable job of putting together a slate of events that appeal to just about everyone. Sure, there's the bull riding and the steer wrestling, the mutton bustin' and the team roping -- it's a rodeo after all -- but it also kicks off with a huge (free) Cowboy Breakfast at the Long2 Center. There'll also be a diverse music lineup (hi there Melissa Etheridge!), a full-on carnival, a Taste of Texas culinary tent, and a glittery gala. 
Cost: Varies
March 28
The Blanton Museum of Art
If, like many Austinites, you just haven't "found the time" to check out the Blanton lately, perhaps a free all-day-to-night festival will get your rear in gear. Free admission to all galleries, local food, a photo booth, and interactive family-friendly activities like printmaking. There's also tons of live music from folks like Beat Root Revival, Kalu James, Carrie Rodriguez, and Los Coast interspersed with spoken-word performances and poetry readings. It's a party at the museum, y'all.
Cost: Free
March 29
Zilker Park
One of the most magical things that happens in Austin, the Kite Festival is pure fun and frivolity. Bring your own kite if you have one, build one there, or just bring a blanket and stare at a sky filled with swooping rainbow-colored beauties. For people with kids, there's also the MossFest children's concert. Encouraging a love of outdoor spaces and music is basically your civic duty as an Austinite. Zilker Kite Fest is the country's longest-running festival of its kind.
Cost: Free 
April 4-5
Fiesta Gardens & Distribution Hall
Austin has long been a haven for people who lean on the veggie side of life, and this volunteer-run festival celebrates all of that with over 100 vendors, exhibitors, and sponsors. This year, in addition to delicious food, tons of activities, live music, wellness booths, and demos, they've added a Sunday market day! Come to the festival for excellent bites by folks like Tapatio Vegan Tacos, Southern Roots Vegan, Thunderbird, and Pan's Mushroom Jerky plus on-site yoga, guided meditation, and a dedicated kids area. Come to the market to support local and stock your pantry. 
Cost: Free (or $5 for a swag bag)
April 5
Congress Avenue to Auditorium Shores
Way back in 1978, the Cap10K had 3,400 participants; now in its 43rd year, it's the largest 10K in Texas and the sixth largest in the nation. It's not your average 10K -- this is Austin after all -- so expect families, dogs, and bedazzled runners in the mix. There'll be live bands along the route and often-hilarious signage, and the whole thing is capped off with a party (of course). The Finish Line Festival features food trucks, live music, a kids zone, race vendors, and a beer garden.
Cost: $35+
April 17-19
Auditorium Shores
Other than Flamingo Cantina, we're a city that's starved of on-the-regular reggae -- which is why the Austin reggae festival is so essential, with three days of incredible music by the water along with international food and arts and crafts vendors. Headliners for the 2020 event include The Expendables, Collie Buddz, Kabaka Pyramid, Julian Marley & The Uprising, plus a ton of other artists. You'll be enjoying yourself for a good cause too: proceeds benefit the Central Texas Food Bank, and the event has raised more than $1,000,000 in the past. Oh, and the people-watching is prime. 
Cost: $15+
April 17-19
Republic Square Park
For 70 years, Art City Austin has been gracing us with beauty. It's the city's second oldest outdoor fair in Austin, and each year it brings in gorgeous, innovative, thought-provoking, diverse art. Held at the newly renovated Republic Square, Art City features approximately 80 hand-selected artists, artisans, makers, and designers exhibiting and selling their masterpieces. And that's not all folks: There's also live music, food, entertainment, and a cash bar. If you're feeling fancy, get a first look at the market at the Viva Fiesta Art Preview Party. 
Cost: $15+
April 23-27
Fair Market, Auditorium Shores
Austin's got a well-deserved rep as a foodie destination, so whenever you can hit all the big names in one place, you should. You've got tons of options, with food from 50+ restaurants and chefs, cooking demos and tasting sessions with masters in their respective fields, and a full-fledged fired up grill serving tasty bites up hot and fresh. If you decide to level up the experience, you can get access to the Thursday event centered around sustainability featuring Kevin Fink and/or the Friday night event, Grillin' and Chillin with a personal grilling station and instruction from Chef Tim Love and access to Rock Your Taco, a gourmet taco event including all food and beverages.
Cost: $250+
April 22-25
Paramount Theater
Moontower Comedy has quickly grown into one of the most interesting and important comedy events in the US. In its ninth year, the lineup has everyone from the up-and-comers to the already-famous; including headliners like Nikki Glaser, Bob Saget, Jim Jeffries, Mike Birbiglia, and Iliza Schlesinger. There are 70+ shows to take in, so pace yourself.
Cost: $99
May 2
COTA
The tri-city festival makes a triumphant return to Austin, a relatively new city on their tour. They have a lot of cred in pulling great talent -- past headliners include Chance the Rapper and Gucci Mane. This year they've pulled in A$AP Rocky to lead the lineup, along with Lil Uzi Vert, Playboi Carti, Lil Tecca, Don Toliver, and more. The show is incredibly high-energy and brings together a mix of R&B, hip-hop, rap, and trap in a one day, one stage concert.
Cost: $89
May 9-10
Spicewood Vineyards
If you're looking to totally win Mother's Day, do this. Spicewood Vineyards is beautiful, scenic, and has great wines. But they're taking it to the next level with this star-studded concert featuring The Revivalists, Lake Street Dive, Tank and the Bangas, and Strand of Oaks. They'll be selling food and wine and a portion of the proceeds benefits Kids In A New Groove, which pairs kids in foster care with music mentors and teachers.
Cost: $129
May 17-19
Pflugerville
It's almost impossible not to get a kick out of the blatant overuse of Pf when describing this pfestival. (See what we did there?) Take a short drive north and skip out on some of the overcrowdedness of Austin events for this small town festival. There'll be a Miss Pflugerville Pageant, a lively Deutschen Pfest parade, a Deutschen Pfest 5K, a children's area, and a carnival -- plus live music, naturally. All proceeds go to support Pflugerville park projects.
Cost: 5+, kids under 6 are free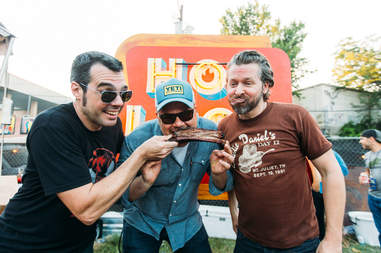 Hot Luck Festival

| Alison Narro
May 21-24
Downtown Austin
Inspired by backyard get-togethers and rowdy tailgates, this more-than-you-could-hope-to-eat food fest brings together open pits and a big old party. If you have any doubts, know that it was founded by James Beard Award-winner Aaron Franklin and other Austin powerhouses. They bring in chefs like Mei Lin, Gregory Gourdet, Ashley Christensen, and Sarah Grueneberg to keep everyone feeling fat and happy. There's also a solid musical lineup that includes Dinosaur Jr., Hayes Carll and friends. Be sure to check out our Hot Luck guide for more information.
Cost: $75
May 30
Travis County Expo Center
Any race that starts with a Get Up and Glow Party is alright with us. This 5K isn't even trying to be about beating your personal record. Kick it off with a high fun dancing warm up, then head to the Shake and Shimmer stations for tattoos, body paint, and glitter -- and then, prepare yourself mentally to get covered in every color of the rainbow at each kilometer mark. The race finishes with a huge party full of music, dancing, and color throws.
Cost: $25
June 4-7
Multiple locations
This four-day event celebrates all the deep binge watching we've been doing, showcasing past, current, and upcoming series with panel discussions and Q&As. You'll be privy to never-picked-up pilots, content premieres, and online cult favorites, as well as hot debates around ratings systems, test groups for new shows, and a mix of enthusiasts and professionals talking about all things TV.
Cost: $99+
June 6
Krause Springs
Running on a track be damned: trail running is where it's at, especially set against a backdrop of one of Texas' best swimming holes. Just like anything we do around central Texas, this isn't just a trail race; there's a schedule of racing options all morning, day, and night, as well as live music, outdoor movies, giveaways, food trucks, games and a family and kids zone. Make a day of it or camp the whole weekend on the beautiful private ranch.                                                                    Cost: $50+
June 20
MLK Blvd. and Rosewood Park
Juneteenth, also known as "Freedom Day" or "Emancipation Day," is an annual celebration to commemorate the end of slavery. This central Texas event gets bigger every year, filling Rosewood park with music, families, food, and music. Bring your shoes for the 2K walk/run, grab some 'grams of the decked out parade floats, and stick around for the entertainment and celebration. Details for this year's event are still being finalized.
Cost: Free
June 20-21
H-E-B Center
This is the spot to gather with fellow pop culture fanatics. Comic Con has expanded beyond the medium to include gaming competitions, a superhero-themed car show, cosplay contests, tons of vendors, and lots of entertainment for kids. It's also relatively celeb-heavy with guests from movies, TV shows, sports, game developers, artists/writers, and yes, comic book creators. Wearing a costume is highly encouraged.
Cost: $30
Sign up here for our daily Austin email and be the first to get all the food/drink/fun in town.
Kelly Stocker wasn't born in Austin, but she got here as fast as she could. If you want to follow her adventures around town, find her on Twitter and Instagram.