As the temps in Austin finally dip below skin-scorching levels, it's time to emerge from our air-conditioned caves to explore the outside world without fear of heat stroke -- or at least, with less of it. In the coming months, you'll get your fill of theater, music, comedy, art, films, food, and festivals (sometimes in the same day). Our fall calendar outlines all the best events of the season, so you can get a head start on scheduling your weekend parties and evening soirees like a real adult.
Recommended Video
Winter Starbucks Beverages Around The World
August 28 - September 3
Various locations
Austin's longest-running comedy festival returns with 500+ performances at six venues across the city. Sketch comedy, improv, stand-up, and more are represented among the 130 acts over seven days, and you can buy individual tickets or rock a badge for all access.
Cost: $15-99
August 16 - September 3
Participating restaurants
Austin Restaurant Week has been restarted, revamped, and reimagined as a benefit for Central Texas Food Bank. The concept is the same -- prix-fixe menus at some of the best restaurants and bars in the city -- but this year, your dinner for two can be turned into a dinner for 50.
Cost: Varies
September 8 - 9
Venues in East Austin
At this two-day blues fest you'll hear everything from boogie woogie and blues rock to swamp and soul being played by locals and visiting musicians. The party kicks off at Antone's, lights up all the venues near 12th and Chicon, and finishes up at Justine's.
Price: $10
September 6 - November 8
Austin-area parks
Movies in the park continue, and are more attend-able than ever. The Austin Parks Foundation puts together these family-friendly screenings in different parks around the city, which will include such movies as Beauty and the Beast, Hook, and Selena. Bring a blanket, a beverage, and a buddy. This year, they've got food trucks too!
Cost: Free
September 13
Mueller Development
The Aldrich Street Fair is back! Cocktails, food, tarot, a bubble artist, glassblowing, beer flights, photobooth, chef demos, yard games, and vendors of handmade goods are all part of this evening extravaganza. Make sure you stick around for PDA Band: Austin's only boy band cover band, complete with sequined jackets and dulcet tones.
Cost: Free
September 14
Barton Springs/Zilker Park
Think of this as the G-rated version of Eeyore's Birthday. Bring the fam to Zilker for music, puppet shows, murals, interactive booths, games, art, giant chess, hula hoops, and fun activities for everyone. You're never too young (or too old!) to learn more about local wildlife while making salamander sock puppets.
Cost: Free
September 16
IBM Client Innovation Center
Calling all superheroes! Dust off your Wonder Woman costume for this race benefiting CASA, an organization that advocates for children within the court system. You can opt into the 5K or the 10k, and compete for best traditional or invented superhero costume (as well as the best super-baby).
Cost: $20-30
September 20 - 27
Alamo Drafthouse
The largest genre film festival in the U.S. happens at our very own Alamo Drafthouse. Horror, fantasy, sci-fi, and action movies from all over the world debut, much to the delight of devotees, but it's not just screenings: Audiences mingle with industry leaders and press at various panels, talks, and special events.
Cost: $99-520
September 23
Austin Area Museums
Are you the type of person who always says "I really should go to more museums"? Well, whether you're interested in art, culture, history, music, or science, here's your chance to actually do it: On Austin Museum Day, more than 40 museums are opening their doors for free with special programming, exhibits, and activities for all ages.
Cost: Free
September 29
Fiesta Gardens
Attention beer nerds: The Texas Craft Brewers Festival is your most efficient way to taste numerous craft brews without running all over the state. This year, 70+ craft breweries will be in attendance with 200+ handcrafted beers. When you're taking a break from sudsy sips, get some eats from the food vendors and take a mo to enjoy the live entertainment. (Also, please pre-schedule a ride home.)
Cost: $15 for designated drivers, $35 for GA, and $75+ for combo tickets and VIP
September 29
Austin Saengerrunde & Scholz Garten
Bust out your lederhosen for the sixth annual AustOberfest, a glorious event of mass consumption. Expect all-you-can-eat sausage and bier tastings, bowling (yes, bowling), and your favorite polka party music -- oh, and contests like the Stein Holding Feat of Strength and Air Accordion Championship.
Price: $25-40
October 5 - 7, 12 - 14
Zilker Park
Paul McCartney. Hozier. Childish Gambino. Khalid. Father John Misty. Metallica. There's a little something for everyone at this years ACL Fest. This is the festival that not only brings us incredible musicians and spin-off parties, but also gives back: Post-concert, they spend some dollars improving Zilker and parks all across the city, so you can feel good about going.
Cost: $100-3600, depending on the ticket level you purchase
October 20
Downtown Pflugerville
Who doesn't love a chili cook-off? Just a short drive away, Pflugerville's Pfall Pfest continues the annual tradition of a lot of chili consumption in a short amount of time; the event takes over Main Street with chili vendors galore. You'll have a chance to shake off those stage-five meat sweats by dancing it up to live music, gawking at classic cars, and sweating even further with a jalapeno eating contest you'll probably regret.
Cost: $5
October 19 - 21
Circuit Of The Americas
Chances are you know about this major F1 racing event in Austin, but it bears repeating: This three-day championship event heralds the fastest drivers, exhilarating racing, packed downtown parties, and post-race performances by Bruno Mars and Britney Spears.
Cost: $199+
October 27
Rosewood Ave
It's diet-breaking time: Soul Food Truck Fest is keeping it real (real southern) with trucks slinging everything from barbecue and cajun food to deep-fried… well, deep-fried everything. Beer and wine will be available for purchase, as well. Post-aggressive eating, you'll have an opportunity to stroll through the craft vendors and enjoy live music.
Cost: $10
October 25 - November 1
Austin-area venues
Austin's Film Festival will screen a whopping 180 films this year -- and that's not all folks! You can also participate in Q&As and panels with movie directors, actors, producers and writers, and the festival hosts various competitions including film, podcast, pitch and young filmmakers, some of which are still open to entry. If you're especially keen, you can also join them for the kickoff Food and Film fundraising event on October 24th.
Cost: $70+
October 27 - 28
State Capitol + Area Venues
Remember the rush you felt when the book fair came to school? This is like that, but approximately 100 times better. The festival spans 20+ venues with 80+ exhibitors, and includes live music, food trucks, family activities, book sales, and the opportunity to hear from and mingle with authors like Margaret Atwood, Salman Rushdie, Cheryl Strayed, Walter Mosely, and more.
Cost: Free
November 1 - 4
Burnet, TX
A camping festival can be hard to get right but the folks at UtopiaFest have been doing this for 10 years. With a new location in Burnet, art installations, workshops, local food vendors, and a lineup that includes the likes of Patty Griffin, Rubble Bucket, and Lukas Nelson, this is one fest you'll want to drive out to.
Cost: $209
November 1 - 4
Palmer Events Center
It's time to go shopping for the kids: The Settlement Home Garage Sale directly benefits their children's programs and many other area nonprofits. The garage sale is amazingly well-organized (unlike your neighbors!), and your shopping addiction helps out people in need. This is basically a win-win.
Cost: $8-10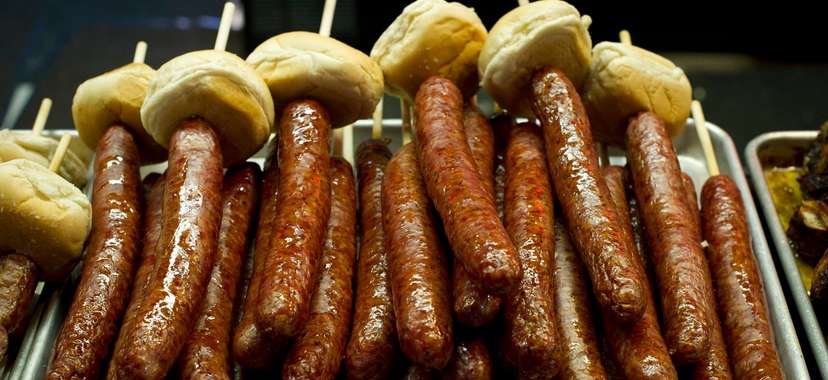 November 2 - 11
New Braunfels
This self-proclaimed 10-day salute to sausage is a classic central Texas fall event. Music and food and dancing and German heritage, crazy hats and carnival rides and fairground games, stacks of beer pitchers, and new best friends. Grab oma and opa and ze kiddos, and head out to New Braunfels.
Cost: $20
November 3
Travis County Expo Center
Unless you've been to this before, you've probably never seen anything like it. Hundreds of Native American dancers, singers, storytellers, and performers come together to share traditions. There are competitions, a native market, a food court with traditional Native American foods, and an interactive program from Texas Parks and Wildlife.
Cost: $5+
Nov 3-4
Pioneer Farms
Explore your Celtic roots at this annual festival celebrating all things Celt -- even if you haven't got any Celtic roots. There'll be music, dance, Highland games, and history demonstrations and workshops (e.g., Scottish country dance, Irish guitar), as well as food and drink (including a scotch tasting) along with jewelry, crafts, textiles, and art.
Cost: $15-25
November 10
Camp Ben McCulloch
This homegrown celebration of Spanish culture started off as a small cook-off among friends, and has since grown into an annual event with over 30 contestants, official judges, and hundreds of attendees on the hunt for the perfect paella.
Cost: $57 ($20 for kids)
November 10 – 11, 17 – 18
Participating studios
Turns out we have some creative people in Austin -- who knew? This free, annual, self-guided tour provides an opportunity for the public to meet artists around the city; often hosted in small galleries or even in peoples' home studios, it's an up-close-and-personal window into the work of our creative artisans.
Cost: Free
November 18
Camp Mabry
The Austin Food and Wine Alliance knows how to throw a party. Their annual Wine & Swine event is an all-star lineup of the best chefs in the city serving pork-based bites, plus wine -- lots and lots of wine. If you just can't wait, hit up their Wine and Dine dinners with Chefs Lidia Bastianich and Alon Shaya for a real treat.
Cost: $65+
Sign up here for our daily Austin email and be the first to get all the food/drink/fun in town.