Although the onset of summer also means the onset of insane temps in Austin, we still look forward to it like a kid finally getting out of school. That's because we know our energetic city can't stop (won't stop), and that our calendar for the next four months will be crowded in the very best way. In addition to summer series like the Paramount classics and Unplugged at the Grove, each week offers a new festival, concert, or fabulous opportunity to celebrate being alive in Austin, Texas. We've done the digging, now you do the doing.
Now through August 31
The Paramount
For 44 years, the Paramount has kept Austinites cool during the hot hot heat. Escaping to a dark movie theater and seeing some of the most iconic films in history is a delightful way to spend almost every day during the summer. Comedies, thrillers, family dramas and adventures play out on the big screen in this three month-long celebration of feature films.
Cost: $12
Recommended Video
Model, Influencer & Entrepreneur Lindsey Pelas Reveals Celebrity Pick Up Stories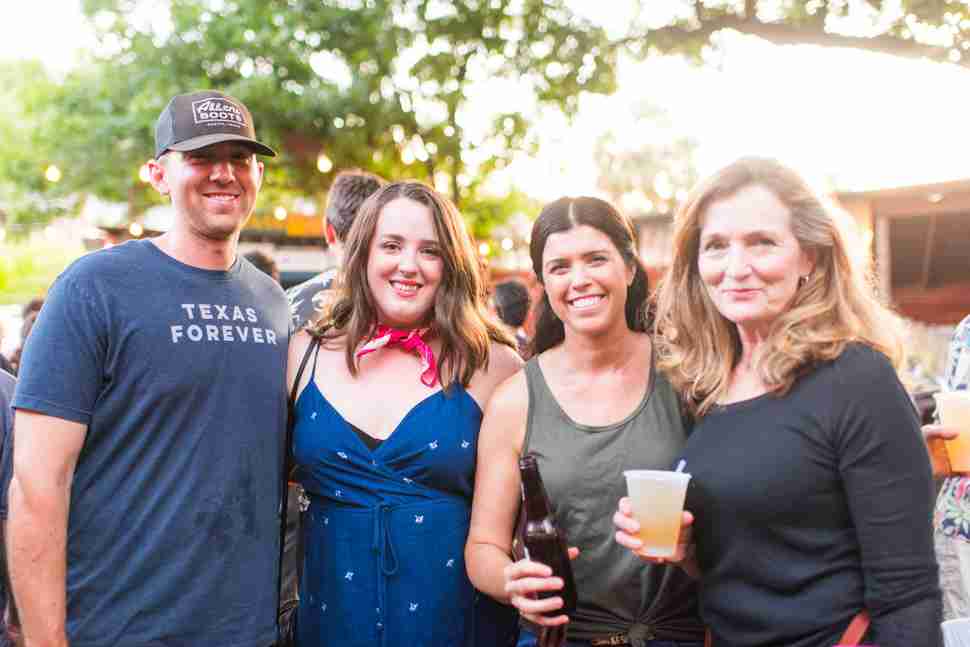 May 30 - September 12
Shady Grove
Austin City Limits Radio (formerly KGSR) has kept Austin entertained all summer for the past 26 years, and 2019 will be no exception. Every Thursday evening for 23 consecutive weeks, indulge in free live music at the iconic Shady Grove. It's an all ages show and even if you don't like the music (unlikely), there are always the drink specials.
Cost: Free
June 7
Blanco, TX
Just an hour outside of town you can have your very own Wizard of Oz-like experience, in endless fields of lavender. That oh-so-soothing herb scents the air while you browse 100 arts and craft vendors, listen to live tunes, and sample beer, wine and bites. It's a fun little day trip, or you can stay the night and scout out the local area.
Cost: Free  
June 8
The Domain
With so many restaurants opening in The Domain, it can be exhausting to think about trying to check out each one. That's why going to the Taste of North Austin is so great -- it's a one-stop shop for the very best of The Domain. This annual event brings together 25+ restaurants for you to sample, including Paul Martin's Austin Grill, The League Kitchen & Tavern, North Italia and more. There will also be live music, a kids fun zone and prize giveaways.
Cost: $20+
June 8 - August 17
Volente Beach Waterpark
Every Saturday this summer, Jaws is back and more vicious than ever! Alamo Drafthouse has gotten major props for this interactive screening of the movie that made us afraid to get in the water -- by screening it at an outdoor theatre… on the water. Experience the classic movie while floating on a tube on Lake Travis. Scuba divers provide the specialty cocktails (and a few nervous moments).
Cost: $45
June 12, July 17 and August 7
Zilker Park
Hundred degree temps aren't enough to keep people from going to Blues on the Green, an almost 30-year Austin tradition. Bring your families, pets and pals along with a cooler, blanket and sunscreen for a beautiful night of music out under the stars at Zilker Park. Check the schedule for the big band reveals.
Cost: Free
June 21
Scholz Garten
The oldest live music venue in Texas is getting witchy on us. Psychedelic rockers The Matt Gilmour Band along with Sixteen Deluxe, The Cuckoos, and Danny Johnson (of Steppenwolf) will play to visuals put together by The Mustachio Light Show. The Summer Solstice celebration kicks off a series of shows occurring every solstice and equinox, with a portion of proceeds going to CareBox.
Cost: $10
July 4
Circuit of the Americas
Willie just keeps being awesome and we are here for it. Willie Nelson's 4th of July Picnic always has an excellent lineup, and the 46th edition will be no different. This year, the two stages will host Nathaniel Rateliff & The Night Sweats, Alison Krauss, and of course Willie Nelson. Eat, drink, and shop Texas-based vendors -- then watch the spectacular fireworks show.
Cost: $45
July 4
Auditorium Shores
Tens of thousands of people descend on Auditorium Shores with blankets, strollers and friends in tow for the annual July 4th Concert and Fireworks. Wear your red, white and blue, bring those flags, and prepare to Instagram every moment. The symphony will play patriotic classics and the night ends with a stunning display of fireworks exploding against the skyline of this fair city.
Cost: Free
July 6
Moontower Saloon
Spam is a divisive issue -- some people love it, some people hate it, but most can agree it's kitschy as hell. Moontower Saloon is bringing back an Austin OG festival, a celebration of all things Spam. Spam tossing, a Spam cookoff, a Spam-eating contest, live music and more. Spamarama was even the subject of a movie and has been documented by the Smithsonian, so you're basically morally obligated to go to this historic event.
Cost: $10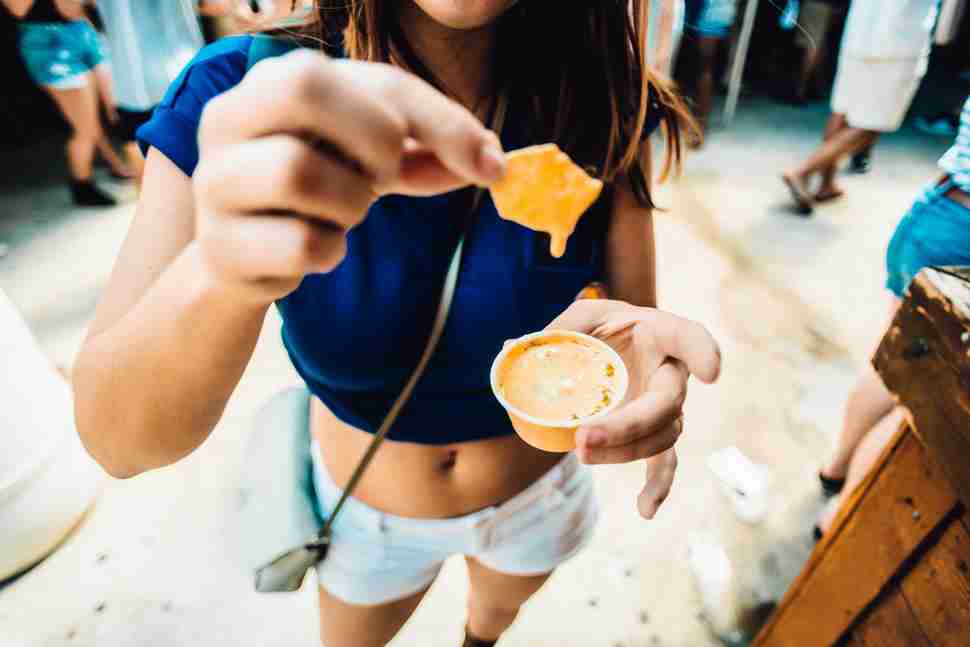 July 27
Mohawk
Only in Austin can melted cheese inspire such devotion. The annual QuesOff pits thirty different purveyors of the hallowed goop against each other in an epic showdown. This includes profesh chefs and local restaurants, as well as home cooks. There are four categories: meaty, spicy, veggie and "wild card" -- you'll have the cheesy pleasure of tasting them all. They're still accepting entries!
Cost: $3 or 2 canned goods
August 3
2nd Street District
Break out your pearliest white pants and head to this sip-and-stroll event benefiting the Austin Food & Wine Alliance. Your ticket includes bites and cocktails from some of the area's most prominent bars and restaurants, like La Condesa, Taverna, She's Not Here, Trace, Swift's Attic and more. As you amble along valiantly trying to keep those pants pristine, enjoy live music from legendary local R&B singer-songwriter, Tje Austin.
Cost: $55+
August 17
Palmer Events Center
If you're really into keeping Austin weird, this expo may do just the trick. With a huge range of the mysterious and odd, you'll be loaded for bear with cocktail conversation. Taxidermy, specimens, antiques, jewelry made from bones, original artwork will be on display along with sideshow performances, human suspension and taxidermy classes.
Cost: $10+
August 24
Congress Avenue Bridge
Bat party on the bridge, bro! Every year, Congress Avenue Bridge hosts a huge festival honoring our city's spirit animal, the almighty bat. There'll be two stages of live music with acts like Ghostland Observatory, Roger Creager, Dharma Kings, and Cory Morrow, plus over 50 arts and crafts vendors, food, and drinks. Oh, and a bat costume contest, among the many bat-themed activities.
Cost: $15+
August 27 - September 2
Various venues
The annual Out of Bounds Comedy Festival showcases the best in improv, sketch and standup from Austin and across the world. Over 500 performers and 130 acts will grace the stage -- in the past, they've featured performers from Saturday Night Live, MADtv, Kids in the Hall, Second City and The Daily Show. I wish I could think of a joke to insert here, but I can't. Rest assured, they're funnier than me.
Cost: $25+
September 12
Fairmont Austin
If you want to find all the cocktail connoisseurs in Austin, show up to this event. The Official Drink of Austin helps determine (you guessed it!) The Official Drink of Austin in a head-to-head competition that includes some of the city's best bar teams. Guests get treated to the craftiest cocktails Austin's bar scene can whip up, with plenty of light bites on the side. The event raises money for the Austin Food & Wine Alliance, which makes it all go down even easier.
Cost: TBD
September 19 - September 26
Various venues
As the largest genre film festival in the world, Fantastic Fest is like Christmas for film aficionados. This year, they've taken it up a notch by focusing on movies made in Mexico. From luchadors to mostros, it's going to be a self-proclaimed "carnival of celluloid" celebrating our neighbors to the south in a way only the Alamo Drafthouse can pull off.
Cost: $99+
September 26 - September 28
Downtown Austin
Politics and public policy take center stage at the Texas Tribune Festival every year. The 2019 Festival comes right after the 86th legislative session so you know there will be tons to talk about. Non-registrants can also participate in Open Congress, free programming woven through the event. Maybe, just maybe, it's time to give your belly a break from all these food-and-drink fests, and start feeding your brain instead…
Cost: $45+
Sign up here for our daily Austin email and be the first to get all the food/drink/fun in town.