Shop Locally at These Austin Farmers Markets
Grab your roomiest tote bag and hit up these Austin farmers markets for fresh produce.
Photo courtesy of Texas Farmers Market at Mueller
Photo courtesy of Texas Farmers Market at Mueller
It's undeniable that a deep, abiding devotion for H.E.B runs through the veins of every Texan. Similar to Whataburger or Sunday football, the grocery giant occupies a sacred place in the Lone Star heart. However, with all due respect to the supermarket supreme, we're here to drop a hot take: There are other, locally based options when it comes to buying food. Particularly farmers markets, which Austin has more of than you throw an organically grown squash at. For your meal-prep pleasure, we've rounded up the best farmers markets in Austin for grub, good products, and great times. Because once you have fresh eggs, you'll never want to go back to the grocery store aisles again.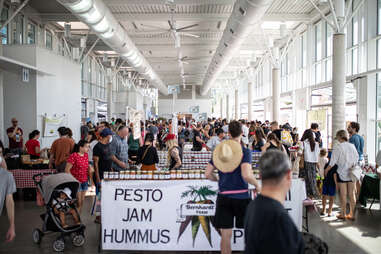 Sunday, 10 am–2 pm
2006 Philomena St
For nine years in a row, locals have deemed the Texas Farmers Market at Mueller as Austin's Best Farmers' Market. And, while this accolade is well-deserved, the title fails to fully encompass the lovely Sunday experience here. With all their featured agriculture producers coming from no further than 150 miles of the market, it's a given they have the goods to up your grocery game, such as sustainably grown greens from Bouldin Food Forest, or vibrantly colored carrots and cauliflower from New Leaf Agriculture. However, the sheer amount of straight-up food trucks, including Tacodeli and Ninja Pig, parked nearby make it an equally great place to just stop by for a casual brunch.
Wed thru Sat, 8 am–1 pm
3414 Lyons Rd
Take out the middleman and go right to the root, by stocking your fridge with food from Boggy Creek Farm. About a 15-minute drive from downtown Austin, this no-till, organic urban farm is an easily accessible, grocery alternative to a basket-full of Trader Joe's frozen entrees. At the farm's bi-weekly market, you can purchase a full bounty from the fields—lettuces, crispy podded legumes, earthy root vegetables, whatever's in season. While Boggy Creek also offers fresh eggs from the hen house, its market shines a spotlight on fellow producers as well. To supplement the home-grown offerings, you'll find a myriad of other local vendors hocking fresh pasta, goat cheese, pork chops, and everything in between.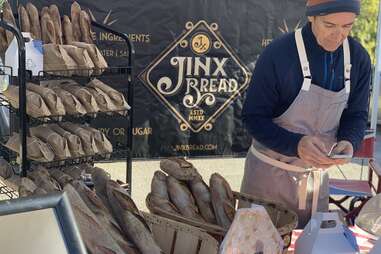 Saturday, 9 am–1 pm
2901 S Capital of Texas Hwy
The mall might be the last place anyone would expect to find items described as "naturally sourced" or "community-made." But, every Saturday in South Austin, such a fascinatingly delicious paradox occurs at the Barton Creek Farmers Market. Set up in a backlot of the Barton Creek Mall, this long-running market energizes its suburban setting with stalls selling vividly hued vegetables, flavorful fruits, and pasture-raised proteins. In addition to filling your tote with seasonal jams from Country Chick Farms and Shipps Lake Ranch's Angus beef, you can even get in on the growing game yourself at the Rasmey's Garden booth. This vendor has all you need to turn your thumbs green, including seed-starting soils and already thriving potted plants.
Saturday, 9 am–1 pm
Downtown: Republic Square; Sunset Valley: Toney Burger Center
Local nonprofit Sustainable Food Center (SFC) takes the eco-friendly ethos even further at its weekly downtown and Sunset Valley markets whose vendors are primarily farms and ranches.. SFC works to support Central Texas' small- and mid-size farms, as well as address food insecurity in the community (several food benefit cards are accepted as payment). Discover delights at the SFC markets beyond the chicken wings from Geosmin Regenerative Farm (which are a must-get) or the lovely pea shoots from Gracy's Microgreens. Throughout any given month, the markets feature an activity—a free yoga sesh or a live music performance—on a recurring basis.
Saturday, 9 am–noon
8310 Canoga Ave
There's more to East Austin than divey music venues and trendy restaurants—acres more. Green Gate Farms is only a 20-minute drive from local hipster haunts Hotel Vegas and Mama Dearest. Offerings at this certified-organic, community-run market are peonies, as opposed to PBRs. And, the best way to take in the farm's full-spectrum of florals, including bouquets popping with tulips and sunflowers, is the Saturday market inside the property's big red barn. Beside the blooms, you'll also find an abundance of other delectable items, such as leafy vegetables and fragrant herbs, that are picked straight from the site's grounds.
Sunday, 10 am–2 pm
Hill Country Galleria
The question of how to spend a Sunday can often pull a person in two directions: rest up or prep for coming week. It doesn't have to be one or the other. Make a trip out to Bee Cave for the Lone Star Farmers Market where the natural landscape of the scenic drive to Hill Country Galleria will feed your spirit. Meanwhile, the natural grub from the market's vendors—cauliflower from Comanche Oaks Farm, Hatchitt Hill Ranch's Wagyu beef—will feed your stomach and fridge for the week ahead. Grab lunch to-go from one of Lone Star Farmers Market's food truck vendors. Then head to the nearby Barton Creek Habitat Reserve and enjoy that meat-filled sandwich from Pork Booty or the Garbo's lobster roll under the tranquil shade of an oak tree.