13 Facts About Austin That Are Actually Straight-up Lies
Sorry, y'all, ATX is the live music capital of nowhere.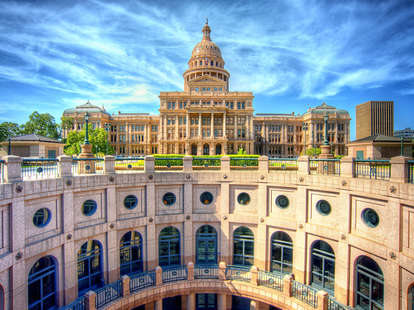 Shutterstock
Shutterstock
Austin is an awesome city. The people are all-welcoming and cool. The outdoor spaces are green and we do Tex-Mex to an exceptional standard. But let's be real, we're no London, Paris, or even Houston. Austin's a small city, with small-city charms. There are no big stats to blow your mind, downtown has become a cookie-cutter, and the most famous person from these sticks is actually Amber Heard (Willie Nelson is from Abbott—sorry, music fans). Nothing wrong with that, but still, government officials, PR firms, realtors, students, and your next-door neighbor feel the need to exaggerate the facts, so much so that most of us are left scratching our heads thinking "that can't be true?" So, before you accidentally become one of those know-it-alls who actually know nothing, we've vetted 13 common facts echoed through town that are completely made up… because if there's one thing Austinites pride ourselves on is the truth. That's why 'Austin has more honest people per capita than anywhere in the world' (oh come on!).
Austin is the "Live Music Capital of the World®"
Had friends in town recently and told them that they just entered the live music capital of the world? Well, you just told your buddies a big fat lie. Our famous (and heavily marketed) city slogan is based on a one-time fact concluded by counting newspaper listings in 1991 that Austin had more live music venues per capita than anywhere else in America. No official study was conducted globally, and no additional proof has surfaced since. In fact, with much of the city being bulldozed for luxury apartments and artists being priced out of town, the slogan couldn't stand more untrue today.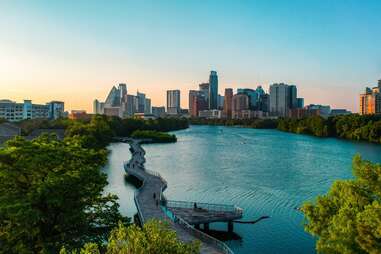 Austin's 'completely different' to the rest of Texas
In the same way that major cities like Los Angeles, Chicago, New Orleans, and Miami have unique attributes to the rest of their home state, Austin has special qualities that make it a desirable place to live and visit. However, often it's referred to as a whole other place, one that isn't even in Texas. Ironic as it's the capital of Texas. To be fair, most people that say this mean it in a political sense; but fellow cities Houston, El Paso, Dallas, and San Antonio all share majority democratic values too. In a nutshell, Austin isn't the only place where love is love, women's rights are human rights, and where diversity is embraced in Texas.
Austin was the set for Miss Congeniality
Truth wildly exaggerated. You may have watched dear Sandy's 2000 classic over and over in a desperate attempt to spot Barton Springs or Antone's to no avail. That's because the film is actually set in San Antonio, which is why all their recognizable landmarks are in the spotlight. The crew trekked up to nearby Austin only to shoot interior scenes such as in the Bass Concert Hall for the pageant. So, while the film was indeed shot in Austin, it by no means showcased our best assets.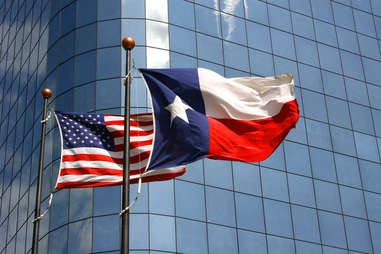 The Texas flag is the only flag that can fly as high as the American flag
Everyone in Austin loves this fact. It's even relayed during tours at the Capitol building. Right after they explain the origins of the name "Six Flags," you'll hear how Texas is afforded this right because we were an independent nation prior to admission into the United States. The problem is it isn't true. The Texas flag is allowed to fly as high as the US flag, but so is every other state flag in the country.
The UT Tower looks like an owl because it was designed by a Rice University graduate
The second thing you'll get told on your first day in Austin is the tale of the owl building. According to seemingly every Austinite, a scorned Rice University (in Houston) grad later became an architect and constructed the university's tower as a homage to Rice's mascot (an owl) and as humiliation to Austin. The problem is UT's tower was designed by Paul Cret, who was born in Lyon, France and graduated from the École des Beaux-Arts in Paris.
The Frost Bank building looks like an owl because it was designed by a Rice University graduate
If you don't hear the UT tower was built by a Rice grad, you'll hear the same story applied to the Frost Bank Tower in Downtown. Look at those eyes. The Frost Bank tower was designed by Duda/Paine Architects, LLP and HKS, Inc., neither with Rice affiliations or agenda. Can we please put both of these to rest now, please?
Picking bluebonnets is illegal
The state flower of Texas, the bluebonnet, is a sight to see out in the hill country. Inevitably someone wants to stop to strike the perfect bluebonnet Instagram pose. One over-enthusiastic friend will chime in with the fact it is illegal to pick them. Well, it's not. There is no Texas law that forbids the picking of bluebonnets unless you're trespassing on private property. (But also maybe just don't do it anyway, 'kay?)
The Texas Capitol faces south to honor the Texas Revolution
This one also has two common sayings. The first is that Texas built the Capitol facing south as a snub to the Union. The other is that it faces south towards Goliad or the Alamo as a nod to remember both the Texas Revolution battle sites. Remember the Alamo! The fact is it's built on high ground and to face the river.
Texas has the right to secede back to the Republic of Texas
Blame Rick Perry for this one. In a 2009 interview Perry let out, "When we came into the Union in 1845, one of the issues was that we'd be able to leave if we decided to do that." Our former gov was sadly mistaken, as Texas has no right to secede, no matter what our Lone Star cans say. We could try, but as we saw in 1861, it doesn't turn out too well.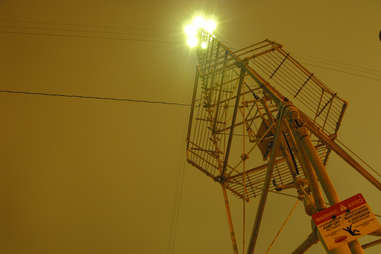 The moon light towers were put up to find a serial killer
Back in the day there was a serial killer known as the "Servant Girl Annihilator." Rumor has it Austin put up moon light towers to help find the man responsible. Unfortunately, this isn't true, as the towers weren't erected until 10 years after the murders took place.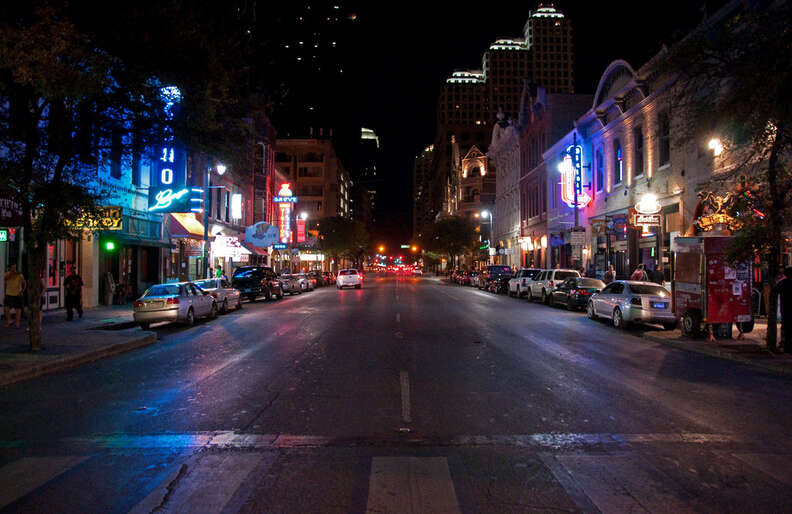 Austin has the most bars per capita
Every hard-drinking town loves to tote this "fact." You hear it in Brooklyn, Portland, and from residents of every other city who wants to prove how cool their town is. The fact is, Austin's too small to have the most amount of anything per capita, let alone bars. Studies in recent years have pulled out Pittsburgh and San Francisco as the most bar-dense cities. No official surveys have featured Austin in their top 10.
Bevo got his name because of an A&M prank
Bevo, the beloved mascot of the Longhorns, is often said to have gotten his name in a rather embarrassing way. Legend has it that after a 13-0 lost to A&M, some students branded the score into poor old Bevo. Embarrassed, UT students altered the branding to read "Bevo" by changing the "13" to a "B," the "-" to an "E," and inserting a "V" between the dash and the "0." This is not true. While Bevo was actually branded, his name was acquired prior to the infamous prank.
Austin is weird
Throwing "just keeping it weird" after any of your questionable actions doesn't make Austin weird. The town, when compared to many others in this country (we're looking at you New Orleans), is fairly normal. Particularly with the recent influx of investment and growth, Austin's "motto" is a lie. We're cookie-cutter AF (especially downtown) lately with our Whole Foods, Soul Cycle, and back-to-back Marriott hotels. And you know what? There's nothing wrong with that at all—we still love this town weird or not.
Sign up here for our daily Austin email and be the first to get all the food/drink/fun in town.