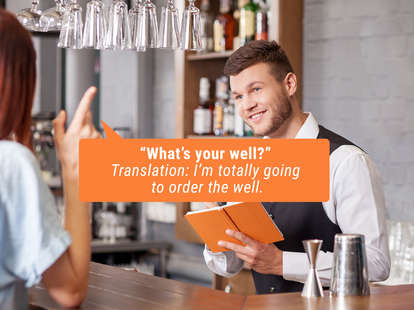 Olena YAkobchuk/Shutterstock (edited)
Olena YAkobchuk/Shutterstock (edited)
Believe it or not, there's more to mastering Austin's dialect than adopting the word "y'all" and talking with a mouth full of tacos as you complain about traffic, rent hikes, and noise ordinances. In all actuality, Austinite is really a language all its own, and behind every seemingly innocuous sentence, well, there's often a whole lot of bullsh... subtext, there's a whole lot of subtext. So to help you navigate these convoluted conversational waters, here's a little translation guide.
"We've gotten really into AcroYoga lately."
Translation: We're one of those couples doing freaky stuff at the park, and we know what you're thinking: we have tried this in the bedroom. (P.S.: Please ignore the black eye -- that's where I fell on his face.)
"Is there a cover?"
Translation: Please tell me now if I need to get cash back when buying gum and cigarettes at the gas station so I don't get reamed by a $6 surcharge at a Red River ATM.
"I'm not looking for anything serious at the moment."
Translation: I will be swiping until I'm 60.
"I guess we're going to Dirty." [In the most resigned tone imaginable]
Translation: I have friends visiting from out of town and am therefore obligated to take them to Sixth St for cheap shots, subpar pizza, the realization of Real World: Austin dreams at Dizzy Rooster and -- depending on the amount of $5 liquor pitchers consumed at Shakespeare's -- maybe some mechanical bull attempts at Trophy Club. There is a 72-hour hangover in my future.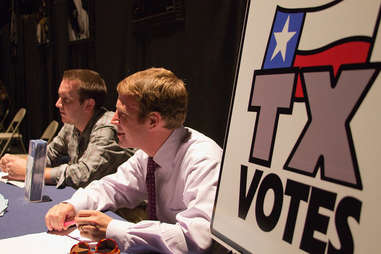 "Have you registered to vote?"
Translation: You seriously need to vote. Or maybe move.
"Set times?"
Translation: I need to know how long I can drink for cheap at Side Bar without missing the headliner I bought the ticket to see.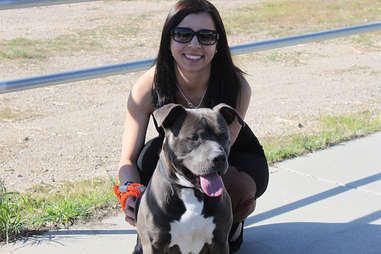 "(S)he's a rescue."
Translation: Let me clear this up ahead of time so you don't launch into an #adoptdontshop spiel while our dogs sniff each other's butts at Yard Bar. Also, we should probably hook up.
"It's fucking hot."
Translation: Seriously... it's fucking hot.
"I can't wait 'til summer."
Translation: I temporarily forgot how fucking hot summer is.
"How long have you lived in Austin?"
Translation: I'm pretty sure I moved here before you, and I want to assert my superiority.
"Running late -- 35* is slammed. Be there soon!"
Translation: I haven't technically left my apartment yet -- and I'm probably not even be wearing pants -- but whether I'm telling you this at 3am or 3pm, there's no way in hell you can dispute it, because it's definitely true. (*MoPac may be substituted for 35 when convenient.)
"Wyd tonight??"
Translation: I sent this text to 25 people searching for the Saturday-night holy grail: something fun, free, and within biking distance. There is a four-percent chance you'll actually see me or hear from me at any point this evening.
"Let's see a movie."
Translation: I want to sit in the dark, eat massive amounts of food, and drink beer without talking to anyone, and doing it at Alamo instead of at home on a Friday night means it's not sad, it's social!
"(Insert music festival here) dates announced!"
Translation: Rainout and/or dust storm dates announced!
"I'm not even going to ACL this year."
Translation: I'm going to persistently bitch about the lineup and crowds for the five months leading up to ACL and then cave the week before and buy a wristband off Craigslist because FOMO is way worse than any and all festival pitfalls.
"Do I have to dress up?"
Translation: This is your only chance to tell me if Vans or flip-flops aren't acceptable for this event... in which case I'll put on a slightly nicer pair of Vans or flip-flops.
"I think I know that guy."
Translation: Not sure if I've matched with that guy on Tinder or he just looks exactly the same as every other bearded bro in Austin.
"It's so nice out. Let's do something outside!"
Translation: Let's go drink on a patio.
"What are you doing Tuesday?"
Translation: My band is playing a gig at this coffee shop that in no world meets the acoustic or atmospheric requirements to qualify as a real music venue. Please come because last time it was just four people on laptops who didn't even take their headphones out and a ponytailed barista who looked really pissed about pausing his Pandora.
"Is there parking?"
Translation: I'm not going to do laps around Downtown for 45 minutes looking for a parking spot, and I'm sure as hell not going to pay to valet, so tell me now so I can politely bail on plans ahead of time.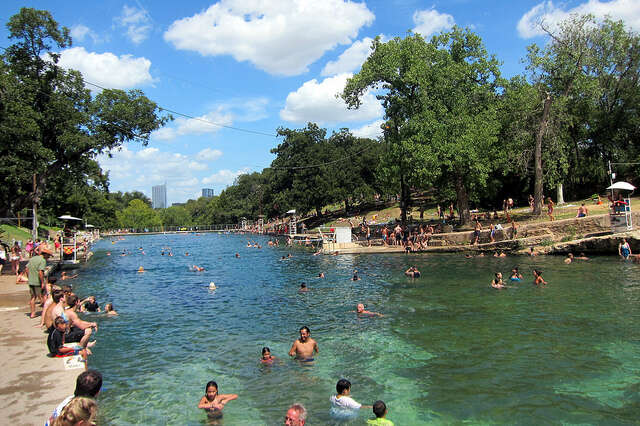 "#bartonsprings #bartonsprung #summer #Austin #ATX #nofilter #blessed"
Translation: I spent two hours on a Saturday afternoon waiting in line and sweating balls while being surrounded by way too many kids and drinking beer out of a Big Gulp cup so I could get this obligatory seasonal Instagram post. I won't be back until it's time to do this again next summer. (And fine, I totally used a filter.)
"So, you're sure this is vegan?"
Translation: I know you've got a green V or a leaf or whatever designated icon next to this menu item and that this is Austin where people actually know what the word vegan means, but we're still living in a country that celebrates topping bacon with more bacon so I really need some verbal confirmation with accompanying eye contact here. If it turns out this isn't vegan, I will stab you with this salad fork.. or more likely only tip 15% and write a really disappointed Yelp review.
"What's your well?"
Translation: I'm totally going to order the well, but I'm going to at least pretend I'm considering otherwise. Also, please say Tito's.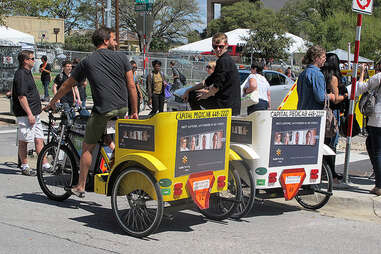 "Should we take a pedicab?"
Translation: My feet are killing me. Please tell me you have cash.
"Austin has changed so much."
Translation: In terms of relatable conversation topics, we both know this is basically the equivalent of talking about the weather, so let's just enjoy some mutually cathartic, at-this-point-autopilot complaining about condos, crowds, Californians, and other cliché ways that Austin just isn't the same, maaaaan.
"It's way up north."
Translation: It's north of wherever I live. Which, for the record, isn't "up north."
"Brunch?"
Translation: I'm well aware that it's 3pm but I can't order eight mimosas or hashtag Sunday Funday at "lunch." So... brunch?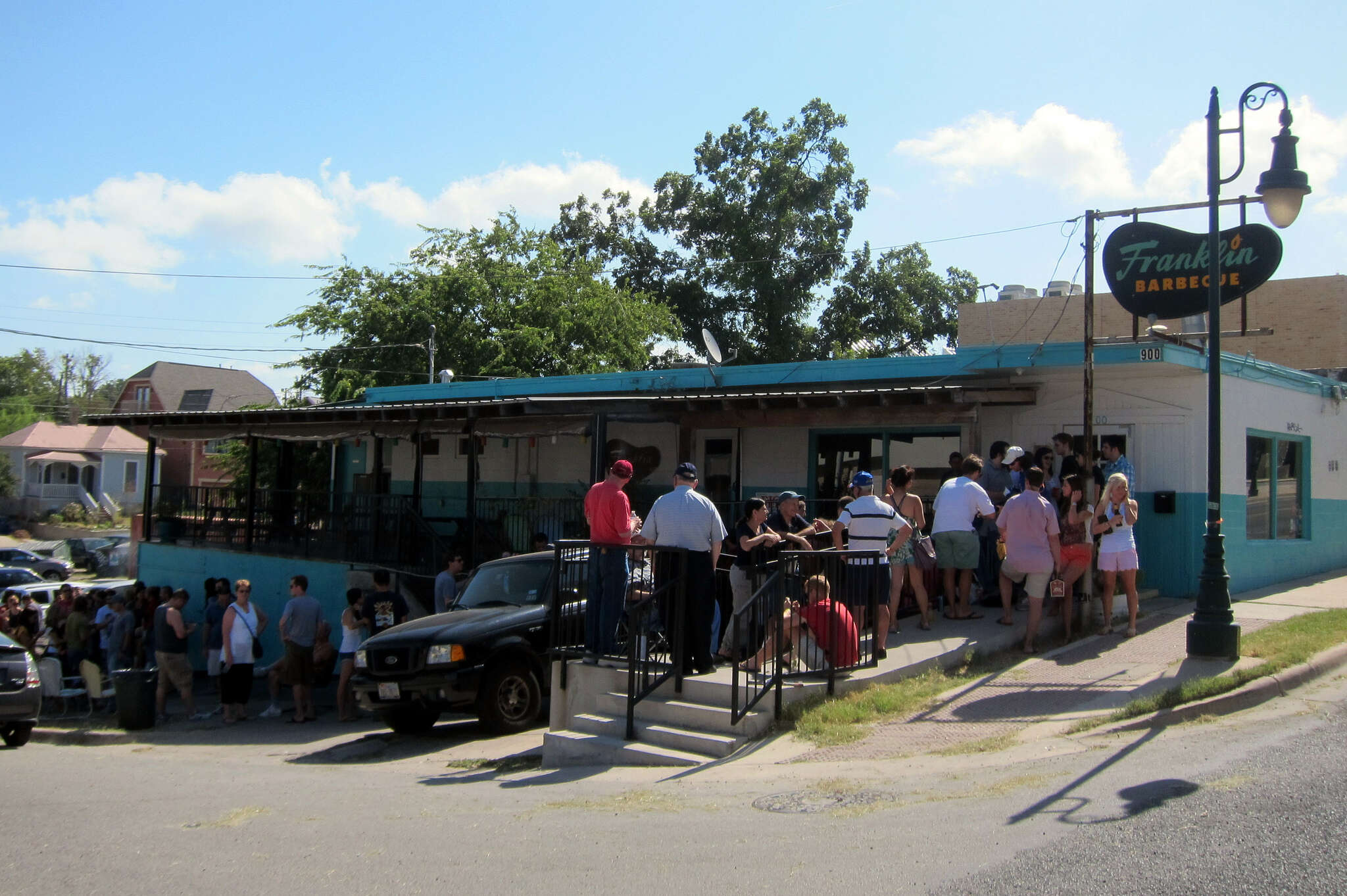 "I'm in line at Franklin."
Translation: People are in town with a gastronomic bucket list comprised of 50 Food Network-featured restaurants and... oh, god... they even read that story about how Kanye couldn't cut. I'll be waiting in a Black Friday-caliber line for barbecue for the next five hours, but I'll get you brisket if you bring me beer!?
"We're heading to West if you wanna meet up."
Translation: If you wanna come drink with "young professionals" at a discreetly racist rooftop bar, I'm meeting Chad, Brad, and the rest of the Dallas-bred dad-bod squad there soon. Bring chicks.
"Wanna grab coffee?"
Translation: Let's head to a coffee shop that serves brews and booze and pretend we're going to get coffee before openly embracing our Austin-acceptable level of alcoholism and ordering beer at 10am instead.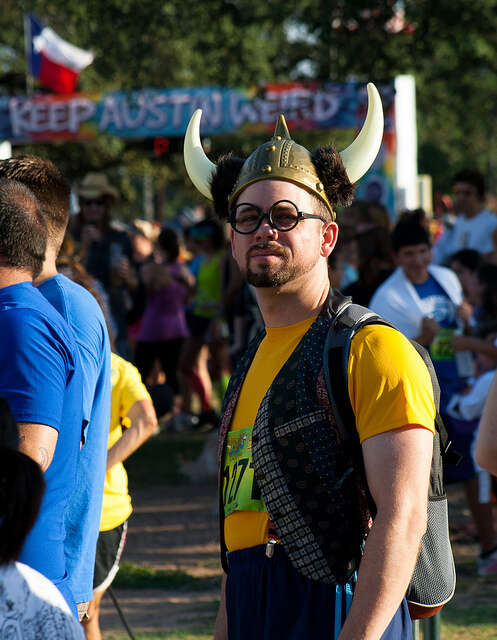 "Keep Austin weird, right?!"
Translation: I've lived here less than a week, and I saw a guy in a G-String on a bike! So WEIRD!
"I need to detox." [On Monday morning]
Translation: I'm not drinking until Tuesday. Then, margaritas?

"We bought a house in Cedar Park, but it's only, like, 25 minutes from Austin!"
Translation: We got married and gave up. You will never see us again.
Sign up here for our daily Austin email and be the first to get all the food/drink/fun in town.
Sam Sumpter is an Austin-based writer who is seriously on her way to wherever you are but MoPac sucks, swear. See if you can figure out what she's really talking about @Sam_Sumpta.