How to Make Sure Your Vote Counts in Austin This November
Everything you need to know including key deadlines, registration details, and how to vote by mail.
As Sean Combs once declared many monikers ago, "Vote or Die." While we don't want to bring up anything that encourages you to increase the time of your nightly doom-scrolling, P. Diddy does have a point—from civil rights to the Second Amendment, who you choose on your ballot this year is just as important as ever.
And, in 2022, it's all going down on Tuesday, November 8th—when a whopping 35 Senate seats and all of the seats in the House of Representatives will be on the line. In the Lone Star state, especially, the highly contested race between Democrat Beto O'Rourke, and incumbent Republican Greg Abbott, for Governor will come to the kind of conclusion which every CNN anchor is sure to call a "nail-biter."
So, whether you're a proud patriotic regular, or a first-time voter, we got the D.L. on the polls including how to register, where to vote, and what's on the ballot. Now, get out there and make our Forefathers (and Diddy) proud.
What's on the ballot?
Besides the previously mentioned big-time political headlining match of O'Rourke v. Abbott, there's a ton of other equally important positions up for a vote in the Lone Star State this November. That includes races for Lieutenant Governor, Attorney General, Comptroller, Land Commissioner, and Agriculture Commissioner—all of whom serve four-year terms—as well the all-important, six-year term seats for the state's Railroad Commission.
For State Attorney General, incumbent Republican candidate, Ken Paxton, is going against Democratic candidate, Rochelle Garza, and Libertarian candidate, Mark Ash. On deck for the race for Lieutenant Governor is incumbent Dan Patrick (R) taking on challengers Mike Collier (D) and Shanna Steele (L).
On the Travis Country front specifically, there are also national and state seats in play. A seat for the U.S. The House of Representatives is up for grabs in the fairly new 35th Congressional District that includes many parts of East Austin. Running in that election is Democrat, and former Austin City Council member, Greg Casar, and Republican Dan McQueen. A U.S. House Representative for the 37th Congressional District, another newly created district that covers much of Central and West Austin, is also on the ballot. Running on that ticket is incumbent Democrat, Lloyd Doggett, as well as Jenny Garcia Sharon (R) and Clark Patterson (L).
The statewide races that Travis Country voters have a say in kick off with incumbent Sarah Eckhardt (D) running against Steven Haskett (L) for Texas Senate District 14. There's also a seat up for the State Board of Education for District 5, where incumbent Rebecca Bell-Metereau (D) and Perla Hopkins (R) are on the ticket.
Then, on the judicial side, three of the nine seats of the Texas Supreme Court are up for election. All three seats are currently held by incumbent Republicans.
While all this is a great start for your platform-researching hours, there still may be additional positions you are voting for based on where in the city you live. For more information on what is on your specific voting ballot, which is dependent on your Bat City address, check out the Texas Tribune's comprehensive ballot lookup tool.
Sample ballots can also be found by using the Voter Lookup on VoteTravis.com or by entering your address in Ballotpedia.
What's the deadline to register to vote in Austin, Texas?
Texas law requires eligible voters to register 30 days before Election Day. This means that the last day to register to vote in the Midterm Elections is Tuesday, October 11, 2022.
How to register to vote in Texas:
Anyone who is a first-time voter, or new voter in Texas, can start their voter registration application here. Be sure to first check out the eligibility requirements for voting to make sure you qualify to participate in this election. After you submit your voter registration application, a voter registration certificate (that's your proof of registration) will be mailed to you within 30 days.
And, should you currently be in a hot panic wondering if you're registered or not, you can check on your status online at the Texas Secretary of State's "Am I Registered?" portal. If you are registered, but have since changed your name or address, you can also easily update that information online as well.
Can I vote early?
Yes! The chance to vote early is not just offered in Texas. Its highly recommended way to ensure your ballot get counted while helping to prevent long voting lines on election day.
The first day of in-person early voting is Monday, October 24, 2022, and the last day is Friday, November 4, 2022.
Can I vote by mail?
Also, yes! But you have to meet certain eligibility requirements, as well as apply for/mail in your ballot on time. Some of those who are eligible to vote by mail include those who are 65 years or older, sick or disabled, and away from their county on Election Day and during the hours that early voting is conducted. Check if you qualify to vote by mail here.
Should you qualify to vote by mail, you must complete this application by October 28th. Your ballot is then due by 7 pm CST on Election Day (November 8th) if not postmarked, or by November 9th at 5 pm CST if the carrier envelope is postmarked by 7 pm CST on Election Day (unless overseas or military voter deadlines apply).
Those who vote by mail can track the status of their vote by mail application or ballot here.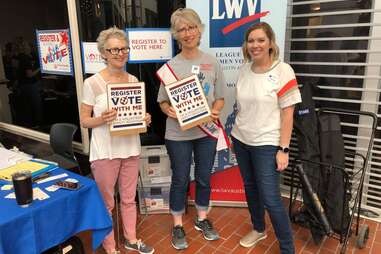 How to find your polling place in Austin:
There are two ways to find the nearest polling place to you with the simple click of a mouse. The first one is to head to the "Am I Registered?" section on Texas Vote (this link will be populated with voting sites a few days before Election Day). The second way is to head to Travis County's Locating Your Precinct site, which has a variety of resources on how to find a polling place near you.
It's important to note: Election Day polls will be open from 7 am to 7 pm.
How to volunteer as a poll worker:
Take your patriotic duties one step further this Election Day by volunteering as a poll worker. To do so, you must first take Texas' Online Poll Worker Training program, which is available 24/7 and free of charge.
Another great way to volunteer in a Election Day-related capacity is to help register individuals to vote by becoming a Volunteer Deputy Registrar. You can find out more about how to do this by contacting the voter registrar in your county for info and training.
Some additional Texas voting resources:
For those looking for more information, check out the Texas Secretary of State's Elections Division. You can also contact the Elections Division of the Office of the Texas Secretary of State at 1-800-252-VOTE (8683) or via email at elections@sos.texas.gov for assistance, questions, and additional voting details.
And there's always the Vote Texas website. There, you'll find a plethora of resources including a Voting by Mail guide, Voting in Person information, additional resources, and more.