Stressed? Let the Most Beautiful Places in Austin Relax You
Find your happy place in these Zen spaces.
Life in Austin is only getting more stressful every year. New buildings and businesses bring with them sky-high rents and corporate drama. Then there's the politics. And the heat. Oh, and the strange dating etiquette. All these are enough to make even the most chill of people go a little bit bonkers.
The remedy? Nature, of course. We've scoured the city to find all the most scenic escapes that induce Zen. Some are right downtown, others require a weekend's commitment (go on, treat yourself) and some require a little restraint not to take out your cell phone (damn, IG). However long you need a moment to catch your breath, here's where you can do it. Now say ahhh.
Downtown's Lady Bird Lake reflections
There's no need to venture far from your office or condo if you need a midday tech release, simply walk down to the shores of Ladybird Lake and take in the reflections of Austin's skyline come lunch hour. SUPs and kayaks paddling along make for a repetitive yet soothing spout of people-watching. Watch them from Lamar Bridge, or even better, join them on the water. Austin Rowing Club has all the equipment you need available for rent.
Congress Avenue Bridge's sunset bats
It's not just tourists that appreciate Austin's most famous bat colony—the spectacle is an evening ritual for many locals during the summer months too (it's the only time some of us go outside). Head to Congress Avenue Bridge before dusk between late March and October to see thousands of Mexican Free-Tailed bats wake up and start their nightly feed like specks of magic dust in the sky. (Tip: the bats feed on mosquitoes, so no need to pack repellent here.)
Miraval Austin's hammock-dotted trails, infinity pools overlooking Lake Travis, and resident horse stable
Every Austinite doing well knows the ultimate Zen escape is Miraval. The luxury resort and spa is perched on 220 acres of protected land, with pretty gardens, infinity pools, a stable for equine sessions, and a stunning Zen spa. Yes, this is a bit of a splurge, but when work's got you in a twist, a weekend's pampering just might be what the wellness doctor ordered. For those who don't want to shell out on overnight accommodation, ResortPass offers day passes for you to switch off on its grounds with activities and food included in the package.
The Texas State Capitol
Even if you don't agree with the decisions being made inside the Texas Capitol (and hell, who can blame you?), there's no denying the beauty of the building and its sprawling green grounds, which are enjoyable from a visual standpoint whether you're picnicking or… um... picketing. Free tours are also available inside if you're into interior beauty.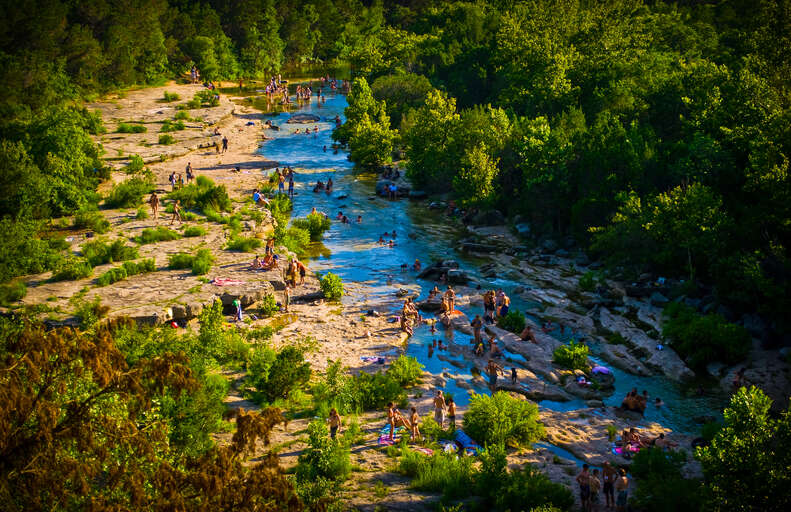 The Greenbelt
Want to get outdoors? Look no further than The Barton Creek Greenbelt's 809 acres of wow-inducing trails, trees, hills, and swimming holes. All you need is your camera, your bathing suit, and maybe your red cups and cooler.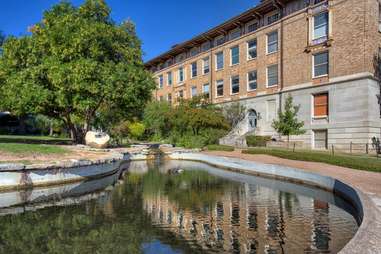 The Turtle Pond on the UT Campus
While the turtle pond serves as a relaxing spot to de-stress for students, for non-collegiate (i.e. old) Austinites, the wildlife alone is worth the visit. After all, like most things, it's probably more enjoyable when you don't have to worry about cramming for a chemistry test. There are even more perks with being in the campus district including all the delicious cheap eats are close by (mmm K-Bop).
The quaint buildings and shaded streets of Hyde Park
A neighborhood with a history spanning over 100 years, Hyde Park boasts homes ranging from huge Victorians to funky little bungalows, all of which combine with weird alleys, tucked-away parks, and towering trees for a truly unique, truly Austin experience. From a sightseeing perspective alone, these streets are worth wandering, and be sure to check out the Elisabet Ney Museum while you're here, too.
Barton Springs
At this charmingly retro-feeling natural spring, the water is perpetually 68 degrees, and the vibe is perpetually great. Whether you're lying out on the lawn, floating in the water, or cannonballing off the diving board (those six year olds will be so impressed), there's no arguing the fact that swimming pools don't get more scenic than this.
... and Barking Springs
Adjacent to Barton Springs sits this dog-friendly swimming hole, where you can enjoy the glorious setting (sans charge) while Luna cools off with an aquatic version of fetch with all the Barkin Creek goodies you just treated her to.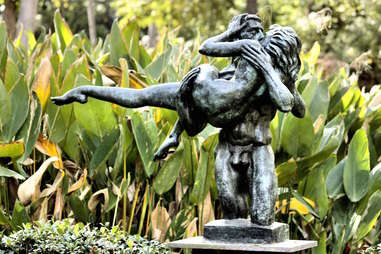 The UMLAUF Sculpture Garden
Soak up some culture and sun simultaneously with a stroll through the UMLAUF Sculpture Garden, which boasts not only impressive works by Charles Umlauf but some pretty lush vegetation as well.
The view from Mt. Bonnell
Sunrise, sunset, and anytime in between. What we were just describing there are the best times to head up Mt. Bonnell (also known as Covert Park)—the highest point within the city limits—to enjoy a pretty amazing look at Austin. It's totally worth the 106 steps, swear.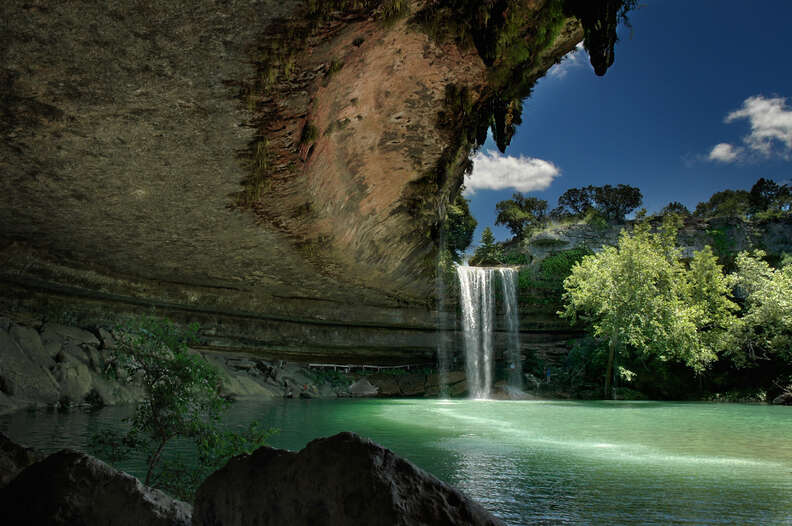 Hamilton Pool
Though technically not located within Austin city limits, a visit to the lagoon-esque Hamilton Pool is definitely worth the drive and, typically, the long wait in line. This is one situation in which we suggest you do go chasing waterfalls. Note: the area around the pool to below the waterfall is currently closed due to falling rocks. Check the Travis County Parks website before going.
The Lady Bird Johnson Wildflower Center
Named for the former First Lady of the United States, the Center is focused on preserving the native plants of Texas and said plants are pretty easy on the eyes. We suggest you take an afternoon to swing by, stop, and smell the roses... or bluebonnets or whatever. We're not botanists.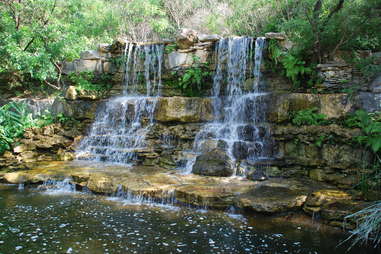 The Zilker Botanical Garden
Get your flower (and fern... probably ficus) fix at this not-so-secret garden, located right in the center of the city on Barton Springs Rd. Themed areas include a Taniguchi Japanese Garden with Koi-filled ponds, Hartman Prehistoric Garden, and Rose Garden.
The 360 bridge
Whether you're crossing the Pennybacker Bridge (known as the 360 bridge) or admiring it from afar, this impressive architectural feat, when accompanied by the equally impressive natural scenery surrounding it, makes for a pretty great photo op. Be careful with the rocky path when you climb to get to the overlook. #Nofilter, obviously.
Lake Travis at sunset
Austin isn't lacking in the lake department, and since Travis is a little emptier come fall, your water options are better than ever. Head up to the hills (and maybe indulge your inner tourist, and appetite, with a visit to The Oasis or a spot of zip lining) to reap the full photogenic benefits of this beautiful spot.
Sam Sumpter is an Austin writer who is in no way trying to imply that the rest of Austin isn't beautiful. Follow her at @Sam_Sumpta.
James Wong is a Libra who spends his time pretending to be a vegan, watching wildlife clips, and booking plane tickets. Born in London, lived in Tokyo, and now residing in Austin, his greatest achievement is giving Posh Spice a hug in 2016.