Austin's Most Beautiful Runs That'll Make You Actually Want to Work Out
Now that the weather is turning from "hell-ish" to "hell yeah!", Austin's fit community -- and those of us who aspire to one day consider being fit -- can hit the ground running, literally. Whether you prefer nature trails or city streets, we've got something for runners of any level with these 10 circuits equipped with nice scenery.
South Austin
Length: 5 miles
The Slaughter Creek Trail inside Slaughter Creek Preserve near the Circle C neighborhood in southwest Austin is a loop nestled alongside wildlife and wildflowers in a prairie setting. The trail -- which is partially covered in crushed granite -- is shared among hikers, mountain bikers, and equestrians. Like most of Austin's great spots, it will be more crowded on weekends. To access the trail, park in the free lot located right off of FM 1826 near the creek. A sign that reads "Water Quality Management Area" next to an unmarked road leads to the tiny parking lot. Slaughter Creek Preserve Trail opens at dawn, closes at dusk, and there are no dogs allowed.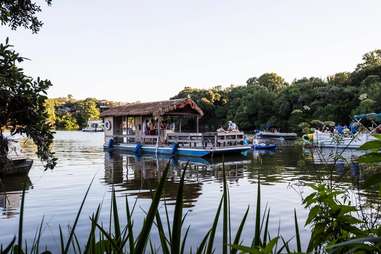 Lake Austin Blvd/Scenic Dr
Central/West Austin
Length: 7.8 miles
This run starts near Magnolia Cafe on Lake Austin Blvd just west of Mopac. From here you'll head west past the golf course and Hula Hut, then connect to Scenic Dr, which runs along the Colorado River and has gorgeous views, especially right after dawn. Your destination is the Contemporary Austin, where you can rest, hydrate, and check out the resident peacocks. Turn around and head back to where you started and grab a beverage at JuiceLand.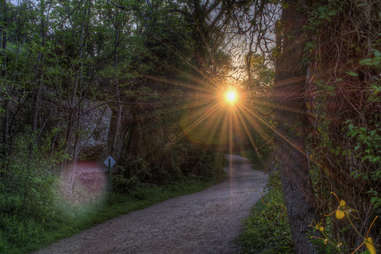 Brushy Creek Regional Trail
Cedar Park
Length: 7 miles
Brushy Creek Regional Trail in Cedar Park is always expanding and has many unmarked trails that snake off of the main one for runners to discover. It runs parallel to Brushy Creek Rd for almost seven miles. There are multiple parks connected by the trail, any of which have available parking, including Twin Lakes Park, Brushy Creek Sports Park (your best option for water and restrooms), Champion, Olson Meadows, and Creekside.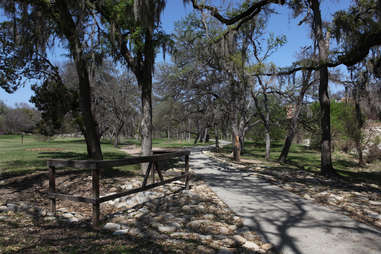 Central/North Central Austin
Length: 3 miles (one-way)
Follow alongside Shoal Creek for three miles through the heart of the city. Start at the 1st St bridge, cross Cesar Chavez, and hop on Shoal Creek Trail near West Ave and the Seaholm Power Plant. You'll wind around Hut's Hamburgers, Whole Foods, through Pease Park, West Campus, and end up near Randalls on 38th. The more scenic areas are in the northern section.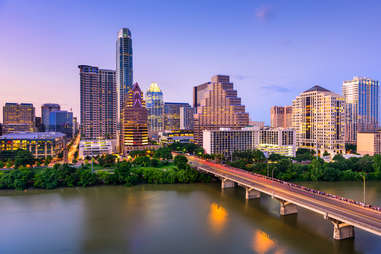 Downtown/Capitol/Campus
Downtown / Campus
Length: 1.9 miles
There's no right or wrong way to run this, but we suggest starting on Congress Ave just south of the river and running all the way to the Texas Capitol (if you want to/are able to keep going, head all the way to the University of Texas campus), then loop around and head back going south on Colorado St and back to your starting point. The perfect soundtrack for this run should include songs from Texas-born music legends like Roy Orbison, Janis Joplin, Buddy Holly, Townes Van Zandt, and, of course, Willie.
Downtown
Length: 10 miles
Lady Bird Lake Trail is Austin's No. 1 destination for running, walking, and generally enjoying the natural beauty of Austin. The trail spans from Mopac all the way to Pleasant Valley on the east side. The 10-mile loop is both lush and urban, and gets 1.5 million visitors per year.
West Austin
Length: 4 miles
This trail along Lake Austin has a great view, and the trail's terrain changes, which adds to the challenge. Further inland, there are areas with variations in elevation and rockiness. Alternately, you can go for a quick run, then relax with a blanket and your dog while appreciating the fall weather we're about to get.
West Austin
Length: 3.5 miles
The main loop here is a short trail that is often busy with hikers, runners, kiddos, and leashed dogs. The elevation stays mostly the same, but you will have to cross small creeks after a rain. Further up the hill are a few other, much more challenging (and steep!) trails best explored with a group. This trail starts at 6701 Lakewood Dr inside Bull Creek District Park; the parking lot is located directly across from the creek from the trail.
Zilker/West Austin
Length: 7.6 miles
This one is obvious: the Barton Creek Greenbelt trail run is a long one that begins at Zilker Metropolitan Park and ends at the highly technical, and steep, Hill of Life. You can enter anywhere along the trail, and take a cooling dip at multiple places like Twin Falls or Sculpture Falls. And no day on the greenbelt is complete without a well-earned meal at Tacodeli on Spyglass.
North Central Austin
Length: 1.3 miles
Walnut Creek Metropolitan Park's shady Walnut Creek trail (not to be confused with the Walnut Creek trail in East Austin) is pretty popular for mountain bikers, hikers, and trail runners. This trail, which is less rocky than the Greenbelt, is marked with arrows that show you the quickest way out, so you can bail anytime. There's plenty of parking, restroom facilities, and a pool close by that is open during summer months.
Sign up here for our daily Austin email and be the first to get all the food/drink/fun in town.
Anastacia Uriegas is a writer whose most motivating running music is also the most embarrassing. Follow her and the sweet, sweet sounds of Nick Jonas here: @anaurie.