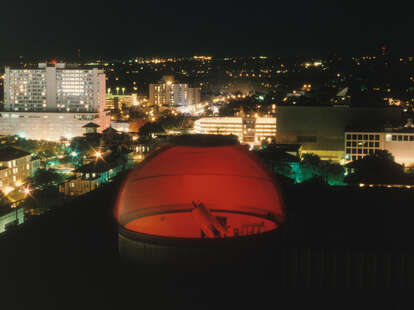 Courtesy of UT Austin
Courtesy of UT Austin
As the famous song goes, "The stars at night are big and bright / Deep in the heart of Texas." And if you've ever clapped along to that tune beneath a Lone Star moon, you know how true those lyrics are. Resplendent with wide-open spaces and dark skies, our state boasts some of the best spots in the country to stargaze and take in the constellations. With the famous space spectacle, the Perseid meteor shower, set to peak during the early hours of August 13, there's no better time to bust out the stargazing binoculars. And, just like your own personal North Star, our guide is here to direct you to Austin's prime places for charting celestial bodies.
Stargazing Spots in Austin
The city's ever-growing population, and the plethora of construction that comes with it, doesn't make for ideal stargazing conditions. Like most urban centers, Austin is fairly dense with light pollution which impedes a clear view of the cosmos. However, there are some local options for when you don't feel like traveling out of your usual orbit.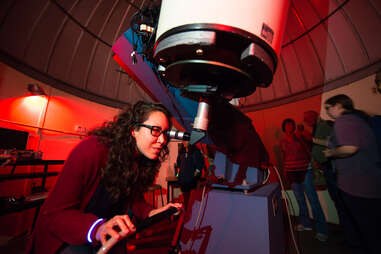 University of Texas, Austin
Multiple nights a week, the astronomy department at the University of Texas hosts Star Parties. At these free events, which go down on Wednesday, Friday, and Saturday, you can combat the skyline congestion by staring through the powerful lenses of UT's telescopes.
Austin Community College, Round Rock
Austin Community College also hosts their own Star Parties, albeit on a less frequent basis. Around three or four times a year, their Round Rock campus opens their observation deck, and its multiple telescopes, for everyone to get a free peek at the planets.
Stargazing Spots Just Outside of Austin
For those serious about their galaxy gazing, a car ride to one of the renowned starry spots outside the city will be well worth the gas. Before you hit the road, load your trunk with camping chairs, pack some snacks, and download a sky map app to make the most of your adventure.
Obviously, state parks are optimal areas for scanning the universe above. One of the closest options would be Blanco State Park, which is about an hour drive from Austin. With the park located on the banks of the spring-fed Blanco River, you can spend the day dipping in the water, and the night looking at the Big Dipper.
Distance: 50 miles
Inks Lake State Park is also a 60-minute ride away. There, you can take a starry stroll through Inks Lake's nine-miles worth of hiking trails.
Distance: 67 miles
Two hours out of the city is an essential, bucket-list spot for every Texan: Enchanted Rock State Natural Area. The site's pink granite dome is a sight all by itself, but its official designation as an International Dark Sky Park guarantees equally magnificent views when the sun sets.
Distance: 96 miles
Another place which carries the International Dark Sky Park seal of approval is South Llano River State Park. Clocking in at a solid three-hour drive from Austin, it is a little further out than most. However, your time in the car will be rewarded with spectacular views of the Milky Way.
Distance: 146 miles
If the tent-pitching and Tevas-wearing scene is not your vibe, there's other alternatives that won't have you straying too far from civilization. Only 25-minutes away, the nearby city of Elgin is a beloved haven for cosmic enthusiasts. You can park anywhere among their fields of farmland and catch a pretty planetoid panorama, but locals will tell you the best views are found by the stretch along Highway 95.
Distance: 26 miles
Lake Travis
While Devil's Cove on Lake Travis may be better known as a mecca for bachelor party barges, it is also a stunning place to stargaze post-day drinking. Take a boat out there at night, and you'll find the rave music replaced by the tranquil silence of the celestial sky. And, for a true retreat, drive for a little over an hour to the Canyon of the Eagle Resort. The luxury hotel in Hill Country counts an actual observatory among their many amenities. Guests can book a session to peer into outer space through one of their high-end telescopes, guided by their staff astronomer.
Distance: 20 miles
Molly Moltzen is a writer living in Austin, TX. You can find her on Instagram at @molsquared.