California, Florida, and Mexico draw crowds of locals and visitors to their beaches each year, but with 600 miles of Gulf coastline, the Lone Star State is no slouch in the sun-and-sand department. Texas beaches are plentiful and varied, offering family-friendly destinations, spring break party spots, and remote escapes with few people and only the essential amenities.
Now that beach season is officially here, you're contractually obligated to load up a cooler of drinks, create the perfect playlist, and point your car toward the coast. We've rounded up a handful of the best beaches to plug into your GPS. You'll find plenty of umbrella drinks as expected, but you'll also come face-to-face with some of the state's best fishing and birdwatching, along with opportunities to kayak, kiteboard, and camp.
Here are nine top-notch Texas beaches, plus a few handy tips on what to eat, drink, and do when you arrive. So pack your suit, your shades, and SPF-1000 sunscreen, and go frolic in some waves.
Visitors to Padre Island and Corpus Christi can swing by Whitecap Beach and Michael J. Ellis Beach, side-by-side strips with clean, white sand. Whitecap is less trafficked than neighboring beaches, making it a good spot for quieter hangs and picnics. And, as the name implies, it's known for having some of the area's better waves, so you can grab a board and attempt to hitch a ride.
Know before you go
Whitecap Beach is relatively no-frills, but that's the appeal for vacationers looking to escape the crowds. Ellis Beach is also quiet, but it's where you'll find bathrooms, showers, lifeguards, and free parking, plus vendors selling food and drinks.
What to do
Nearby Corpus Christi houses the Texas State Aquarium, where you can meet sea creatures and learn about area conservation efforts. Whitecap Beach is home to Padre Island Surf Camp, helpful if you'd like to acquire a new skill during your trip. You can also explore the water via paddle boards, skimboards, and kayaks. Both beaches have packed sand, perfect for taking a comfortable stroll or a bike ride near the waves.
Most Texas beach-goers never make it past South Padre Island. But keep heading down the coast, and just before you hit the Rio Grande River and the Mexico border, you'll find Boca Chica Beach. This lesser-traveled destination doesn't rival Padre's food and nightlife options, but it more than makes up for any shortcomings with the unspoiled eight-mile beachfront, peaceful surroundings, outdoor activities, and vibrant wildlife.
Know before you go
The beach itself is devoid of cafes, convenience stores, and restrooms, so you're on your own here. Pack a cooler full of food and drinks, and either bring an umbrella to create your own shade or just load up on the SPF. (If you need last-minute supplies, you're only 25 miles from Brownsville.) Despite its remote location, Boca Chica does have one famous inhabitant: SpaceX set up its Starbase launch facility a half mile inland from the beach, which means you might be able to spot a rocket in the background (locals don't love it, but it looks cool on Instagram). Note that on launch days, you may have to deal with temporary road closures leading to and from the beach.
What to do
Boca Chica is part of the Lower Rio Grande Valley National Wildlife Refuge, which means animal sightings are never far away. Watch for sea turtles coming ashore to nest as well as peregrine falcons, hawks, and other birds soaring overhead. You can also fish, kitesurf, and snorkel in the clear waters—but with no rental shops on the beach, you'll have to bring your own equipment.
South Padre Island may be the epicenter of wild Spring Break antics in March, but the rest of the year is much more reasonable and, dare we say, relaxing. Spend the day fishing with one of the many trained guides, charter a boat to visit some dolphins, or hang with turtles at Sea Turtle Rescue Center. Head to Isla Blanca Park for family-friendly fishing, concessions, and facilities, or drive up to the north part of the island for a more sparsely populated stretch of sand. And if you want to be in the thick of the hot beach action, post up in front of Wanna Wanna Beach Bar and order yourself one of the famous Turbo Piña Coladas—or just BYOB, because that's fair game on SPI.
Know before you go
Drinking on the beach is allowed, provided you're cool and not packing any glass. There are beach bars scattered throughout the area, but they're not as common as other popular destinations. Kite surfing is a big activity here due to the higher winds, and dogs are allowed on the beach as long as they're leashed. If you make your way further down the island, you'll pay a small fee in exchange for being able to drive down the sandy expanse (non-four wheel drives aren't recommended, for obvious reasons). There's only one grocery store on the island—though there are approximately two zillion convenience stores—so stock up at the HEB in Port Isabel if you're looking for a bigger bounty. Looking for the liveliest scene? Make a beeline to the bay side of the island for great sunsets and walkable bars.
Where to eat and drink
Grab a cold one at Clayton's for live music and a lively if crowded scene, score a locally brewed beer at Padre Island Brewing Company, or build your own fresh ceviche at the aptly named Ceviche Ceviche. If you need to carbo and cheese load, Gabriella's Italian Grill & Pizzeria has you covered, and The Meatball Cafe has even more pizza and pasta. Louie's Backyard is a perfect spot to start your night with al fresco drinks, steaks, and seafood, while Coral Reef is the place to go for late-night karaoke sessions.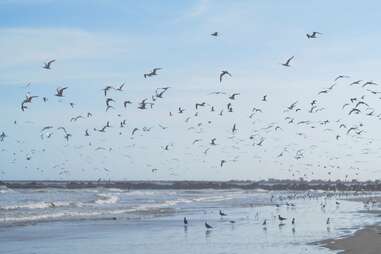 Affectionately dubbed St. Jo's by locals, this 21-mile-long, privately owned island is a popular day-trip destination that's only accessible via Jetty Boat. Catch a ride at Fisherman's Wharf in Port Aransas (roundtrip tickets run $18 per person). The water is some of the clearest you'll find in Texas, and there are no cars allowed, so you're guaranteed a fume-free experience on the unspoiled sand. The bird watching, fishing, and seashell-collecting game set this beach apart from some other more populous spots, but with no services to speak of (including water, bathrooms, shade, or any habitation in general), you'll want to come prepared, boy-scout style—full coolers, umbrellas, and a willingness to pee in the ocean are essential.
Know before you go
There are a lot of fishermen on the beach, so keep your head on a swivel before finding your swim zone to ensure a hook-free paddle. The Jetty Boat departs every two hours, so be prepared with plenty of water and snacks, and note that the last boat back to civilization leaves at 6 pm. There aren't umbrellas or pavilions, so if you want shade you'll have to bring your own, and given the scarcity of trash cans, you should expect to leave with whatever you bring.
Where to eat and drink
It's all BYO on the beach, but you can find some great food and drinks across the water in Port Aransas. If all that lying about in the sun has made you hungry, indulge in a hearty lunch at MacDaddy's Family Kitchen. They specialize in barbecue, but the MacDaddy Burger topped with fried onions, fried jalapenos, cheese, and brisket, for good measure, is a tried-and-true favorite. Channel the Caribbean at Irie's Island Food, or watch sports alongside 20 taps and a Bloody Mary bar at Stingray's Taphouse.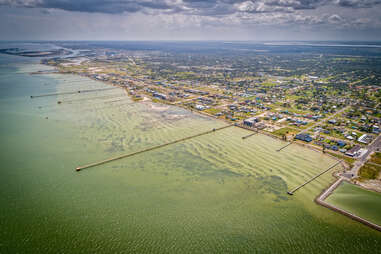 Devastated by Hurricane Harvey in 2017, this little beach town has battled back in the years since, working overtime to fix its infrastructure and welcome back visitors with public palapas, restrooms, and showers. Because it remains shallow, this is a great spot for people with kiddos looking to track down shells and hermit crabs without getting pummeled by waves. There's a nearby pier for fishing, and parking costs $10.
Know before you go
The town has rebuilt most of its facilities and improved many of them. The beach is a certified clean Blue Wave beach, and dogs are allowed on a section of it if you've got your furry friends with you. Take a pic with the Big Blue Crab, a giant fiberglass sculpture at the entrance to Rockport Beach Park.
What to do
Outside of its beach access, Rockport is a cool little town with movies in the park, a Summer Sand Dollar Market, and tons of community activities. Enjoy the island music and oysters at Paradise Key, pick up a pie at Panjo's Pizza, or grab a burger from Steer Burger. Post up on Glow's comfortable porch with a cocktail and a couple seasonal small plates, or try your luck at local dive bar Legends for karaoke and bar games.

Stationed within driving distance of Houston, Surfside has a reputation for being one of the cleanest beaches with the clearest waters in all of Texas. It can get crowded on weekends like everywhere else, but head a little further up the beach access roads and you're sure to find enough space to stretch out comfortably. Fisherfolk can wade into the water and benefit from the unusual depth offshore, and the jetties provide plenty of opportunities to cast a line in hopes of snagging ling, bonita, and kingfish. Not into fishing? Walk down those jetties to bird-watch and boat-watch. And at certain times of year (hurricane season), this beach is a haven for adrenaline-fueled surfers looking for the next big wave.
Know before you go
Surfside is divided into two areas. One allows cars, and the other is pedestrian-only (not to mention free to access). Dogs are welcome on the beach, provided they're on a leash. Since there aren't many options nearby, make sure to stock up at a convenience store before getting on the beach—hey, any excuse to hit up Buc-ee's, right? If you want access to public restrooms, it's probably best to park at Surfside Jetty Park and use the facilities there.
Where to eat and drink
Tiki drinks, beachfront views, and tasty American fare draw people to the Seahorse Bar and Grill; for swanky-ish seafood, the Red Snapper Inn is a go-to for visitors and locals. (Expect a wait for both spots on busy weekends, though.) Drive a little further into Freeport for barbecue at Sista White's and crawfish at La Sirenita. For something quick, grab a snack at the Jetty Shack. They serve beer, wine, and booze setups along with a solid burger and vegan-friendly items.
This popular beach is a family-vacation hotspot where you can easily rent houses right along the beachfront. There are showers and bathrooms available for all-day types, and the beach remains relatively clean as it's maintained by the city. This is your quintessential shore scene rife with kids, tents, chairs, and other people's music, so know what you're in for. But the location affords you access to the peaceful beach at Mustang Island State Park, which is just 11 miles farther south. Head there for rustic camping, pristine waters, and a lot less foot traffic. (It's also home to Belles Sea Inn, formerly Seahorse Inn, which was a longtime queer getaway.)
Know before you go
Given its popularity, Port Aransas can be loud and crowded, so even if you're staying right on the sand, you may want to walk a ways down the beach for more open space. The party-averse should avoid big draws like spring break, Sandfest, and any three-day holiday weekend. The sand also gets murderously hot, so wear closed shoes to traverse the burning beach. If you're opting into Mustang Island, consider grabbing some chopped wood and having yourself a little bonfire as it's one of the few beaches that legally allow it.
What to do
Port Aransas hosts yearly events that attract visitors from all over the region. Fishing fans can partake in the Deep Sea Roundup while the Harvest Moon Regatta is the largest point-to-point sailboat race in the U.S. Not to be outdone, Texas Sandfest is the largest beach sand sculpture contest in the country, and there's even a Whooping Crane festival for you bird aficionados. Those jonesing to get weird should drop into the pirate-themed Gaff Bar for drinks, live music, and their famous belt sander races. Don't ask—just go.
Matagorda Beach intersects Matagorda Bay Nature Park where the Colorado River meets the Gulf of Mexico. So it's a real best-of-both-worlds situation, with the option to sunbathe on the sand and to explore the wildlife-heavy park. Work up a sweat along one of the many hiking and walking trails, drop a line in the water off one of three fishing piers, take to the water in a rented kayak, or stay firmly on dry land at the nine-hole mini golf course. There's also a 70-site RV park for those who prefer trailers over tents, and 10 new beach bungalows for those who prefer actual accommodations over everything else.
Know before you go
This beach is less busy than most on the Texas coast, so feel free to spread out on the sand. The park has pavilions, restrooms, showers, and grills, but as with many of these natural preserves, be prepared to leave with everything you brought in. Don't try to drive on the beach with anything less than a four-wheel drive vehicle, lest you get stuck, and definitely bring a pair of binoculars to scope out South Texas' colorful birds.
Where to eat and drink
There aren't a ton of options here, but you'll find some quality coffee about 10 minutes outside the nature preserve at Cassady's Coffee Bar and Cafe. For lunch and dinner, Snappers Bar and Grill serves seafood and chicken that's a step above whatever you're whipping up in an RV. And if you manage to snag some fish, tote your prized catches over to Waterfront Restaurant on the Matagorda harbor, and the kitchen will prepare it for you.

As the world's longest undeveloped barrier island, Padre has more going for it than just party-centric beaches. Located up the coast from South Padre, the Padre Island National Seashore (PINS) is the perfect place for a beach adventure. You can (and should) laze about by the water, but don't miss the educational opportunities and wildlife spotting. First up, stop by the Malaquite Visitor Center for information and to pay the entrance fee. A single-day pass is $10 per car or $5 for individuals who show up on foot or bicycle. If you're doing any major exploring, you're likely going to want a four-wheel drive vehicle, as parts of this beach are more "wild beach" than boardwalk.
Know before you go
If you have a Texas State Parks Pass, entrance is free. Take a little walk down the Grasslands trail to do some easy exploring, but don't forget the mosquito spray. The facilities do include benches, but there are no public restrooms. It's worth bringing your camera to try and catch a photo of the various kinds of wildlife like kangaroo rats, ghost crabs, and coyotes.
What to do
There's no shortage of communing with nature to be done here. PINS has exceptional birdwatching during early spring, fall, and winter when thousands of birds migrate through the park. Plan your trip from mid-June to August, and you might be lucky enough to see a sea turtle hatchling release. Those take place at 6:45 am. right in front of the visitor center. You can also camp overnight in a tent or RV, surf-fish for "the big one" right off the beach, and do some serious off-roading on the sky-high dunes.
Kevin Gray is a freelance writer and editor covering food, drinks, and travel. He's written for publications including the
Dallas Morning News
, Eater, Forbes, InsideHook and
Travel + Leisure
, and if he's slow replying to your email it's probably because he's off exploring a new country. Follow him on social media @kevinrgray.