Where to Score the Best Thrift Store Finds in Austin
Get more (outfit) bang for your buck.
Considering the rapid speed in which targeted ads invade your Instagram feed, we don't blame you for often finding yourself on the latest fast fashion site—and, before you know it, about to press purchase on a cart that's twelve-items deep. But, as tempting as it is to buy the latest trend on the cheap, there's another option that is more environmentally-friendly, and a lot less questionable in its labor practices—the rewarding experience of thrift shopping. In Austin, we are blessed with ample options for secondhand shopping. So, next time you're about to enter your AmEx details for a mass-produced mesh top, stop and pause. Then, instead, close that browser and head to one of these handpicked local spots for great, guilt-free pieces.
Cool-kid consignment chain, Buffalo Exchange, is the cornerstone of every college Freshman's clothing budget throughout the entire country—and Austin is no exception. Located right off the UT student's go-to street, The Drag, Bat City's Buffalo Exchange provides all styles of those classic 'fits desired by both current Longhorns as well as those well out of their dorm-room years. It's got well-curated shoes, jeans, tees—and, even, a solid selection of costumes that cost only a few dollars but will have you looking like a million bucks at any themed Frat rager. Be sure to scan the ceiling beams, which is where the employees hang the extra special treasures found within the stockpile. These featured items usually come at a higher price point—but, scoring one of those perfectly worn-in Harley Davidson tanks or Metallica tour tees, will make for a look that's priceless.
Your first clue that North Austin shop, Top Drawer Thrift, is one of the city's most underrated gems is the creative, campy window displays full of interesting tchotchkes. Step inside, and a collection of rainbow mannequins will welcome you to a space filled with the one of the most diverse and fun collections of items you can come across in all of Austin. From funky furniture to old-school toys, to a sizable selection of vintage wedding dresses, every nook and cranny of Top Drawer is physically filled with something captivating. Music die-hards, in particular, will find lots to geek out at here—not only is there a solid selection of records and cassettes, but a massive amount of stereos, turntables, and amps for sale as well. The best part? On top of the treasures in store, 100% of the proceeds from the store benefit Project Transitions, an organization that works to provide services to those with HIV and AIDS in our community.
As much as Austinites may love the thrill of a thrifting adventure, there's something the city's citizens may love even more—their fur babies. So, when any Lone Star local stops by one of this rescue's three thrift shops, they are guaranteed a double-dose of shopping satisfaction—net proceeds from every purchase directly support the life-saving efforts of our home-town's world-class animal shelter, Austin Pets Alive!. In addition to mainstays like clothes, shoes, and kitchenware, these spots also offer a killer collection of pet accessories. Everything from collars to bowls, to cat costumes are priced at a steal—making your dog's habit of chewing through leashes to be a much less costly ordeal. Plus, the TV screens behind the counters project pictures of the shelter's adoptable cats and dogs, so these magical shops may have you procuring a four-legged friend as well.
The Next-to-New Shop

| The Next-to-New Shop
When that IKEA table you've had since college finally bites the dust, head to The Next to New Shop for secondhand furniture—no assembly required. While this North Austin shop has all the usual thrifting suspects, it's best known for its furniture and homeware. Whether you want a pre-owned desk, quirky coffee mugs, or a glass serving tray, this should be the first place you hit up. In addition to the numerous racks of dish-ware, you can also expect odd and unusual knick-knacks—though, most of which you may not want to purchase, you will certainly want to get some funny Snapchat content. The real stand-out here, however, is the collection of rugs. Should you be willing to dig through Next to New's stacked carpet buffet of all shapes, patterns, and sizes, you may find a real prize—and, finally, triumph in your quest to tie the room together.
Flamingos Vintage Pound

| Flamingos Vintage Pound
Close-to-campus Guadalupe Street is dense with clothing shops, each boldly advertising jaw-dropping amounts of modern and vintage duds. But, serious thrifters—the type with a firm appreciation for the craft of digging through racks—Flamingos is the must-visit spot on the shopping mecca's many blocks. Clothes are priced by the pound, which is a more-than-valid excuse to justify purchasing a whole new wardrobe while there. The well-organized shop coordinates standard items, like tees and button-downs, by color. There are also racks devoted entirely to such specialty pieces as sparkly dresses, leather jackets, and, even, UT apparel—which makes it a perfect place to pick up some essential Longhorn merch before your first foray into DKR Stadium.
Austin Goodwill

| Austin Goodwill
Just like you can't mention peanut butter without jelly or Ben without Jerry, you can't discuss thrift shopping without including Goodwill. Most have donated to this nationally famous non-profit, which boasts a staggering total of over 3,000 locations across the United States, at least once. While there are more than 20 store locations in the greater Austin area, the crown jewel is Goodwill Central Texas - Outlet South. This is where you get first dibs on all the store's offerings by (literally) digging through unsorted items from the donation bins. Since the location allows you to buy clothes by the pound, you can score incredible deals—just as long as you give yourself some serious hours to search, and bring a pair of gloves to protect yourself from any potentially sticky (and we mean sticky) sorting situations.
Treasure City Thrift

| Treasure City Thrift
The best thing about thrifting is not the chance to rock an authentic pair of Air Jordans straight from the '90s. Instead, it's the fact that by buying used, you're reducing the amount of waste collecting in trash piles and polluting our planet—read about the Great Pacific Garbage Patch and you'll see what we're talking about. This core concept, of thrifting for the greater good, extends even further at East Austin shop, Treasure City Thrift. The collectively owned store works daily toward the objective of zero-waste, selling items at low prices in an effort to throw away as little as possible—to the point where they give away unsold items for nothing at their monthly event, the Really Really Free Market. But, the deals at Treasure City are so massive—including a selection of 25-cent items—you'll want to pop by more than just once every thirty days. It has the usual thrift mainstays, but what's really special here are the bins of various power cords for sale. Whether you need an iPhone charger, ethernet cable, or replacement for that electronic thingamabob you threw out, only to inconveniently need later, they might have it there—and for a dollar, to boot.
Uptown Cheapskate Austin

| Uptown Cheapskate Austin
Anyone who has ever sold their pre-loved clothes at the Austin location of this popular, national thrift store chain knows the high standards for the items that end up on its floor. While it may be bad news for that Astros shirt with the multiple holes you're trying to sell off, it makes it a great place to go when you have a definite shopping goal in mind, whether that be to boss up your professional look for a big job interview or level up your skinny jeans to a hipper cut of denim. For those seeking deals on second hand designer accessories, this is your place. From Ferragamo shoes to Chanel sunglasses, the prices will definitely surpass your usual thrift store budget—but, it'll still be a bargain compared to, say, buying the latest Gucci bag.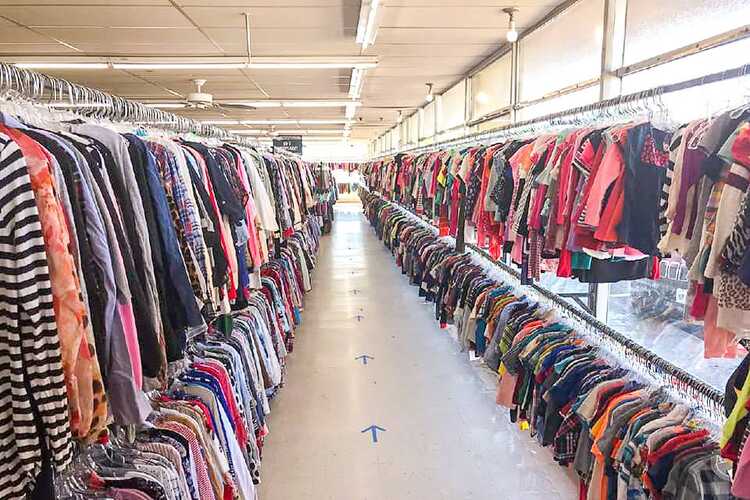 Texas Thrift Austin

| Texas Thrift Austin
When your most fashion-forward friend visits you in Austin, in addition to visiting the standard curated vintage spots and stylish boutiques, you should also bring them to explore Texas Thrift for fresh-to-death finds. This store hits all the marks for a good thrifting experience with a wide variety of items, organized sections for your browsing connivence, and, most importantly, affordable prices. In fact, the shop is famous for their weekly discount days—where the color on the tag of your must-have piece can indicate it's marked down anywhere from 30% to 50% off. While the emphasis on the offerings here rests mostly on clothes, there is also a fair selection of the typical sort of household items, such as bowls and plates, that are stereotypically found in any given thrift store. However, should you be lucky enough to pick the right day, a trip to Texas Thrift could also yield a jackpot item of furniture.