Partying on land? Psh, how passé. Summer's here, which means it's time to take your weekend activities to the water and head to one of the key tubing spots in and around Austin to get your float on. From the slow & secluded to the packed & popular, there's a destination guaranteed to meet your aquatic needs, whether you're looking to relax or get rowdy. Trust us. We've got the seven top tubing spots worth hitting up, along with info on rentals, booze regulations, and navigation.
San Marcos River
San Marcos, TX (approximately 30 miles from Austin)
Tube rentals:Texas State Tubes is a solid choice for tube rentals and necessary transport along the San Marcos River. A shuttle ride and tube rental will run you $18, while if you opt to bring your own tube, the three-hour float will only cost you $11. There are also early-bird prices, student & military discounts, and Tuesday specials available.
Booze rules: Drink up (no glass or styrofoam).

Looking for some good, clean fun? San Marcos has you covered, literally, with spring-fed waters that are among the cleanest you'll find in Texas. The water is surrounded by vegetation and makes for a pretty damn gorgeous float as it weaves through Downtown San Marcos and the Texas State campus. For extra excitement, plan your excursion around Float Fest (July 16-17). The two-day festival combines camping, tubing, and tunes, with a 2016 lineup boasting both big names -- Bone Thugs-n-Harmony, Chromeo, Future Islands, and more—and Austin acts like BUHU and Holiday Mountain.
Comal River
New Braunfels, TX (approximately 50 miles from Austin)
Tube rentals: At Texas Tubes, you can score a tube and shuttle ride for $18, or opt for the all-you-can-float option and get an all-day pass for $23. Meanwhile, Comal Tubes rings in at $15, and offers some pretty sweet discount rates for groups.
Booze rules: Drink up (no glass or styrofoam).

An extremely short river -- the shortest navigable river in Texas -- the Comal is a super-popular tubing destination and typically draws some pretty big crowds, particularly on holiday weekends. Though it's not a long drive from Austin, and makes for a totally doable day trip (the float is typically around three hours), the area's best feature is its surrounding attractions: The Gristmill Restaurant; legendary dance hall & music venue Gruene Hall; and, of course, waterslide mecca Schlitterbahn, all of which make spending an entire weekend here totally worth it.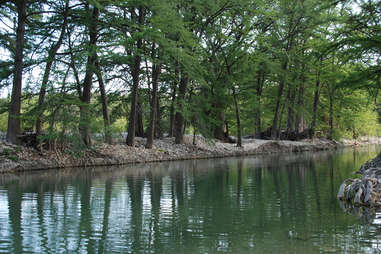 Frio River
Concan, TX (approximately 140 miles from Austin)
Tube rentals: The Frio has plenty of outfitters to fulfill your needs -- super affordably -- and Happy Hollow Grocery, Andy's On River Road, and Josh's Frio River Outfitter all offer tubes for prices as low as $7/day.
Booze rules: Drink up (no glass or styrofoam).
Texas tubing destinations don't get more beautiful than the Frio. In terms of atmosphere, this destination is definitely less party and more peaceful. With some stretches of clear water canopied by cypress trees, and others surrounded by steep cliffs, the float offers the illusion of isolation and provides nature buffs with 47 miles of impressive scenery. Also, "frio" is Spanish for cold... so keep that in mind. (Note: much of the area surrounding the Frio is dry, so be sure to plan ahead if you want to enjoy some booze with your views.)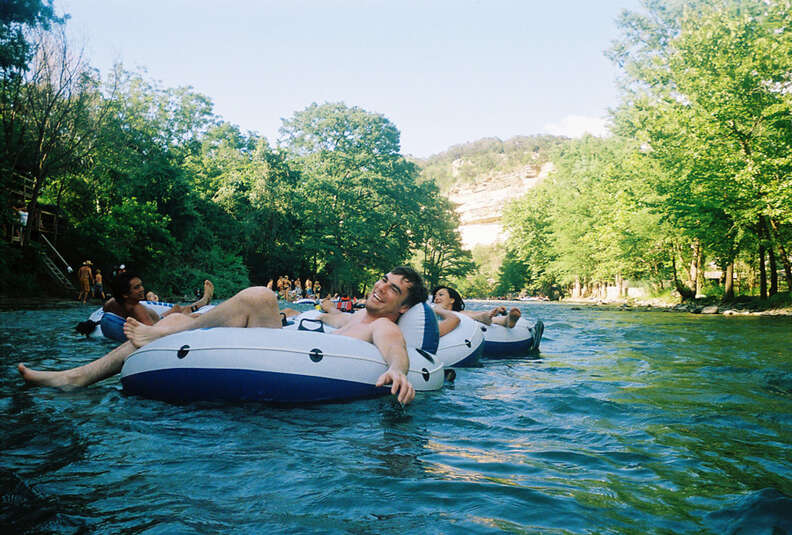 Guadalupe River
Canyon Lake, TX (approximately 65 miles from Austin)/New Braunfels, TX (approximately 50 miles from Austin)
Tube rentals: While you've got a ton of choices, one noteworthy option is Tube Haus, which has been in operation since 1978, offers short, medium, and long floats, and will provide you with river access, shuttle, and tube for $17.
Booze rules: Drink up (no glass or styrofoam).
With an abundance of college kids and river rats, the Guadalupe can get pretty rowdy, and on the busiest weekends and holidays the waterway has a bit of a frat-party-meets-Mardi-Gras vibe. If that's your scene, party on, bro. But if you're looking for a more family-friendly float, never fear -- there are tamer options, too. Try accessing the river through Guadalupe River State Park, where you can not only swim and tube, but take the fun on land with camping and over 13 miles of hike & bike trails. Just keep in mind that state parks mandate sobriety, and you can't consume alcohol on the property.
Park rangers just don't appreciate a good party.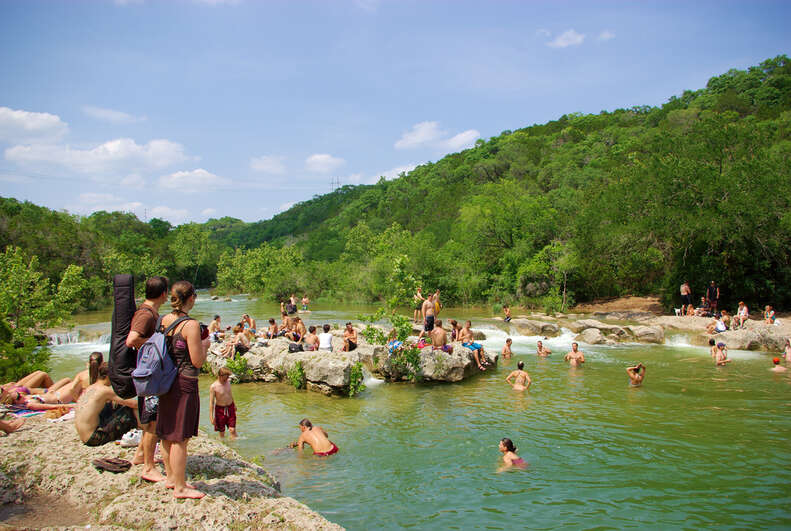 Barton Creek Greenbelt
Austin
Tube rentals: BYOT (bring your own tube)
Booze rules: As a general rule, it's a nope, but the lines are slightly blurry. (For instance, you can drink at Bull Creek, but not on the Greenbelt.) All in all, the best policy is to obey posted signage and, of course, to be discreet. After all, no one needs to know the real contents of that Big Gulp cup.
This isn't tubing in the traditional sense (in other words, you're not really going anywhere), but if you're looking to hang out on the water within the city limits, the Greenbelt -- Austin's official urban oasis -- has you covered. You'll have various success at different points along the water depending on water levels, but swimming holes like Twin Falls, Sculpture Falls, Gus Fruh, and Campbell's Hole typically make for good spots to bring your tube, post up, and float up, no crazy commute required.
Brazos River
Millsap, TX (approximately 170 miles from Austin)
Tube rentals: Depending on where you want to access the river, there are several different options for tube rentals. As a starting point, check out Hillbilly Haven, a campground that offers both two-mile and five-mile floating trips for $17, and Rhodes Canoe Rental, which offers both two-mile and four-mile options for merely $10 (including shuttle).
Booze rules: Drink up (no glass or styrofoam).
While the Brazos isn't exactly in the neighborhood, if you want to change it up, it's worth the time commitment and the commute. Think 70+ miles of generally calm, and often slow, floatable waters (don't worry: you don't have to float all 70). While rental facilities serve as good starting points, the best part of the Brazos is blazing your own tubing trail. With access points leading from the road to the river every few miles, this river gives you the opportunity to choose your own adventure.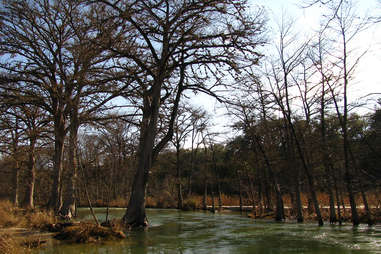 Medina River
Bandera, TX (approximately 120 miles from Austin)
Tube rentals:Medina River Company offers tube rentals and immediate river access. $9 gets you a tube at Bandera Beach Club, where the season starts the second weekend in May and runs through Labor Day (as long as conditions are favorable). And at Twin Elm Guest Ranch, tubes plus transport run $10/person, and you can make your excursion an overnighter with camping at $10/person.
Booze rules: Drink up (no glass or styrofoam).
If you prefer a more relaxing tubing experience, the Medina is an awesome option. Quietly winding through a peaceful tunnel of cypress trees, the float is scenic, often slow, and has a quieter feel than some of the other, more crowded rivers. In other words, it doesn't attract as much of the Spring Break demographic. For extracurricular action on land, check out the Longhorn Saloon -- affiliated with Medina River Company, a bar & music venue on the banks of the river. After all, even kid-friendly floats are more fun with adult beverages.

Sign up here for our daily Austin email and be the first to get all the food/drink/fun in town.
Sam Sumpter is an Austin-based writer who typically avoids drinking and tubing so the police don't call her mom... again. For [tamer] adventures, catch her on Instagram @sam_sumpta.