Where to Celebrate and Honor Juneteenth in Texas
The Lone Star State is the birthplace of the holiday that honors the end of slavery in the United States.
Juneteenth in Bryan, Texas.

| Courtesy of Destination Bryan
Juneteenth in Bryan, Texas.

| Courtesy of Destination Bryan
Across the nation, Juneteenth is a time of celebration. But the recently federally recognized holiday has always held special significance here in Texas. The day commemorates when the news of the 1863 Emancipation Proclamation finally reached enslaved Black people in Galveston in 1865. Long before federal recognition on June 17, 2021, the Texas Legislature declared Juneteenth, a state holiday in 1980. People celebrate Emancipation Day in a variety of ways. You might head out to a rodeo or family reunion. And you're more than likely to sing the Black national anthem "Lift Every Voice" at some point during the day. But above all, those who celebrate are guaranteed to find community and some damn good food (red velvet cake included). Here's a list of various events taking place across the state of Texas where you can enjoy the festivities of Juneteenth.
June 15–19
Austin
Austin's George Washington Carver Museum went all in this year for a full week of Juneteenth celebrations. Whether you've been looking to enrich your mind, stomach, or ears, the organizers have made sure there is something for you. Listen to talks from the likes of James Beard award–winning author Michael T. Twitty (Thursday) and New York Times best-selling author Dr. Annette Gordon-Reed (Monday). Or reserve a free ticket for the multi-generational dance party (Friday), the cookout and music festival (Saturday), and the community healing event (Sunday). Reserve your spot at any of these heartening events.
June 16–19
San Antonio
The Juneteenth festival in San Antonio is already in full swing, having started with a kickoff prayer breakfast on June 10. But there's still time to catch the festival proper all day Friday and Saturday at Comanche Park. Jump in for two full days of singing, dancing, and San Antonio pride. The organizers pulled out all the stops for this year's headliners. Friday sees the beloved local group The Legends take the main stage, while Larry Braggs, the former lead singer of the revered soul band Tower of Power closes the festival out Saturday. After a day of rest, don't forget to sign up for the official Juneteenth Golf Tournament on Monday at The Club at Sonterra.
June 16–18
Dallas
For Dallas folks, kick off your Juneteenth celebration with a party, follow it up the next day with a party, and then close out the weekend with, you guessed it, a party. The Black LGBTQIA+ group Dallas Southern Pride's Unity Weekend is known for its many club events and lively festivities. Sip on complimentary cocktails at the Unity Welcome reception and then pick from a variety of pool parties and downtown bashes. These are the events to check out if you're looking for a night out as opposed to the family reunion vibes of other Juneteenth festivities.
Saturday, June 17
Houston
There are two things you need to know about Houston's Emancipation Park Juneteenth celebration: It's very free and it's extremely fun. Back in 1872, four newly freed men founded Emancipation Park to commemorate their community and, of course, their emancipation. Located in this historic park in the Third Ward, this annual party is loved by young folks, old heads, and everyone in between. There will be no shortage of soul with gospel, zydeco, and R&B artists performing throughout the day. Bring the whole family and enjoy all the food trucks and vendors on site.
Saturday, June 17
Austin
Nothing says joyful like marching bands and steppers. Residents of the capital city can celebrate Juneteenth with a morning parade leading straight into an all-day park festival Participants will travel from MLK Boulevard down to Chestnut Avenue/Pleasant Valley. It is a long-standing tradition in a historically Black East Austin that faces rapid gentrification. The festival brings great food, vendors, and live music.
Saturday, June 17
Round Rock
Round Rock's 15th annual Juneteenth get-together continues with a variety of family-friendly activities, food, and more. Big-name singer-songwriter BJ the Chicago Kid will hit the main stage late evening. Meanwhile DJ Jay Shalé and a slate of local artists fill the air with music throughout the day.
Saturday, June 17
Beaumont
Beaumont has one of the highest percentages of Black residents in not just Texas but the country. Fittingly, the community is showing up with a heavy lineup of festivities. There will be line-steppers, performances by R&B legends Shirley Murdock and Lenny Williams, as well as plenty of tasty food trucks. It's a blast every time, and this year will be no different. Lawn chairs and picnic blankets are encouraged.
Saturday, June 17
Bryan
Folks in Bryan, Texas can expect a full day of festivities organized by The Brazos Valley African American Heritage and Cultural Society. Start the day off with a bustling parade, land at a celebration in the Sadie Thomas Memorial Park, and cap things off with sonorous sounds at the Blues Festival. Impressive floats, family-friendly activities, and boisterous performances await. Check out the city's website for even more Juneteenth celebrations in Bryan.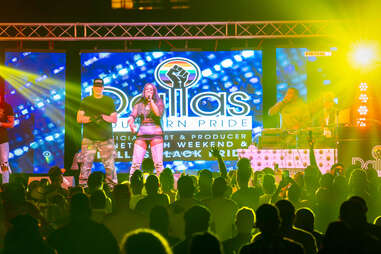 Sunday, June 18
Deep Ellum
Dallas's historic Deep Ellum neighborhood is hosting its first official Juneteenth celebration this year. With the neighborhood having faced rapid gentrification over the years, the Deep Ellum Foundation aims to remind the city of the area's significance to the Black community. The celebration will feature lively R&B performances from local favorites as well as over 25 Black-owned vendors. Dallas media personality Lady Jade and Kenya Moore from Real Housewives of Atlanta will host the event. Head down for an afternoon of drinks, good vibes, and awesome performances. See our full breakdown.
Monday, June 19
Fort Worth
There's no Juneteenth without the mention of Ms. Opal Lee. In 2016, at the age of 89, Ms. Opal Lee declared her plan to walk 1,400 miles from Fort Worth, Texas, to Washington, D.C. to gain support for Congress to declare Juneteenth a national holiday. She walked 2.5 miles each day to symbolize the two-and-a-half years it took for news of the Emancipation Proclamation to reach Black people in Texas. Her efforts are directly responsible for President Joe Biden officially making Juneteenth a national holiday on June 17, 2021. This year, you can join Ms. Opal Lee on another 2.5-mile walk as she continues to further spread education and awareness of the Black freedom struggle. You can register to walk with her virtually or join her in-person in Fort Worth.
Monday, June 19
Fort Worth
Celebrate Juneteenth by watching an old favorite and a new classic at Fort Worth's Rooftop Cinema Club. Kickback with some snacks and enjoy a double feature of Black-led and directed movies Love & Basketball and Candyman (2021). The scenic venue also treats you to a view of the Fort Worth skyline from the top of the Worthington Renaissance Hotel.
June 23 & 24
Longview
Known as "the baddest show on dirt," The Annual Longview Juneteenth Black Rodeo is back for another year of barrel racing, team roping, horse racing, and more. It's a Texas-sized tradition and the best way to immerse yourself in the rich heritage of African American cowboys and girls. There are plenty of opportunities to get in on the action. Camp out on Friday, tailgate the next day, and enjoy the show Saturday evening. There will be live music, great food, and vibrant after-parties going late into the night.
Jade Fabello
is an Austin-based freelance writer who primarily writes personal essays about culture, art, grief, and love. You can find his work in publications like
Texas Monthly
, Starwars.com, Study Hall, and
I love words and you
, his newsletter that covers the craft of writing.