While living in Austin isn't exactly cheap, there are still plenty of ways to have a badass time for a bargain -- in this case, under $10. From skating to swimming, bingo to beers, here are 35 of the most fun ways to stretch that Hamilton.
Fiesta Gardens
Price: $10
Ice cream samples, live music... if there's a better way to spend $10 and a summer afternoon, we certainly haven't found it.
East Riverside
Price: $3
Sure, bingo might seem like an old person's game, but a few friends (and the prospect of winning actual cash) will soon change that. You can spend as little as $3 to play and spend the rest on cheap beers, just like grandma intended.
South Austin
Price: $7.50
For $7.50, you can rent a beach cruiser for an hour, which is more than enough time to loop Lady Bird Lake a few times.
South Austin
Price: $3
And see all these wonderful people.
University of Texas
Price: $9
Admission is only $9, but you can visit for free on Thursdays. The museum has over 17,000 pieces of art, and many rotate through the year to keep guests coming back.
Mueller
Price: $6
Blue Starlite is the only drive-in theater in Austin, and shows an array of childhood favorites, drive-in classics, indie films, art house, cult, and Gen X/Y pop culture flicks for only $6 a pop.
South Austin
Price: $5-10
It offers free country dancing lessons almost nightly, and most concerts will only set you back $5-10.
Bouldin Creek
Price: $9
Golf can be an expensive hobby -- but if you head over to the Butler Park Pitch and Putt, you can hit a round for $9 Mon-Thur. You will need your own clubs and balls, and no matter what anyone tells you, plaid pants do not improve your game.
Wooten
Price: $5
On Tuesday nights you can head out for PUNCH!, hosted by local comedian Matt Bearden, who brings together a weekly showcase of up-and-coming and nationally touring comedians.
Various
Price: $10
Austin has a beautiful skyline, especially at sunset... which is when Capital Cruises will take you to see it. It has departures nightly to cruise along Downtown, and even stops to watch the bats fly from beneath the Congress Ave bridge.
Rosedale
Price: $3
Texas is home to nearly 100 breweries, and if you head over to the Draught House Pub & Brewery on Sundays, you can get a pint of Texas-brewed beer for only $3.
Walnut Creek
Price: $10
Yes, footgolf. It's like golf, but with a soccer ball (so you get more exercise than disc golfers). Plus it's only $10 Monday through Friday.
Wimberley
Price: $9
It's one of the most interesting watering holes in Texas. What makes it so special is that just below the clear 68-degree water is a cave system, which is nearly 140ft deep and almost a mile in length. (Don't forget to make a reservation!)
Circle C Ranch
Price: $10
Founded in '82 by former first lady Lady Bird Johnson and actress Helen Hayes, this place is a breathtaking display of the native plants of the Central Texas Hill Country, South, and West Texas.
Get the Don Juan El Taco Grande at Juan In A Million
East Austin
Price: $5.40
Austin is known for its tacos, but there is perhaps none more well known than the Don Juan of Man v. Food fame. One order will fill you up for a few bucks, but if you want to attempt the challenge, well, that's a bit more of an investment.
University of Texas
Price: $10
Step back in time with more than 54,000 objects donated by the President and Mrs. Johnson, their family, close friends, associates, and the American people. Admission is only $10, but to ensure President Johnson's wish that the Library be available to all, free admission is offered to the public on several days throughout the year.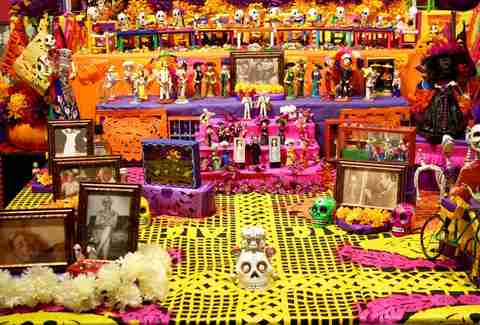 Downtown
Price: $5
Learn about Mexican, Latino, and Latin American art and culture. Admission is $5, but is free every Sunday and throughout the month of December.
Spicewood
Price: $5
It has a 6.5-mile mountain bike trail, and is a great place to camp or have a romantic picnic.
Fredericksburg
Price: $7
Live music, great food vendors, and, oh yeah, BEER.
Bouldin Creek
Price: $6-9
You can play one course for $6 or both for just $3 more, and if you're packing your own drinks (which they're totally on board with), it can be a great way to spend the evening.
Downtown
Price: $5-10
If you a fan of Whose Line Is It Anyway? or just like improv, The Hideout Theatre makes for a solid evening. Tickets range anywhere from free to $15, with most around $5-$10.
University of Texas
Price: $2.50
You don't have to be a student to hang out at the Union Underground at the University of Texas, so take advantage of the bowling lanes for as little as $2.50 a game -- and head over on the weekends for glow-in-the-dark bowling.
Zilker Park
Price: $3
Nothing puts you into the holiday spirit more than strolling through an awe-inspiring luminous display of the Trail of Lights at Zilker Park. Every December, the place is transformed into a winter wonderland with live music, vendors, and, of course, light displays.
Dripping Springs
Price: $10
For $10, you get access to the 75-acre preserve for a beautiful guided hiking tour that takes you through a limestone crevice into a sheltered canyon of lush plant life followed by a stunning 40ft waterfall.
Lady Bird Lake
Price: $10
From Monday through Friday you can rent a kayak for $10 an hour, which is enough time to see the city by water and get in a pretty solid workout.
North Shoal Creek
Price: $1-10
On Friday and Saturday nights after 10pm, there is no cover, and you can bring your own booze. Don't worry about losing your buzz around all the kids: after 10pm, it's 18 and over only.
Lamar
Price: $8
The museum is dedicated exclusively to classic horror, science fiction, and fantasy films, and it's glorious.
Sixth Street
Price: $5-10
On Thursday nights, it has $5 pitchers of mixed drinks. If you want to get the best buzz for the buck, the Long Island iced tea is recommended.
Red River
Price: Free admission
Smear on some eyeliner and practice your best Myspace pose, because this monthly dance party at Barbarella is dedicated to your favorite emo bands and is officially the only opportunity you have these days to headbang along with Dashboard Confessional… in public, at least. (Note: while *technically* this could qualify as one of the awesome free things to do in Austin, we imagine you'll need to budget at least a couple bucks for beers.)
Various locations
Price: $10
Get your downward dog on at this donation-based yoga studio with multiple locations across Austin. Recommended donation: $10-15. Inner peace: priceless.
Enjoy movie screenings outside at Cinema East
East Austin
Price: $2-7
This annual summer film series forgoes famous flicks for those that are fresh off the festival circuit. The outdoor events are casual and BYOB, and sometimes feature extras like DJ sets and filmmaker Q&As, all without the extra cost.
Downtown
Price: $10
The Whole Foods flagship store has more to offer than quinoa and kale (and an amazing wine bar). For a few months during the winter, its rooftop transforms into an ice skating rink, and 10 bucks covers admission, skate rentals, and the chance to channel your inner Tonya Harding… or, uh, maybe not.

Sign up here for our daily Austin email and be the first to get all the food/drink/fun in town.