In the not-so-distant past, the only reason to visit the Dripping Springs area was the Salt Lick (BYO!) and that winery-tour Groupon that a friend conned you into. Gone are the days of the reluctant road tripper as Dripping Springs is a veritable hotbed of businesses worth bragging about -- gourmet food, craft breweries, popular distilleries – on top of the killer Hill Country vibes. Grab a day pack and make a trip to the Drip.
There are boot-stompin', hand-clappin', two-steppin' good times to be had at Mercer Street Dancehall. Open Thursday, Friday, and Saturday, this honky tonk hosts local bands and big names, provides dance lessons for those of us with two left feet, and serves beer to make us feel OK about that fact. You won't find any of those fakers from the White Horse here -- these dudes are real cowboys.
Incredible views, an expansive patio, a natural rock basement tasting room, and $5 cheese plates, Hawk's Shadow is the secret you want to be in on. This is a local family operation, and the vintners have been working to make their dream a reality since 1989. They produce a veritable rainbow of wine -- from rose to riesling to their famed Tres Robles -- and are dog-friendly.
The only trip you have to take for real olive oil is down to the Texas Hill Country Olive Company. They focus on producing local extra-virgin olive oil, premium balsamic vinegars and seasonings, and have garnered the most awards for EVOO in Texas. You can do a tour and a sampling or sit and stay awhile at their bistro and figure your life out over a pitcher of Sangria.
Sit outside amongst the rolling hills and the wooden picnic benches and drink some of Jester King's crafty creations. You'll want to get there early as it's wildly popular but once you're in, you'll see why. Drink a couple of cold brews and then walk up the path to Stanley's for hand-tossed, wood fired pies. Plenty of seating, family-friendly play area, and beer, wine, and cider at their Pasture Bar.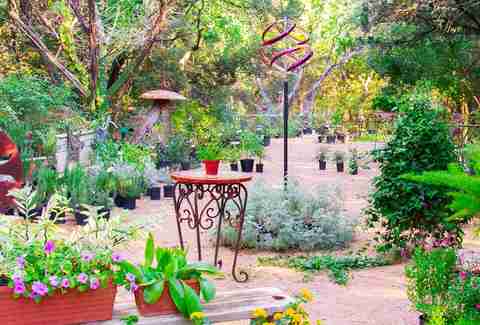 Solstice gardens is kind of a yard art holy land. Structural art, wind art, and garden goodies are strewn across the three-acre property. They also have a full native and adapted plant nursery, on-site landscape designers, and a vast amount of gardening wisdom. Commission a kinetic sculpture or grab a grinning gnome from their garden-gone-gangbusters.
Catch a bluegrass performance at The Rusty Mule
It's like you're in someone's giant backyard... but with better food, bluegrass bands, and a personal bartender slangin' dranks. The Rusty Mule is a "bar" comprised of a loose grouping of food trucks, a large airstream bar, a fire pit, and a stage for live shows. Dog, kid, and chicken friendly. Oh and they serve something called Foxy Fries that are worth the resulting coronary.
Indulge your inner gourmet at Epicure
Epicure delivers on its "global comfort food" promise. This small bistro serves hand-crafted cheese, house-made sausages, and a smart wine selection. With no can-openers and no microwave in the kitchen, everything that ends up on your plate is freshfreshfresh. Lime cilantro caesar, lamb burgers, spicy chimichurri shrimp, and the Belgian chocolate pot de creme are fan favorites.
Worship the food gods at Pieous
Technically it's on the way to Dripping Springs but we just couldn't leave this off the list. This place was born from a dream and a 20-year-old starter. House-smoked pastrami sandwiches, creative Neapolitan pizzas, craft beers on tap, cookies as big as your head. They've spun off a new baked goods and coffee take out window -- Pie-e-Tea -- that promises to be just as legendary.
In 2008, this private land was donated to the city of Dripping Springs. Now the sprawling 64-acre ranch has several trails for walking and biking, an area for cross country training, and natural habitat centers. It's one of the best spots locally for serious bird watchers and there are two specially designated areas for meditation and reflection.
Lift your spirits at Dripping's distilleries
Somehow while we were busy drinking booze, folks in Dripping Springs started making it. Grab a best friend and a designated driver and do the distillery thing. Deep Eddy Vodka Distillery and Tasting Room, Dripping Springs Distillery, Genius Gin and Liquids, Crystal Creek Moonshine, Treaty Oak Distillery, and Revolution Spirits all call Dripping Springs home. Do some tastings and then talk yourself into bringing home a tasty bottle.
Sightsee at Texas State Parks
Though these aren't precisely in Dripping Springs, natural parks and pools surround the area. A short drive will bring you Hamilton Pool, Jacob's Well, Pedernales Falls State Park, Reimers Ranch, and Westcave Preserve. As with any state park, make sure to check the website to see if you need reservations. If you decide to go to more than one, save yourself some green by getting a Texas State Parks Pass.
Indulge your sweet tooth at Crepe Crazy
They've got an Austin location now but this is the home of the original location of Crepe Crazy. Rustic and cozy and staffed by mostly deaf employees, you can expect paper-thin crepes jampacked with savory and sweet ingredients. Start your day with a Cowboy Up breakfast crepe, enjoy a Mushroom Florentine for lunch or end the evening in Peanut Butter Heaven.
Though the name is questionable, this festival allegedly boasts the largest assortment of Texas Wines, craft beers, gourmet foods, and spirits available under one roof. In its ninth year, it has expanded to include distilleries as well. Cooking demonstrations, wine tasting, live music, and grape stomping. The festival is September 10th and tickets are $40.
Enjoy daily from-scratch pastries, food made from fresh, local, organic ingredients, and live music in this 100+ year-old house-turned-cafe. Devotees are obsessed with their southern pecan coffee and gluten free breads. This place is likely to be pretty busy on any given day but put your order in and take a stroll through the garden or sit under the sunshade at an antique table set.
Sign up here for our daily Austin email and be the first to get all the food/drink/fun in town.