8 Totally Free Things to Do in Austin This Winter
Whether you want to take advantage of hiking weather or experience world-class art, here's how to have fun without breaking the bank.
George Washington Carver Museum, Cultural and Genealogy Center

| George Washington Carver Museum, Cultural and Genealogy Center
George Washington Carver Museum, Cultural and Genealogy Center

| George Washington Carver Museum, Cultural and Genealogy Center
If you moved to Austin from the Northeast, you might be used to holing up for the winter like some kind of hibernating groundhog or box turtle. But winter in Austin brings a real grab bag of weather. You'll see some people trying to rock their biggest coats in 50-degree temps, desperately trying to justify that section of their wardrobe, while others are still rolling out with crop tops and jean shorts. While there will be plenty of chilly days and evenings that give the desired cold weather indoor vibes, depending on the week and time of day, winter is arguably the best time to be outdoors here. Whatever your preference, we've compiled a list of free things to do in Austin this season.
East Austin
If you're a fan of experiential shows and engaging art, look no further than this new exhibit at the George Washington Carver Museum. Billed as "a new branch of the Department of the People + Process, under the Division of False Authority," this exhibition explores themes of authority and sovereignty. The full exhibit is better experienced than described, as it guides attendees through an active role as opposed to only passively observing it. This undertaking comes courtesy of Nigerian-born, Austin-raised Moyo Oyelola. Oyelola is a well-respected multidisciplinary artist, perhaps best known for his photography, video work, and creative storytelling. The installation is open Monday through Saturday, starting at 10 am. Sign up on the site for more information on the next "processing session."
Downtown
Four Record Friday is a free-to-attend event put on by the When Where What Austin crew. Hosted at cocktail bar Higher Ground from 5:30 - 9:30 pm, the event plays through four vinyl records. When the last one stops spinning, the hosts give the records away to one lucky winner. It's a fun night of music with well-crafted adult beverages available to purchase (if you have a bit of cash to spend). To win, simply post an IG Story from the event, tag the hosts, and hopefully walk away with four new vinyls for your collection.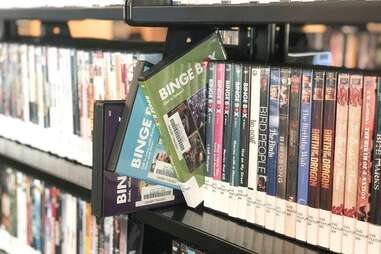 Downtown
The Austin Public Library is an impressive space. It's full of public art and is, arguably, one of the coolest libraries that you'll find in any city. There's a ton of comfortable seating and rooms to explore, including a scenic rooftop garden terrace that overlooks the river and the south side of downtown. The space comes as a result of years of development and collaboration. It boasts desktops, laptops, tablets, and board games, not to mention countless books you can peruse and read. It's right next to Shoal Creek Park, and makes for a wonderful spot to kill some time when the weather isn't agreeable. If you keep your visit shorter, parking is free for the first hour at the onsite lot, though it is unfortunately paid parking after that.
Mueller
If you're looking to up your dancing moves, Esquina Tango hosts free community Tango sessions every Monday at the Halcyon Mueller coffee shop. It's a fun way to get moving and be around new people. The beginner class starts at 6:30 pm, and the Milonga (social dance) session goes from 7:30 to 10 pm.
Mt. Bonnell
Mt. Bonnell Terrace
A popular spot for tourists and residents alike, Mt. Bonnell offers a captivating mountainside view of the Colorado River. It's the perfect place to watch the sunset (though do plan ahead since the winter sunset comes during rush hour). Many people make the mistake of preparing for a long hike when setting out, but it only takes a few minutes to trek from the parking area to the scenic view. It's the tallest point in Austin city limits, beating out the Independent, a 58-story skyscraper on West Avenue. Mt. Bonnell is also a well-known date spot, and the chilly weather only enhances the romantic vibes—no credit card required.
Free Thursdays at the Blanton-Art Museum
Campus
Arguably Austin's best-known museum, The Blanton, is a flagship in the Austin art scene. It features a massive collection of works focusing primarily on contemporary American and Latin American art. It houses beautiful permanent collections and pieces as well as rotating works, making it a great outing for anyone with even a passing interest in the arts. Admission is entirely free for all every Thursday. Plus, if you are a University of Texas ID holder, a child under 12, or a K-12 Teacher with a valid ID, then admission is free every day.
Barton Creek Greenbelt
Barton Creek
When people think of the lush nature in Austin, they usually imagine the Barton Creek Greenbelt for good reason. It has over twelve miles of trails with options for hiking, biking, bouldering, and swimming. It likely won't be hot enough to justify taking a dip in the creek right now. But a sunny and breezy winter day makes for a great hiking experience that won't drench you in sweat. There are many different entry points, each allowing easier access to the various outdoor activities. During this time of year, you'll want to focus on the Main Access Point off of Capital of Texas Highway. It provides the best access to many of the primary hiking trails.
Hyde Park
With free admission, the Elizabet Ney Museum is a community staple that injects a lot of life into the local community. It's a historic house featuring the works of 19th-century German sculptor Elizabet Ney. Located right in the middle of Hyde Park, the space has the largest display of Ney's marble sculpture works, often featured alongside various contemporary exhibits. The museum has been known to host other free events including Saturday Drawing Salons, where participants are invited to draw Ney's statues regardless of skill level with all the materials provided. Check out their programs page to see their current slate of activities.