Bank account feeling a little light after rent and unexpected car repairs? Looking to save up a few bucks for early Christmas shopping? Fear not, Austinites: In addition to being a town full of excellent things to do, the Texas capital is also packed to the brim of its 10-gallon hat with stuff that won't cost you a single red cent. Free live music, art exhibits, and green space adventures await in (arguably) the best city in Texas -- and we've curated the very best spend-free activities for you to engage in. Get ready to dust off your dancing shoes, work on your tan, and play with puppies… it's all very fun, and very free.
According to volunteers at Austin Animal Center -- the largest no-kill municipal shelter in the country -- some dogs can go days without leaving their kennels due to the lack of staff and volunteers, which can lower their chances of getting adopted. Heartbreaking stuff, but you can help! Open up your heart (and schedule) to walk a dog without a home and check out other volunteer opportunities, like bottle-feeding kittens, greeting guests, and animal advocacy.
The brand-new Austin Central Library is an architectural wonder; it's also home to a sunny rooftop deck which overlooks Lady Bird Lake and the Cookbook Cafe and Bar, which offers craft cocktails! Bookworms have six floors of books, media, and study spaces to explore. Take your pick, and maybe make a day of it.
Work on your tan at The Westin Austin's rooftop pool
The Westin Austin hotel downtown is not only home to Austin's tallest rooftop bar pool, but offers free hours for locals to enjoy as well. Along with a dip in the pool, you should definitely check out the expansive view while sipping on a raspberry frosé. Public hours are 2-11pm on Monday-Wednesday, 2pm to midnight on Thursdays, 7pm to midnight on Friday and Saturday, and noon-11pm on Sunday.
Join Austin's biggest bike gang
Every Thursday night, hundreds gather for the long-running, massive group ride through town hosted by Social Cycling Austin. The slowly paced trip is typically 12-15 miles, and includes plenty of ride leaders to block intersections (and to wait for stragglers). Each week, riders meet at a designated spot on the Eastside and end at a bar for celebratory beers.
Every Monday through Friday at 8am, dedicated yogis gather for free yoga at Cherrywood Coffeehouse for the perfect opportunity to stretch and strengthen before grabbing coffee and breakfast. All skill levels are welcome, and mats are provided.
Notorious bad-decision bar Barbarella comes to life every Tuesday for Tuesgayz, Austin's youngest and most inclusive weekly LGBTQ dance party. Expect indie-electro tunes, drink specials, and loads of sweaty bodies.
Channel your inner urban cowboy at The White Horse Saloon for free Texas two-step lessons every Thursday, Friday, and Saturday at 7pm. You'll never step on the toes of a cute stranger again.
Grab your smartest friends -- including the one who knows way too much about One Direction -- and head to Geeks Who Drink at your nearest participating bar. Quizmasters are hosting trivia games all over Austin every night of the week; be sure to check the schedule for your home bar.
Listen to the vintage vinyl at Nickel City
Every third Sunday of the month, DJ Bad Boy Croy is playing honky tonk and country vinyl at Nickel City; come for the tunes, but hang out for cheap drinks if you're willing to spare some cash. As a bonus, you'll get a free taco if you order Bulleit or Don Julio.
Head to King Bee Lounge for free comedy with Austin's finest comedic talent, hosted by the very recognizable comedian Chris Cubas. It all goes down the first Wednesday of the month at 9:30pm, and it doesn't hurt that King Bee serves killer frozen cocktails and pizza!
Crowd-surf sans cover at Free Week
Start your year off with a little over a week of free live music every January. Think of it as a mini-SXSW geared toward Austinites -- no wristband (or wallet) required.
Park yourself at Zilker
Austin's Central Park equivalent, Zilker is located conveniently in the center of the city and is an ideal spot for pickup sports, picnicking, and playing with pups. Whether you want to work out or lay out, with 351 acres, it's basically a field of dreams.
Austin is home to the world's largest urban bat colony, and watching them swarm out from under the Congress Ave Bridge is probably one of the most famous attractions in Austin, as you probably know all too well. Which is probably why there's even an entire (not-free) festival for that.
Get your fine-art fix on Thursdays at the Blanton
Switch up your normal Thirsty Thursday routine and instead head to the Blanton Museum of Art, which is free on Thursdays, and on the third Thursday of every month is open until 9pm, giving you plenty of time to get your art on.
Take a Texas crash course at the Bullock Museum
Everything's bigger in Texas, including our state pride, which is why natives have been learning Texas history and pledging allegiance to the Texas flag since first grade. For non-locals, this museum -- offering free admission on the first Sunday of every month -- is a sufficient way to see what all the hype is about.
Hey night owls: Your swimming needs are covered during Barton Springs' free late evening hours from 9-10pm, though residents get a hefty discount on admission the rest of the year.
Learn more about the art and culture of our neighbors through the Mexic-Arte Museum (free on Sundays) and the Cultural Center, where admission is always free.
Catch a sunrise or sunset at Mt. Bonnell
For some stunning views of Lake Austin and the Downtown skyline, check out Mt. Bonnell. Legend has it that if you and your love walk up the stairs hand-in-hand, you will be together forever.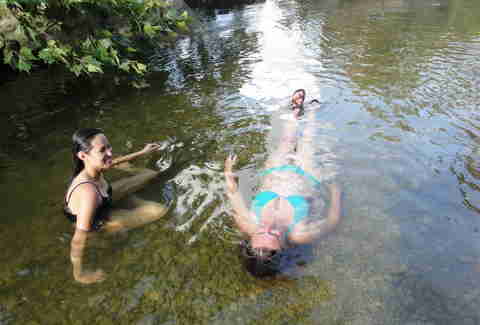 Enjoy some time with Mother Nature at the Greenbelt
In Austin, an oasis is mere minutes away. The Greenbelt offers hiking, rock climbing, and tubing, making it the most amazing and affordable outdoor experience imaginable.
Show off your keg-stand skills on game day
While going to a UT football game might not be free, parking lot antics often are. Wander around, search out some sponsored tents, Google your way to an open-to-the-public event, or befriend undergrads with beer.
The mission of ANSC (located at the edge of Zilker Park) is to "increase awareness and appreciation of the natural environment," and the center features educational exhibits, workshops, and, most importantly, a dino pit in which you can dig for dinosaur fossils... which, let's be real, we're all excited about.
You don't have to wait until ACL for live music and crazy crowds at Zilker. Every year, KGSR takes over the park for a free, super-popular summer concert series. Just be sure to bring your own blanket.
One of the man-made wonders of Austin, the Capitol is a pretty incredible architectural feat, and admission is free. It's also surrounded by lush, sprawling grounds that make for lovely lunch-break lounging -- whether or not you approve of the actual politics.
Wander around a farmers market
The SFC Farmers' Market at Republic Square Park, the Texas Farmers' Market at Mueller, the HOPE Farmers Market... the list goes on. And whether you're there for entertainment, products, or people-watching, they don't disappoint.
From art and photography to writings and books, the Harry Ransom Center -- located on the UT campus -- is home to some super-legit pieces of history, including the museum's main event: the Gutenberg Bible.
For 50 years, the Trail of Lights has served as a Griswold-esque way to get into the Christmas spirit. Cue "Jingle Bells," spike some hot chocolate, and head over to Zilker Monday through Thursday, when there is no cost of admission, to stroll through. The park is totally transformed via amazing string lights and decorations, particularly the star of the show: the Zilker Holiday Tree, a 155-foot sculpture boasting over 3,000 lights.
Take in movies and live music at Sound & Cinema
Every summer, Do512 and the Alamo Drafthouse join forces to bring the public live music and beloved films on the lawn of the Long Center. Jam to an Austin band before the sun sets, and then settle back with a drink and your food truck fare and enjoy one of the classic flicks they've selected this season.
If you want to witness "keep Austin weird" in action and determine if drum circles are your thing, don a crazy costume (pasties tend to be popular) and head to Pease Park for this yearly iconic gathering celebrating everyone's favorite emo cartoon character.
Have a rare wholesome Sixth Street experience at the Pecan Street Festival
The normal, drunken crowd of Sixth Street is replaced by families, animals, art vendors, and stages at this delightful fest, which takes place once in the spring and once in the fall. (Whether you go or not, mark your calendars, because while the festival is pleasant, the resulting traffic is anything but.)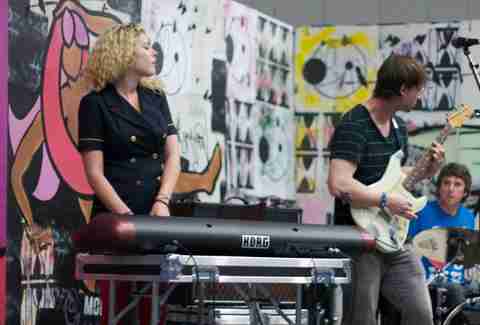 Embark on a party marathon at SXSW
Let's face it: If you're not in the industry, you don't really need a badge. SXSW has more than enough free parties, concerts, and events (often with free food and drinks) to make any freeloader happy.
There's no time like this fest to get your Mary Poppins on at the park and go fly a kite. Giant crowds are a guarantee, and kite casualties a probability, but it's pretty much impossible to have a less-than-delightful day.
Inspect the sculpture scene at the UMLAUF
Thanks to the support of donors, admission to the UMLAUF Sculpture Garden & Museum, which exhibits the work of Charles Umlauf, is free through the end of August, making art more accessible to everyone.
The city's creatives open the doors to their galleries and studios during these self-guided events, which each take place over the course of two weekends, and feature events, special exhibits, and the chance to get up close and personal with local artists.
Wrangle your book club buddies and head to this annual fest featuring 250+ acclaimed authors, 80+ exhibitors, live music, activities, and more.
For this annual event at Festival Beach -- put on by the Asian American Cultural Center -- a 2,000-year-old tradition is re-created right on Lady Bird Lake. Place your bet on one of the 40-foot boats, and cheer as they race across the water.
Pack up the popcorn, because the Austin Parks Foundation presents outdoor movie screenings at various Austin parks, which is a setting where you don't get in trouble for smuggling in snacks.
Enjoy in-store acoustic performances at Waterloo Records
Catch occasional free shows from touring artists when they hit up one of Austin's iconic record stores and put on cozy, in-your-face performances.
When the F1 races head into town, the Fan Fest kicks off with an awesome party that's far more conveniently located than COTA.
Test your tolerance via hundreds of hot sauces at this annual festival benefitting the Capital Area Food Bank. While admission is free in the technical, monetary sense, be sure bring three non-perishable items to donate for entry!
Discover all the amazing exhibits on Austin Museum Day
An annual opportunity to check out over 44 of Austin's museums for free. Mark your calendars for Sunday, September 18 for the 2016 Austin Museum Day.
Every summer, KGSR presents a free concert series at Shady Grove that's stacked with some steadily excellent acts. Come early to snag a chair, or bring a blanket and spread out on the grass... either way, you can enjoy the drink specials.
For over 50 years, Zilker Theatre Productions has been putting on spectacular summer musicals that run at the Zilker Hillside Theater over the course of a few weeks. Think shows like The Wizard of Oz (2017) and Shrek: The Musical (2016) that make for a fun date or an awesome family-friendly evening.
Sweat for free with Whole Foods
The Whole Foods location at the Domain offers free Camp Gladiator boot camp in the parking lot. These classes fill up fast, so be sure to act fast.
Visit a junkyard paradise
Need to find a new nation of the junkyard persuasion? The Cathedral of Junk rests just south of Austin on Lareina Drive, and is a monolith of metal and scrap. The Cathedral is a perennial roadside attraction that is a wonder to behold, as much as it is an ode to one man's trash being another man's treasure.
Play disc golf around Austin
Looking to find yourself under par around the city? Use some Google magic to find any number of disc golf courses scattered around the city, including the oldest park of its kind in Texas at Bartholomew Park, established in 1982.
Is Barton Springs a little too mainstream? Trek out to Twin Falls, just north of the MoPac on Barton Creek. The falls and stream are as good of a place as any to chill out and find shade, while climbing paths, walking paths, and plenty of space for pets abound.
The Zilker Botanical Gardens on Barton Springs Road is 22 acres of finely pruned paradise waiting for anyone wanting to tour its grounds. While there are guided tours available, there's nothing stopping you from going in and seeing the gardens, sights, plants, and sounds of this Austin establishment.
Wooldridge Square Park houses giant chess, an Austin Parks Foundation initiative that is exactly what it sounds like: an oversized chess board with board pieces that go up to your knees. Other events frequent this space, so be sure to check their Facebook page for daily information and updates.
Sign up here for our daily Austin email and be the first to get all the food/drink/fun in town.