Austin can be a brutal place to spend your summers. The free outdoor theater, endless games of Ultimate Frisbee in the park, and waterfall-based hiking are all wonderful ways to spend June and July, but once August's triple-digit days come a-calling, we're all pretty burnt out on bright sunshine (sometimes literally). Locking yourself in your room and blasting the air conditioner is both expensive and dull, but fortunately, there are lots of places in town that are happy to do it for you! Here are some of our favorite ways to get out of the heat while still enjoying the best that Austin has to offer.
Downtown Austin
All the major museums in town have occasional free days, where Austin residents can go soak up some cold air and culture on the cheap. Any institution you're interested in checking out will likely have a day where it offers free or reduced admission, but our favorite is the Mexic-Arte Museum, which has been exposing Austinites to Chicanx arts, culture, and literature since 1984. There's free community admission here every Sunday, so you can explore their vast permanent collection of Mexican, Latino, and Latin American art, and check out the tail end of their exhibition celebrating the work of young Latinx artists.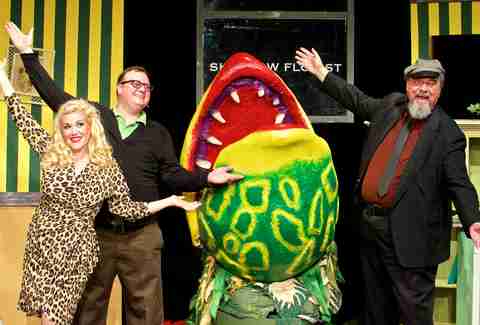 Cherrywood
Austin's one of the best places in the country to be a fan of independent theater, but all that culture can get pricey. Fortunately for us less-flush fans of the stage, the prestigious City Theatre Company offers $10 general admission tickets every Thursday night. Sit in darkened comfort and allow yourself to be transported to a less brutally hot world -- right now, the theater's in the last few weeks of Tracy Lett's Pulitzer Prize-winning black comedy August: Osage County, the perfect acerbic wake-up after a long afternoon spent wilting in the heat.
Southeast Austin
There many wonderful tasting rooms at Austin's many wonderful independent breweries, where you can kick back with friends and soak up the air conditioning (with a few pints of cold suds for good measure), but our favorite is the space at Independence Brewing Co. If the prospect of its refreshing Power & Light pale ale, or a taste of the floral and crisp special edition cucumber Berliner weisse isn't enough of an enticement for you, the tasting room also features live music, informative tours, and themed food events throughout the summer.
Browse the shelves at BookPeople
Downtown Austin
If you're as much of a summer-sports-hating nerd as we are, you probably have fond summer memories of hiding out with your friends in the air-conditioned young adult section of your local bookstore, reading a book from cover to cover. Meandering through Austin's largest independent bookstore is a fun way to relive that experience, and with an excellent cafe on-site selling iced coffee and pastries, you can easily while away an afternoon deciding on your next beach read. If you're lucky enough to be there on a day where it's hosting a reading, which bring big name authors to town and are always crowded with Austin literati, it's worth sticking around.
Be a non-sweaty art critic at grayDUCK
Holly
Austin is better known for its music scene than visual arts culture, but with more and more noteworthy galleries opening across the east side and beyond, that's starting to change. grayDUCK, which has been presenting the work of up-and-coming Austin artists since 2010, is a great place to start your exploration, especially since its cute bungalow of a gallery is air-conditioned -- the porch is also equipped with a wall of refreshing misters, where you can cool down with friends and discuss the amazing work you just saw before you braving the heat on Cesar Chavez.
Have a blast from the past at Blazer Tag
Westgate
Laser tag's a great way to pass a few cool, dark, and totally sun-free hours during the summer, and if you're a laser tag fan living in Austin, you already know about Blazer Tag Adventure Center; if not, now's a great time to check out that weird UFO-festooned building you always see from the freeway. There's a full menu of arcade snack classics to refuel you between matches, the private party rooms are BYOB, and Blazer Tag's open 'til midnight on the weekends, which means you've basically got the entire "sun avoidance" package here.
Govalle
If you're friends with any alt-fitness types, you've been hearing a lot about bouldering lately -- why not try it out for yourself? The hyper-trendy Austin Bouldering Project offers free passes for member's friends, so you can get in a workout on the cheap, working up a sweat in the pleasantly cool room (which claims to be the largest bouldering gym in America). Afterward, thank your friend with a walk around the corner to buy them a few pints at Hops and Grain, which opened just a few months ago and has already earned a reputation for making well-crafted, eminently drinkable beers.
North Shoal Creek
Karaoke can be a daunting prospect for some, but the idea of those dark, cold, windowless rooms is tempting enough to get even the shyest singers out of their shells this time of year. Austin has plenty of great options for private-room karaoke, but one of our most affordable favorites is The Common Interests, where on weekdays you and your most trusted friends can get a room for free and sing your little hearts out, fueled by ridiculously affordable $3-4 daily drink specials. Face it: You'd probably be at home trying to cool off by singing a few tunes in your freezing cold shower anyway.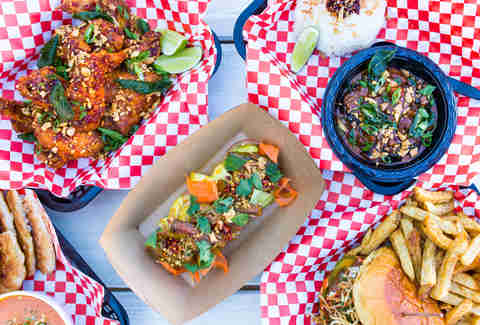 Bring the food truck indoors at St Elmo Brewing
St. Edwards
We Austinites love our food trucks, but when temperatures reach into the hundreds, casually grabbing a table in a sunny parking lot can be a death sentence. Fortunately, many of our favorite food trucks come tied to air-conditioned bars, and Soursop is no exception. The truck combines two excellent muggy weather food traditions (Southeast Asian and American Southern) to create a unique menu of brightly flavored options, all of which can be enjoyed indoors at St Elmo Brewing next door. Grab an order of the wildly popular sambas chicken wings, and head inside for some cold air and a pint of refreshing Mahalo pineapple pale ale.
Embrace your inner mallrat at The Domain
North Burnet
Sure, it might seem obvious, but with a wide array of high-end shopping and places to eat, including not one, not two, but THREE ice cream options, there's a reason The Domain's one of the most popular malls in town. Get a burger and a milkshake at Shake Shack if you're feeling indulgent, frozen yogurt at Yogurt Planet if you're being sensible, or walk over to the SPUN Ice Cream truck for some radical cooling with flash-frozen liquid nitrogen ice cream. And, of course, air conditioning is plentiful throughout.
North Loop
Austin is home to a thriving stand-up scene, and, fortunately for us, all of the major theaters in town have air conditioning, so you won't slide out of your seat laughing. ColdTowne Theater puts that promise right in its name, and on Friday nights, at the perennially popular Movie Riot series, it delivers big time. Ten dollars not only gets you a seat in a gloriously cold air-conditioned theater where you can watch five of Austin's funniest comics create a never-before-seen, totally improvised movie live on stage, but it also buys you access to free pre-show candy, popcorn, and, yes, margaritas, in the (equally air-conditioned!) lobby before the hilarity starts.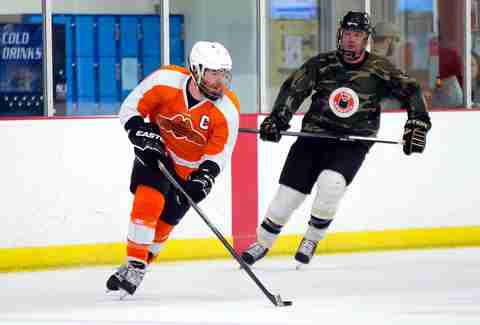 Crestview
Austin isn't exactly known for winter sports enthusiasm, but ice skating is a great way to cool down after a long, sweaty day in the Texas sun. Ice rinks have to be immaculately air-conditioned to keep their skating areas at an even freeze, and between that and the cool air radiating off the ice, you might even have to bust out the coat you wear for three hours between November and December every year. Chaparral Ice, a rink with public skate times every afternoon, is the perfect place to test out those dormant cold-weather skills.
Sign up here for our daily Austin email and be the first to get all the food/drink/fun in town.