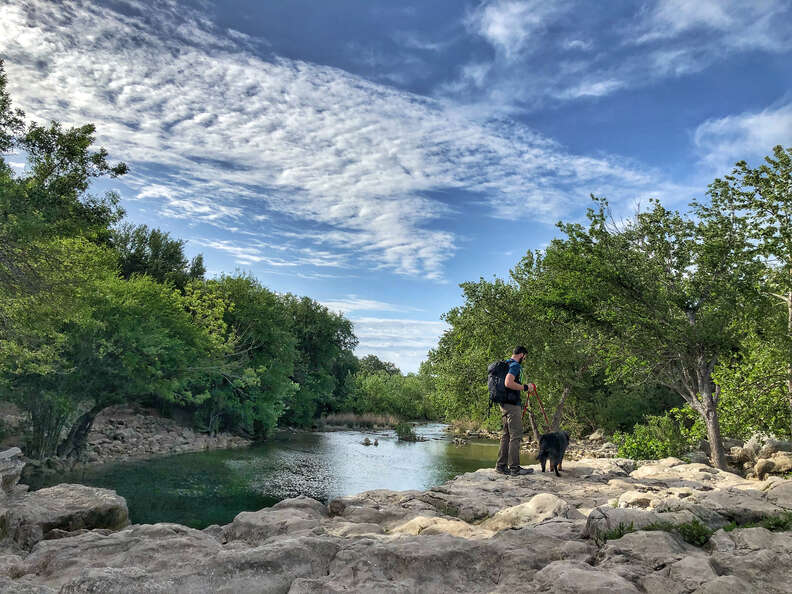 Sculpture Falls

| Kim Hefner/Shutterstock
Sculpture Falls

| Kim Hefner/Shutterstock
Everyone is familiar with the Barton Creek Greenbelt as Austin's much-needed oasis, not only in the sense of salvation from the blistering heat, but also as a socialite watering hole. Still, navigating the winding 12+ mile trail to bike/hike/swim is no easy task, even for our veteran nature enthusiasts. We've outlined the best points to access the Greenbelt, so grab your trendy outdoor gear (or just your bathing suit) and make an entrance.
1601 Spyglass Dr
There are a couple of reasons Spyglass is local favorite, on top of having Tacodeli adjacent to that entrance and street parking readily available, the spot is beautiful with a flowing current that has carved slides and tubs in the rocks. Just a short hike away from Campbell's Pool, there's something here for everyone. As one of the most popular spots, however, comes stricter regulation with cops regularly busting for open containers so look alive.
3755 S Capital of Texas Hwy
Lost Creek is significantly less "lost" these days as it's typically full of party people. The name comes from the lengthy, yet simple hike to the actual swimming spot. You'll know you've reached it once you hear the sounds of music playing and beer being crushed. Yet as with everywhere in Austin, there's the best of both worlds as the big waterfalls provide a relaxing aesthetic to set up your hammock too.
2632 Barton Hills Dr
After a good rain, the Gus Fruh pool provides a lake experience with rope swings and deep, calm water for wading. The South Austin crowd keeps it chill -- unless you upset the neighbors by disrespecting their residential parking. Wear sturdy shoes for the gravel trails or rock climbing the popular Guide Wall.
2642 Barton Hills Dr
If you're an adrenaline junkie, you've probably already heard of this spot also known as "Land Bridge." The three different tiers are perfect for jumping, at escalating heights of 10, 30, and 50ft cliffs depending on your nerve. Wear shoes to make the climb easier and take note of water levels. Remember there are two classes of cliff jumper: grand master champion and stuff on a rock.
7806 N Capital of Texas Hwy
Generally quieter than its counterparts, this entrance attracts an older crowd and is ideal for families in North Austin. While it's a great place to beat the crowds, this low-key spot is far from boring. Bull Creek Park has volleyball nets, picnic tables, and there's a good mix of small waterfalls and hiking on the trail.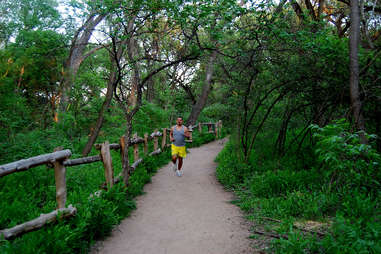 2212 William Barton Dr
As one of the closest entrances Downtown with the easiest visible access, the Zilker entrance is no secret. The wide biking trails are populated with everyone from running buddies, cycling groups, and even strollers. Choose this spot for a competitive jog with the rest of the city's health nuts.
3755-B S Capital of Texas Hwy
Referred to as the official access point to The Greenbelt, the entrance is actually tucked in an office building parking lot. The terrain is for mountain bikers and climbers leading to the Seismic Wall. Occasional noise from nearby traffic isn't necessarily pleasant, so don't come here for your dose of daily zen.
Sign up here for our daily Austin email and be the first to get all the food/drink/fun in town.
Chrissy Dickerson is an extroverted journalist who is optimistic about Austin's fads and overpopulation, but refuses to join the
Pokémon Go
apocalypse. Follow her outdoor adventures as she attempts to balance out her diagnosed foodie obsession @chrislizd.