Austin hasn't been a "secret" in a long time. Last year, it was the fastest growing city in the United States according to information released by the US Census, and it has topped Forbes' annual "fastest growing cities" lists in 2011, 2012, 2013, and 2014. That means there are a lot of new folks in town, as well as the regular tourist numbers. And they're ALL heading to the same places. Here's how to avoid getting caught up:
Barbecue
Instead of:Franklin BBQ or La Barbecue
Do this: John Mueller Meat Co
BBQ is at the top of this list for a reason. Nothing is debated more in Texas and Austin than who makes the best brisket. While Franklin has definitely received the most press in recent years (culminating in a Presidential visit when Obama stopped by on a recent trip), it also has absurd lines. As they say, nothing draws a crowd like a crowd.
However, if you want to get some great ribs AND the time to actually do something with your day, there is a better option. John Mueller Meat Co is located just over a mile east of Franklin. The meat is a quality you'll only experience in Austin (dare we say on par with Franklin's) and run by a third generation Texas BBQ master, a local legend. The best part? You'll never wait over 15 minutes to get your fix.

Tacos
Instead of:Torchy's, Tacodeli, or Veracruz
Do this:Pueblo Viejo
There is no shortage of great tacos in Austin, and in reality you can't go wrong with most places you visit. That said, Torchy's, Tacodeli, and Veracruz suck up a lot of the hype. Veracruz particularly has some of the best tacos in Austin -- even the Food Network recently named Veracruz one of the "Top 5 Tacos In America." Inevitably, with notoriety has come massively increased wait times, so Veracruz is no longer the best option for those in a hurry.
If you're looking for a comparable taco with less of a wait, try the unassuming Pueblo Viejo truck on East Sixth St, just east of I-35. The sign hasn't been replaced in a number of years, but don't let that scare you off. The portions are bigger than Veracruz, there is no wait, and we can assure you anything on the menu is going to be better than the Big Taco favorites have to offer.
Hitting the local bars
Instead of: Rainey St
Do this: East Cesar Chavez
Rainey St was THE secret for a year or so. Most visitors had inevitably heard of 6th St, but their Austin friends would convince them to avoid the sloppy college kids and head down to a magical street where a bunch of old houses were converted into bars. Rainey St was the hot new spot in the know. Sadly, that time is over. Rainey St is losing its charming old house bars (RIP Lustre Pearl) to high rise condos, and losing its soul to bachelorette parties, mid-twenties frat stars, and people who dress up in suits and wait in line for 30 minutes to go to a bar made out of shipping containers.
If you're interested in what Rainey once was, head to East Cesar Chavez. There you'll find 4 bars within a block of each other, all with diverse appeal. Weather Up (an excellent cocktail bar), Craftsman (a house party themed bar), Stay Gold (an amazing live music lounge), and Drinks Lounge (a classic dive).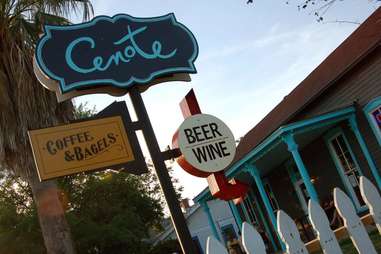 Coffee
Jo's building is famous for having "I love you so much" spray painted on the side of it. Each day, all day, dozens of people are in line to snap a photo next to this crude graffiti. Combined with the fact Jo's is on South Congress, you're bound to wait 15 minutes or so for an average coffee. Alternatively, head over to the east side and stop by Cenote. There you'll find a true neighborhood coffee spot, housed in a gorgeous, historic 1887 structure, that will sling you a stunning cup of joe to boot.
Brewery tours
Instead of:Jester King
Do this:Hops & Grain or Zilker Brewing Co
Jester King is an amazing brewery that makes funky sour beers. Jester King is also located 45 minutes outside downtown Austin. If your whole party is looking to fully enjoy all the beers available, this makes transportation a problem.
If you don't have time for a day trip or you don't have a designated driver, check out Hops & Grain instead, located on the East Side of Austin. The taproom is open seven days a week and gives you a souvenir cup to go home with. You'll be no more than five to 10 minutes outside downtown and be able to score some of the best beer in Texas.
Dinner and sunset
Instead of:The Oasis
Do this:Steiner Ranch Steakhouse
The Oasis is the tourist trap to end all tourist traps in Austin. The owners seem to know this and allow years of bad food reviews to fall on deaf ears, trusting the sunset view will make people overlook how mediocre (and expensive) their food is. They've created a mini mall-like area surrounding the restaurant as well, to fully empty any visitors' pockets.
Instead, head to Steiner Ranch Steakhouse, where you can take in an equally breathtaking sunset over Lake Travis, and infinitely better food.
Hikes
Instead of:Mount Bonnell
Do this:Wild Basin Wilderness Preserve
Mount Bonnell is an amazing place to see the Colorado River in all its glory. That said, it isn't a great hike, as it's become mainly a crowded, short staircase leading up to the top of a mountain. That is unfortunate, because the majority of time the subject of hiking is brought up with out-of-towners, Mount Bonnell gets suggested.
Well, if you (or they) would rather see more wildlife and enjoy a more classic hike, head to Wild Basin. There, you'll be able to fully immerse yourself in nature and enjoy waterfalls in relative privacy. Or, if that doesn't strike your fancy, here are a few other humble suggestions.
Sign up here for our daily Dallas email and be the first to get all the food/drink/fun DFW has to offer.
Brent Underwood is the founder of HK Austin a co-living and co-working space in the heart of Austin.