How to Support Austin's LGBTQ+ Community During Pride Month
Keep Austin queer, y'all.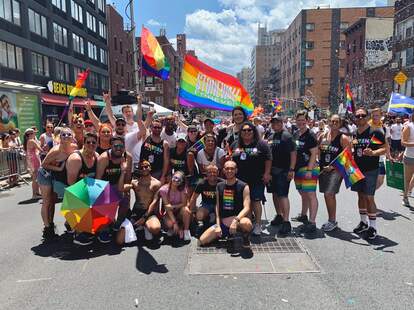 Start your engines because Pride is back, baby! And this one's extra special, as it's Austin Pride's big 3-0. (The anniversary celebration was initially scheduled for 2020, but that pesky pandemic led to it being postponed till 2021, of course.) Organizers have now announced the live parade will take place this August 14 at 8 pm, and it's open for public participation by registering here. And register you should—local Pride President Micah Andress told Thrillist, "This [will be] the largest parade in Austin, so we're calling everyone from social groups to national corporations to register and join in. Every contribution counts in making this a success and we'd love your support."
Regardless of all the rescheduling, June is still national Pride month and the return of Pride in Austin spurs more good news for the LGBTQ+ community, hit especially hard during lockdown as the scene relies so heavily on in-person dollars to survive. Many queer-owned businesses have re-opened, and performers are gearing up to werk the upcoming season, both IRL and virtually. "Last year was difficult, to say the least," adds Austin's most famous drag queen, Louisianna Purchase. "Thankfully, I was able to learn a new skill set with digital drag, and used it as a way to get my art out there. Now [that] venues are opening up, I'll be performing both on and offline."
With that in mind, it's time to help rebuild this fabulous community and raise a glass to all those gorgeous colors of the rainbow yet again. Here are some of the best ways to support Austin's LGBTQ+ and QTPOC humans with the WFH money we've all been hoarding.
Join the Pride festivities
There's no better way to celebrate Pride than to actually storm the Pride Parade. Remember, the Austin Gay and Lesbian Pride Foundation is a small non-profit and the event is a huge undertaking in terms of production and management, so every cent matters. Registering your social group, small or large business in the parade (fees vary) will support the event and their work, and let's face it, it'll be a pretty memorable experience for you and the crew. Prefer to participate from a distance? You can always donate online.
If you just can't wait 'till the parade to show your support, on June 30, the Austin and Nashville LGBT Chambers of Commerce will join forces to produce the second "Pride in Local Music" live-streamed concert, a special performance benefitting LGBTQ youth education, musicians, and bands from each city. Take it in with the utmost style at the W Austin's V.I.G. (Very Important Gay) watch party on their rooftop from 5 pm to 8 pm. Then on August 12, Geraldine's will host a Thurs-gay pool bash from 2 pm to 5 pm, with a portion of Cause-Mo cocktail sales donated to The Trevor Project.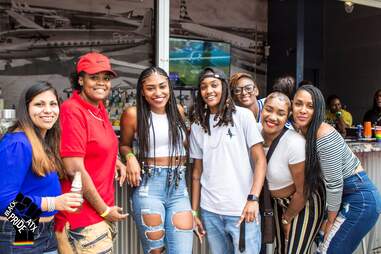 Courtesy of Austin Black Pride
Check out Austin Black Pride
Lower-key but just as, if not more, significant, Austin Black Pride is also making a comeback this year from June 8 to 13 under the ultra-empowering theme "Rated R for Resilience, Rejuvenation, and Reconnecting." And with COVID disproportionately affecting Black and Latinx communities, this enterprising group needs your support more than ever. Events to attend by donation include Thirst Trap Day Party at the Coconut Club—whereby you'll don colored wristbands coded to reveal how single (ahem, thirsty) you are—or alternatively, go down the holistic route and try a yoga, sound bath, and healing session at Givens Park. After the parties have passed, you can still make donations to Austin Black Pride via Venmo (@AtxBlackPride) or Paypal.
Flash your cash at the gay bars and restaurants
Those double-vaxxed and ready to mingle have zero excuse not to show up for Austin's queer bars right now. Rain On 4th in the Warehouse District hosts legendary nights out and attracts a mainstream crowd, nearby The Iron Bear is bear owned and operated and not at all as intimidating as it sounds, and then there's freshly reopened Cheer Up Charlie's, a colorful queer bar with vegan food truck, large outdoor music venue, and organic juice blend cocktails. Don't forget to line your stomach before those Texas-sized pours—women- and queer-owned La Barbecue should do the trick, available for indoor dining or take-out. Meanwhile, couple Anthony and Chad of Lick Honest Ice Creams save the day as your go-to gay-owned sweet spot.
Tip your queens & kings
We're screaming "Bring back my ghouls" because this Pride sees local favorites return to the main stage. The one and only Louisianna Purchase will be performing live at TuezGayz Pride Drag Show at Barberella on June 29, and you can continue to show her love on streaming video service Twitch; Vylette Ward will make regular appearances at TRACE's Drag Brunch while also maintaining an online merch store; and Boiz of Austin, the city's only drag king troupe, will take part in a Pride Special at Austin's oldest LGBT entertainment venue, Oilcan Harry's, on June 16. If you miss that, subscribe to their drag stream for as little as $3 per month to access video recordings of all their shows.
Pay it forward to the next generation
Let's make growing up a little easier on the fresh faced queer whipper-snappers, shall we? Out Youth is a vital part of the Central Texas LGBTQIA+ scene, helping youngsters develop into happy, healthy, successful adults via a variety of programs, services, and resources. Right now it's all virtual, including online gender identity support groups every Wednesday and a virtual summer camp held between June 9 and July 28. Us already-growns can show our love by donating some hard-earned dollars and, of course, spreading the word of this wonderful cause.