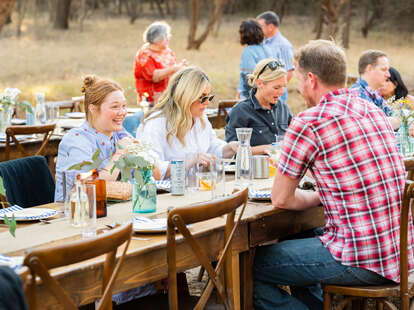 Courtesy of LCRA Parks
Courtesy of LCRA Parks
Picture this: Along the Pedernales River Nature Park, a spread of food awaits. A symphony of aromas dances in the air as platters of spring pea and mint crostinis, sugar-rubbed pork tenderloin, and wild roasted potatoes grace a long rectangular table beneath twinkling patio lights. It's a feast as diverse as Texas's landscape, and it's all a part of an ingenious initiative known as Savor the Outdoors—a farm-to-table culinary series that celebrates the bountiful produce and meat from Texas farms and ranches.
The series is hosted by the Lower Colorado River Authority (LCRA) parks system. If you're wondering what food has anything to do with a river authority, let us take you back to the organization's inception in 1934. Created by the state legislature to preserve and responsibly manage Texas's natural resources, the river authority has been tasked with delivering electric power to central and remote communities, overseeing the water supply of the Lower Colorado River, and managing a network of 40 parks spanning across 11,000 acres. But beyond simply managing these outdoor spaces, LCRA has set its sights on another mission: raising awareness of and increasing access to the parks system along the Lower Colorado River.
Enter Savor the Outdoors, a brainchild of LCRA Parks that emerged in 2021. This series does more than excite the taste buds; it serves as a gateway for people of all ages to partake in the great outdoors. "We created it a couple of years ago," said Margo Richards, vice president of community resources at the river authority. "We strive to look for ways to invite new, diverse audiences to the park systems and show how people that might not be comfortable camping or hiking could still enjoy a park." LCRA Parks has hosted four dinners.
What's special about Savor the Outdoors is that each event is held at a different spot along the Lower Colorado River to showcase the state's beautiful parks, including the Pedernales River Nature in Johnson City, Texas (an hour drive outside of Austin), Matagorda Bay Nature (three hours from Austin), and McKinney Roughs Nature Park (a breezy half-hour drive). And while the centerpiece of the event is food and drink curated by local chefs and beverage vendors, including Rivery Whey Creamery, Zanzenberg Farm , and Pedernales River Farm, there are also musicians to provide ambience and interactive workshops such as fly-fishing lessons, wine tastings, and bespoke poetry.
During the most recent STO event, the pork was sourced from Zanzenberg Farm located in Center Point, Texas. Most of the meats are charred on-site. Larger and fattier pieces, however, are cooked using a low-and slow-style, explained Matt Johnson, a welder and co-owner of Mill Scale Metal Works who organizes Savor the Ourdoors's culinary experiences: "So you're cooking a piece of meat anywhere from 12 to 16 hours and at a low temperature of 250 to 275 degrees," he said. This process allows chefs to cook big and tough pieces of meat that would otherwise be difficult to cook over direct heat. Additionally, "you're giving it the opportunity to slowly break down, develop a bark color, render the fat, and then you also get flavor and smoke density into the meat," Johnson said. "And it's just a really beautiful process."
With events like Savor the Outdoors, LCRA Parks is fusing the world of gastronomy with nature. By showcasing produce and meat from local Texas farms and ranches, it is not only stimulating the senses but helping people build an appreciation for the state's natural resources.
While there may not be a scheduled Savor the Outdoors event at the moment, rest assured there are more LCRA events this fall, including axe throwing, wilderness survival classes, and a constellation kayaking tour.
Kayla Hui is a Thrillist Contributor.