The Best Places to See Live Comedy in Austin
Learn how to laugh again at these knee-slapping venues.
Bob The Drag Queen, Paramount Theatre

| Photo by Gary Miller Photography
Bob The Drag Queen, Paramount Theatre

| Photo by Gary Miller Photography
Lots of us claim to be comedy fans after watching a few stand-up Netflix specials, but can you call yourself a real one if you've never ventured into some local clubs to get your ha-has on in-person? Comedy is truly an underutilized source of enjoyment—take a date, or simply lift your spirits alongside some good friends during these trying times. These spaces also allow you to direct your attention toward a stage without the ear ringing aftereffects of a music festival (cough, ACL, cough) or the hushed silence of a movie theatre. What's not to love?
If you're over the same old bar scene routine and in need of a hearty dose of laughter, check out this list of top comedy venues around Austin. Grab a drink, take a seat, and enjoy the show—but, for the love of Mitch Hedberg, leave the heckling at home.
Downtown
Ask any Austin improver worth their weight in Chris Farley references about their favorite place to catch comedy in the city, and they'll point you directly to the Fallout Theater. The absolute devotion by comedy nerds to this spot probably has to do with the fantastic weekly and monthly shows they put on—ones which pull straight from the headlines and encourage so much audience participation, you practically feel like they're basing a sketch off your own life (and sometimes they are). For example, there's the "Fuck This Week" showcase every Monday, where the cast uses audience members' stories about their shitty weeks as inspiration for some seriously wild improv. Think of it as a chance for individuals besides you and your friends to laugh about that horrible Tinder date you went on last Wednesday.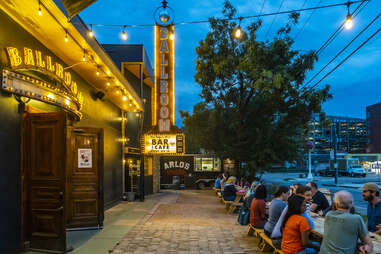 Central Austin
Late night campus hangout and classic Austin libation spot Spider House dishes up the sort of comedy that fits right in with the quirky atmosphere and drink specials. The disco ball- and red curtain-strewn Ballroom hosts showcases with an interesting edge, such as "The Joke of Painting," which happens every second Monday and bills itself as a mix between an art lesson and a comedy show. The must-see at Spider House, though, is the super-popular "Stoned Vs. Drunk Vs. Sober," a stand-up competition where the teams get, well, under the influence, and resulting shenanigans occur. And while we don't blatantly encourage you to do the same while watching, it sure makes the jokes a hell of a lot funnier.
Downtown
Austin's newest funny kid on the block, the Sunset Strip, opened just this past April, but has already gained a ton of traction in the local scene. The emphasis here is on the best mic-master the ATX has to offer—with regular showcases featuring all the Lone Star comics currently lighting up the stage. Recent programming includes stacked lineups of up-and-coming kings and queens of local comedy, where you can check out the young guns that are not only funnier than you, they also don't yet require botox. And when we say stacked, we are not exaggerating—with most evenings boasting around twelve comedians minimum, the giggles are sure to last for hours.
Downtown
When it comes to live comedy, the Paramount Theater is the place to catch all the heavy-hitters—stand-ups so famous that even your grandmother would recognize their name on the marquee. Check out their schedule and you'll notice a smattering of top-billed names: Big Mouth's Nick Kroll, the guys from true crime comedy podcast hit The Last Podcast on the Left, the cuter version of Jon Stewart (AKA Trevor Noah), and, last but not least, the legendary Bob Saget. The big acts at the Paramount are reflected by the theatre itself—with a landmark Austin sign, velvet curtains, and surroundings pulled straight from a European opera house, you'll almost feel too fancy to laugh so hard soda comes out your nose.
Sixth Street
Those who've only been to Dirty 6th for a long night of drinking Mind Erasers and stumbling across the sidewalk may not have noticed Esther's Follies—although, to be fair, it would take a truly inebriated mind to miss the facade's cacophony of colors. A turquoise building decorated with a rainbow sign, geometric shapes, and sea creatures, the exterior is a visual indication of the excitement awaiting inside. Esther's Follies is famous for its variety shows, which have been delighting Austin audiences for over 40 years. The acts feature political satire, comedy sketches, magic tricks, and everything-in-between—essentially a mix between SNL and an old-school vaudeville act, served up with Texas flair.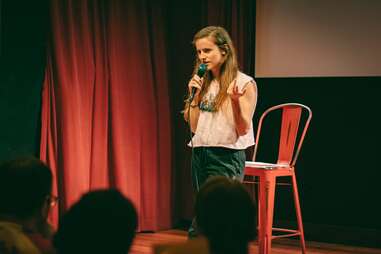 Downtown
For over three decades, The Velveeta Room (AKA The Velv) has been a beacon for local and touring comics. The dark, lounge-style theater lit solely by red candle holders is a great place to escape the madness of Dirty Sixth. Every Thursday, the spot hosts Speed Mic, a fast-paced open mic night for noobs and pros working out new material—and it only costs $5 to get in. Not to mention, every Wednesday, you can currently catch comedian extraordinaire Christina P. hopping straight from your Netflix queue to The Velv's stage throughout her local residency.
Central Austin
If you're looking to not just watch some comedy, but also up your own jokes game, as well, check out ColdTowne Conservatory. This spot is known for its comedy, improv, and sketch classes, with award-winning instructors that have taught and performed at such renowned temples as Second City, iO, and UCB Theaters. When you're not practicing for your SNL audition, however, you can catch some fantastic performances from the house crew. Keep an eye on their social media channels for updates on their frequent outdoor improv jams, as well as any upcoming graduate showcases. To give you a taste, a recent one was inspired by soap operas.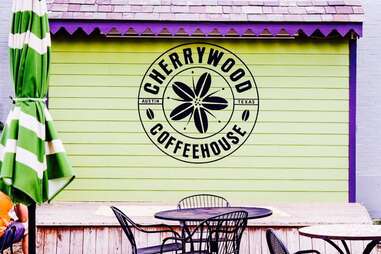 Cherrywood
The great coffee, beer, and toppings-loaded tacos at Cherrywood Coffeehouse have made it a neighborhood hub for years. And every Tuesday at 8 pm, you can watch (or even participate in) one of the longest-running open mics in town. It attracts skilled and awful-ly funny comics with varying levels of experience. Not to mention, it goes down outside (and socially distanced) on their amazingly chill and spacious patio. And it's even pet-friendly, so your four-legged friends can get in some chuckles, too.
Highland
On any given weekday morning, you can find people filtering in and out of Kick Butt Coffee with some extra-charged java and one of their gigantic (and uniquely named) XXL cookies. However, on Wednesday night, it's all about the guffaws at their long-standing Comedy Open Mic Night. For those hoping to perform, you better have your tight five in order—the list opens at 7:30 pm, and, depending on how many comedians sign up, you'll usually have three to five minutes (or even less) to strut your stuff. The good news? Even if you don't get a rush from your set, you can at least get a sugar rush from the shop's delicious treats.