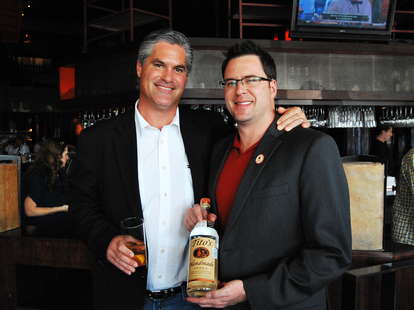 Austin is regarded as one of the coolest places to live and work probably because it is! If you're still in college trying to figure out what you want to be when you grow up or you're in your mid-30s looking for an escape from your mom's house, we found 10 jobs that will inspire you to get your life together.
Kevin Bartz, territory manager for Tito's Handmade Vodka
How he got the job: My path has always been in the service industry which has to be the best industry in the world! I started waiting tables and bartending right after high school. Then it was always a great way to pay for tuition while I was going to college and working late nights in Downtown Austin slingin' drinks. If you believe in fate, I just so happened to sit at the main table with Tito and his mother at a Lone Star Paralysis charity dinner in 2005. At the time I worked for Anheuser-Busch and previously sold liquor for Glazer's distributing in the Austin area. Tito and I started telling stories about our childhood of selling lemonade, mowing yards, and detailing cars to make money as young entrepreneurs. A few weeks later he said he was going to start hiring a salesforce and wanted me to come aboard after his mother told him he should hire me. My parents thought I was crazy when I told them I was planning to leave a top-50 company of AB to go work for the little local guy, Tito Beveridge. At the time I hadn't seen a brand with that much potential with someone like Tito with the drive and passion to make this thing work. I became the 14th employee of Tito's Handmade Vodka and it just so happened six months later my position was eliminated at AB. My parents might think it was the best move I ever made now. Fate has brought me to work for one hell of a man and friend, Tito Beveridge.
What he does: As the supplier, we are the liaison to our distributors. My job is to do the blocking and tackling to continue the growth of this phenomenal local brand by sales, marketing, and community involvement. Tito has been so generous in his philanthropic efforts that allowed us to participate in over 400 charity events in Austin alone last year, supporting the community. I could be out event every night of the week spreading the Tito's gospel. We joke that Tito pays us all in booze which never hurts and your friends seem to reap the benefits as well. Working for Tito's is kind of like working for Blue Bell Ice Cream, we drink all we can and sell the rest.
Kristina Wolter, owner of GirlGoneGrits Foodstyling
How she got the job: It was a morphing of sorts, from years of self-teaching and taking every cooking class I could attend. I've been baking and cooking since I could reach my Easy-Bake Oven. I read cookbooks like novels and at a very young age, I was addicted to PBS cooking shows. I quit my job in the tech industry in the early '90s to manage a small wholesale bakery in Northern California. I also started a catering company for small events.
When I moved to Austin in 2001, I decided to continue catering until it became more hours than I could give due to family obligations. I applied on a whim for a sous chef position for a Discovery Channel show that was being filmed in Austin. Though I was hired as a sous chef, it was really a stylist position. I quickly fell in love with the "behind-the-scenes" job and it was on that set that I realized that this was my dream job. I sought out a local food photographer, Melissa Skorpil of Skorpil Photography, and simply asked her if she took on any interns, not telling her I was more interested in styling than in photography. As luck would have it, not only did she need a full time stylist to work with.
What she does: I'm the person that creates the drips and the splatters and the perfectly placed crumbs on the plates of food so the photographers and videographers can do their magic. I also develop and test recipes for articles and packaged foods. If you're looking at an image in a cookbook or on social media that either makes your mouth water and your stomach growl or prompts you to pin it or save it to make later, than the photographer and I have done our jobs. I love how every job that I do is different. I've styled everything from raw dog food to a raw vegan cookbook and BBQ to bánh mì. Austin has become a thriving food city and that means there is plenty of work to stay busy. I love being able to tell people I get paid to play with food. It really is a dream come true.
CJ Morgan, radio personality at KLBJ 93.7 FM
How he got the job: When I was a kid, I was constantly listening to the radio, it was something that always fascinated me. Prior to working at KLBJ, I worked at a college radio station and hosted a morning show on a 100-watt station in Amarillo, Texas. We were one of the first to stream online so it was awesome getting fan mail, including some from weirdos in England. I moved to San Marcos and met a friend who worked in promotions at KLBJ. Eventually, he hired me on and I did every different job I could in that building. I sent in skits to Dudley & Bob who host the morning show at KLBJ as well as other on-air talent until I eventually annoyed my way on-air at 101.5 KROX FM. In 2011, I was asked to fill in evenings at 93.7 KLBJ and was eventually hired on full time.
What he does: Basically I'm making inappropriate jokes in between Pink Floyd and AC/DC songs on a classic radio station. I grew up listening to these larger-than-life, cheesy shock jocks and I absolutely love trying to embody that, all while slightly poking fun at it and myself. My shift is filled with prank calls, inside jokes, wacky bits, fake commercials, and lots of sound effects. I love being able to interact with our listeners and have fun being a radio personality. It's really interesting to see how this old medium (radio) and new (social media, Internet) are growing and interacting together. Like any great radio DJ, I have a kick-ass nickname. People call me the Captain but I also go by the Wizard, the Burt Reynolds of Radio, and the Nightman.
Tania Ortega, reporter at KTBC FOX 7 News
How she got the job: I started out my news career in little ol' Waco, Texas. Being born and raised in San Diego, it was definitely the smallest town I've ever lived in. I was basically a one-woman news station. I was hired to be the anchor/reporter/producer/photographer for a Spanish TV station. After some very hard months, I transitioned over to a reporter/producer job with a competing station in the same town. While there, I covered countless military stories at Fort Hood and around Central Texas. Two years later, I was interviewed in Austin and was offered the morning show position at FOX 7.
What she does: The question here isn't what do I do, rather, it's what don't I do. Our "Good Day Austin" viewers never know what to expect out of my segments. I mean that. From driving a Lamborghini on a racetrack to indoor skydiving, I try to find some of the most unique and fun things for people to try out around town. Some people say that Austin is losing its weird, but I try to find the weird and keep it going. There are times when I'm driving around town on my spare time and see something new, I'll head in there and see what they're all about. Stunt-man training, horseback riding, even surfing on the lake, I find things across town that will make our viewers say, "Wow, I never knew that existed." I used to cover serious news in my previous jobs, and I can say that the positive feedback from my "Good Day Austin" viewers fulfills me as a journalist more than ever.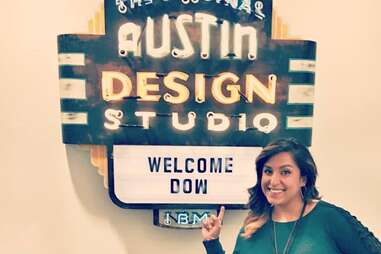 Haidy Francis, senior design manager at IBM Design
How she got the job: I started my career as a print designer at a small company in Houston for about five years. I loved and still love the smell of fresh ink and hot-off-the-press pulls directly from the four-color fortress. But, design is an evolution and in order to stay relevant you've got to evolve as well. My passion quickly spanned from paper to web pages, and almost seemingly I went from being a full-time web designer to a creative director at a start-up where I really fell in love with digital experiences. Diving in head-first, I moved to Austin four years ago to pursue my career in technology. Before I came to IBM Design, I was the director of user experience design for Dun & Bradstreet.
What she does: I am pretty new to the IBM Design culture, but I absolutely love it! I'm currently a senior design manager in the Security Division where I oversee enterprise software products and a pretty kick-ass team that protects a company's crown jewels from being attacked by cyber threats. I do a little bit of everything, from mentoring to UX research, spreading the good word of design, and keeping our users at the heart of everything we do. I get to collaborate with some of the most talented product designers in Austin. I am inspired every day I step out of the elevator onto the eighth floor of the IBM Design Studio. Post-it notes for everybody!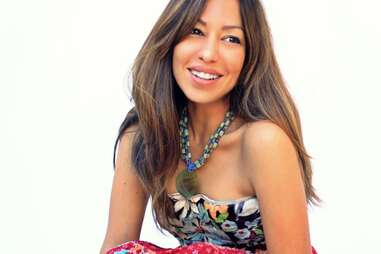 Denise Quintanilla, editor and writer with Rockstar Magazine
How she got the job: I know it sounds crazy, but I can trace it all the way back to elementary school. I grew up in an MTV-rich world where world video premieres were a huge deal. I remember exactly where I was and what I was doing the first time Michael Jackson's "Thriller," video was aired. I moved to Austin almost 20 years ago and needless to say, the music scene here blew my mind. You could watch Rosie Flores, Willie Nelson, Eric Johnson, and more on any given weeknight. When cellphones added video as a feature, I began filming as many performances as I could and I uploaded them to Vimeo. One day I got an email to my Vimeo account from someone claiming to work for SPIN magazine. Turns out it was legit and I eventually partnered with them to cover a few festivals and shows. Among them were ACL, the very first Pachanga Festival, SXSW, and so on.
I'd accumulated years of exposure to hundreds of bands, that ran the gamut from amazing to shitty, and there was value in that. One day, I hear from an old friend, Russell Dowden, who moved up here just a few years before I did and owned a magazine in town, Rockstar. He asked if I was interested in contributing, and after catching up with him and looking through the magazine, I knew it was something I wanted to be a part of. I began writing here and there and eventually after Russell got tired of me bitching about superlatives and the difference between present-perfect tense vs. present-perfect continuous tense, he promoted me to editor.
What she does: I go to as many shows as I can squeeze in during the week. I've made it a rule not to go out during the weekends because that's family time. Ironically, my time off is spent away from Downtown. Every now and then I'll make an exception for something incredible. On Sundays, I'll look at FB events and invites and start plugging in my calendar with the shows I'd like to attend. I also make a list of "bands to see," which are bands I keep hearing about from friends or media. Three weeks of the month are pretty much spent watching live music and then towards the end of the month, the stories start to pour in for editing. I think the best part about my job, is that it isn't really a job at all. I would do it for free (but don't tell Russell!) In all seriousness though, having to watch incredible music as part of my job in the city I love, has been one of the highlights of my life. Watching from stage during festivals isn't all that bad either.
Lisa Gilbert, makeup artist
How she got the job: I have been doing freelance makeup for over 10 years now. After college and starting a career in finance, my life lacked passion and my first true love -- makeup. I had always been involved in either art or dance, and there isn't a whole lot of either in financial services. I needed to get back in touch with that side and on my own terms. I contacted some people I knew in Dallas and offered to work for free cleaning brushes, schlepping kits, whatever they needed just to get a foot in the door. Eventually, I got a few images to post on the website Model Mayhem, which I would spend countless hours on contacting models and photographers, again offering to work for free. You have to do a lot of free work to build a book.
What she does: I get to play with makeup! I would say I have spent the last nine years or so specializing in avant-garde and vintage looks through my work and partnership with the amazing 666 Photography. I like having the freedom and creativity to dream up looks that help to pull high-concept shoots together and transform viewers to other worlds. I help pull all-nighters, building and painting at times, as all of our sets are physical. Aside from being a makeup artist, I have also been in front of the lens modeling some of my own work. If you haven't already, check out the gorgeous coffee table book 666 Photography: Virgin Queens and High-Camp Divas. When I'm not painting faces for characters in elaborate sets, I love creating looks that stick to the basics and ignore the trends of contoured-this and strobing-that. My philosophy is that every woman (or man) has something incredibly beautiful to bring out, not that they will be more beautiful with a thinner nose, prominent cheekbones, and sparkly forehead. Ultimately, I think that is my favorite part of the job seeing the faces when they look in the mirror. When you have someone tell you that you helped them feel beautiful for the first time in their life, it's impossible to not feel grateful for having the best damned job in the world.
Ben Sabin, owner-operator of Friends & Allies Brewing
How he got the job: I got my job after homebrewing as a hobby led me to wanting to work for a real brewery. I started out as a keg delivery driver for local Thirsty Planet Brewing, which wasn't easy, but it was fun and gave me the opportunity to meet a lot of people in the industry. I was eventually promoted to selling beer all around Austin. While working for that brewery I was able to understand the ins and the outs of a manufacturing brewery. That knowledge led me to branch out and start a brewery of my own and that's how Friends & Allies Brewing came to be.
What he does: I am the owner and operator of the brewery. I sell and self-distribute all of the beer that we brew throughout the city's bars and restaurants. We are currently in the process of building out the brewery in East Austin. The greatest part about my job is all the people I get to meet and share a pint with, including all the people working in Austin's exploding service industry. If I play my cards right, when work is done, I get to drink our beer with my friends at my favorite bars and restaurants around town.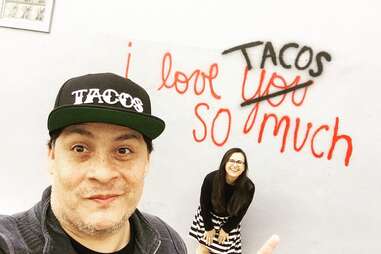 Armando Rayo, taco journalist with Tacos of Texas and Taco Journalism
How he got the job: I got my job because of my taco radar and a lot of taco sense -- knowing the difference between assembly-line tacos and really good authentic tacos, from breakfast tacos to street tacos, brisket, carnitas, al pastor, y mas (and more)! Back in the day, way before Yelp, a friend of mine asked me to write up some of my taco recommendations in Austin, which I did, and man, did it get people hungry. Then my amigo El Jarod told me about this blog Taco Journalism. He told me to come write with them because the blog was just a couple of white boys talking about tacos. Of course, I accepted and pretty much gave them the street cred they desperately needed. Since then I've been hitting the streets eating tacos, talking about the culture and history of the taqueros, recipes, and discovering anything that fits in a corn or flour tortilla. Eventually, we wrote the book Austin Breakfast Tacos: The Story of the Most Important Taco of the Day. The book gained a lot of attention in Austin and it lead to our latest book, The Tacos of Texas, which is coming out later this year via University of Texas Press.
What he does: I'm a taco journalist, author, and a bit of a culture freak. I love exploring people, their stories, food, and the culture that brings us all together. I get to eat tacos from all over including gas stations, trailers, taco stands, high end, low end, and anything in between. Beyond the food are people's stories and learning about family traditions as well as recipes that are passed from one generation to the next. For me, tacos represent the culture of Mexicans and Texans and some white people that we adopt. That's the most rewarding part, understanding people through the food they make, eat, and ultimately how they break, or, in this case, tear a tortilla and make friends.
April Riggs, media coordinator for High Brew Coffee
How she got the job: In October of 2013 I found myself unemployed and looking at freelance work. I reached out to a variety of connections via LinkedIn including David Smith, formerly the co-founder and VP of sales of Sweet Leaf Tea, to ask if any of his clients could use my services. David replied that he was working on something new and wanted to share it with me. We went to lunch and he showed me a presentation on High Brew Coffee and asked me to come "work my magic" for this new brand that would be launching. Along with a handful of ex-Sweet Leaf Tea employees, I joined the team as the social media manager and later moved up as the media coordinator.
What she does: I manage all of our social media accounts, answer any and all customer service inquiries, dabble in digital advertising, and I manage the relationship with our PR Firm. Upon launching the brand in Feb 2014, I've been the gal behind the curtain of all things social. What makes it so fun? The best part of my job is getting to connect with all kinds of people. Some of the perks from being the media coordinator include sponsoring great events like ACL Fest, Lollapalooza, and Landmark Fest, which allows me to stay current on the latest and greatest bands to hit the music scene, as well as having the opportunity to trade products with other like-minded brands. At the end of the day, marketing something like cold-brew coffee is awesome. To me it's the dream job because you can do it from anywhere there's Wi-Fi. You get to meet interesting people (sometimes super famous!) from all over the world, and you get paid to be yourself. The challenge? Being witty all the time, it's truly the life of a start-up company!
Sign up here for our daily Austin email and be the first to get all the food/drink/fun in town.
Mike Cortez is a writer and photographer living in Austin and is the author of the book, Beer Lover's Texas. When he is not out looking for the next great beer, he is writing about food and taking photos of whatever comes past his lens. Tweet him: @TexasBeerGuide.