The Seven Wonders of the Austin World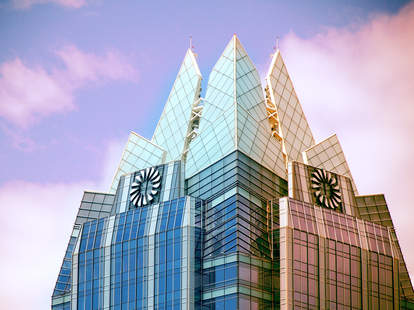 While the allure of Austin's natural splendors -- the Greenbelt, Barton Springs, Town Lake -- is undeniable, when it comes to local landmarks, the city's man-made masterpieces are also awe-inspiring (and we're not counting condos). We've searched far and wide (within the city limits, at least) to determine the Seven Wonders of the Austin World. Because while we may write a mean chorus and construct a killer taco, there are some seriously impressive and iconic structural aspects of Austin that mankind can also take credit for...
That being said, ahem, suck it, Mother Nature.
The Cathedral of Junk
Construction began in 1989; built by Vince Hannemann
Why it's one of the seven wonders: While an actual religious experience is unlikely, a visit to Austin's Cathedral of Junk is nonetheless an experience unlike any other. Vince Hannemann, who has taken the idea of hoarding to a whole new level, began construction several decades ago, incorporating discarded items like bicycles, old electronics, street signs, pipes, and what's been reported to be over 60 tons of general, well, junk. Despite some obstacles over the years (complaints from neighbors, permitting issues), the attraction -- a testament to the fact that one man's trash is another man's, um, cathedral -- was deemed by the city to be structurally sound. In other words, don't worry: the odds of your untimely Final Destination-esque death via rogue, toppling TV or toaster are pretty low.
Hope Outdoor Gallery at Castle Hill Graffiti Park
The program was initiated in 2011 by the HOPE campaign; created by Artistic Austinites
Why it's one of the seven wonders: While graffiti may have originated as an underground medium of sorts, taking the form of gang signs splayed across dumpsters and proclamations of love (or, more likely, derogatory comments about your mom) scrawled on bathroom stall walls, it's kicked up several notches at the multi-level Castle Hill graffiti park, home of the HOPE Outdoor Gallery. What began as a housing project turned into something way cooler: a constantly evolving concrete canvas where detailed murals share space with inspirational messages and vibrant cartoons. And the best part? Anyone with a can of spray paint (plus talent and permission -- you can email murals@hopecampaign.org for the latter) can contribute. No "For a good time, call... " messages allowed.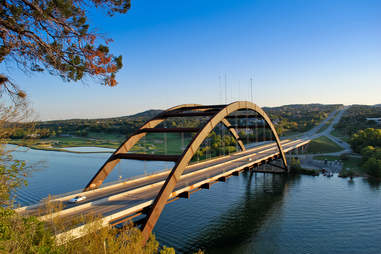 Shutterstock
Percy v. Pennybacker Jr. Bridge
Built in 1982; Percy V. Pennybacker Jr. was the designer behind his eponymous bridge
Why it's one of the seven wonders: If you've spent much time in Austin, you've likely biked or driven across what is also known as the 360 Bridge -- tens of thousands of vehicles cross it every day -- or have at least Instagrammed the iconic structure. The award-winning bridge, which took first place in the 1984 Federal Highway Administration's Excellence in Highway Design competition (we know you keep track of that type of thing), isn't just a scenic section of the freeway, but an impressive piece of infrastructure as well. Featuring 600 short tons of steel and 3,400lb of concrete, the 1,150ft long bridge is constructed in a mind-boggling way that allows it to stretch across the lake, sans pillars, with no part of it touching the water below, making it way more than just a pretty way to get from Point A to Point B.
Zilker Holiday Tree
It was constructed for the first time in 1967, and is resurrected every year for the Trail of Lights.
Why it's one of the seven wonders: While it may only be on display during the holidays, the Trail of Lights' main attraction is certainly worthy of wonder, and in 2016 the nation's tallest man-made, free-standing holiday tree will light up Zilker Park for the 50th year. The festive 155ft structure is comprised of 19 14ft utility poles at the base (surrounding the moon tower of Dazed and Confused fame), and incorporates 39 streamers, each boasting 81 bulbs and making for a massive, twinkling display with over 3,300 lights -- all topped off with a 10ft star. Which might make it slightly bigger than your standard Christmas tree.
The Texas Capitol
Built in 1882-1888 by Elijah E. Myers (architect), Abner Taylor (chief contractor)
Why it's one of the seven wonders: Everything is bigger in Texas, and the Capitol building is no exception: at 311ft from ground to the top of the dome, ours stands higher than even the US capitol in DC. A roughly $3.7 million endeavor that when originally completed boasted 392 rooms, 18 vaults, 924 windows, and 404 doors, what was impressive a century ago could still be considered a modern marvel today. But while it's certainly cool on the historical, architectural, and aesthetic fronts, for the most immature of Texans, perhaps the real highlight of a visit to the Capitol is yelling dirty words into the echo chamber.
Darrell K Royal-Texas Memorial Stadium
Built in 1924; Herbert M. Greene was the architect behind the stadium's original design, while the building was first constructed by Walsh and Burney of San Antonio.
Why it's one of the seven wonders:
While we love our Friday night lights, what's even more awe-inspiring in Austin is the sight of 101,000 burnt orange-bedecked fans filling the stands of Darrell K Royal-Texas Memorial Stadium on a Saturday. Originally constructed in 1924, the massive arena is named for the legendary Longhorns coach and has been dedicated to American veterans of all wars. With 90+ seasons having been played there, the stadium has been maintained and expanded via plenty of renovations, while over the years, fans within its confines have witnessed amazing plays, triumphant wins, heartbreaking losses and intense rivalry games.
Oh, and as a bonus, now they serve beer. Which is pretty wonderful, as well.
Sign up here for our daily Austin email and be the first to get all the food/drink/fun in town.
Sam Sumpter is an Austin-based writer who kinda considers herself the eighth wonder of the Austin world. Follow her Spotify recs, Seinfeld-related retweets and general shameless self promotion at @its_sam_babaaay (which she is aware is a very juvenile Twitter handle).