Everything You'll Definitely See at a Longhorns Tailgate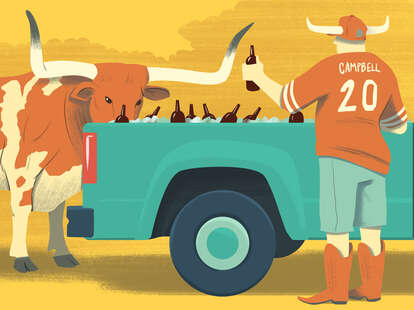 Jason Hoffman/Thrillist
Jason Hoffman/Thrillist
As much as we love watching the Longhorns and hearing a certain AD waffle about the future of a certain head coach, let's be honest: The real sport of a UT football game is the tailgate. Sure, there's the game, but the real creativity, camaraderie, and cold beverages are found in a steamy parking lot with a bunch of fellow bleeding-orange fans. There's something surreal about the way our boring asphalt wasteland transforms overnight into a proverbial carnival of competition and consumption. In the interest of being prepared, boy scout-style, here's everything you definitely will see at a Longhorns tailgate.
Boots with the skirt
UT's boots & skirts (or dresses) are as ubiquitous as Alabama's houndstooth. It doesn't matter if the temps are a cool 100+; gals are sporting the swampy footwear. Two-step or tailgate? No one knows. And they're not the only ones. Gentlemen also rock the shorts-and-boots look, albeit somewhat less attractively.
Body-sized coolers
The implications are somewhat morbid... but is there any other way to describe it, really? Bigloos serve many functions at Texas tailgates -- they house drinks, they're a seat for weary tailgate travelers, and of course, they're used as makeshift buffet tables. In any other context, we'd be concerned about so many ways to cool huge quantities of meat. Here, they're the mark of a pro.
The glory-days alum
See over yonder, the gray-haired man with Scotch in hand, pontificating at length about the school's glory days, his time of golden youth. "Why I remember…" or "Back in my day…" is essentially the cue for a quick mental snooze... unless of course they're paying your tuition or giving you a job, then you smile and nod. We get it: No one on earth will punt as well as Russell Erxleben. Juuuust smile and nod.
Actual professional tailgates
This is next-level stuff. Way back in the day, tailgating was a consumer sport borne of love for the team. Grab a lawn chair, pop your truck gate down, and drink some cold beers. We're always evolving, though, and that includes tailgates. Longhorn Tailgaters and Horn-Ball Tailgaters are the cornerstone of that scene at UT, with sponsors, live music, and non-profit partners.
The fighter and the cryer
Two things you can set your watch to: There's always a swole bro looking to liven things up with a little fisticuffs, and there's always a girl sitting on a curb somewhere crying. You can try to help them both, but really, there's no way to fix this. It's induced by too many frosty bevs and too much hot sun. Make sure they've got sunscreen on and are coherent, and keep on keepin' on.
Heroic drinking games
Beer pong, flip cup, cornhole, washers, lawn golf -- UT fans take these to the next level. The competition may soon be on the field, but in the interim, fans are talking an equal amount of smack on the tailgating fields. It's not uncommon to see a table 20-deep with flip-cup players yelling, chugging, flipping, and doing it all over again. The game before the game is equally sacred and just as rowdy.
The rumble of generators
There are a ton of folks for whom tailgating IS the sport. UT does a particularly good job of making sure there's an on-pavement option that's living room-esque in its intensity. Among the cheers and jeers, there's an undercurrent of enough generators to weather a hurricane. Smart fans skip the $65 ticket in favor of a breezy non-stadium butt experience.
Matthew McConaughey
Austin native Matt McConaughey kicked off the 2016 season for the Longhorns with an inspiring pep talk before the Notre Dame season opener. As you likely know, UT went on to win that game. This isn't his first or last appearance -- MM is a '93 grad, and you can find him around campus and on the sidelines doing his best Jack Lengyel from We Are Marshall.
The superfan
You can sense him coming a mile away, even in a sea of fandom. He's the guy who resembles nothing so much as a nude Oompa-Loompa. That's because he's legit head-to-toe in burnt orange. Body paint, Texas T, patterned pants, giant drinking fist, and optional actual set of horns. You have to admire the dedication -- just be wary of getting a horn to the eye.
The sweet whiff of porta potties
As the day gets progressively hotter and the drinks flow like water, the previously pristine porta potties turn into the seventh circle of hell. Two rules: Take TP. Don't take your cell phone. In the end, we really do appreciate that there's an alternative to the between-two-trucks pop-a-squat.
So many Hook 'em Horns
The Hook 'Em hand signal is arguably one of the most recognized in college football. Everyone from your three-year-old niece to your 98-year-old grandpa is flashing the horns, index and pinky fingers extended stiffly out. It's used as a catchall greeting as well in lieu of hello, goodbye, excuse me, and thanks, brah.
The shotgun show-off
This beer-chugging, can-crushing champ cannot be beat… and he'll let you know it. It's never too early to put a newbie shotgunner in their place. He swaggers around like a banty rooster, challenging the rest of us chumps. If you do win the dubious honor of being the fastest shotgun in the lot, your reign as king will be peppered with additional challengers. It's a lose/lose.
Swanky parental tailgates
Somewhere between college and being 50, a switch flips on the tailgating script. Moms and dads eschew the Solo cups for Sunday best. Just go ahead and indulge that sweet, proud UT parent offering you orange-frosted cookies and La Croix. Take this opportunity to counteract the diet of Lone Star and street meat you've been scarfing.
An endless stream of "Texas, Fight!" calls
Texas fans like nothing better than to randomly yell things and have other people yell things back. No matter what time of day, someone is going to drop a "TEXAS!" cheer and you're obligated to respond with a "FIGHT!" This year, the random yell-a-thon has leveled up with a "SWOOPES!" "THERE IT IS!" option.
Sign up here for our daily Austin email and be the first to get all the food/drink/fun in town.
Kelly Stocker wasn't born in Austin, but she got here as fast as she could. If you want to follow her adventures around town, find her on Twitter and Instagram.