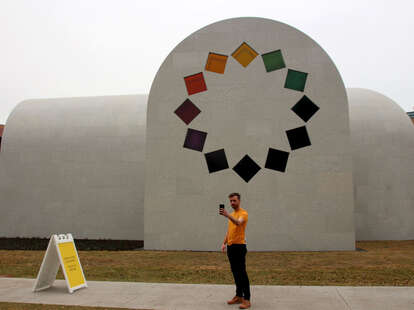 18 Febuary 2018, USA, Austin: A visitor standing in front of the artwork titled "Austin" by the American artist Ellsworth Kelly, who passed away in 2015. Kelly designed the chapel-like building in the 80s and entrusted the design to the Blanton Museum of Art shortly before his death. The museum has now completed the 250 square metre large stone building, which will be a permanent feature beside the Blanton Museum of Art. Photo: Christina Horsten/dpa

| Photo by Christina Horsten/picture alliance via Getty Images
18 Febuary 2018, USA, Austin: A visitor standing in front of the artwork titled "Austin" by the American artist Ellsworth Kelly, who passed away in 2015. Kelly designed the chapel-like building in the 80s and entrusted the design to the Blanton Museum of Art shortly before his death. The museum has now completed the 250 square metre large stone building, which will be a permanent feature beside the Blanton Museum of Art. Photo: Christina Horsten/dpa

| Photo by Christina Horsten/picture alliance via Getty Images
Is your phone screen the last thing you see at night and the first thing you see in the morning? Then you just might be suffering from technology overload—and you're far from the only one. Luckily, our list of how to unplug in Austin is here for when you want to see the world from beyond the lens of an Instagram filter. Whether you're looking to find some inner peace, or looking to make a piece of art, we got all the 411 on how to take your life from apps to amazing.
Arts & Culture Activities in Austin
University of Texas Blanton Museum of Art
Local culture vultures know one of the best ways to spend an afternoon in Austin is taking in the artwork at one of the city's museums. University of Texas Blanton Museum of Art is a go-to for aficionados and novices alike. Every Tuesday, the Blanton waves the usual $15 admission fee. Without spending a dime, you can explore the museum's galleries and revel in art and images far beyond anything found on Instagram. As a bonus, a recent renovation of the Blanton's outdoor grounds—which beholds Ellsworth Kelly's cathedral "Austin"—have made it just as beautiful on the outside as it is on the inside. The grassy patio, complete with rocking chairs and canopy of three story-tall "petal" sculptures, is perfect for a post-gallery hang.
Barbarella
The most vibrant dance floor in all of Austin can be found at Red River party palace Barbarella. Should you want to experience this grooving spot to its fullest (and sweatiest) extent, stop by one of the special, themed bashes they host on a weekly basis. It's probably been a while since you spiraled on a work night, but the popping beats of Tuesday's TuezGayz, and the throwback emo tracks at Wednesday's Jimmy Eat Wednesday are well worth struggling through the next morning's Zoom meeting. The music and the electric atmosphere will have you leaving your texts on read and making physical connections.
Fuzz Lab Tufting Workshop
If you're guilty of spending hours browsing Etsy, you're probably already tapped into the trend of rug tufting. But don't click "buy" on your shopping cart just yet, as there's another way to satisfy your craving for this fluffy fabric decor. Fuzz Lab Tufting Workshop, the West Campus craft studio, lets you take the yarn into your own hands to create unique, personalized floor art. The shop's experts will first teach you the basics of operating a tufting gun, and train you on proper application techniques. After mastering this string theory, you can let your imagination run wild across the cloth canvas and produce the design of your dreams.
The Contemporary Austin Art School
Redirect the energy you spend keeping up with the Kardashians into a real hobby by taking a class at The Contemporary Austin's Art School. More than just a modern art museum, The Contemporary offers over 150 classes in different creative mediums, including painting, drawing, ceramics, and sculpture. No need to fret if you haven't sketched since high school—the wide majority of their programs are open to those at a beginner level. This fall, there's a particularly shiny option among the course offerings: jewelry making. And, Kim's bling is bound to be a lot less impressive after you've customized your own.
Wellness Spots in Austin
Austin Salt Room
Walking into the city's newest therapy oasis, Austin Salt Room, feels like entering a life-size version of a Himalayan salt lamp. But, while the space may have the same seaside aroma and pink glow as the version on your bedside stand, it blows that flimsy plug-in away on every other level. The relaxing and rejuvenating vibes of the salt room will clear your mind from any doom-scrolling related anxieties. It can help heal your body as well: the potential benefits of salt therapy include rejuvenated skin, boosted immunity, and a clearer respiratory system. You can take the self-care even further by signing up for one of the sound baths, mediation sessions, or yoga classes also offered there.
Viva Day Spa + Med Spa
All that leaning over your phone, and taking in the blue light of your screen, just can't be good for your body or skin. Balance out that tech with some tranquility by booking an appointment at Viva Day Spa + Med Spa. With three locations throughout Austin, you're never too far from one of their massage therapist's tables, whose services are constantly ranked as some of the best in the city. Follow up that deep-tissue, muscle melt with an anti-aging facial, deluxe manicure, or, even, some tasteful injectables from their adjacent med spas.
Outdoor Activities in Austin
WaveX Watersports
Instead of playing Mario Kart for the umpteenth time, put away the Nintendo 64 controller for an authentic racing adventure. Hit up WaveX Watersports to rent one of their Evojets, an engine-powered watercraft akin to an aquatic go-kart. Determine who is the true king or queen of the lake by competing against your friends in these one-person vehicles, which can reach speeds of up to 50 miles per hour. With WaveX services available at multiple basin-based spots, including Lake Austin, Lake Travis, and Lake Buchanan, you can go for the gold at your go-to spot.
Swimply
You don't need us to tell you that being outside in Austin in August requires nothing short of a big body of water to submerge yourself in. And, considering the weekend crowds at Barton Springs, you're gonna need a better option when it comes to parking and sunbathing. Enter Swimply, a.k.a. Airbnb for pool rentals. Through Swimply, you can easily rent a pool from a neighbor in the Austin area, and splash the day away with the crew in your own private retreat. With additional options, like the ability to add on pool toys or use a grill, we wouldn't be surprised if you never go back to Zilker again.

Molly Moltzen is a writer living in Austin, TX. You can find her on Instagram at @molsquared.