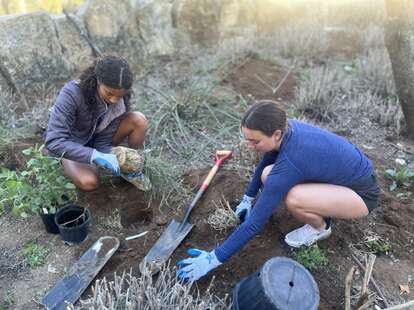 Of all the many things that should make you grateful to be an Austinite, the incredible green spaces and waterways throughout the city should definitely make your top three. While they may not have the high alcohol content of speciality margaritas, or the taste-based deliciousness of a migas taco, they give you much more of a buzz—as well as a feeling of fullness that goes beyond just the limit of how many tortillas your stomach can handle in one sitting. And, with Earth Day fast approaching on April 22, it's high time to give back to our beloved Texas ecosystem. That's where our handy list of places to volunteer this month comes in—from taking care of injured armadillos to cleaning up the lake via SCUBA, we've got a variety of activities that will help you get your hands dirty in all the right ways—aka by literally throwing them into the dirt.
Show some love to Austin's parks and trail systems
With so many gorgeous green spaces in Austin, it is easy to take the plethora of parks for granted. Give a little back to Zilker or North Oaks by volunteering with the Austin Parks Foundation. This organization, which celebrates its 30th anniversary this June, works to ensure that you, your crew, and lil' Fido have clean parks, trails, and other natural spaces to enjoy even while the city grows at a bonkers rate. They also raise money for park-based projects and programming, such as the mini-train which runs around Zilker spreading undeniably heart-warming joy.
On deck for Saturday, May 7 is their Mabel Davis Creek and Pond Clean, where you can help clean this South Austin gem—and then treat yourself to a pint afterwards at nearby Meanwhile Brewing for all your hard work. The Austin Parks Foundation also hosts a ton of other annual events throughout the year, including their popular It's My Park Day every March and November where you can submit a park of your choosing or just sign up to tackle one closest to your home.
For those who like to lace up their hiking boots or hit the bike pedals on the regular, The Trail Foundation might be your perfect eco-volunteering situation. Their mission is to preserve the absolutely breathtaking Ann and Roy Butler Hike-and-Bike Trail at Lady Bird Lake—and, if you have visited recently, you know they're doing a pretty great job. As the trail celebrates its 50th anniversary this year, this upcoming Earth Day is an extra special time to show your appreciation for this lake-adjacent wonderland.
Luckily, the Trail Foundation hosts weekly events at rotating locations around Ann and Roy Butler, where you can put that green thumb to work by mulching, seeding, and removing invasive plants that impact the ecosystem. And if that dying succulent in your kitchen window makes you hesitant about your ability to improve the life of any greenery, you can always contribute to the Trail Foundation's cause in another way—one that actually involves margaritas. By taking part in Maudie's Moonlight Margarita Run on June 2, you not only get a rush of endorphins from running a 5K, but also the feel-good vibes from knowing your jog is supporting the Trail Foundation—not to mention two free margaritas at the end, to boot.
Save animals in need
If you've ever run across a bird with a broken wing or a poor little limping squirrel, you're probably already familiar with Austin Wildlife Rescue. For those of us who aren't amateur Steve Irwins, however, this great organization is the place where orphaned, sick, and injured wild animals are brought for rehabilitation before being rereleased back to their native habitats. Austin Wildlife Rescue not only provides critical medical support for our furry friends, they also put together educational programs to help the public learn to interact appropriately with the creatures around them.
If you want to get up close and personal with the animal cuteness, sign up for their new volunteer training program starting this month. In other words, get ready to impress those Tinder sweethearts with adorable photos of you bottle-feeding baby squirrels. However, if your persistent bird phobia would rather have you help in other ways, head over to Little Woodrow's on Burnet throughout this month for a variety of benefit dates—in addition to one of the restaurant's 31 beers on tap. On April 26, Austin Wildlife Rescue will be hosting Marvel Trivia Night on April 26, and they're throwing a corn hole tournament on April 30.
Help keep Austin beautiful (and litter-free)
You may have heard "Keep Austin Weird" about a million times (and seen it on a million souvenir coffee-mugs), but equally, if not more, important is the organization Keep Austin Beautiful. And they indeed focus their efforts on exactly what their name suggests—beautifying green spaces, cleaning waterways, and reducing waste in the greater Austin area. They go about this not only by having actual meet-up events where folks get together to remove litter from public spaces, but also through education—especially in schools, so that the next generation is a little more informed about where that empty soda bottle should go. Keep an eye on their volunteer website for vast amounts of opportunities for you to get your green on.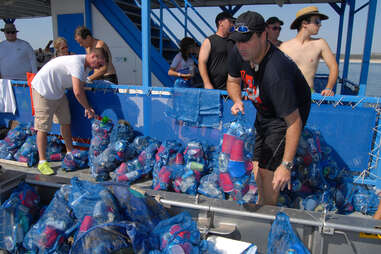 Preserve the crystal-clear waterways
There's few better ways to spend a warm day in Austin than soaking up the rays out on the Colorado River. However, regardless if you're a diehard paddle-boarder or kayak loyalist, there's one thing everyone can agree on: Keeping our waterways clean and thriving is essential for allowing us to enjoy this incredible resource for decades to come. That's where The Colorado River Alliance comes in, through both direct action such as creek cleanups and restorations as well as educational programs teaching about the devastating effects of pollution and the importance of conservation.
This April 24, join the Colorado River Alliance for their 27th annual Lake Travis Cleanup Day. Every year, they remove more than five tons of trash and debris from the much-loved lake, and you can help by volunteering to pick up litter from shoreline parks, remove invasive species, plant native species, and repair and beautify park structures. And, for those with SCUBA gear handy, put that certification to good use by descending into the depths to collect trash at the bottom of the lake.
Revel among the wildflowers
Nothing says spring in Texas like the breathtaking landscapes of bluebonnets that emerge across the state during the season. Anyone who has witnessed such a scene knows how important the conservation of native plants is—and that's exactly what the Lady Bird Johnson Wildflower Center works to do. Named after former first lady and environmental advocate Lady Bird Johnson, the center has been around since 1982 and has not only worked to preserve the wildflowers in Texas, but has also become a key player in the research and development of national programs promoting sustainable landscapes.
If you want to do more than just smell the flowers, consider volunteering at the Wildflower Center. Currently, they're looking for folks who would like to help work in the gift store, as well as those who can assist with elementary school field trips by taking on such tasks as manning learning stations. Find out more by cruising over to their frequently updated website.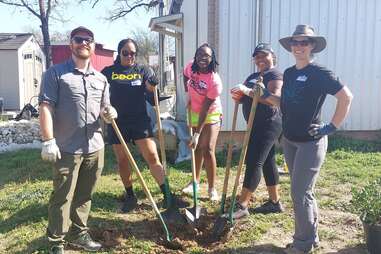 Plant our trees and watch our rivers
We can all agree that trees are a good thing, and the impetus behind TreeFolks is simple—to build stronger communities through planting, growing, and caring for trees. Join their tree-planting events, help support a reforestation project, or cop a free tree at one of their lively giveaways. And, on May 1, hit up their annual Keep Austin Rooted Picnic, a picnic-style fundraiser at Live Oak Brewing Company where all proceeds benefit TreeFolks' regional reforestation work and tree canopy equity programs.
When it comes to protecting waterways, there's always the amazing Austin Youth River Watch, which connects local young folks to nature via education and adventure. Students collect, analyze, and publish water quality data from Austin-area streams and rivers, bettering both themselves and the greater environment. In addition to becoming a river-watcher yourself, you can also help the program by volunteering to work with these budding environmentalists.