By now, you've probably heard enough from intelligent teen environmental sensations and righteously fired-up politicians that we shouldn't have to lecture you about the truly devastating effects of global warming. While it might be hard to think there's anything you can do personally to curb melting icebergs, there are plenty of opportunities to help greenify our very own Austin community. And, with Earth Day on the horizon (i.e. April 22), there's no better time to get out there and save the planet.
Check out this list of eco-minded organizations to see how you can become the best real-life version of Captain Planet you can be.
Help keep Austin beautiful (not to mention green and litter-free)
You may have heard "Keep Austin Weird" about a million times (not to mention, seen it on a million souvenir coffee-mugs), but equally, if not more, important is the organization Keep Austin Beautiful. They indeed focus their efforts on exactly what their name suggests—beautifying green spaces, cleaning waterways, and reducing waste in the greater Austin area. They go about this not only by having actual meet-up events where folks get together to remove litter from public spaces, but also through education, especially in schools, so that the next generation is a little more informed of where that empty soda bottle should go.
While COVID-19 has halted Keep Austin Beautiful's usual large-scale volunteer projects for the time being, they're still providing events and resources for those who want to take on the mission themselves. On the second Saturday of every month, you can participate in the Love Where You Live Day event, where groups commit to beautifying the area around their neighborhoods from 9 to 11 am. Better yet, for those who want to give back but aren't even capable of tidying up their own apartments (much less the outside world), they offer free clean-up kits and a variety of educational videos to give you a jump-start into going green. And for those who want to get involved but don't have the time to get their hands dirty, there's always the option to donate to help fund their important programming.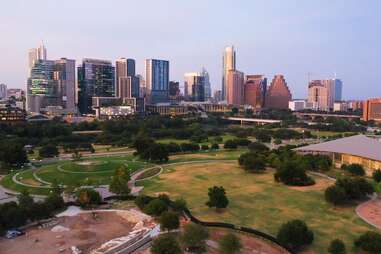 Show some gratitude for the parks and trails
With so much gorgeous green space in Austin, it's easy to take the city's many parks for granted. Give back to Zilker or North Oaks by volunteering with the Austin Parks Foundation. This organization, which has been around since 1992, works to ensure that you, your crew, and Fido have clean parks, trails, and other natural spaces to enjoy even while the city continues to grow at a bonkers rate. They also raise money for other park projects and programming, such as the mini train which runs around Zilker, providing the type of heart-warming joy for children that gives you serious nostalgia as an adult.
In honor of Earth Day, Austin Parks Foundation will be putting on a one-off solo trash pick-up event as part of Virtual Volunteer Week, a series of virtual activities hosted by organizations nation-wide from April 19 to 23. Sign up online, then grab some trash bags, gloves, and kitchen tongs to spend an hour cleaning up your favorite Austin-area park. You can also donate to their efforts or sign-up for their newsletter to stay informed of future volunteer efforts. Think of it as penance for all those empty White Claw cans you may or may not have dropped along the way in times of decreased awareness.
Protect and preserve our crystal-clear waterways
There's few better ways to spend a warm day in Austin than soaking up the rays out on the Colorado River. And whether you're a diehard paddle-boarder or lifelong kayak loyalist, there is one thing everyone can agree on: Keeping our waterways clean and thriving is essential for allowing us to enjoy this incredible resource for decades to come. That's where The Colorado River Alliance comes in, a nonprofit that combines direct action programs like creek cleanups and restorations with educational initiatives to spread the word about the effects of pollution and the importance of water conservation.

On April 24, you can join the Colorado River Alliance for their annual Lake Travis Cleanup Day where volunteers work together to remove more than five tons of trash and debris from the much-loved Lake Travis. Do your part by picking up litter from shoreline parks, removing invasive species, planting native species, and repairing and beautifying park structures. All booked up? You can still contribute to the cause by donating or exploring other volunteer and internship opportunities.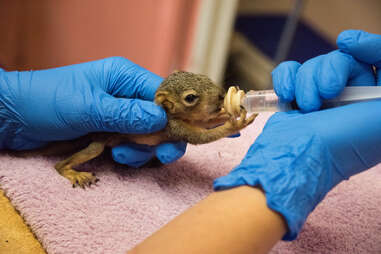 Make a new furry (or feathery) friend
If you've ever run across a bird with a broken wing or a limping squirrel, you're probably already familiar with Austin Wildlife Rescue. For those who aren't amateur Steve Irwins, however, this great organization is a one-stop-shop for orphaned, sick, and injured animals needing rehabilitation before being rereleased back to their native habitats. Austin Wildlife Rescue not only provides critical medical support for our non-human cohabitants, they also provide educational programs to help the public learn to interact in an appropriate way with the wonderful creatures around them.
While the organization isn't taking on new volunteers at the moment, there are still several ways to get involved. The best way to help right now is to donate so they can continue to feed sick animals and stock up on medical supplies (like adorably small casts for raccoons with broken arms). And for those who prefer to pitch in IRL, keep an eye on AWR's website and social media pages (Facebook, Twitter, Instagram) for updates on their volunteer program's reopening plan.
Revel among the wildflowers while helping enhance the ecosystem
Nothing says spring in Texas like endless breathtaking stretches of bluebonnets emerging across the state just before the summer heat sets in. Anyone lucky enough to witness this scene knows full well how important native plant conservation is, and that's exactly what the Lady Bird Johnson Wildflower Center works to do. Founded by environmental advocate and former First Lady Lady Bird Johnson, the center has been working to preserve Texas' wildflowers in Texas since 1982. And it's not all about the petals—the organization has also become a key player in the research and development of national-scale programs promoting sustainable landscapes.
As a result of the pandemic, the Center's usual volunteer program is in a holding pattern until more staff can be vaccinated and the space can operate at a larger capacity. But that doesn't mean floral enthusiasts are fully out of luck. They're still encouraging aspiring volunteers—especially those interested in taking on weekly shifts at their retail store—to apply on their website. In the meantime, you can support the Center by visiting and enjoying their beautiful collection of plants and, as always, donations are vital to fulfilling their mission.