We know that, between getting three shots deep at your annual Friendsgiving and hunting down the perfect recipe for green bean casserole, you have a lot going on this month. But this season is really supposed to be about goodwill to all. Rather than just saying your thanks at the dinner table on November 24th, we've rounded up some organizations at which you can show your gratitude in a way that will actually help others. From empowering young girls and doling out healthy food for underserved communities, to saving piglets, here are some of the top ways to give back to the Austin community. And, remember, doing good for others will leave you feeling way more full than three helpings of mashed potatoes will—and without the bloat.
Help save our four-legged pals
While the always wonderful Austin Pets Alive and the Austin Humane Society are forever great options, there are even more animal volunteer opportunities out there for locals who love pets. Consider Texas Humane Heroes. They rescue pets with a high risk of being euthanized from municipal shelters around the state. If you are thinking of adopting a furry friend, but are not sure about the commitment, their foster program is a great way to support their efforts and test your pet parenthood at the same time. For those who want to help out, but not risk their apartment furniture to an unpredictable puppy, you can work with them as an animal shelter volunteer.
Beyond the usual dogs and cats, there is also the amazing Central Texas Pig Rescue. Remember the "micro-pig" trend a couple years ago? Not only is it a myth (all pigs grow to be around 80 - 200 pounds), but the starvation tactics breeders use to keep the pigs small usually cause them lifelong health issues. Central Texas Pig Rescue provides rescue and rehabilitation for these former "micro-pigs," as well as dozens of other abused, abandoned, and neglected pigs. You can volunteer to help out with the chores around their facility. Then get ready to be paid back in lots of love and snorts from the curly-tailed cuties.
Support local food efforts
Sustainable Food Center (SFC) and the Central Texas Food Bank are two organizations that have had an incredible impact on Austin's heightened awareness about food security—and are great places to help people gain access to food. Assist SFC with its cooking classes, farm direct program, and its farmers markets. Or help the Central Texas Food Bank—which provided 39 million meals last year—by providing meals, dropping off non-perishable items at their southeast Austin location, or volunteering to work in their kitchen, warehouse, and mobile food bank. Better yet, why not do all three? And, should you donate anytime through the end of the year, your financial contribution will be doubled by a matching grant from the Beaumont Foundation.
Serve people with different abilities
Sammy's House is an Austin nonprofit that operates a child development center, a respite care program, summer camp, and family support services for newborns through those sixteen years of age. Although they provide support for both children with and without special needs, the organization does specifically focus on filling the gaps for those who are medically fragile and/or developmentally delayed. To help them keep their operations running smoothly, you can volunteer to clean classrooms, take care of their outdoor facilities, or to assist with administrative and fundraising tasks.
Preserve our East Austin heritage
East Austin is starting to look a lot like West Sixth Street—which is alarming, to say the least. But organizations, like Six Square and The Austin Housing Coalition, are working to preserve the cultural legacy and well-being of the area through community service opportunities.
Six Square celebrates the history and legacy of the African-American community through programming that focuses on cultural arts, education, and economics. In addition to signing up as a volunteer, you can also further educate yourself on the rich African American history of the East Side by taking one of their district tours.
The Austin Housing Coalition is a collection of several nonprofits all joined together in the goal of assisting and advocating for low-income homeowners. Among other services, they provide free home repairs to help residents to remain in their homes in both East Austin and the greater community. Become a member of their Friends of the Austin Housing Coalition group to help advocate for decent and affordable housing for our fellow Austinites.
Support LGBTQIA+ youth with Out Youth
Young people of all sexual orientations and gender identities can find support at Out Youth. For 32 years, it has provided counseling, advocacy, transgender wellness, school-based services, and a myriad of programming for Austin's LGBTQIA+ community. In addition to volunteering, you can host a third party fundraising event to support their organization. Whether you are hosting it at your house or your favorite bar, Out Youth will come and speak at your event to help your friends and family learn more about the amazing cause they are supporting while they are sipping on Ranch Waters.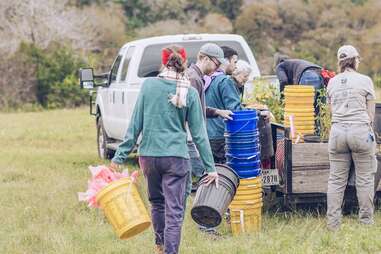 Plant trees, save our springs, and watch the rivers
We can all agree that trees are a good thing, and the impetus behind TreeFolks is simple—to build stronger communities through planting, growing, and caring for trees. Join their tree planting events, help support a reforestation project, or get a free tree at one of their giveaways.
Whether you're a diehard paddle-boarder, lifelong kayak loyalist or you just like looking at water, keeping our waterways clean and thriving is essential in allowing us to enjoy this incredible resource for decades to come. One organization that works hard to do so is The Colorado River Alliance, a nonprofit that combines direct action programs like creek cleanups and restorations with educational initiatives to spread the word about the effects of pollution and the importance of water conservation. Check its volunteer pages for information on how you can join their next river clean-up day.
Speaking of rivers, Austin Youth River Watch engages young people with the environment through education and adventure. Students collect, analyze, and publish water-quality data from Austin-area streams and rivers, learning to work for positive outcomes for themselves and the environment. This makes it one of the top high school volunteer opportunity for teens (as well as younger kids and adults). In addition to becoming a river watcher yourself, you can also help the program by volunteering to work with the young environmentalists.
Celebrate and engage with Austin's arts communities
The Thanksgiving season is a great time to honor the endless joy that arts bring to our lives—and, luckily for those who live in Austin, there are lots of places to do so. Esquina Tango is a non-profit located on Austin's East Side that works to bring people together in creativity and dance, fostering values like equality, diversity, and connection. They offer a variety of free classes for children, first responders, seniors, the LGBTQIA+ community, and those with Parkinson's disease. By signing up for a membership, you not only support this vital programming, but can also pick up some moves yourself at their popular tango, salsa, and salsa aerobic sessions.
For those who are more into literary arts, Austin Bat Cave provides writing programs for young authors aged six to 18 that span from creative writing to resume building. The organization partners with dozens of schools in the Austin area for in-classroom and after-school clubs to both engage students creatively and help out with regular classwork. Even if you have no previous teaching experience, you can still volunteer to help students develop their creative worlds through one-on-one, group, and online sessions. Currently, they are especially seeking bilingual volunteers—which means you can get the bonus of practicing your second-language skills, alongside the natural high that comes from helping others.
Help crack the glass ceiling
This world can be hard to navigate, especially for adolescent girls. Girls Empowerment Network Austin teaches self-efficacy to young women, empowering them to believe in their own abilities. Through conferences, workshops, and classes, the organization covers a wide array of topics, from getting an A on an exam to breaking off an unhealthy relationship. And their volunteer opportunities are super creative—including "Relatable Role Model Letters," where you can provide some uplifting words and inspiration to the next generation of girl bosses.
Con Mi Madre focuses specifically on young Latinas and their mothers in a program designed to engage mothers in their daughters' educational journey from sixth grade through college. Their program is multi-faceted, including relationships, academics, social, and emotional education. Volunteer opportunities include guest speaking at one of their conferences, helping set-up events, using your skills to promote their program, and fundraising for the organization.
Save animals in need
If you've ever run across a bird with a broken wing or a poor little limping squirrel, you're probably already familiar with Austin Wildlife Rescue. For those of us who aren't amateur Steve Irwins, however, this is the place where orphaned, sick, and injured wild animals are brought for rehabilitation before being re-released back to their native habitats. Austin Wildlife Rescue not only provides critical medical support for our furry friends, they also provide educational programs to help the public learn to interact appropriately with the creatures around them. And, if you want to get up close and personal with the animal cuteness, all you need to do is sign up for their volunteer training program. In other words, get ready to impress those Tinder sweethearts with adorable photos of you bottle-feeding baby squirrels.
Break the cycle of poverty through learning
In Travis County, two in five children under the age of six live in low-income households. Both Todos Juntos and AVANCE serve low income families in Texas, aiming to break the cycle of poverty. Their core programs center around parenting, ESL, nutrition, literacy, and familial relationships, which can also include food and transportation services, and monthly home visits when they're needed.
At Todos Juntos, you can pitch in at their learning center, through client outreach, or planning and promoting events. You can even volunteer from the convenience of your couch through their Virtual English Buddies program that helps adults practice their English skills through Zoom sessions. At AVANCE, take advantage your best skill set—from special events and community outreach, to clerical duties and, even, helping mothers turn ordinary household objects into stimulating toys for their children.