Here's How to Volunteer in Austin This Holiday Season
Do your part.
Central Texas Food Bank Options
If there's anything 2020 has taught us, it's to be thankful for what you have (and also how to make sourdough). So why not give back a bit this holiday season to one of the amazing organizations that inspire so much good in the Austin area? No matter what cause you are passionate about—from animals to art, from equality to the environment—we've composed a list that will give you guidance on where to best direct your efforts. And don't forget, Giving Tuesday is December 1—so, perhaps, forego those Black Friday sales and put your money to better use than buying a flatscreen.
Con Mi Madre
Cause another crack in the glass ceiling
This world can be hard to navigate, especially when you're an adolescent girl.
Girls Empowerment Network Austin
teaches self-efficacy to young women, the belief in their own abilities. Via their conferences, workshops, and classes, they address everything from getting an A on an exam to breaking off an unhealthy relationship.
Con Mi Madre focuses specifically on young Latinas and their mothers in a program designed to engage mothers in their daughters' educational journey from sixth grade through college. Their program is multi-faceted, including relationships, academics, social, and emotional education.
Celebrate the art communities
Considering the ways art communities have been impacted by COVID, it is especially important now to honor the endless joy they bring to our lives. Though their curriculums differ, organizations like
Forklift Danceworks
and
Esquina Tango
bring people together in creativity and dance, fostering values like equality, diversity, and connection. Making a donation to either one will help them keep their doors open through this critical time.
Then there's Pollyanna Theatre Company, a nonprofit that commissions and produces theater for young audiences to expose them to the arts and improve the academic foundation of at-risk kids. They are even currently offering interactive Zoom productions so kids can stay entertained, as well as distance education resources and "Storytime" videos where cast, crew, and supporters of the Theater Company read children's classics.
Speaking of kids in art, Austin Bat Cave provides writing programs for young authors ages 6 to 18 that cover the spectrum from creative writing to resume building. They partner with dozens of schools in the Austin area for in-classroom and after-school clubs—both engaging students creatively, as well as giving aid with regular classwork.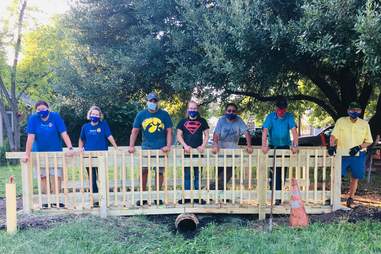 Todos Juntos
Break the cycle of poverty through learning
In Travis County, 49% of children under the age of six are low-income. Both
Todos Juntos
and
AVANCE
serve low income families in Texas, intent on breaking the cycle of poverty—this includes core programs centered around parenting, ESL, nutrition, literacy, and familial relationships. This can also mean food and transportation services, and monthly home visits when they're needed.
Grow healthy communities through farm work and time in nature
Urban Roots
provides young leaders with paid opportunities to grow food, learn new skills, and participate in farm fellowship; they reach over 16,000 people every year, and have grown 351,355 pounds of produce since 2008.
Wholesome Generation
is also focused on connecting youth to the world around them via outdoor learning, mindfulness programs, training, and research offered at their five-acre campus.
Show some love for our seniors
One of the most frustrating things about aging is loss of autonomy, especially as it pertains to driving. Add a year of COVID isolation and anxiety, and the burden can feel even more insurmountable.
Drive a Senior
matches volunteer drivers with seniors who need a way to get around. Until our public transportation catches up, many seniors rely on outside help (read: you!) for mobility.
AGE of Central Texas, which provides much-needed services for the oldest and wisest of our community; in addition to education and resources, they furnish early memory loss support, health equipment lending, and peer-based computer classes for seniors. During 2020, they have especially focused on helping many seniors apply for emergency rent assistance due to loss of income from COVID.
Texas Humane Heroes
Help save our pals with paws and snouts
While everyone knows and loves
Austin Pets Alive
and the
Austin Humane Society
, there are more pet rescues where those come from. Consider donating to
Texas Humane Heroes
: They rescue pets with a high risk of being euthanized from municipal shelters around the state. If you are thinking of adopting a furry friend, but are not sure about the commitment, their foster program is a great way to support them and test your pet parenthood at the same time.
Service Dogs, Inc
also rescues animals—but they train them to aid people with hearing loss or mobility challenges. Clients then receive the training and the dogs free of charge, and, if that isn't heartwarming enough for you, wait till you hear about Service Dogs, Inc's Courthouse Facility Dogs program. In it, they train dogs to provide comfort and support to children who have to take the stand in court during investigations of abuse.
Beyond the usual dogs and cats, there is also the amazing Central Texas Pig Rescue. Remember the "micro-pig" trend a couple years ago? Not only is it a myth (all pigs grow to be around 80-200 pounds), but the starvation tactics breeders use to keep the pigs small usually cause them lifelong health issues. Central Texas Pig Rescue provides rescue and rehabilitation for these former "micro-pigs," as well as dozens of other abused, abandoned, and neglected pigs. Want a quick way to help? Donate your leftover Halloween pumpkins to provide feed for the animals!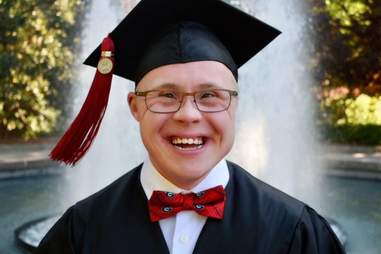 Ruby's Rainbow
Support people with different abilities
The co-founder of
Ruby's Rainbow
says of her daughter: "She came early, tiny and rockin' an extra chromosome." This delightful organization grants scholarships to adults with Down syndrome who are seeking post-secondary education, enrichment, or vocational classes. They also spread awareness of the awesomeness and capabilities of folks with Down syndrome.
There is also Sammy's House, a nonprofit that operates a child development center, a respite care program, summer camp, and family support services for newborns through those 16 years of age. Although they provide support for both children with and without special needs, they do specifically focus on filling the gaps in the needs for those who are medically fragile and/or developmentally delayed.
Preserve our East Austin heritage
East Austin is starting to look a lot like West Sixth Street—which is alarming, to say the least. It's a good thing, then, that organizations like
Chula League
,
Six Square
, and
The Austin Housing Coalition
are working to preserve the cultural legacy and well-being of East Austin. Chula produces events like the
Cherrywood Art Fair
(which takes place on December 7 and 8) and the arts-mentoring program Little Artist BIG ARTIST, as well as helping to preserve outdoor public spaces through art and design. Six Square celebrates the history and legacy of the African-American community through programming that focuses on cultural arts, education, and economics. The Austin Housing Coalition is a collection of several nonprofits all joined together in the goal of helping out, and advocating for, low-income homeowners. They do this by providing, among other services, free home repairs which allow residents to remain in their homes in both East Austin and the greater community.
Support LGBTQIA+ youth
Young people of all sexual orientations and gender identities can find support at
Out Youth
—for 28 years, they've provided counseling, advocacy, transgender wellness, school-based services, and a myriad of programming for Austin's LGBTQIA+ community. Their Glitz Gala helps raise funds for their important work every year, and you can help by donating.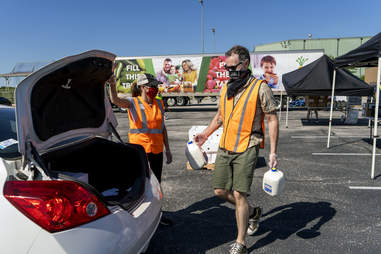 Central Texas Food Bank
Support local food efforts
Sustainable Food Center
and the
Central Texas Food Bank
are two organizations that have had an incredible impact on Austin's heightened awareness about food. SFC's ultimate goal is a food-secure community, and to that end, they offer cooking classes, host the farm direct program, and manage the SFC farmers markets. The Central Texas Food Bank provided 39 million meals last year—and the need in the community has only grown since then. You can donate to provide meals, drop off non-perishable items at their southeast Austin location, or volunteer to work in their kitchen, warehouse, and mobile food bank—better yet, why not do all three?
Plant trees, save our springs, and watch the rivers
We can all agree that trees are a good thing, and the impetus behind
TreeFolks
is simple: to build stronger communities through planting, growing, and caring for trees. Join their tree planting events, help support a reforestation project, or get a free tree at one of their giveaways.
For Austinites, Barton Springs feels like the beating heart of our city... so you'd think that it's immune to development. Well, it's not, and the Save Our Springs alliance has worked hard for years to protect all offshoots of the Edwards Aquifer with a special emphasis on Barton Springs. Donate time, or money, or hacktivism.
Speaking of rivers, Austin Youth River Watch engages youth with the environment through education and adventure. Students collect, analyze, and publish water-quality data from Austin-area streams and rivers, learning to work for positive outcomes for themselves and the environment.

Celebrate the rich heritage of indigenous communities
Unfortunately, the huge contributions indigenous communities have made to our culture are often un-noted. Luckily, however, members of the Miakan/Garza Band, one of the over two-hundred bands of indigenous people that resided in Texas and northeastern Mexico when the Spanish first arrived, created the
Indigenous Culture Institute
. The organization works to preserve the culture of those indigenous to the region, as well as maintain the communities' sacred sites. A great way to get virtually involved is to check out their online celebration of the
Sacred Springs Powwow
. On the event's site, you can learn more about native culture and enter a virtual raffle through November 21.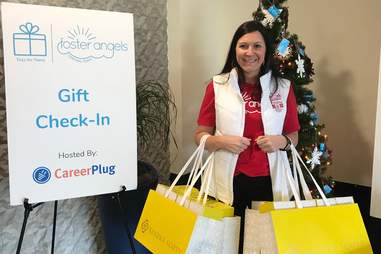 Foster Angels of Central Texas
Be a friend to those in foster care
Austin's thriving food scene is the perfect place for
Fresh Chefs Society
, an organization that
connects local chefs—both home cooks and professionals—with young people in the foster care system who want to learn to live on their own. In a time which has hit the food industry especially hard, Fresh Chefs has also worked to provide housing and food assistance to young chefs, as well as continuing their cooking classes and meet-ups virtually.
Providing life-enhancing experiences is a lofty goal, but Foster Angels of Central Texas pulls it off. In addition to furnishing basic needs, the organization gives away homecoming dresses, trips to summer camps, and shopping sprees. For the holiday season, you can donate to their annual Toys for Teens drive, which focuses on providing presents to teens in the foster care system who normally would not receive anything during this time of year.

Help the children actually become our future
As adults, we incorporate volunteering in our lives. But teaching kids about volunteerism and engaging the early is what
Generation Serve
is all about. Through their programs, they encourage excellent habits, future leadership, and of course, future service. Bring your kiddos in for volunteering as a family, or be a corporate sponsor.
Getting kids moving is crucial for physical, mental, and emotional health; Marathon Kids helps young people unlock their potential, and adults discover their inner coach. Over 31,000 different kids at 81 AISD schools participate—they have even provided their physical activity app to schools and community organizations completely for free. Adults can assist by joining, starting, or supporting a Marathon Kids running club in their home, school, out-of-school time organization or camp.

Help the huddled masses yearning to breathe free
Immigrants need all the help they can get right now, and
Casa Marianella
is an amazing resource, providing shelter, food, and supportive services. They serve women and children, some escaping violence, among adult immigrants from over 40 countries; you can volunteer in several capacities, including driving people to legal and doctors appointments. Their work has taken on additional important during the coronavirus epidemic—you can donate to help the families they serve with rental assistance on their dedicated page
here
.
Sign up here for our daily Austin email and be the first to get all the food/drink/fun in town.