Lately, the one thing cooler than living in Austin seems to be complaining about it -- whether it's tripping about traffic, ranting about rent, or complaining constantly about Californians. That being said, we've still got it pretty good, and that's why, in the wake of all this whining, we're here to say "Austin's still awesome, so shut up." In fact, we're firm believers that the rest of the country should take note and adopt some of the attributes and attitudes that make this city seriously amazing. We've listed them here for your convenience.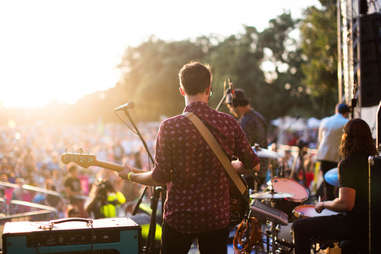 There are amazing shows happening -- every single night
It goes without saying that the Live Music Capital of the World has a scene worthy of cross-country replication, with some of the best legendary and up-and-coming venues, festivals and artists in America/The World/Probably The Universe (no word on the celestial concert situation)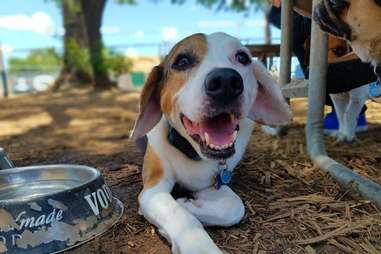 The city is totally Fido-friendly
Not only are there Austin bars, parks, and patios aplenty where your dog is welcome, but there are destinations -- Yard Bar and Barking Springs, for instance -- designed specifically with canines in mind, events like Dogtoberfest and Paddle for Puppies, and an overall pro-pup attitude that's been adopted by businesses ranging from boutiques to breweries to bars. (There's also a cat cafe if that's your thing. We're equal-opportunity fur fans here.)
Convenience stores have kick-ass beer selections
We could tell you about the Hyde Park Market -- aka the Flag Store -- but the reviews basically do it themselves: "Holy crap!! Single largest beer selection I have ever seen anywhere, ever!"; "possibly the greatest selection of beers in town"; "may just have the best beer selection in the entire city... hundreds of single bottles, which you can combine to form the perfect 4 or 6 pack." (TL;DR: Insane beer selection. And obviously the internet doesn't lie.)
There's also Quickie Pickie, a neighborhood grocery cafe that boasts 24 beers on tap and build your own six-packs; Whip In, a corner store that also offers Indian cuisine and a craft beer bar; and Sunrise Mini Mart, where in 2014 the owner claimed to stock over 500 varieties of craft beer.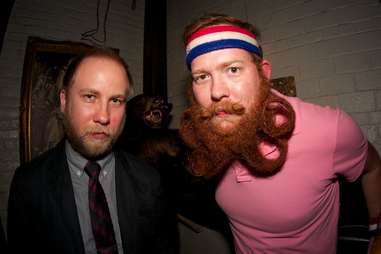 Everything (or, rather, anything) can be a competition
Who needs a professional sports team when you've got more important competitive events to enjoy: The Quesoff is the annual quest to crown a melted-cheese champion, Come & Shave It is an annual event in which the bearded-and-mustachioed Face Off and the Air Sex Championships played a rowdy and raunchy role in the Fun Fun Fun Fest entertainment lineup for multiple years.
Flip flops > formalwear
When Jezebel, essentially the city's only jacket-required dining establishment, shuttered in 2015, we realized something: this is why we can't have nice things!
But it's not that Austinites don't appreciate a night out or some high-end cuisine, it's that -- aside from the West Lake-living, gala-attending, Real Housewives of Austin-esque sliver of the population -- we don't want to have to dress up to do it. Which is convenient, given the fact that…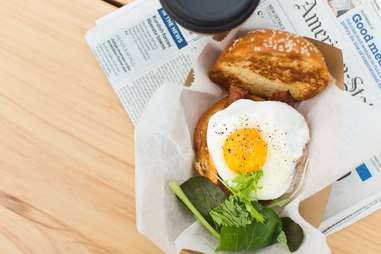 Even food truck offerings are gourmet
While the food truck phenomenon is nothing new, both in Austin and in general (we've got some good ones), it's not every city where nationally ranked cuisine is served from a kitchen on four wheels. For instance, while Paul Qui is the brains and knives behind high-class and high-dollar spots like Otoko (a casual $150 dining experience), the Qui-created trailer Thai Kun (located outside Whisler's) has earned national restaurant, not trailer, acclaim. What can we say -- good food is in our wheelhouse.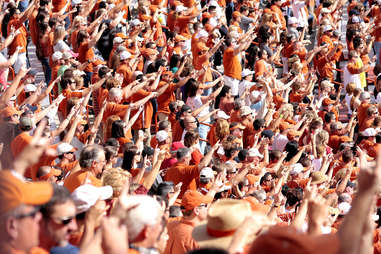 It balances being a college town and a town with a college
There's no denying the momentous role UT Austin has played in shaping the city, both on a macro and micro level, and we all get to enjoy the effects of living so close to one of the biggest universities in the country: tailgating, museums, a generally forward-thinking attitude and approach to life, and more. Hell, you can even take classes if you miss the glorious highs and lows of academia.
But if you wouldn't call yourself a fan whether it's because you immigrated from A&M or you just DGAF -- you can go on and live a normal, full, wonderful existence without getting sucked into a burnt-orange vortex. (You will still get stuck in game-day traffic, though. Some things are unavoidable.)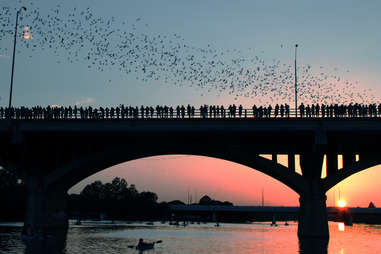 We embrace -- and celebrate -- our infestation
Austin is home to the world's largest urban bat colony, and while in some places, people might be moderately horrified by the prospect of millions of potentially-rabies-carrying winged rodents residing in the middle of the city, Austinites have not just accepted, but embraced the creepy little creatures. Hell, there's even a festival in their honor. Beat that, Batman.
Junk and graffiti make for masterpieces
Plenty of cities have impressive art museums (ours included), but what's more impressive are the ways in which Austin artists and creative contributors have thought outside the frame and created pieces that are anything but ordinary, like The Cathedral of Junk, and collective works such as community paint park HOPE Outdoor Gallery.
Meanwhile, there are no more iconic signs in Austin than those that are spray-painted on the sides of buildings: The "I love you so much" sign on the side of Jo's Coffee and Daniel Johnston's funky frog accompanied by the polite inquiry, "Hi, How Are You?" on the Drag.
There's equal appeal for barbecue fanatics and veggie fiends
From Stubb's to Salt Lick, Franklin to your father -- who is probably grilling some shit up in the backyard as we speak -- it's no secret that Austin is a bona fide barbecue hot spot (pun obviously intended). But we get extra edible points for delivering equally on the other end of the spectrum with a sweet selection of vegetarian spots, which offer options way more extensive and savory than stupid salad.
Oh, and if you want to combine the two, fortunately they've been Frankensteined together with delicious results at vegan barbecue joint BBQ Revolution. We promise soy curls are way better than they sound.
We're No. 1
Austin was recently ranked the best large US city to live in. So we've got that goin' for us, which is nice.
Streets shut down for proper partying
Not only is a sizable section of Downtown blocked off during SXSW annually, but every Thursday, Friday and Saturday, Sixth St is closed to traffic, allowing pedestrians to flood the streets and party properly.
Whether it's because cops don't want to deal with traffic, the goal is simply to mitigate drinking injuries or they're just trying to facilitate a funky good time, it's pretty rad to live in a city that occasionally prioritizes the convenience of drinkers over drivers.
Grocery stores are drinking (and date) destinations
Like a food court for your liver, the Whole Foods flagship store Downtown contains multiple bar areas (plus trivia and live music), and a demographic that's not only more attractive than you'd expect at the average supermarket, but in many cases way hotter than the clientele of actual bars as well. Must be the kale, man... must be the kale.
City icons include a crossdresser and a pigtailed pot advocate
Two of Austin's most adored and famous figureheads include Leslie Cochran -- the late homeless crossdresser who epitomized everything weird and wonderful about Austin and even has his own holiday -- and, of course, world-famous musician and marijuana enthusiast, Willie Nelson. Which we can probably all agree are preferable to athletes and politicians.
We take pool time seriously
There are 51 public pool facilities in Austin (not even counting the natural watering holes in and surrounding the city), including Barton Springs, Stacy Pool, and Deep Eddy—which, contrary to what you might believe, is not filled with vodka.
Movie stars work side gigs
Several actors and actresses have recognized the epicness of Austin and made it their home, but they're not just spending their time lounging around Lake Travis or gorging on tacos in between film projects. Elijah Wood is a legitimate DJ, Sandra Bullock went restaurateur with Bess Bistro (now closed), and Matthew McConaughey recently took a break from the bongos to spend this semester teaching a film course at UT. No word on whether or not he's been wearing a shirt to class.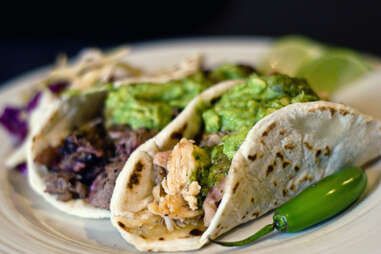 Tacos
If this were an Austin-themed episode of Family Feud, and the topic was Austin's most awesome attributes, this would be second only to the live music scene. More of a food than a food group, tacos are the most pervasive and versatile of edible items, and can be consumed for breakfast, dinner, or lunch and stuffed with almost everything. Whether you prefer Torchy's or Tacodeli, Maria's Taco Xpress or tortilla-wrapped parcels of mystery filling from some guy in the parking lot of a 7-Eleven, there are hundreds of spots on hand to help you satisfy your soft-or-crunchy cravings.
Video stores still exist
Despite Netflix's near monopolization of the at-home movie-watching market (RIP Blockbuster), rental spots I Luv Video and Vulcan Video have survived, thanks to Austinites' local loyalty and appreciation of the fact that when you really gotta watch Gremlins at 11:30pm on a Wednesday, there are still a few places that have got you covered. Plus your great-grandma only owns a VCR, and who the hell else can accommodate that?
We've already #freedthenipple
Between the "no bikini top, no problem" attitude at Barton Springs and the free-for-all nudist utopia Hippie Hollow, no one bats an eye at a boob... or pretty much any other extremity... these days. Austin has even been dubbed a topless-tested city, and -- to protect our right to bear... uh, more than arms -- there's even a Keep Austin Topless movement.
Breweries, wineries, cheeseries
We've got all of the "-ies." Austin is home to a healthy amount of breweries; wineries both within easy driving distance (the way back may be more difficult) and in the form of urban establishments like The Infinite Monkey Theorem; distilleries like Deep Eddy Vodka and Treaty Oak; and even cheeseries like Antonelli's and Henri's.
And, on another note, gyms. You'll probably need one of those afterwards.
Bars double as adult playgrounds
Kitty Cohen's and Rio boast pools, HandleBar has a rooftop with seesaws, and both The Market and speakeasy Red Headed Stepchild have swings for your playing pleasure. Whether any of these things are safe for people who've been downing frosé? That's a different story entirely.
Kanye can't cut
We don't know what luxuries Kanye experiences in other cities, but we imagine there's an entourage, a red carpet, and some serious ass-kissing involved. (Note: This is based entirely on information gleaned from excessive screenings of Keeping Up With the Kardashians.) But it's nice to know that, in Austin at least, for a brief moment in time, you were totally his equal. Because no one can cut in line at Franklin, except Obama. POTUS > Pablo forever.
Sign up here for our daily Austin email and be the first to get all the food/drink/fun in town.
Sam Sumpter is an Austinite who actually just moved to Brooklyn... so this is awkward. Follow along as she tries to make "y'all" happen @Sam_Sumpta.