Beautiful Berlin Runs That'll Make You Actually Want to Work Out
With famous nightclubs, doner kebabs, and all those hidden cocktail bars, there's not much incentive for staying healthy in Berlin -- or so you'd think. Believe it or not, Germany's capital is actually one of Europe's finest cities for outdoor fitness, with running paths so gorgeous you'll forget that Berghain is also open on Sundays (well, almost). We picked some of the most beautiful running routes around lakes, parks, and gardens that are sure to get your butt off the biergarten bench and onto the road.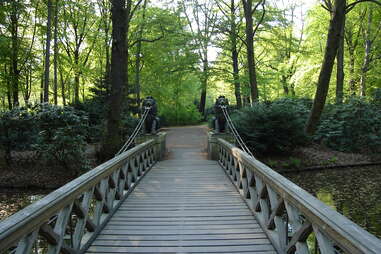 Tiergarten
Berlin's plentiful with gardens and public parks (around 2,500 in fact) but Tiergarten is hands-down the most perfect for a good run. Berlin's biggest park is incredibly versatile, with around 14 miles of smooth gravel paths that you could explore for days without ever taking the same route. Along the way, you'll take in scenery of manicured gardens, lush forest, and big statues. For a great sightseeing route, start at Brandenburg Gate and the Reichstag (ideally in the morning before it's flush with selfie-taking tourists) and continue on to pass Bellevue Palace, the Chancellor's Office, old parts of the Berlin Wall remnants, and the Soviet War Memorial.
Schlosspark Charlottenburg
Running west out of Tiergarten will take you along the riverbanks (an Instagram break may be necessary) and onto this picturesque green space. Schlosspark Charlottenburg is home to Charlottenburg Palace, Berlin's biggest castle with towering Baroque statues and Versailles-like flowerbeds. It's got around four miles of gravel paths around its outside and interior, making for a great beginner's stretch. Afterwards, you can catch your breath and pretend to be Prussian royalty (minus all the sweat) in a quiet shaded corner of the Orangerie.
Landwehr Canal
If you're into people-watching then head out on this route where you'll get a big fix of Kreuzberg living. Start at the beginning of the canal near Schönleinstraße station -- on Tuesdays and Fridays it gets really crowded here thanks to the famous Turkish market, so plan to start before 9am. Follow the water you'll see yuppies sipping beer beneath weeping willows, then reach Görli (a suntan session and listening to a hippie playing bongos is a must), and then you can head along the Spree River. From here, you can soak in views of Badeschiff, Oberbaum Bridge, and who knows -- maybe even a few stragglers heading home from a techno club.
Olympic Stadium
What this running track lacks in scenery, it definitely makes up for with an impressive history lesson. Berlin's Olympic Stadium was built for the 1936 Summer Olympics, where Hitler made that famous speech in the lead-up to World War II. It's one of the last best preserved examples of Nazi-era architecture, but is famous in recent years for much better reasons -- Olympic runner Usain Bolt broke two world records here and the stadium also hosted the 2005 FIFA World Cup.
Tempelhof
Berlin's defunct airport is a mecca for fitness buffs, with old runways now providing the perfect slick surface for biking, skating, and of course, a relaxing jog (which actually isn't pronounced with a silent "j" in German, as one might expect). During the summer it's an especially charming site with picnickers, outdoor grilling stations, and colorful kites peppering the sky. Considering there's very little shade, this route is best saved for a slightly overcast day (but as we know in Berlin, there are plenty of 'em).
Grünewald
Grünewald is the heavyweight of Berlin runs, with over 100 miles worth of paths. While it's much less crowded than Tiergarten, some of those trails are quite rugged and patchy, so you're best to GPS a solid route and stick to it. You can't go wrong circling around the lakes Grunewaldsee and Schlachtensee, but if you're up for a challenge, hit Teufelsberg, or in German, "Devil's Mountain" (it's actually less intimidating than it sounds). It's Berlin's second-highest mountain made totally out of World War II rubble, with a former NSA spying station perched on top.
Volkspark Friedrichshain
Teufelsberg isn't the only artificial mountain made out of war debris (this is Berlin, after all). If you're looking for smaller, more manageable ascents, get out to Volkspark Friedrichshain where you'll find Mont Klamott and Kleiner Bunkerberg (yes, the latter literally translates to "Bunker Mountain"). Running around the park -- which is actually Berlin's oldest -- will reveal lots of other scenic gems too, from a bronze likeness of Friedrich the Great to the beautiful Fountain of Fairytales. Afterwards grab a post-run meal (we say meal, but mean beer) at Schoenbrunn, an Austrian restaurant and beer garden in the park.
Museum Island
Museum Island in Mitte is an extremely trafficky route (and we don't just mean cars, but construction, annoying tourists, and annoying tourists on Segways) but it's definitely worth an afternoon combined with sightseeing. The UNESCO World Heritage Site has around four miles of paths with famous breathtaking architecture like Berlin Cathedral, the Altes Museum, and Alte Nationalgalerie. There's also plenty of shade to duck under and river views along the way.
Müggelsee
Berlin's biggest lake is a must-do on the weekends during summer, from floating on rafts to a lakeside sauna, and even a popular nude beach. It's also great for running though, with about 12 miles of paths all the way around, or the possibility of taking a ferry in Neu-Helgoland to cross over the lake for a shortcut. Its trails wind through the nature reserve Müggelheimer Wiesen with lots of picturesque views of sandy shores, dense woodland -- oh yes, and all those lovely naked people too.
Sign up here for our daily Berlin email and be the first to get all the food/drink/fun in town.