All due respect to JFK, but being able to call yourself a Berliner requires more than just having a progressive Cold War foreign policy and a deep and unwavering love of delicious donuts. To truly be considered a TRUE native, here's everything you have to do...
1. Know what "bio" means
Because eating organic and superfoods you can't even pronounce is all the rage here.
And don't end up home until Monday morning.
3. Lose any and all fascination in the shocking outer appearances of others
By now, you've seen so many facial tattoos, heavily pierced crevices, and shaved-up, tie-dye hairstyles that nothing really surprises you anymore.
4. In addition, become desensitized to random public acts of insanity
Because seriously, what haven't you seen happen on the streets of Berlin?
5. Suffer through a Berlin winter
Tourists are here for the summer, but braving the annual glacial epoch is a real testament to loving this city.
6. Go to an open-air rave
There's nothing better than electronic music in the sunshine.
7. Get yelled at by a motorist
Whether as a biker or on foot, it's just no fun until someone rolls down their window and verbally accosts you in a language as frightening as Deutsch.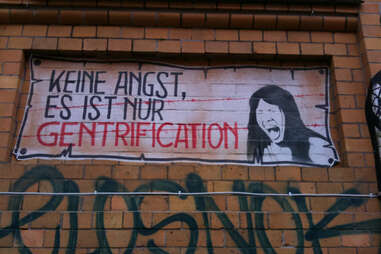 8. Complain about gentrification
Even though you're probably contributing to it, anyway.
9. Say "scheiß" and "geil" habitually
You're learning more German, but it takes time.
10. Endure the local bureaucracy
From the Ausländerbehörde to anywhere that ends in "Amt," you've dealt with paperwork, queues, and appointments... and made it out alive.
11. Give away stuff you don't use for free
In Berlin, books, furniture, and household appliances always come back in good karma.
12. Roll your own cigarettes... amongst other things
Because when you're a broke smoker, that's how to save a few bucks. Oh, and it's totally legal to possess 15 grams of marijuana here... in case you were wondering.
13. Hit a WG party
It's a Berliner's rite of passage. Extra points if you've actually lived in one.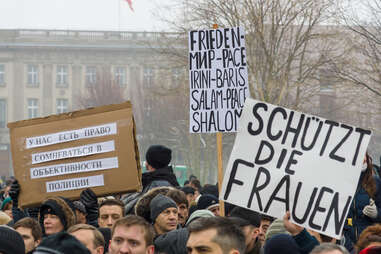 14. Participate in a protest
Berliners are active citizens. There's always a sit-in or demo to join.
15. Drink a beer in the U-Bahn
Consuming alcohol in public is a privilege in this country. Take advantage.
16. Master the art of online streaming
Because downloading in Germany is just bad news.
Anything less greasy would just be more painful.
18. Grumble about Sunday store closures
How amazing would it be if Lidl was open 24/7?!
Liberate yourself in what Germans adoringly call FKK -- "free body culture."
20. Walk around the Turkish Market
Don't forget to watch the buskers.
21. Have a picnic in a park
Three words: cheese, bread, and beer.
22. Go to a flohmarkt
Adorn your apartment with things so ugly they'll probably be considered "retro chic."
23. Check out a food event or pop-up
From Bite Club to Burgers & Hip Hop, the options are getting more plentiful and delicious these days.
24. Watch a German national soccer team match
Snag good seats at the beer garden early and drink your way towards victory.
It is, unquestionably, Berlin's most Berlin-esque rooftop.
26. Head to a nearby lake
Müggelsee and Schlachtensee are great excuses for an extended S-Bahn ride.
27. Watch the fireworks on Silvester
And then maybe set some of your own off.
Sign up here for our daily Berlin email and be the first to get all the food/drink/fun in town.
Barbara Woolsey is a Berlin-based writer who set off a rocket on Warschauer Straße on her first Silvester. It was badass. Follow her adventures around Europe on Facebook and Twitter.