While Berlin has evolved rapidly over the last few years -- thanks to an influx of millennials, expats, young families, etc. -- there are some things that will never change, thanks to the fervid spirit of our impassioned locals. Being such a liberal and alternative hotspot, Berlin is a bit weird in general, but when it comes to the following 10 things, "irrationally passionate" only begins to describe how we feel.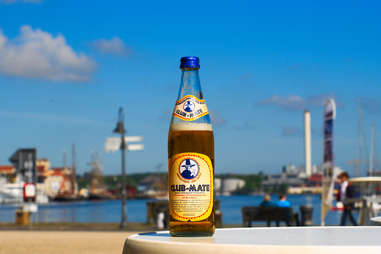 Club-Mate
Its taste has been compared to a potent mixture of soggy cigarettes butts and horse pee, but Berliners still love their Club-Mate. And you won't find this concoction so readily stocked at cafés, convenience shops, and nightclubs anywhere else but in Berlin. In our defense, it does make the perfect 3AM techno dance party perk-up (more caffeine than Coke, but half the sugar and calories!).
Berghain
Some will tell you Berghain is a religious experience -- the dark industrial nightclub is constantly called the "church," and it definitely has a devout following who worship there on Sundays. And although calling a club a "church" that's famous for sex, drugs, and techno might sound a bit sacrilegious, all you have to do is ask the government for clarity. Berlin's court recently ruled the Berghain as a high culture and artistic landmark, giving it the same dignified rank as theatres and museums.
Discarded free stuff
People here love to recycle, especially giving unwanted items a new life by leaving them on the street. But the spirit of giving can also go overboard, for example the Facebook group Free Your Stuff Berlin. With over 86,000 members, competition is fierce and people spend hours clicking "refresh", trolling posts, and battling wrist cramps all for an IKEA house plant. Sometimes there is really good stuff, like newish furniture -- but you're also likely to come across old house shoes and used underwear.
Other people's old stuff
Berliners don't want to sit in gorgeously decorated, slickly designed drinking dens. They want a bar thrown together from mismatched flea market furniture, peeling wallpaper, and rickety tables covered in candle wax. For another example, look at Humana. You'd think this popular chain of second-hand shops is the sort of place you'd only shop for an '80s theme party. However, pop into one and you'll be genuinely surprised at many tracksuits, unfashionable pumps, and tassled men's shirts there are for rather high prices.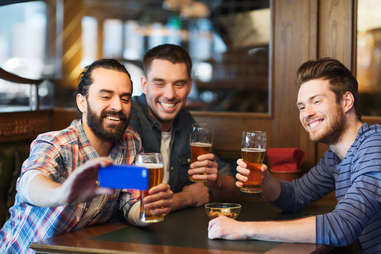 Getting upset when someone takes a photo in a bar
Germans are crazy about privacy to begin with (the NSA also didn't help), but the Capital goes to great lengths to keep its world-famous nightlife on the down-low (read: off of Facebook). Most party establishments have a strict "no photos" policy. In even the most laid back of watering holes, you might get a stern talking to from a bartender or looks of disgust from the clientele. In some clubs, you'll even get stickers placed on your phone camera. Don't even think about documenting that "unforgettable night".
Bikes
Berliners are known for riding their bikes in highly unsavory conditions: rain, snow, the morning after clubbing. But most of the time, it's incredibly convenient and cheap, so why wouldn't we love it? We also have over 620km (390 miles) of bike paths throughout the city and around 500,000 daily riders. Suffice to say, biking is life.
The weather
When summer ends, you'd think it was the German apocalypse. Then, sometime around December, locals turn into seasonally depressed, rage-filled screwballs, barking about the temperature and conducting themselves in an unwieldy fashion that can only be described as the antithesis of Christmas cheer. Winter sucks in Berlin (and summers are the best), but there are silver linings: Christmas markets, candlelit bars, and warm, sweaty techno clubs to make you forget how unforgiving and cold it is outside.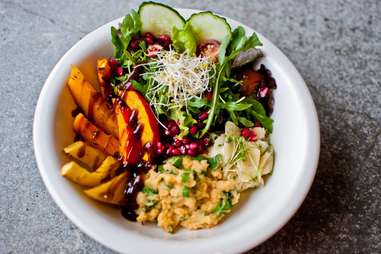 Eating really, really healthy
The city is bursting at the seams with organic shops and healthy restaurants that are vegetarian, vegan, clean-eating, gluten-free, well, you get it. People are extremely conscious about where their food comes from... but then they'll roll 10 cigarettes a day and stay up 'til 7am on weekends.
Hating on gentrification
Some of our people love to complain about tourists, migrant hipsters, luxury condos, and creeping-up market prices. But they're the same people who reap gentrification rewards, like cool cafés, brand-new restaurants, and old neighborhoods transforming from barren to buzzing.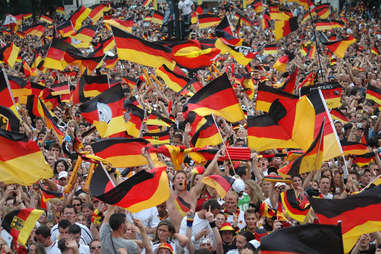 Football (aka soccer)
Football is a local phenomenon, and there's a massive bandwagon that people -- fans or not -- will jump on come competition time. It's ostensibly an excuse to sit around all day in the sun (saving tables), drinking beer, and bellowing about how the German team is dominating. And chanting. So much chanting.
Sign up here for our daily Berlin email and be the first to get all the food/drink/fun in town.
Barbara Woolsey is a Berlin-based writer who doesn't have any photos with friends. Because nobody takes them. Ever. Follow her on Facebook where she has lots of photos by herself.