With the Alps at its Southern end, miles of coastline to the North, and endless lakes, mountains, forests, and pristine, fairytale cities in between, Germany certainly has its fair share of picturesque, Instagram-baiting places. And while every day, hundreds of people line up to take pictures of the majestic Neuschwanstein Castle, the half-timbered houses in regions like Hessen and Bavaria, and the flower-covered Alpine cottages in Garmisch-Partenkirchen, there are a few places that haven't yet been fully explored...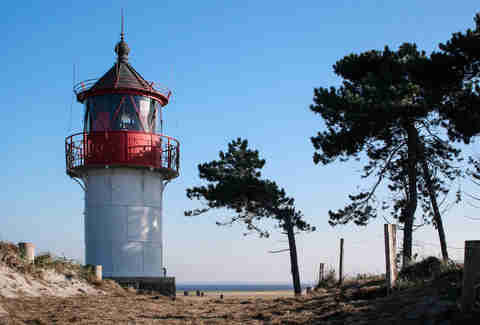 Baltic Sea
We begin this list with a place that is so remote, it actually has the word "hidden" in its name. This remote strip of an island off the coast of an even bigger island (Rügen -- more on that later) still feels somewhat undiscovered. You're unlikely to encounter a non-German here. In fact, at the right time of day, you'll encounter precisely no one. The island's windswept dunes and rugged coastlines are dotted with lighthouses, squat, moss-covered huts that look like hobbits' or witches' homes, and huge, sandy bushes of sea buckthorn -- a delicious bright-orange berry the locals use to make juice and jam.
Berlin
Right in the middle of Berlin, though you'd hardly know it, the "Gardens of the World" are a curious little anomaly: opened in the 1980s as part of an East Berlin gardening show, they grew into quite the destination for citizens of the German Democratic Republic (GDR) who couldn't actually travel outside of the Communist Bloc to see some of the "exotic" cultures the gardens depicted. Today, it acts as a low-cost vacation, meandering down pathways to authentic Japanese, Chinese, Korean, and Islamic gardens.
Bavaria
Some Germans refer to it as the "Hauptstadt der Geigenbauer" or the "capital of violin makers," but the town of Mittenwald has a lot to offer to the non-musically inclined. One of the most picture-perfect towns in Bavaria, its narrow streets are lined with painted, terraced Alpine homes with old street lamps and street signs. Of course, that's nothing compared to the truly spectacular snow-capped peaks of the Alps towering in the background.
Saxony
Between the town of Dresden and the border of the Czech Republic stands a natural oddity: locals call it Sächsische Schweiz or "Saxon Switerzland," we assume because it's located in the region of Saxony and involves some amount of climbing to explore.  Just next to the Elbe River stand the tall, spindly, and just plain weird rock formations of this national park. Ropes, ladders, and iron grips have been nailed into most of these to enable an easier ascent, but don't kid yourself: the view from the top may be spectacular, but the way up can feel downright dangerous. To up your chances of survival, make sure to go in the heat of summer: in winter, already rickety ladders can turn into frozen waterfalls.
Brandenburg
A steampunk enthusiast's dream come true, this 100-year-old boatlift connecting two parts of a canal about an hour Northeast of Berlin rises out of the relatively flat landscape like some gorgeous, hulking robot-monster from a sci-fi film. Built in 1914 to lift boats from the lower to the upper sections of the man-made Oder-Havel Canal, the schiffshebewerk or "ship lift" is open to visitors with an interest in the bizarre. If you see a ship coming along, act quickly: climb the lift's iron girders and take your position at the front, staring down into the trough. You'll get a sinking feeling -- literally -- once it starts moving up, taking quite impressively large boats with it.
Mosel Valley, Rhineland-Pfalz
Germany's wines don't get nearly enough credit, but once you've been to the amazing Mosel Valley, prime producer of German riesling, you rarely look back. It's hard to look back once you've visited Bernkastel-Kues, either. Tucked into rolling hills covered in grape vines and bordered by the Mosel River, this town has everything visitors love about Germany -- centuries-old half-timbered houses, bustling town squares, a boisterous populace that loves to throw a party, as long as it involves their beloved grapes -- without the insane number of tourists that pass through bigger towns in Southwestern Germany.
Bavaria
Tucked into the Alps between the ski resort town of Garmisch-Partenkirchen and the renowned village of Oberammergau, this stunning Benedictine monastery and -- wait for it -- distillery will seem like all you need in life when you're up there, breathing that mountain air and gazing at gleaming Baroque spires. After waking up to sing their morning prayers as early as 5:15am, monks tend to the gardens, brew beer in the brewery, distill several different kinds of liquors from the herbs of the surrounding mountains, and even run a cheesemaking operation. All of which, of course, can be visited and enjoyed by outsiders -- unless you end up having the feeling that you want to stay forever.
Bavaria
Built on top of a mountain in a style that resembles the Parthenon, this monument also takes its name from the temple of the gods in Norse mythology, which makes an important appearance in the Ring cycle operas by composer Richard Wagner. Built in the 19th century by King Ludwig I, Walhalla serves as a hall of fame for lauded Germans throughout history. The marble-lined interior is full of busts and plaques and the whole effect is rather eerie, but lovely.
Rügen
Germans flock to Rügen in the summer months, but for some reason very few foreigners make it that far. The seaside town of Binz, called a "kurort" or "place of cures" is where they've been coming for decades, where the sea breezes and wide-open space were meant to bring about health in those suffering from illness. If you get bored of so much languid beauty, however, the nearby town of Prora provides fascination of another sort: built in the 1930s as a vacation and recuperation spot for young Nazi men and women, and finished by the East German government, this hulking complex has since fallen into disrepair. Because of its controversial history, no one can quite figure out what to do with it -- in the meantime, it's a great place for you to take some slightly uncanny photos.
Berlin/Brandenburg
This Italianate church and campanile on the banks of Sacrower Lake has a fascinating and moving history: when the outer Berlin Wall was built, this church fell victim to the ruthlessness of the East German government: neither in Berlin nor in Brandenburg but right in between, it was forced to stand empty, falling into disrepair in the decades it spent as a prisoner of the no man's land in between. Spurred on no doubt by local fervor, the mayor of West Berlin managed to negotiate with the East German Protestant Church leaders to keep the Heilandskirche at least as good as standing. When the Wall fell in '89, it could finally be fully restored. Now it sits like a vision of Southern Europe, its inlaid stones and bright colonnade a monument to a time of great peril, followed by a joyful reunion.
Sign up here for our daily Berlin email and be the first to get all the food/drink/fun in town.
Giulia Pines is Berlin-based writer who totally still likes Neuschwanstein Castle. Follow her on Twitter here.