12 Affordable Flight-&-Hotel Deals to Get You the Hell out of Boston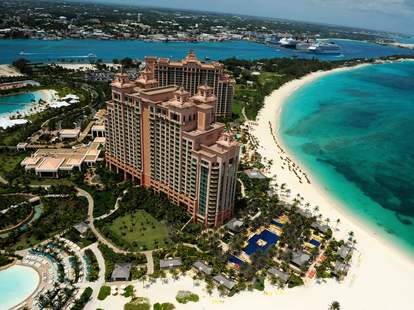 Courtesy of Atlantis
Hey, remember last winter? (Obviously.) When you procrastinated on booking a vay-k, and then the snows came snowin' down and buried us all in inertia and despair? (Regretfully.) And how your travelin' friends' Instagram posts sent you down a FOMOOTE (Fear of Missing Out on Tropical Escapades) spiral that led to a self-comforting Friday Night Lights revisit because you'd already binged on everything else?
Learn from your past mistakes and pull the gd trigger already. Still fussing about money and flights and stuff? Well, Mr.-or-Mrs. High Maintenance, we did all the legwork. We sussed out spots where airfare and a hotel night combined run you $600 (or close to it) or less.
Here are the parameters: we narrowed it down to sweaty climes accessible by direct flight because the sooner you get there, the sooner your stress levels will plummet. That said, we searched for the deep cuts, but we encourage you to do a bit of your own research, too, because honestly, when April hits and there's still snow on the ground, you might be able to find something even cheaper. Hotel prices reflect the best deal we found online this week. We've suggested spots completely welcoming to solo travelers, as well as couples and squads, but we can't vouch for their family-friendliness.
We'll be frank: we're not looking to reinvent the wheel here. When we say Cancun, we don't mean Tulum. Some of our hotel suggestions are off the beaten path, but others are about giving yourself an unabashed, affordable excuse to turn your brain to low-power mode. Some vacations are about proving your adventurous mettle, and some are about getting the eff out of dodge. This winter, don't apologize for needing the latter. 
Nassau Paradise Island: $400 R/T on JetBlue
Hotel: Atlantis, practically free at the moment (50% off plus a $250 resort credit if you book on the website)
Talk about bad raps: you build one enormous, family-friendly hotel and casino, and people start writing off your entire island. But a recent Atlantis/Paradise Island visit taught us that our bottomless Boston snobbery continues to serve us poorly. Atlantis is a total trip, as long as you know how to negotiate it. Here are some rules: book a room at the adults-only Cove. Spend most of your days on the uncorrupted beaches, which remain bizarrely uncrowded. Hit the water park after you've had a few drinks. Book your dinner (Cafe Martinique? Nobu??) after 8pm, when children are no longer allowed. Skip the cavernous spa and head off-campus for a $60 beach rubdown on Cabbage Beach, followed by a wine and cheese tasting at the Graycliff Wine Cellar, a walking food tour in downtown Nassau, and a visit to a distillery housed at a former private estate. Then head back to Atlantis and go down that 200ft waterslide. Because you know you want to.
 
Jamaica: $387/RT on American
Hotel: Jakes, $95/night
Why have you resisted Jamaica? Tales of caution from your stubborn-minded, parochial 'rents, perhaps? Time to let go of their anachronistic assumptions, and get to know the island yourself. Start by staying at Jakes, a funky beachside enclave on the southern coast where no two rooms look alike, and where you can enjoy rum punch at Dougie's Bar and al fresco locavore dining day and night. Then hop into a rental, and start exploring the southern coast, from fishing village Alligator Pond to the mineral springs of Milk River. If you seek a little freshwater pause, consider a tubing trip down White River or Martha Brae River, then return to our intemperate climes and pitifully try to recreate the magic with some snow tubing. 
Martinique: $198/RT on Norwegian Air
Hotel:Hotel Bakoua, $174
Low-cost carrier Norwegian Air just starting offering direct flights to the French Caribbean. So be a trailblazer and beeline it to this Francophile paradise, which has traditionally hosted very few American tourists and is the better for it (e.g., no chain hotels). You'll be the tanned connard (look it up), returning to rhapsodize about an island full of Creole cuisine, rivers of champagne (this place consumes more bubbly than any other French region), ornate 17th-century architecture, a coffee museum, a dormant volcano, and the requisite nonpareil beaches. 
 
Turks and Caicos: $400/RT on JetBlue
Hotel: Ocean Club Resorts, $229
T&C is one of the first Caribbean islands budget-conscious New Englanders ix-nay for being way too expensive-way. (We're so. damn. cautious. with our money.) So we'll do your econ 101 homework for you. Ocean Club Resort -- two sister hotels a mile apart from one another -- puts you on top of the the famed Grace Bay beach, but costs a fraction of some nearby resorts. Cheap day activities abound, including lots of free, beach-accessible snorkeling and a visit to the world's only conch farm ($12). One of the island's best restaurants is Da Conch Shack, a divine yet cost-effective beachside shelter where a large conch salad only runs you $12. And if you head to Provo's weekly fish fry, you're hanging with locals and tourists while noshing on an under-$20 grilled lobster. Pre-game with a bottle of Bambarra (the local rum) in your room, and your high-brow yet cost-effective getaway is complete. 
Barbados: $298/RT on JetBlue
Hotel:The Crane, $318/night
This writer briefly lived in Barbados once, then moved back to Boston, then wept mightily, so she may be biased. But. The easternmost island of the West Indies is a beach paradise, a party paradise, a historical paradise, and a foodie's paradise -- a gem, in other words -- and now it's one five-hour flight away. Must-dos include Harrison's Cave, a visit to a rum shop (actually a local social hub where you can get a drink and some gossip), a day at the races at Garrison Savannah, and a check-in at Oistins Friday fish fry. Oh, and a sampling of cou cou and flying fish, the national dish, so you can return to Massachusetts and lament that our state dessert is still Boston cream pie. 
 
Punta Cana, Dominican Republic: $384/RT on American
Hotel:Paradisus Palma Real, $294/night (all-inclusive)
OK, we're throwing in an all-inclusive here. Why? Because sometimes you just want zero responsibility, and because Paradisus gives you everything Boston does not. A wide, white-sand beach with plush, oversized seating. Five pools and one swim-up bar (and free popcorn, yay!). A ridiculously gorgeous and enormous spa that includes detached massage huts. More than half a million acres of tropical gardens. Butler service at the touch of an old-school cell phone, including a rose petal-infused bubble bath drawn at your request. Legitimately great dining options that don't demand extra fees. An outdoor bar scene that rivals anything you'll find in South Beach. A new suite of fitness offerings like aqua spinning and horseback riding. And a genuinely friendly staff that'll arrange off-site excursions, or point you to their favorite local club and then help arrange transport. Oh yeah, just like Boston.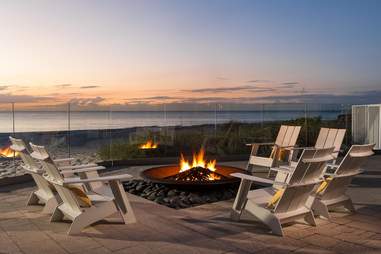 Courtesy of Edgewater Hotel
Paradise Coast, FL: $198/RT on JetBlue
Hotel:Edgewater Hotel, starts at $310/night
Wait, we're talking Naples, home of your wackadoodle Aunt Bea and her bridge-playing posse? Why yes, we are, because Florida's Paradise Coast gets an unfair rap. For starters, the beaches here are as white-sandy and serene as continental US planchas get. (Edgewater, our hotel suggestion, grants you direct access to a seven-mile stretch of sand, and is also walking distance to downtown Naples.) The dining scene down there has gotten legit in the last few years, with young chefs exploring the wintertime Florida farm bounty at spots like The Local, Coast, Sea Salt, and Mereday's. The drinking scene ain't bad either, Alto and Bar Tulia being two newer cocktail spots. And when you've maxed out on monied madams, you can rent a car and head to the Everglades for a little honky-tonk alligator wrestling and stone crab claws by the water. If you don't want the party to end, there's even a seaplane that'll fly you from Naples to Key West. 
Cancun: $392/roundtrip
Hotel: Casa Turquesa, $148/night
There's a lot more -- or less -- to Cancun than Señor Frog's. To give you some peace and quiet, we're recommending a newly revamped boutique hotel just 20 minutes from the airport that grants you all the "we're not in Boston anymore" necessities (beach, spa, on-site restaurants, pool, swim-up bar), plus a grass tennis court and a crazy-impressive art collection. And yup, staff can set you up for the requisite day trips to Tulum, Chichen Itza, Xcaret, and Cancun's notorious party zone. Just bask in the relief that silence awaits you back home. And by "home," we mean hotel, because you're not leaving.  
 
Miami: $107/RT (!!!) on American
Hotel: The Hall, $229/night
Um, guys. We just found a roundtrip ticket to Miami for $107. Holy hell. So first off, that means you can blow a wad on your digs, although our vote goes to the relatively reasonably priced The Hall, a newly opened, hyper-fun art deco spot with an enormous pool, an adult playground, and a Spike Mendelsohn restaurant. Otherwise, Miami has everything you currently crave: massively wide beaches, beautiful cars and people, all-night nightlife, and dining finds high and low (you must indulge in a croqueta and Cuban toast in Little Havana). You know what Miami doesn't have? Aggressive, mean, sloppily dressed misanthropes who endlessly bitch about the climate they've chosen to inhabit. $107, people. 
Courtesy of Elbow Beach
Bermuda: $446/RT on Delta
Hotel: Elbow Beach, $227/night
It's not a tropical island per se, but it's also a mere 90-minute flight away. Moreover, wintertime is Bermuda's off-season, which means hotel, restaurant, and golf bargains abound during the so-called "chilly" months. (We just checked: It's going to be 74 degrees this weekend.) Elbow Beach, which was once a Mandarin Oriental property and has since been reopened as a boutique hotel, includes a large heated pool, several dining options, and an overcoming beach. But the British-tinged isle is also made for exploring, be it the maritime museum where sheep wander around outside, the Gibb's Hill lighthouse, or the shopping and nightclubs of Front Street in Hamilton. (Back when Catherine Zeta-Jones was a local, you'd catch her crooning for friends at the Hog Penny pub.) Return to our drab-colored homes and grey ocean at your own peril. 
 
Costa Rica: $423/RT on JetBlue
Hotel: JW Marriott Guanacaste, $295/night
Who knew Costa Rica was a single five-and-a-half hour plane ride away -- i.e., closer than LA? Don't worry if you didn't: this is another recent (and seasonal) Jetblue development. So it's worth stretching your budget a teeny bit. The JW Marriott there boasts the largest pool in all of Central America, rooms that essentially sit on the beach, hammocks scattered everywhere, and elite restaurants aplenty. After a few days recharging, use the hotel as a springboard, and explore nearby Tamarindo for shopping and lunching, and any one of a dozen adventure tours for a little ziplining. Oh, and you want further proof that every place is better than Boston right now? We give you Lola's, a hidden beach bar with an enormous pig mascot.
Courtesy of Hummingbird Beach Resort
Saint Lucia: $592/RT on Jetblue
Hotel: Hummingbird Beach Resort, $200/night
OK, so we know this one's also pushing our self-imposed money limit, but we say this one's worth the direct flight splurge, and here's why. The luxe island nation of Saint Lucia entices with its chartreuse waters, snorkeling, catamaran sails, and diving, no doubt (there's a new dive center down there, too). But there's also hiking in the Piton mountains (part of the island's Unesco World Heritage Site), biking a 12-mile path through a tropical jungle, touring the Soufriere volcano and nearby town, visiting a cacao plantation, and taking a revitalizing dive in the (free) sulphur springs mud baths. Sometimes you just want some vitamin sea, and sometimes you want that and much more, and Saint Lucia has it all. (That's how bad the 2015 winter was.) 
Sign up here for our daily Thrillist email, and get your fix of the best in food/drink/fun.
   
Meaghan Agnew booked her island getaway last August, that's how bad the PTSD was. Follow her on Twitter at @meaghandeth.