Fall's nearly here, which means it's time to hit the winding New England roads and set out for a countryside adventure. To make the most of the crisp weather and even crispier seasonal bites, we've rounded up the top spots near Boston to go apple picking -- an activity most likely on the top of your fall (actually fun) to-do list.
Recommended Video
Model, Influencer & Entrepreneur Lindsey Pelas Reveals Celebrity Pick Up Stories
South Natick
How far is it: 45-minute drive from Boston
Even though it's considered one of the oldest farms in the United States, Lookout Farm is still in business with a plentiful selection of the crispiest and sweetest apples in the game. The farm keeps things modern too, with a taproom offering craft ciders and beers for a post apple-picking cooldown. Looking to sample some of these local brews? You're in luck, the Lookout Farm Harvest Festival on Sunday, September 9 will have an unlimited sampling of locally crafted beers with delicious bites by award-winning Firefly's BBQ.
Price of a small bag: $14; $15 admission
Sherborn
How far is it: 45-minute drive
With over 50 acres of land and more than 20 varieties of apples to choose from, Dowse Orchards is a go-to if you're looking to fill up on fresh fruit this fall. Their roadside farmstand, operated for over 60 years, lets you stock up on all your seasonal favorites minus the effort.
Price of a small bag: $16
Peabody
How far is it: 45-minute drive
If Brooksby Farm's wagon rides and perfect backdrop for fruit picking doesn't make you want to hit the road, their barnyard animals will get you to make moves. Yes, there are plenty of apple orchards to explore, but encountering these friendly goats will bring you back to your petting zoo days.
Price of a small bag: $10
North Andover
How far is it: 45-minute drive
This 12-generation family owned and operated farm offers quintessential New England sights and homegrown produce on-site. With freshly baked pies, apple cider donuts, ice cream, and handmade chocolates, you'll get your sweet fix from more than a successful apple picking session.
Price of a small bag: $20
Danvers
How far is it: 45-minute drive
For maximum fall activities, head to Connors Farm for an endless amount of autumn-inspired attractions and prime apple picking views. If you're into challenging yourself and others, maneuver your way through the farm's themed-corn maze. This year's "crazy train corn maze" opens Saturday, September 8, and starting Friday, September 28, the farm hosts flashlight nights to add to your experience and inevitable fear.
Price of a small bag: $11
Tyngsboro
How far is it: 50-minute drive
This pick-your-own-farm not only has a wide variety of apples to choose from, but an option to cut your own flowers through late September. Another plus to making the trip out? The farm's Mary's Country Kitchen and Bakery serves up homemade baked goods. A bag of donuts and fresh cut flowers? That's one way to win someone's heart.
Price of a small bag: $25
North Andover
How far is it: 55-minute drive
Pick-your-own-fruit farm Smolak Farms is yet another ideal destination for animal lovers and avid apple pickers alike. A day spent meandering through an apple orchard sounds like an enjoyable time, but throw a couple alpacas into mix and it sounds like heaven on earth to us.
Price of a small bag: $20
Stow
How far is it: 1-hour drive
The beloved Honey Pot Hill Orchards has just about everything to meet your seasonal needs. For $18 per person, enjoy the farm's fun pack, which includes a picking bag, hayride, cider donut, candy apple, hayride, and entrance to the farm's hedge maze. We highly recommend this investment for your next family-fun outing.
Price of a small bag: $18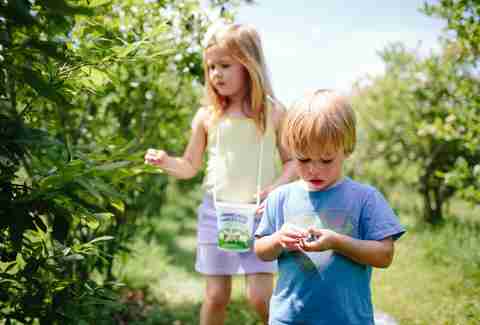 Harvard
How far is it: 1-hour & 10-minute drive
Sticking with its fresh, homegrown and locally sourced produce, Westward Orchards provides a wide pick-your-own-fruit selection along with deletable breads and baked goods. But that's not all - Westward Orchards will be hosting its fall farm-to-table dinner on Saturday, October 13 featuring seasonally-inspired dishes and desserts. The reservation is a bit pricey at $100 per ticket, but if you're down to taste the freshest local ingredients with some newfound friends, this might be worth breaking the bank for.
Price of a small bag: $19
Bolton
How far is it: 1-hour & 10-minute drive
For this weekend excursion, be sure to enlist in the help of a designated driver. Nashoba Winery offers both apple picking and daily wine tastings. Enjoy stunning views at the property's J's Restaurant and outdoor patio -- because we all deserve to treat ourselves from time to time. Your DD will have their day.
Price of a small bag: $20
Stow
How far is it: 45-minute drive
If you're looking for something outside of the standard Red Delicious and McIntosh, Shelburne Farm grows more than 80 different kinds of apples. If that isn't tough enough of a decision, the farm's Apple Shop, housed in an antique 19th-Century barn, has a selection of homemade goods from cider donuts to fudge for you to contemplate devouring.
Price of a small bag: $20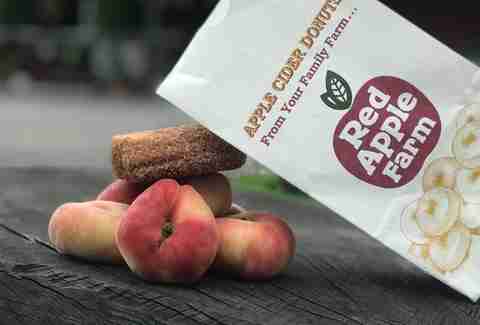 Phillipston
How far is it: 1-hour & 20-minute drive  
You've probably caught a whiff of Red Apple Farm's apple cider donuts at the Boston Public Market, but now's the time to take a trip to the source. With walking trails, farm animals, hay rides and of course, those fresh apple cider donuts, you won't regret making the drive out -- unless whoever in control of the aux cord had poor taste.
Price of a small bag: $22
Still can't get enough? Check out our guides to the best apple picking and orchards to visit in New York and New Jersey.
Sign up here for our daily Boston email and be the first to get all the food/drink/fun the Hub has to offer.