You come for the lobster rolls and sea air, but you stay for the beaches. The Cape is so revered for its sandy shores that vacationers book their summer rentals up to a year in advance. (Seriously -- book yours now.)
But upon which beach should you lay down your towel? It probably comes as no surprise to hear that New Englanders hold very strong opinions on this topic. Some parameters: Do you prefer the waves of the Atlantic or the calm of Cape Cod Bay? The visual appeals of dunes or flats? The excitement of crowds or the relaxation of an isolated? Seals (aka shark bait) or no seals? Whatever your preferences, there's a Cape patch of sand waiting for you. But do your homework: our winter's back-to-back-to-back-to-back nor'easters did serious damage to some of our most beloved shorefronts.
Recommended Video
Model, Influencer & Entrepreneur Lindsey Pelas Reveals Celebrity Pick Up Stories
Herring Cove Beach
Provincetown
National seashore treasure on the tip of the Cape
Herring Cove gives you everything you crave in a Cape Cod beach: picturesque dunes, miles of deep, hot sand, clean bathrooms and changing rooms, and a healthy mix of families and couples, both gay and straight. Parking can be a bear in July and August (especially during Bear Week), so the far better choice is to hit the nearby bike trail for a bit, then lock up your two-wheeler for a well-earned dip. If you crave even more pre-beach exercise, there are dune hikes aplenty (with far fewer clandestine sex acts than in decades past).
Where to eat/drink: Herring Cove got its own concession stand a few years' back, and a superior one at that: Far Land on the Beach sells lobster rolls, crab cakes, fish tacos, and salads, plus beer and wine, and often stays open for dinner. That said, you don't come to P-town and not investigate its exalted dining and nightlife. Start with a drink on the back deck of the iconic Red Inn before rambling into the center of town for your choice of restaurants and watering holes both upscale and honky tonk.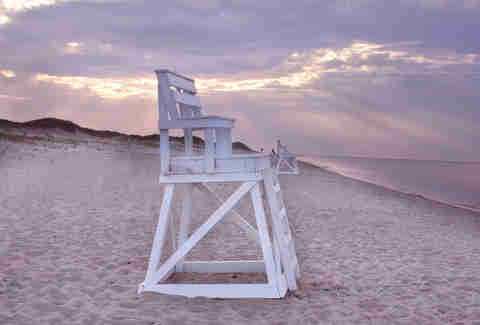 Head of the Meadow Beach
Truro
Serene, hidden beach with rich history and seals galore
Want nature? Want semi-seclusion? Head of the Meadow is a rare bird: a beautiful, wide Atlantic side beach that stays strangely uncrowded. Part of that owes to the fact that the bathhouses burned down a few years back, so yes, you'll want to change beforehand. You also get a little history with your tanning session: A vessel named the Frances ran aground off this beach in 1872, and during certain low tides you can still catch a glimpse of the wreck's remnants. Guests will need to buy a daily permit, but it's a twofer that also grants you access to Corn Hill Beach, an equally beautiful spot on the bay side of the peninsula.
Where to eat/drink: Joey's is the resident on-site food truck, slinging creative tacos, burritos, and quesadillas. Box Lunch Truro is a nearby source for on-beach sustenance, serving a massive menu of to-go pita roll sandwiches. Take your après-sand self to Truro Vineyards for glasses of locally produced wine (yes, the Cape has its own vineyard), an additional cocktail made with spirits from the onsite South Hollow Spirits distillery, and lunch from the outstanding food truck Crush Pad, all enjoyed alfresco on the property's front lawn. (Dogs welcome!)
Cahoon Hollow Beach
Wellfleet
Beach party central with a drinking institution sitting atop its dunes
Here's who Cahoon Hollow is not for: those seeking quiet; those seeking warm waters; those seeking not to exercise. Access to this wide-sand beach requires a 75-yard trek down a steep sand dune; reasonable enough, but it's the trek back up that can fell many a beach goer. (This likely explains the demographics of the beach, which skew younger and fitter.) But the journeys down and up are well worth it, for an iconic Atlantic-side, wide-sand beach complete with dozens of seals popping their heads out of the water just offshore. Just prepare yourself for the nightmare parking scene, which is even worse this year after storms and erosion shut down the main parking lot. Bike or Uber.
Where to eat/drink: Shoreline restaurants don't get much more archetypal than the Beachcomber. The bar and restaurant, housed in a former life-saving station, overlooks the dramatic dunes of the National Seashore, pours potent cocktails, contains a separate raw bar, and hosts live music at night. Those seeking more quiet should drive or bike the two miles to PJs Family Restaurant, a seasonal clam shack that serves the Cape's best lobster roll.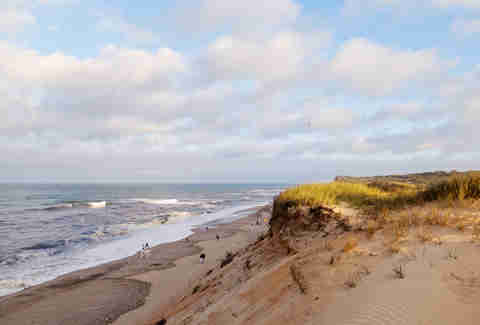 Marconi Beach
Wellfleet
Another National Seashore gem with iconic dunes waiting for their closeup
Bostonians day-trip to this beach in the summer -- that's how irresistible it is. And John F. Kennedy recognized it early: In 1961, he signed a bill authorizing the creation of the Cape Cod National Seashore, the first time a national park was created out of previously private land (don't tell the libertarians). A little more history: The beach is named after Italian inventor Guglielmo Marconi, who in 1903 sent the first US-originating transatlantic radio transmission right from the Cape. OK, enough social studies: this is a massive, gorgeous beach, with towering dunes, intimidating waves, and endless views in each direction. It's always crowded but never overwhelmingly so, owing to its sheer size. One more selling point: it's dog-friendly year-round. One drawback: a lot of stairs to get there. (Note: The Marconi beach steps were damaged during the winter owing to the storms; the beach reopens to the public on June 17 this year.)
Where to eat/drink: Want a little fried chicken with your sand? Marconi Beach BBQ & Seafood Restaurant (actually located a little over a mile from the Marconi Beach entrance), sells its award-winning fried chicken in beach-friendly buckets to go. Wellfleet Center, about 4 miles away, is the place to go for proper evening dining and drink, with Mac's Shack serving as the town's social hub. (If kiddos are in the mix, carry on to the more relaxed Mac's on the Pier, a takeaway spot right on the water.)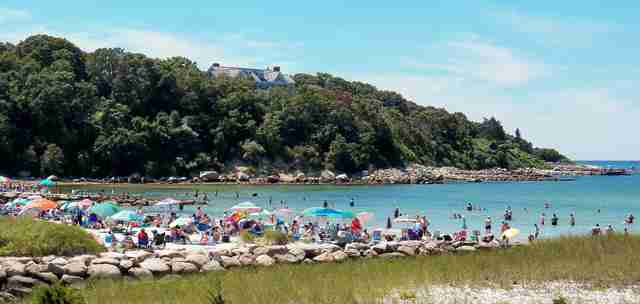 Old Silver Beach
North Falmouth
Squint and you might think you're in the Caribbean
The sand is white and fine, the water clear and azure-blue, the sunsets frankly stunning. Where the hell are you again? This is as tropical as a beach gets in New England, which easily explains why the Old Silver Beach parking lot is full by 10am. There are actually two sections of the beach, one accessible to Falmouth residents only (lucky them), but there's plenty of room on the public portion for an afternoon divided between the soft sand and the calm water, some of the warmest on the entire Cape.
Where to eat/drink: The beach snack bar is better than most, dishing up Angus burgers, BLTs, fish tacos, and wraps, and there's often an Italian ice vendor also on site. But the party is definitely happening over at the Sea Crest Beach Hotel, a recently revamped beach hotel on the private side of the sand, where locals hit the poolside bar early and often.
Nauset Beach
Orleans
A historic, celebrated stretch of sand
When National Geographic Traveler calls a beach "nearly perfect," you're all but obliged to check it out. The Atlantic-side Nauset earns its accolades, with its sandcastle-ready sand, boogie board-friendly waves, and abundance of nature, from eiders to seals. (Yes, Great Whites have also made an appearance on occasion.) The crowds are sizable but never overwhelming, and early risers also know the beach to be the best place on the Cape for a IG-worthy sunrise. The winter storms did hit the beach hard, alas, affecting both the snack bar and the beloved boardwalk (see below); this means the town will especially appreciate its 2018 visitors.
Where to eat/drink: First, we need to pour a little out for Liam's on Nauset, the beloved beach shack (oh, those onion rings!) that was partially destroyed during one of the winter nor'easters and had to be demolished. So you're trekking back into town for sustenance. The Knack is one of Orleans' newer additions, an intriguing reinvention of the classic clam shack; kids get their ice cream fix at Sundae School, while adults get their adult-drinks fix at the rustic Barley Neck Inn.
Craigville Beach
Centerville
Its nickname is "Muscle Beach." Determine why for yourself.
Ah, Muscle Beach. This is a Cape beach unlike most others, a Spring Break-like strand where the buff and barely clad gather like pigeons. Located on Nantucket Sound, the extra-wide beach offers terrific views, warm waters, public parking, and easy access for those tired of lugging chairs and umbrellas up and down deep dune sands. The younger demographic means the beach clears out in the early evening, just in time to fly a kite and catch the lovely sound sunset
Where to eat/drink: One of the beach's many selling points is the collection of restaurants across the street, especially the iconoclastic The Barnacle, which doles out classics like clam rolls and the Cape's best hot dog.
Breakwater Beach
Brewster
Warm water and gently sloping dunes make for an especially peaceful beach day
This is where to go when you've had your fill of tourists. A popular local beach, Breakwater isn't the Cape's largest stretch of sand, but it is one of its most serene. This is a bayside beach, which means clear, calm waters and a more even topography. Stay around for low tide, when you can walk out for what seems like miles and explore the teeming sea life contained within the tidepools. (Beware: The tide here comes in much faster than you expect.)
Where to eat/drink: Breakwater Fish and Lobster Market is a casual takeaway restaurant where you can get your fried clams, lobster roll, and oysters and actually drink a beer or glass of wine while you wait (far from a given at many New England seafood shacks).
Sign up here for our daily Boston email and be the first to get all the food/drink/fun the Hub has to offer.