View from Marconi Station on Cape Cod in Massachusetts

| Ritu Manoj Jethani/Shutterstock
View from Marconi Station on Cape Cod in Massachusetts

| Ritu Manoj Jethani/Shutterstock
Remember last summer, when we sunbathed in face masks and slathered hand sanitizer atop our SPF? Let's give it up yet again for the miracle of vaccines, y'all, because your biggest concern this summer will be where to lay down your towel. (And, oh yeah, how to track down any remaining Cape-area Airbnbs.)
But the question remains, what serene patch of sand meets your particular set of hot vax Summer needs? Some parameters: Do you prefer the waves of the Atlantic or the calm of Cape Cod Bay? The visual appeals of dunes or flats? A young crowd or a family scene? Seals (AKA shark bait) or no seals? Whatever your preference, there's a Cape Cod destination eagerly awaiting your return. Make sure to get there as early as possible for both parking and beach space reasons, respect all areas requiring masking and social distancing, and be diligent with that sunscreen—our bodies suffered a severe Vitamin D deficit last summer so let's take things slow this go-around.
Centerville
Ah, Muscle Beach. This is a Cape escape unlike any other, a spring break-themed stretch where the buff and barely-clad gather like pigeons around a splattered ice cream cone. (And you can only imagine what it's going to look like this summer.) Located on Nantucket Sound, the extra-wide beach offers terrific views, warm waters, public parking, and easy access for those tired of lugging chairs and umbrellas up and down deep dunes. The younger demographic means the beach itself tends to empty around happy hour, just in time to fly a kite and catch a lovely sunset. Speaking of happy hour, one of the spot's many selling points is the collection of restaurants across the street, including the iconoclastic The Barnacle, which doles out classics like clam rolls and the Cape's absolute best hot dog.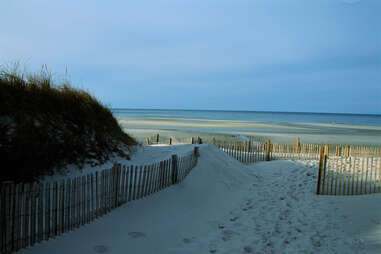 Dennis
If you're looking to chill rather than party, Mayflower Beach has you covered. (Little wonder that US News and World Report recently rated it the number one beach on the Cape.) The soft white sand, calm bayside waves, convenient bathrooms and parking—all these factors combine to make Mayflower an ideal summertime respite, but the consistently low tide might be the spot's most charming aspect. You can literally walk for miles out to sea to splash around in warm tidal pools, and shots of the sun setting over those shallow waters will take your IG stories to the next level. A post-beach cone from nearby Ice Cream Smuggler is the perfect way to end a perfect beach day.
Barnstable
Because sometimes you need a little nature with your swim, Sandy Neck Beach is actually a wildlife refuge, providing a full 4,700 acres of dunes, forests, walking trails, and habitats for protected species like the piping plover bird (the bird-watching here is truly epic). As for the beach itself, Sandy Neck is a little pebbly but otherwise bucolic—plus, we'll never say no to a beachside shack doling out lobster rolls and fried clams. There's also a vehicle-friendly portion of the beach, so if you purchased a dune buggy during the height of COVID boredom, here's the place to take that baby out for a spin.
Provincetown
Herring Cove gives you everything you crave in a Cape Cod beach: Picturesque dunes, miles of warm sand, and a healthy mix of families and couples both gay and straight, and its sheer size makes it easy to set up your setup without sitting on top of other beached groups. Given the always-stressful parking scene, the best choice is to hit the nearby bike trail for a bit, then lock up your two-wheeler for a discounted entrance ($10) and a well-earned dip. If you're looking for more pre-beach exercise, there are dune hikes aplenty. And here's more good news: Far Land on the Beach, the on-site concession stand, has once again reopened for business stocked with their usual tasty bounty of lobster rolls and fish tacos. And never forget: The sunsets here are some of the most beautiful on the Cape.
Truro
Want nature? Want semi-seclusion? Head of the Meadow is a rare bird—a beautiful, wide Atlantic beach that stays strangely uncrowded. You also get a little history with your tanning session: A vessel named Frances ran aground off this beach in 1872, and, during certain low tides, you can still catch a glimpse of the wreck's remnants. Take your après-sand self to Truro Vineyards for a few glasses of locally produced wine, a cocktail made with spirits from the onsite South Hollow Spirits distillery, and lunch from the outstanding food truck Crush Pad, all enjoyed al fresco on the property's dog-friendly lawn. (No reservations required, but you might have to wait for a seat during peak lunch hours.)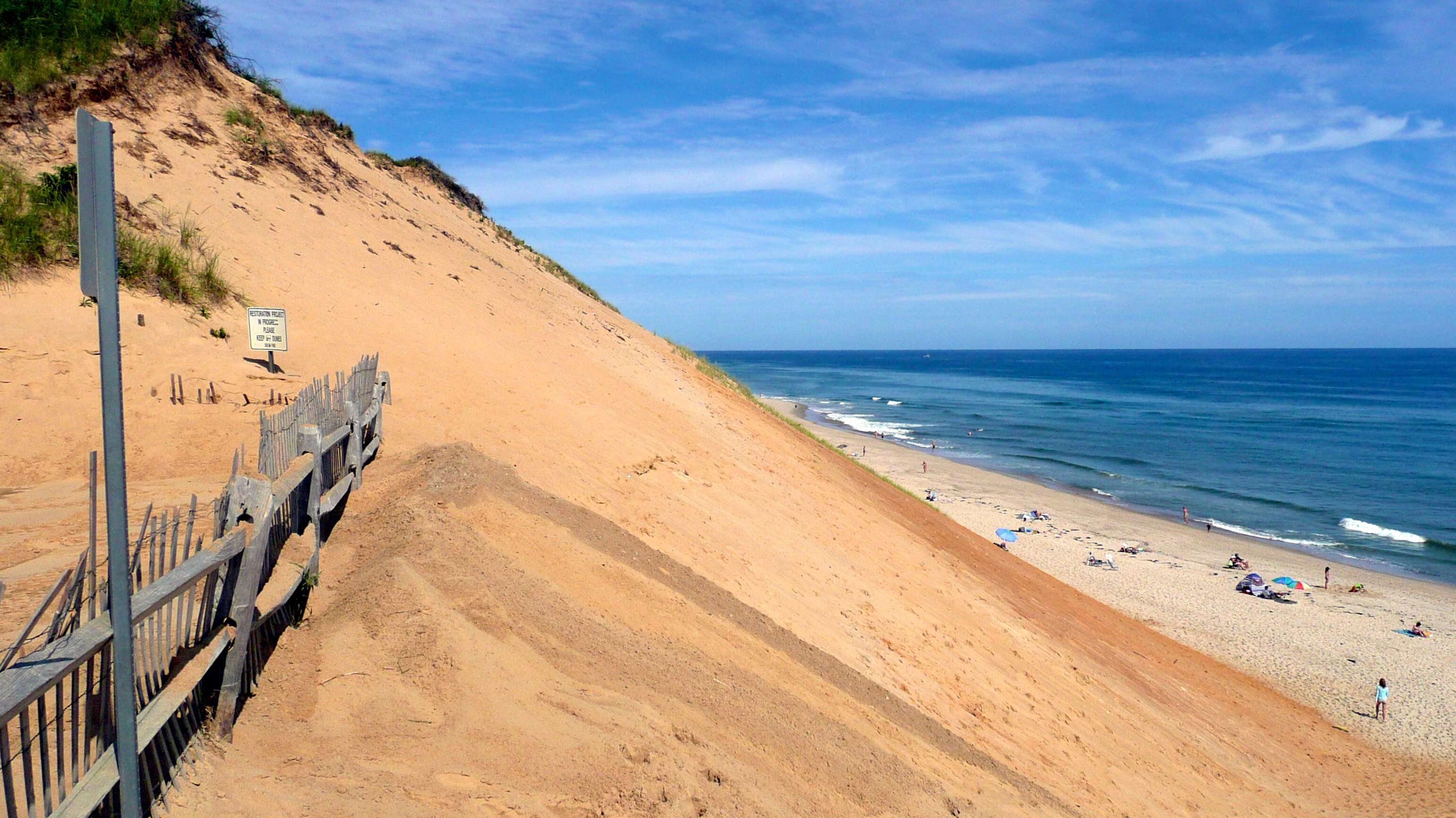 Wellfleet
First, a warning: Access to this wide-sand beach requires a 75-yard trek down a steep sand dune. Reasonable enough, but it's the trek back up that can exhaust many beach-goers, especially those who never quite managed to get their in-home fitness routine going this past year. The journeys both down and up are well worth it, however, for an iconic Atlantic-side, wide-sand beach complete with dozens of seals popping their heads out of the water just offshore. (Which, yes, means Great White warnings.) The nightmare parking scene is to be avoided at all costs, especially this year when huge crowds are expected, so bike or Uber if you can. As for the Beachcomber, the legendary spot atop the beach, they're now open on weekends until June 18 and then will be back up and running full-time—which means you can still enjoy some oysters and a potent cocktail after some prime beach time. Or you can drive or bike the two miles to PJs Family Restaurant, a seasonal clam shack that serves the Cape's best lobster roll.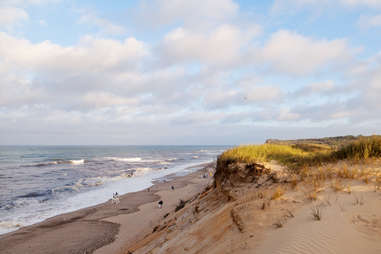 Wellfleet
John F. Kennedy himself recognized the appeals of this spot early. In 1961, he signed a bill authorizing the creation of the Cape Cod National Seashore, the first time a national park was created out of previously private land. For a little more history, the beach is named after Italian inventor Guglielmo Marconi, who in 1903 sent the first US-originating transatlantic radio transmission right from the Cape. OK, enough with the social studies. This is a massive, gorgeous beach with towering dunes, intimidating waves, and endless views in each direction. It's also dog-friendly year round, lest you worry about leaving behind your now-spoiled pooch; just be aware that the north side of the beach is currently closed to pups to protect the nesting seabirds. Wellfleet Center, stationed about four miles away, is still the place to go for a proper evening meal. Mac's Shack is the spot for oysters, sushi, and a proper cocktail while the more relaxed Mac's on the Pier, a takeaway joint right on the water, is your ticket for lobster in the rough.
North Falmouth
The sand is white and fine, the water clear, warm, and azure blue, the sunsets frankly stunning. Don't feel bad about that canceled Carribean trip this winter: This is as tropical as it gets in New England, which easily explains why the Old Silver Beach parking lot typically fills up before 11 am. Go early, and with the understanding that you won't be able to make a full day of it. Parking is still $20, but folks who get there and find the crowds too unsettling are often able to get their money back. For a post-beach bite, head to the nearby Sea Crest Beach Hotel, which recently reopened its outdoor bar (they're taking good precautions) and is also offering take-out from its onsite restaurant.
Orleans
When National Geographic Traveler calls a beach "nearly perfect," you're all but obliged to check it out. The Atlantic-side Nauset earns its accolades, with its sandcastle-ready sand, boogie board-friendly waves, and abundance of nature, from eiders to seals. (Yes, gotta beware those Great Whites again.) Early risers also know the beach to be the best place on the Cape for an IG-worthy sunrise and it's also a great spot for fishing, which explains all those anglers trying their luck at hooking blues and bass. Enjoy your leisurely sun time, but keep in mind that you'll have to hoof it back into town when your belly starts grumbling. The Knack is one of Orleans' newer additions, an intriguing reinvention of the classic clam shack that hits the mark with style, and absolutely plan to get your ice cream fix at Sundae School after finishing your seafood sesh.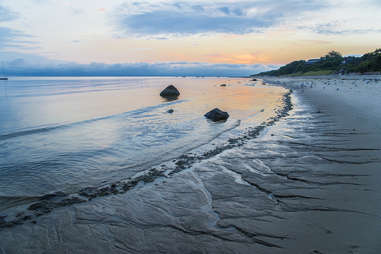 Brewster
A popular local beach, Breakwater isn't the Cape's largest stretch of sand, but it is one of its most serene. This is a bayside beach, which means clear, calm waters and level topography. Stay around for low tide, when you can walk out for what seems like forever and explore the teeming sea life contained within the tidepools. (Beware: The tide here comes in much faster than you would expect.) If you seek some sustenance afterward, Breakwater Fish and Lobster Market is a casual takeaway restaurant where you can gorge yourself on the requisite fried clams, lobster roll, and oysters.
Sign up here for our daily Boston email and be the first to get all the food/drink/fun the Hub has to offer.
Meaghan Agnew just spent a few socially distanced days on the Cape and will carry those memories for many months to come. See those memories by following her on Instagram.