Boston's museum scene is one of the best around. We're talking everything from the quintessential American history exhibits to more contemporary displays of art, entertainment for kids, and more. We've even got some out-of-the-box spaces like an entire museum dedicated to bad art and an epic planetarium where you can see the stars. So if you're ready to reignite your love of field trips, we've got you covered with the best museums in Boston—whether you're looking for something interactive, educational, or just plain fun.
Fenway
One step inside the Isabella Stewart Gardner Museum and you'll understand why it's one of most beloved destinations within Boston's art community and beyond. The space is modeled after a Venetian palazzo, afterall. You don't need to be an expert to enjoy this museum as its charming landscape, both inside and outside, is a sight you sure won't want to miss. Aside from its stunning garden and landscapes, the museum holds an impressive collection of art from rare books to archival objects. While you're there, you can also enjoy a bubbly beverage and lunch at Cafe G.
What to know before you go: General admission tickets are $20 per person. The museum is open every day from 11 am to 5 pm, and it stays open until 9 pm on Thursdays.
Fenway/Kenmore
Welcoming more than 1 million visitors each year, the MFA Boston has more than 50,000 square feet of gallery space to explore featuring nearly 500,000 pieces of art. In fact, this museum is known as one of the most comprehensive art museums in the world, having housed the likes of Picasso, Da Vinci, and more greats. Gallery highlights currently include everything from mummies to Monet (the museum has the largest collection of Monet's work outside France), with rolling exhibits, take for example The Obama Portraits Tour, that are amongst the most talked about. While you're there, you can also visit the museum's two shops for some souvenirs or grab a bite to eat at the Pop-Up at 465 Bar and Restaurant, New American Cafe, Taste or Garden Cafeteria.
What to know before you go: General admission tickets are $27 per person. Regular hours are 10 am to 5 pm on Monday, Wednesday, Saturday, and Sunday, and the museum stays open until 10 pm on Thursday and Friday.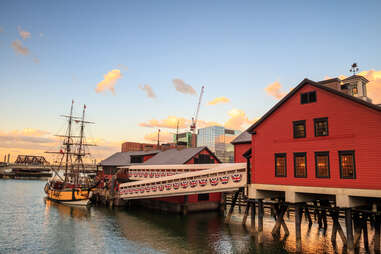 Seaport
Now's your chance to experience an integral part of American history, dating all the way back to 1773. At the Boston Tea Party Ships & Museum, you'll walk across authentically restored ships and launch a couple cases of tea off the deck and into the sea during your guided tour. You'll also get a chance to recreate where the brainstorming began at none other than the colonial meeting house featuring your host, and one of Boston's most famous historical figures and founding fathers, Samuel Adams. If the name Samuel Adams makes you thirsty, stop over Abigail's Tea Room & Terrace for some authentic afternoon tea. It's part of the theme!
What to know before you go: General admission tickets are $31.95 per person. Regular hours are from 10 am to 5 pm Thursday through Monday, and 10 am to 3 pm on Tuesday and Wednesday.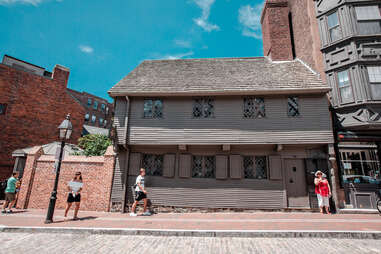 North End
Located on a narrow, winding street in the North End (and conveniently close to the best Italian restaurants in Boston), the Paul Revere House is the oldest remaining structure in downtown Boston as it was originally built around 1680. The house is known for its famous occupant Paul Revere, who led the revolutionary charge. The house is filled with artifacts including the Revere family's actual furniture and silver. Tours are self-guided but staff members are on-site to answer any questions.
What to know before you go: General admission tickets can be purchased onsite for $6 per person. Regular hours are 9:30 am to 5:15 pm Monday through Sunday.
Downtown Boston
Surrounded by the Financial District's towering buildings still stands one of the country's oldest public buildings. The Old State House, built in 1713, has been preserved to welcome tourists and commuters alike (State Street station, part of the orange and blue line, is in the sub-basement of the building). You'll find the museum on the upper level, offering thousands of artifacts and a wide-selection of historical documents. Daily tours are held at the Old State House, with none other than colonial characters leading the way and telling stories of the Boston Massacre, which happened right outside of the building.
What to know before you go: General admission tickets are $10 per person. Regular hours are every day from 10 am to 5 pm.
Science Park
As one of the world's largest science centers, the Museum of Science is home to ever-changing educational opportunities and workshops involving engineering, tech, math, and plenty more. Plus, the sensory experiences at the museum are unmatched, from the IMAX theater to the Planetarium, which alternates between hosting iconic music nights (like the Beyoncé Experience) and tours that are truly out of this world. There's also the Live Animal Care Center to get an up close and personal look at approximately 120 animals.
What to know before you go: General admission tickets are $29 per person. The museum is open from 9 am to 5 pm every day.
Seaport
Take one look at the ICA Boston and you're already staring art right in its face. The building sits surrounded by the Boston waterfront and captures the revitalization and modern feel of Seaport. So once you've finished taking that in while posing on the grand staircase overlooking the ocean, step inside this expansive and open exhibition space. While you're there, you'll have the chance to peruse through permanent and traveling exhibits from the most exciting and awe-inspiring contemporary artists of our time—with everything from photographs, sculptures, paintings, interactive installations and live performances. In the past, the museum has even housed works from Pablo Picasso, Andy Warhol, Jackson Pollock, and Steve McQueen. Don't forget to check out the gorgeous ICA store for some memorable merch while you're at it.
What to know before you go: General admission tickets will cost you $20, except during free Thursday nights from 5 to 9 pm. The museum is open from 10 am to 5 pm Tuesday through Sunday.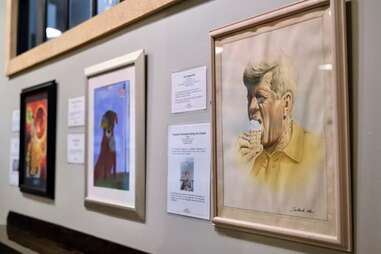 Dorchester
Now located inside Dorchester Brewing Company, the Museum Of Bad Art is back with its utterly unique collections. With around 40 pieces on display at a time, the works may not get much love from traditional institutions, but the MOBA knows how to celebrate each one—collecting and exhibiting artwork just the way it comes, no matter how zany.
What to know before you go: Admission is free. The museum opens every day at 11:30 am and closes at 9 pm on Sunday and Monday, 10 pm Tuesday through Thursday, and 11 pm on Friday and Saturday.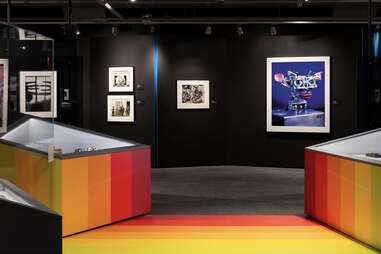 Kendall
With more than 1 million prints, rare books, drawings, photographs, films, and holograms, MIT Museum's collection of research keeps getting better and better. In fact, just recently, the museum reopened in an expanded 56,00-square-foot-space in Kendall Square, with more hands-on learning labs and maker spaces, interactive exhibits, and venues that highlight the impact of science and technology on society.
What to know before you go: General admission tickets are $18 per person. The museum is open every day from 10 am to 5 pm.
Seaport
In 1913, the Boston Children's Museum was founded by a group of teachers in Jamaica Plain. Fast forward more than 100 years later, it's now one of the largest children's museums in the world. With a top-notch waterfront view, the Boston Children's Museum helps kids (and adults tagging along) explore health and wellness, literacy, the performing arts, science, technology, math and visual arts programs. As part of the many exhibits, kids have the chance to dive into hands-on science, technology, engineering, art, and math activities, dynamic art spaces, multi-sensory art experiences, and more.
What to know before you go: General admission tickets are $20 per person. Regular hours are 9 am to noon and 1:30 to 4:30 pm Wednesday through Sunday.