Boston is great for so many things, but sometimes you need to escape the concrete jungle to explore nature and other nearby concrete jungles. Luckily for us, a lot of New England is within a four-­hour driving radius of the Hub. From brew­-centric Burlington, to rocky-­topped Mount Monadnock, here are 10 great destinations for your regional road trip. 
Pinball Wizard Arcade (Pelham, NH)
Distance from Boston: 33 miles northwest; 40-minute drive
The Granite State has much to offer and the Pinball Wizard Arcade is a time capsule of everyone's favorite video games, pinball machines, and other classic arcade attractions. Imagine Chuck E. Cheese's on steroids (minus the creepy animatronics). You can check the 300+ game list for yourself, but rest assured it has Galaga, Donkey Kong, Asteroids, Q-Bert, Addams Family, and Medieval Madness. It's only $20 for 100 tokens, so wear cargo shorts, and go nuts. While you're in Pelham, make time for a round (or two) of disc golf at photogenic George M. Muldoon Park. 
Rockport, MA
Distance from Boston: 43 miles northeast; 55-minute drive (or 1hr 15 minutes on Newburyport/Rockport Commuter Rail) 
While everyone else sits in hours of Cape Cod traffic, you can be sitting on Cape Ann (the other cape) in less than an hour. Once there you'll find dozens of galleries, shops, seaside restaurants, scenic beaches, and the picture-perfect New England charm that inspired artists like Winslow Homer and Lester Hornby. Rockport is one of the best quick-fixes for your wanderlust, a low impact travel destination with incredible ocean views, and plenty of fresh-from-the-boat seafood. When cruising Bearskin Neck, grab oysters and a shrimp cocktail from Roy Moore Lobster Co. to take on your stroll. Then head over to Rockport's oddest attraction, the Paper House, a vintage 1922 dwelling made from 100,000 newspapers.   
Newport, RI
Distance from Boston: 72 miles south; 1.5-hour drive
Newport is textbook "seaside New England," and it feels like you're in a semi-exotic location... even though you're only 72 miles from Boston. From the Cliff Walk and opulent mansion tours, to the International Tennis Hall of Fame, you can keep busy even when not on the water. The nightlife offers a full spectrum of rowdy bars and quiet restaurants for whatever type of trip you seek. The ocean is also extra accessible via several harbor tours, and these excursions often include snacks like stuffed quahogs (the clams, not Peter Griffin's town), and adult beverages for purchase. Speaking of snacks, pop into The Red Parrot for lunch and order the Monsta Lobsta BLT, its version of the traditional roll with thick bacon slices on toasted basil focaccia.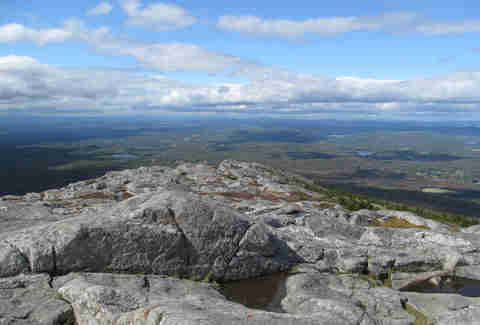 Mount Monadnock (Jaffrey, NH)
Distance from Boston: 81 miles northwest; 1hr 50 minute drive 
As one of the greatest hikes in New England, the rocky trek to Monadnock's summit is totally worth it... not only for the spectacular view, but also for feeling really good about yourself (you know, for actually exercising). Even transcendentalist luminaries Emerson and Thoreau wrote about its grandness. The isolated mountain (the name means "isolated mountain") tops out at 3,165ft, and is one of the most frequently climbed peaks in the world since it was first hiked in 1725. As always, consult your physician before starting any exercise program. Once you're in the clear, bring plenty of water and snacks because it's 4+ hours to the top and back.
Funtown Splashtown USA (Saco, ME)
Distance from Boston: 100 miles north; 1hr 40 minute drive 
With a name like Funtown Splashtown USA, you know you're getting fun, splashing, and a town-like atmosphere. Rocking since 1960, this family-owned amusement complex has morphed into a two-headed beast: on one side you have Funtown, home of the Excalibur, the tallest and longest roller coaster in Northern New England, and on the other side you can chill out in Splashtown, where Triton's Twist launches you from an enclosed capsule down a five-story screamer of a water slide. You'll want to hit up both sides of the park, because A) they both kick butt and B) it's only $37 for a combo ticket. Don't forget your bathing suit and make sure your swim trunks stay on…their integrity (and yours) may be challenged by the faster chutes.
"The Hamptons" (aka Hampshire County, MA)
Distance from Boston: 106 miles west; two-hour drive
Hampshire County, made up of Northampton, Easthampton, Southampton, and Westhampton, boasts plenty to do between them and the other hamlets dotting the countryside. Your journey begins at Ye Ol' Watering Hole (Northampton) for regional brews and the 4,000+ beer can museum. More beer awaits in Easthampton, home of Fort Hill Brewery and Abandoned Building Brewery. Cycling enthusiasts can ride a series of connected bike trails (between Hadley, Northampton, and Easthampton), enabling you to drink all that beer and commune with nature. If you want/need more of the great outdoors, hiking the Seven Sisters (part of the Holyoke range) nets you some sweet scenery. If you forgot your bike or don't even have one, Northampton Bicycle and Valley Bike & Ski Werks (Hadley) offer inexpensive daily ($25) and weekly ($90) rentals.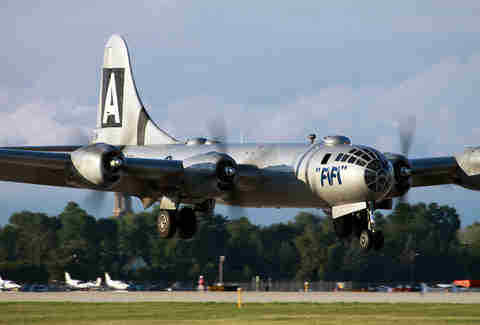 New England Air Museum (Windsor Locks, CT)
Distance from Boston: 107 miles southwest; two-hour drive
Hang out in the three giant hangars of the New England Air Museum at Bradley International Airport and explore over 80 aircrafts like vintage Thunderbolts, Corsairs, and Hellcats (oh my!), as well as other exhibits and memorials dedicated to our nation's brave aviators (e.g. the highly decorated 58th Bomb Wing). Best of all: flight simulators! The Flight Sim Spot puts you in the virtual cockpit as you fly any plane anywhere in the world, while real pilots school on you the basics, like taking off and landing without virtually crashing.
Portland, ME
Distance from Boston: 112 miles north; 1hr 50-min drive 
Another jewel by the sea, Portland, Maine is a funky fishing town that gives the other Portland a run for its quirky street cred. Music venues like One Longfellow Square and Port City Music Hall are worth hitting, while the myriad of brewpubs (Gritty McDuff's) keep you from going thirsty. The growing restaurant scene, including recent James Beard nominee Central Provisions, justifies a weekend-long visit that stretches into Monday. Stay at the newly opened Press Hotel located in the historic Portland Press Herald building. Its long list of amenities include the new Union Restaurant, The Inkwell bar, and more Old Portland character than you can handle.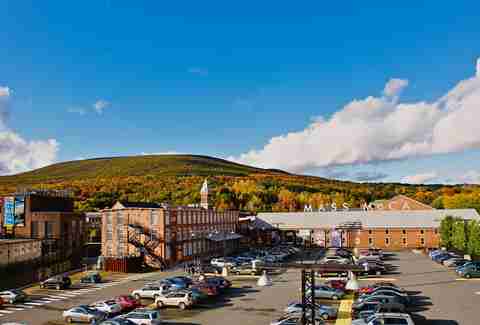 North Adams, MA
Distance from Boston: 131 miles west; 2hr 45-min drive
Why it made the list: Not that long ago, North Adams was on the brink of extinction. But thanks to urban renewal and MASS MoCA, the largest contemporary art museum in the US, the quaintness has returned. The Victorian-era Porches Inn is an ideal base of operations while you explore nearby attractions like Mt. Greylock, seven different state forests, the Mohawk Trail, the Berkshires, Tanglewood (summer outpost of the BSO), the Clark Art Institute, and the new Ramblewild Adventure Park.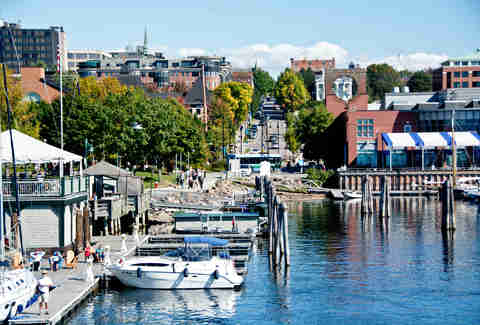 Burlington, VT
Distance from Boston: 216 miles northwest; 3.5-hour drive
Take the chill vibe of Madison or Boulder, add super beers, maple syrup, and the immaculate Lake Champlain... and you get Burlington. Along the booming arts corridor of South Pine St, The Switchback Brewery tap room is an appropriate starting point for pints, as is Citizen Cider's tasting room for burgers and cider cocktails. When you need your syrup fix, head straight to The Skinny Pancake for its "Breakfast All Day" menu. If you're curious to try one of the most coveted beers in America, Heady Topper, then The Farmhouse Tap & Grill Downtown has you covered.  
Sign up here for our daily Boston email and be the first to get all the food/drink/fun the Hub has to offer.