Who knows what this winter is going to look like? We're neither foreseers nor epidemiologists, but it's safe to say the frosty season won't exactly be awesome this year—which means we all need to amass as many outdoor, out-of-town experiences as we can this fall.
We've rounded up some of our favorite weekend autumn getaways, all of which offer divine leaf-peeping (on the way there, at least) combined with terrific (al fresco) dining, shopping, and nightlife options. Make sure to check in on each destination's regulations regarding masking and vaxxing as Delta continues to, well, suck, and remember to be patient, kind, and generous to all service workers, all the time, now and forever.
Distance from Boston: 90 minutes by car
It's seaside, it's dog-friendly, and it's the perfect bucolic spot to pause and recharge. (There's a reason Kennebunkport calls itself "the place to be all year.") Hotel options are nearly endless, but two new spots represent both appealing ends of the spectrum—the Kennebunkport Captains Collection invites you to stay in one of four restored stately mansions, while AWOL KPT provides a modern cabin experience just steps away from Dock Square. There are still plenty of opportunities for outdoor dining, from Striper's and Pedro's to Old Vines Wine Bar and the Batson River, which offers fireside dining on chilly nights. Even Mabel's Lobster Claw has a few seats outside to help you achieve your lobster quotient, while the famous Clam Shack is open until mid-October. Nature activities abound in fall: Wells Reserve is rife with guided tours as well as miles of well-marked trails, a sandy sojourn at Goose Rocks Beach is an absolute must, and Riverhurst Farm offers private guided beach rides for up to two people. And if it's nightlife you seek, you can do no better than Club Cumming on the Coast, which has extended its run through the second week of October.
Distance from Boston: 50 minutes by car
Is it a staycation or a getaway? All we know is that Plum Island is our new favorite escape. For starters, the barrier island boasts Blue, a serene boutique hotel located right—like, RIGHT—on the beach. (There's even a hot tub steps away from the sand.) Then there's the newly opened Sunset Club, which overlooks both the salt marsh and the Merrimack River and offers tacos, oysters, and frozen cocktails year-round. Mostly you're there to walk the pristine trails of the island's Parker River National Wildlife Refuge, which is yet another reminder of why you live in New England. And if you crave mainland living, all the dining, shopping, and nightlife appeals of Newburyport are just a few minutes away.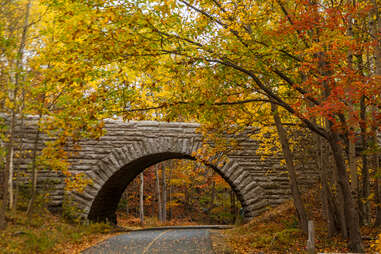 Distance from Boston: Four hours 30 minutes by car
Yes, this one demands commitment. But with great sacrifice comes great reward. For whatever reason, Mount Desert Island was suddenly on everyone's radar this summer, which meant sizable crowds, so you're smart to explore it at your leisure this fall. The Claremont Hotel is the place to stay—open through October 24, this newly revamped historic lodging is located on the quiet side of the island, with stunning water and mountain views, a spa, a heated outdoor pool, a croquet court, and more (check out the current "Exploration Then Libation" midweek package). Once you tear yourself away from the grounds, you're heading to Acadia for the unsurpassed kaleidoscope of foliage. Next it's into Bar Harbor for shopping, a scoop at Mt. Desert Island Ice Cream, and dinner at Havana (or the attached Parilla tapas bar if you struggle to get a table). Seeking one last fresh-from-the-sea lobster feast? Thurston's is far and away your best bet, with eating through mid-October.
Distance from Boston: One hour by car
The City on the Hill is a year-round gem, what with its ever-growing cocktail and dining scene, ample music venues, and sheer walkability. The Beatrice is downtown Providence's newest luxury boutique hotel, just-opened for bookings with a restaurant and rooftop bar soon to follow. The Dean Hotel remains the gold standard for boutique charmers, complete with a cushy cocktail bar and the city's sole karaoke lounge. But it's the dining that keeps bringing us back. Coveted tables include Persimmon, Rooftop at the Providence G, and Camille's (Italian is a must in Providence). We're also here for RiffRaff, a bar and bookstore in the Olneyville area. For those preferring art over food (who are you?), AS220 is fully reopened and buzzing, WaterFire runs through December, and the Rhode Island Distillers beckons beforehand (okay, so it's the art of distilling, but still). If it's chlorophyll you seek, take a trip to the Botanical Center, which showcases 12,000-square-feet of greenery, rain or shine.
Distance from Boston: 90 minutes by car
We can't guarantee that the Cliff Walk will be free of tourists, but come fall, the scenic pathway is at least a little emptier than usual. If visions of the narrow stretch still makes you nervous, simply roll down the car windows and head out on the 10-mile drive spanning real estate favorites like The Breakers—which is once again open for tours. The Wayfinder is the latest addition to the Newport hotel scene, a former motel-turned-adorable boutique hotel that boasts an onsite pool and Nomi Park, a resident restaurant with a tremendous cocktail program. If you crave a harbor sunset with a side of wine, head to the patio at The Reef, which is also equipped with fire pits. And if you're still not satiated, a trip to Newport Vineyards will do the job—it's especially gorgeous in fall. The city has also created a list of hiking and walking suggestions, a great way to explore the region and get your nature fix when all that indulging gets old.
Distance from Boston: 90 minutes by car plus a one-hour ferry ride
Extensive beach time and an Aquinnah sunset cure all that ails you, even in the off-season. Harbor View Hotel affords you the ability to take daily walks on Lighthouse Beach, Summercamp is the perfect seasonal jumping-off spot from which to explore funky Oak Bluffs, and The Edgartown Inn grants you luxurious modern farmhouse amenities just steps from the shops, bookstores, and restaurants of Edgartown. Bundle up and rent a boat from Island Spirit Kayak (which prefers you call ahead about off-season rentals) or reserve a pass to drink in the barrier beach pleasures of the Cape Poge Wildlife Refuge. There are 44 miles of refreshingly flat bike trails to traverse and, of course, sandy strolls are a must, be it South Beach, Inkwell, or Katama. And now's the time to catch up on the fine dining you might have missed out on during the summer, with top billing going to L'Etoile, Detente, and State Road.
Distance from Boston: Three hours by car
Stowe is the perfect introduction to the Green Mountain State's slower snow-less seasons, with all its hiking, biking, and other outdoor pleasures. Reasonable rooms abound at Field Guide, where you can stoke the wood fire pit at the end of the night, while The Lodge at Spruce Peak is always hard to resist, with its hot tubs and year-round pool. Grab your morning maple latte—and browse some local crafts—at Black Cap Coffee & Beer, then explore the 5.3-mile Stowe Recreation Path via foot or bike. Splurge on dinner at Hen of the Woods in Waterbury, one of the best restaurants in New England—just be sure to plan ahead with reservations. Drink and dine under the eaves at Idletyme Brewing's outdoor area, live out your Sound of Music dreams at the Von Trapp Brewery, or sample dry hard ciders galore at Stowe Cider. Before hitting the road, be sure to hit up the epic Stowe Farmers Market before it closes for the season on October 10.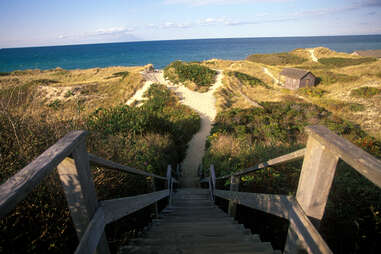 Distance from Boston: 90 minutes by car plus a one-hour ferry ride
Wide beaches and bike paths aplenty makes unplugging here a breeze. Add in the many walking trails and picnicking spots, and you can totally make a sleepy weekend of it. The three intimate Nantucket Resort Collection Properties—Chapman House, Veranda House, and Regatta Inn—are offering a new Dine and Stay package through October 31 that guarantees you a reservation at American Seasons, which was near-impossible to snag in the summer. 21 Broad and 76 Main are smaller in-town boutique hotels that allow you to bunk down with fewer people. Bring or rent your own two wheels—Young's Bicycle Shop is always a good bet—and cruise over to Bartlett's Farm, your one-stop-shop for curbside picnic provisions, and Cisco Brewers, your one-stop-shop for al fresco day-drinking (proof of vaccination required). Continue onto Siasconset Beach for some seal and wave gazing, and with fewer people about, now is also prime time to tackle the Sconset Bluff Walk. Buy a Nantucket red face mask at Murray's and then hit up all the other coveted tables in town before your favorite restaurants close around mid-October—we'll be aiming for Cru, The Proprietors, and Straight Wharf.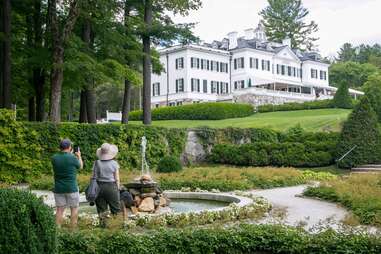 Distance from Boston: Two hours by car
Kripalu is back, baby, and ready to accept you with open arms. And it's safe to say our bodies could use some detox time. But when you plan your Berkshires visits around high-profile venues, it's easy to forget about the region's simpler pleasures. The vibrant foliage, the hiking trails, and the chiller-than-chill Western Mass vibes make for a restorative autumnal sojourn. The old Cranwell has been reborn as the Wyndhurst Manor and Club—its massive grounds make it easy to get your steps in, and the hotel is happy to set you up with a maple syrup tasting, among other fall pleasures. The Mount is the ideal spot to take a nature walk or forest hike (and experience more real estate envy), while the Pleasant Valley Wildlife Sanctuary will soothe your soul with the sites of wetlands and the sounds of birdsong. In-person dining options have been extremely limited during COVID, but Brava and Alta are both beautiful options. And you simply must visit The Bookstore, a funky, beatnik bookshop that invites browsing and, more importantly, sports an attached wine bar.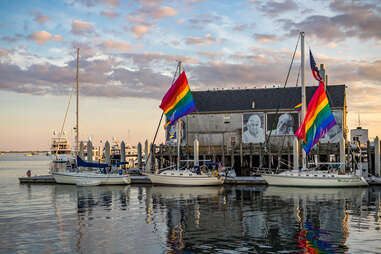 Distance from Boston: Two hours by car
It's high time to make up for lost debauchery—safely, of course (P-town is on top of it, given what happened earlier this summer). Women's Week is back in action this October, and Tea Dance is still going down every weekend through Halloween. Besides, the Cape is a revelation in fall, between the shockingly sane driving and pedestrian travel ease and zero Bugaboo traffic. And P-town is the peak of off-peak destinations, with plenty of guesthouses and restaurants still open and excited to serve. Warm up with a long stroll at Race Point or Herring Cove, then snag a last-minute table at Jimmy's Hideaway or Ross Grill (outdoor seating dependent on the weather), or leash up Spot and head to The Canteen, the go-to for a dog-friendly beachside meal. After waking up the next day and snagging breakfast sandwiches and lattes from Relish (pre-ordering is a must), cruise down 6A to Truro Vineyards and South Hollow Spirits, which is still open and humming—and has reportedly been mobbed with crowds for the last 18 months, so be prepared to wait.
Distance from Boston: Two hours by car
There's never a bad time to head to our beloved Portland, but it's been nothing short of a savior during the pandemic. Boutique gem The Blind Tiger, a converted mansion in the West End neighborhood, is currently offering weekly rentals. The Francis, another cozy option, feels more like a stately home than a hotel—and includes a spa that specializes in all forms of massage. The restaurant and bar scene has mightily suffered due to COVID-19, so spend generously at the best spots in town (and don't forget Portland's all-star lineup of craft breweries). Pregame at The Shop at Island Creek Oysters for bivalves and prosecco on tap or hit up Novare Res Bier Cafe for drinks, where the heat lamps are cranking in the incredibly well-stocked beer garden. End the night with bubbly and views at the new Luna Rooftop Bar (remember to bring your sweater). The next day, learn about lobstering and catching your own dinner on a Lucky Catch cruise or set off on a Windjammer sail courtesy of Portland Schooner.