11 Summer Getaways for When You Need to Escape Boston
From seaside towns to mountainous escapes, these are the best road trip destinations near Boston.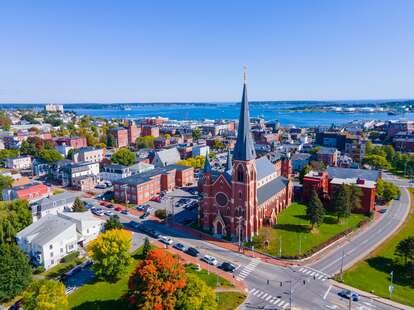 Portland, Maine

| Wangkun Jia/Shutterstock
Portland, Maine

| Wangkun Jia/Shutterstock
We sure have earned some getaway time. Whether you want to kick back in a quaint beach town, hit the spa, or explore great restaurants outside of Boston—it doesn't matter what it looks like, it just matters that we leave the house and get a hit of sunshine.
It's no secret that New England serves up some incredible summertime jaunts, all of which offer bucolic vistas—some mountainous, some coastal, some urban, some secluded—combined with terrific dining, shopping, and outdoor-ing options. So when it's time to escape Boston this summer, dip into your gas savings and book a weekend getaway to one of these perfect summer road trip destinations.
Maine is awash in liliputan seaward escapes, including 15 islands with year-round populations. We especially love Chebeague for its remoteness, its cheery but no-nonsense year-rounders, its bikeability (you're a fool to bring a car), and its sole lodging option: Chebeague Island Inn. The historic inn is almost comically picturesque, a yellow clapboard beacon atop an oceanside hill, with art-adorned rooms, a large stone fireplace, and a wraparound porch that demands multiple G&Ts. Yacht owners anchor offshore just to dine at the Inn's restaurant, which sources most of its ingredients from the ocean and the island's one farm. There's a reason Martha Stewart is a fan. If you can peel yourself out of your adirondack, hit the nine-hole golf course nearby, play some tennis on the clay courts at the Great Chebeague Tennis Club, or take a hike at low tide to Little Chebeague.
Distance from Boston: Three hours (two hours to Portland, one hour on ferry)
Where Nantucket and Martha's Vineyard are monied and steeped in Brahim tradition, Block Island has more of an easygoing vibe that is far less intimidating. Iconic clapboard homes and restored grand hotels mix it up with honky-tonk watering holes and a boating—not yachting—crowd. Also: there's terrific surfing. Who knew? Bike rentals are best to tour the island, nearly two-thirds of which are protected land. A hike along the Ireland-reminiscent Mohegan bluffs is a must, as are cocktails and cornhole at The Oar (go for either the $2 'Gansetts or the house special, the frozen mudslide). And wild but true: you can actually go meet a kangaroo on the island, thanks to the farm and aviary at the 1661 Inn, which also has camels, lemurs, and more.
Distance from Boston: Two and a half hours (90 minutes to Point Judith, one hour on ferry)
Whether you consider this trip a staycation or a true getaway, all we know is that Plum Island is our favorite escape every time of year. For starters, the barrier island boasts Blue, a serene boutique hotel located right on the beach, which lets you revel in those waves—there's even a hot tub steps away from the sand. Then there's the social scene of Sunset Club, a mostly outdoor bar that overlooks both the salt marsh and the Merrimack River and offers tacos, frozen drinks, and oysters year-round. Mostly you're there to walk the pristine trails of the island's Parker River National Wildlife Refuge, which is yet another reminder of why you live in New England and to spend a day at Plum Island Beach. Even if the weather doesn't cooperate, driving through the refuge alone is gorgeous and calming. And if you crave mainland living, all the dining, shopping, and nightlife appeals of Newburyport are just a few minutes away.
Distance from Boston: 50 minutes
The City on the Hill is a year-round gem with an ever-growing dining scene, ample music venues, and sheer walkability. The Beatrice is downtown Providence's newest luxury boutique hotel, with a top-notch restaurant and a private rooftop club open to members and hotel guests. The Dean Hotel remains the gold standard for boutique charmers, complete with the city's sole karaoke lounge. But it's the dining that keeps bringing us back. Coveted tables include Persimmon, Rooftop at the Providence G, and Camille's (Italian is a must in Providence). For those preferring art over food, AS220 is always buzzing, and WaterFire begins full lightings on June 25. If it's chlorophyll you seek, take a trip to the Botanical Center, which showcases 12,000 square feet of greenery, rain or shine.
Distance from Boston: One hour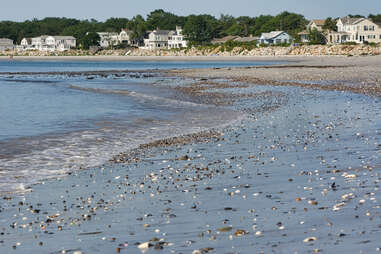 There's a reason Kennebunkport calls itself "the place to be all year"—but summer is really it's time to shine, never more so than now. Hotel options are nearly endless, but two newer spots represent both appealing ends of the spectrum—the Kennebunkport Captains Collection offers four restored stately mansions, while AWOL KPT provides a modern cabin experience just steps away from Dock Square. Add to that the just-opened The Wanderer, a charming collection of surf-inspired bungalows a short distance from Kennebunk Beach. Then, of course, there's Hidden Pond, a stunning 60-acre oasis with 20 bungalows newly decorated by menswear designer Todd Snyder (book your table at Earth now). There are plenty of opportunities for dining both indoor and out at spots like Striper's, Pedro's, Nunan's Lobster Hut, Old Vines Wine Bar, and the brand new Via Sophia by the Sea and Wandby Landing. And of course, opportunities to get out into nature abound in the summer: Wells Reserve is rife with guided tours as well as miles of well-marked trails, and a sandy sojourn at Goose Rocks Beach is an absolute must (the water isn't that bad!).
Distance from Boston: 90 minutes
We can't guarantee that the Cliff Walk will ever be free of tourists, but our insider's tip is to start your day early by hitting up the scenic pathway first thing. If battling tourists on foot makes you nervous, simply head out on the 10-mile drive spanning real estate favorites like The Breakers and Marble House—where parts of The Gilded Age were filmed. Speaking of: if you're feeling flush, you should book the new "Gilded Age Experience" at nearby Castle Hill Inn. The city has also created a list of additional hiking and walking suggestions, a great way to explore the region and get your nature fix before heading back into town for the requisite shopping and merry-making.
Distance from Boston: 90 minutes
Kripalu is back, celebrating its 50th year, and ready to accept you with open arms. And it's safe to say our bodies could use some detox time at this popular center for yoga and health. But Kripalu is far from the only draw: Tanglewood has also fully returned, with a pretty stellar lineup (see you there for the live performance of The Empire Strikes Back score!). But no need to spend a lot of money: The hiking trails and the chiller-than-chill Western Massachusetts vibes make for a restorative summer sojourn. The old Cranwell has been reborn as the Wyndhurst Manor and Club—its massive grounds make it easy to get your steps in, and the hotel is happy to set you up with golfing or tennis on-site. The Mount is the ideal spot to take a nature walk or forest hike (and experience more real estate envy). The Pleasant Valley Wildlife Sanctuary will soothe your soul with its nearly endless hikes. Brava and Alta are both beautiful dining options, and you simply must visit The Bookstore, a funky, beatnik bookshop that invites browsing—and wine drinking.
Distance from Boston: Two hours
There's never a bad time to head to our beloved Portland, but it's been nothing short of a savior during the pandemic. Boutique gem The Blind Tiger, a converted mansion in the West End neighborhood, is currently offering weekly rentals. The Francis, another cozy option, feels more like a stately home than a hotel—and includes a spa that specializes in all forms of massage. The restaurant scene has mightily suffered due to COVID-19, so spend generously at the best spots in town. Kick off your eating tour at The Shop at Island Creek Oysters for bivalves or hit up Novare Res Bier Cafe, where the garden offers a gorgeous respite from city life. The next day, learn about lobstering and catching your own dinner on a Lucky Catch cruise or set off on a Windjammer sail courtesy of Portland Schooner.
Distance from Boston: Two hours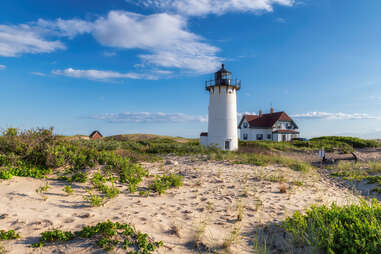 The Cape is Boston's go-to summertime destination—and we predict absolute insanity this season at the northernmost tip of the region. P-Town has long been an LGBTQ haven, so visiting in June is a no-brainer. But beyond Pride Month festivities, there's fun to be had all summer long. Warm up with a long stroll at Race Point or Herring Cove, then snag a last-minute table at Jimmy's Hideaway or Ross Grill, or leash up your pup and head to The Canteen for a dog-friendly beachside meal.
Distance from Boston: Two hours
Camden, Maine
This bucolic, oceanside town drips New England charm and feels just far enough away that you'll truly feel you've escaped the doldrums of your everyday life. Divide your time between recreation and indulgence. To earn the latter, take a walk around Camden Hills State Park or swim yourself silly in Megunticook Lake. After that, it's all about the food: restaurants like Long Grain, 40 Paper, and the James Beard Award-winning Primo, just south of the town, have burnished Camden's reputation as an event dining destination, and waterside options like Fresh & Co. and Peter Ott's also abound. If you want to extend your trip beyond a weekend getaway, Camden is also a great jumping-off point for exploring Midcoast Maine: from Lincolnville to Belfast.
Distance from Boston: Three hours
Stowe is a four-season town, yes, but summer is its time to shine. Field Guide is an excellent choice for lodging, where you can stoke the wood fire pit at the end of the night if there's a chill, as well as at the Talta Lodge, which also has dog-friendly rooms. That said, The Lodge at Spruce Peak is always hard to resist, with its hot tubs and a massive pool. Grab a morning maple latte and browse some local crafts at Black Cap Coffee & Beer, then explore the 5.3-mile Stowe Recreation Path on foot or bike. Splurge on dinner at Hen of the Woods in Waterbury, one of the best restaurants in New England—just be sure to plan ahead with reservations, especially if you want to dine on the small patio. Drink under the eaves in the outdoor area at Idletyme, or beer it up like your favorite do-re-mi'ers at the Von Trapp Brewery. The epic farmer's market will make you want to pull up stakes and move north, as will the gondola ride up, and hike down, Mount Mansfield.
Distance from Boston: Three hours by car
Meaghan Agnew
never spends a weekend at home if she can help it. You can follow her adventures by following her on
Instagram
.