Sponsored By

10 Perfect Winter Road Trips for When You Need to Escape Boston
From Providence's stellar restaurant scene to cozy Maine getaways.
Sponsored By

When the weather cools down and Boston winter is in full swing, all we can think about is some getaway time. Spa time, ski time, eating time—it doesn't matter what it looks like, it just matters that we leave the house and our responsibilities for a weekend (or five).
We've rounded up some of our favorite winter jaunts, all of which offer divine vistas combined with terrific dining, shopping, and outdoor-ing options. There are ski destinations galore outside of our little city, and it's also a great time to revisit some of your favorite summer destinations with a lack of traffic, steep hotel prices, and clueless tourists. So here's a roundup of some of the best weekend getaways to take this season.
Distance from Boston: 50 minutes by car
Is it a staycation or a getaway? All we know is that Plum Island is our favorite escape every time of year. For starters, the barrier island boasts Blue, a serene boutique hotel located right—like, RIGHT—on the beach, which lets you revel in those wintertime waves. (There's even a hot tub steps away from the sand.) Then there's the newly opened Sunset Club, which overlooks both the salt marsh and the Merrimack River and offers tacos and oysters year-round. Mostly you're there to walk the pristine trails of the island's Parker River National Wildlife Refuge, which is yet another reminder of why you live in New England. If the weather sucks, driving through the refuge alone is gorgeous and calming. And if you crave mainland living, all the dining, shopping, and nightlife appeals of Newburyport are just a few minutes away.
Distance from Boston: One hour by car
The City on the Hill is a year-round gem with an ever-growing dining scene, ample music venues, and sheer walkability. The Beatrice is downtown Providence's newest luxury boutique hotel, with a top-notch restaurant and a private rooftop club open to members and hotel guests. The Dean Hotel remains the gold standard for boutique charmers, complete with the city's sole karaoke lounge. But it's the dining that keeps bringing us back. Coveted tables include Persimmon, Rooftop at the Providence G, and Camille's (Italian is a must in Providence). For those preferring art over food, AS220 is fully reopened and buzzing and WaterFire runs through December. If it's chlorophyll you seek, take a trip to the Botanical Center, which showcases 12,000-square-feet of greenery, snow or shine.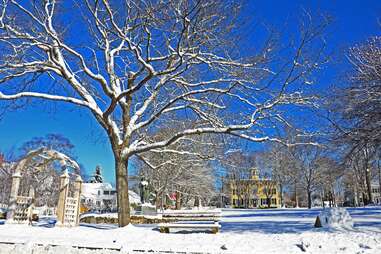 Distance from Boston: 90 minutes by car
There's a reason Kennebunkport calls itself "the place to be all year"—it truly has become a four-season destination. Hotel options are nearly endless, but two new spots represent both appealing ends of the spectrum—the Kennebunkport Captains Collection offers four restored stately mansions, while AWOL KPT provides a modern cabin experience just steps away from Dock Square. Either is the perfect home base to experience this year's 40th-anniversary celebration of Christmas Prelude from December 2–12, complete with tree lightings, craft fairs, scavenger hunts, and Santa parades. There are still plenty of opportunities for dining both indoor and out at spots like Striper's and Pedro's. Opportunities to get out into nature abound in the winter: Wells Reserve is rife with guided tours as well as miles of well-marked trails, a sandy sojourn at Goose Rocks Beach is an absolute must, and Riverhurst Farm offers private guided beach rides for up to two people.
Wherever you go, your phone goes, so you'll need on-the-go coverage for all your big adventures. Being America's leader in 5G coverage, T-Mobile has you covered. In fact, T-Mobile has the most interstate highway miles with 5G (92% coverage to be exact). So go where the open road takes you — and be confident you'll stay connected to what matters most.
See 5G device, coverage, & access details at T-Mobile.com
Distance from Boston: 90 minutes by car
We can't guarantee that the Cliff Walk will ever be free of tourists, but come winter, the scenic pathway is at least a little emptier than usual—and snow only amplifies its nautical charms. If visions of the icy narrow stretch make you nervous, simply head out on the 10-mile drive spanning real estate favorites like The Breakers—which is once again open for tours. The Wayfinder is the latest addition to the Newport hotel scene, a former motel-turned-adorable boutique hotel that boasts the restaurant, Nomi Park. If you crave a harbor sunset, head to the patio at The Reef, which is equipped with fire pits and breathtaking views. The city has also created a list of additional hiking and walking suggestions, a great way to explore the region and get your nature fix before heading back inside for months.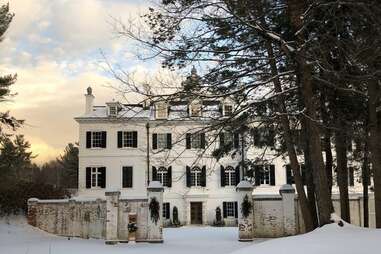 Distance from Boston: Two hours by car
Kripalu is back, baby, and ready to accept you with open arms. And it's safe to say our bodies could use some detox time, especially post-holidays. But Kripalu is far from the only draw: the hiking trails and the chiller-than-chill Western Massachusetts vibes make for a restorative winter sojourn. The old Cranwell has been reborn as the Wyndhurst Manor and Club—its massive grounds make it easy to get your steps in, and the hotel is happy to set you up with tubing or cross-country skiing excursions, among other winter pleasures. The Mount is the ideal spot to take a nature walk or forest hike (and experience more real estate envy), especially during Nightwood, its outdoor light and sound experience, running through December 31. The Pleasant Valley Wildlife Sanctuary will soothe your soul with its solitude and winter wonderland sites. Brava and Alta are both beautiful dining options, and you simply must visit The Bookstore, a funky, beatnik bookshop that invites browsing.
Distance from Boston: Two hours by car
There's never a bad time to head to our beloved Portland, but it's been nothing short of a savior during the pandemic. Boutique gem The Blind Tiger, a converted mansion in the West End neighborhood, is currently offering weekly rentals. The Francis, another cozy option, feels more like a stately home than a hotel—and includes a spa that specializes in all forms of massage. The restaurant scene has mightily suffered due to COVID-19, so spend generously at the best spots in town. Kick off your eating tour at The Shop at Island Creek Oysters for bivalves or hit up Novare Res Bier Cafe, where the heat lamps are cranking in the garden. The next day, learn about lobstering and catching your own dinner on a Lucky Catch cruise or set off on a Windjammer sail courtesy of Portland Schooner.
Distance from Boston: Two hours by car
The Cape is Boston's go-to destination—even in the dead of winter. In fact, it's even better this time of year, between the shockingly sane driving and lack of car and foot traffic. And P-town is the peak of off-peak destinations, with plenty of guesthouses and restaurants still open and excited to serve. Warm up with a long stroll at Race Point or Herring Cove, then snag a last-minute table at Jimmy's Hideaway or Ross Grill, or leash up your pup and head to The Canteen for a dog-friendly beachside meal.
Manchester, Vermont
Distance from Boston: Three hours by car
If you're looking to do all the winter activities, Manchester is your one-stop ticket. Downhill skiing? Check and check, thanks to easy access to both Bromley and Stratton mountains. Cross-country skiing? Check. Tubing? Absolutely. Dog sledding? Yup. There are even sleigh rides to be had at Taylor Farm, a 180-year-old working dairy farm. The Equinox Golf Resort and Spa, a renovated historic inn, is the landing spot from which to explore it all: The outdoor fire pit means you can watch the snowflakes fall down around you, and the pool is indoors, so you'll get your swim time snow or shine. The hotel is also one of three places in the US where you can try The Land Rover Experience, which offers off-road driving lessons in $100,000-plus cars in the snow. Wrap up your day with a meal at the Silver Fork, a revelatory gem of a restaurant inside an old library space, with a seasonal menu with both Caribbean and European influences.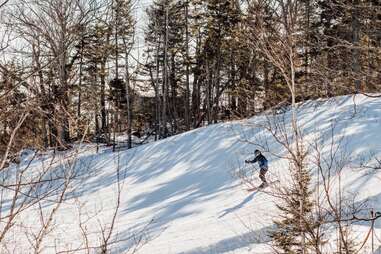 Camden, Maine
Distance from Boston: Three hours by car
There's exactly one place in America where you can ski while gazing over the ocean, and Camden is it. Camden Snow Bowl may be modest in size, but its charms are incalculable. Plus, it hosts the annual U.S. National Toboggan Championships, returning after a year off from February 11–13—and the toboggan shoot is open to the public the rest of the time. Otherwise, this bucolic, oceanside town drips New England charm, even in the dead of winter. Divide your time between recreation and indulgence. To earn the latter, cross-country ski around Camden Hills State Park or ice skate on Megunticook Lake if the conditions are right. After that, it's all about the food: restaurants like Long Grain, 40 Paper, Fresh & Co., and the James Beard Award-winning Primo, just south of the town, have burnished Camden's reputation as an event dining destination. Camden is also a great jumping-off point for exploring Midcoast Maine: from Lincolnville to Belfast.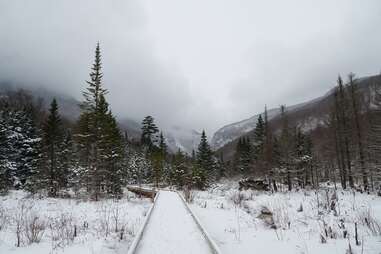 Distance from Boston: Three hours by car
Stowe is a four-season town, yes, but let's be honest: winter is its time to shine. Field Guide is an excellent choice for lodging, where you can stoke the wood fire pit at the end of the night, as well as at the brand-new Talta Lodge, which also has dog-friendly rooms. That said, The Lodge at Spruce Peak is always hard to resist, with its hot tubs, a year-round pool, and ski-in ski-out access to the mountain. Grab a morning maple latte and browse some local crafts at Black Cap Coffee & Beer, then explore the 5.3-mile Stowe Recreation Path on foot or cross-country ski. Splurge on dinner at Hen of the Woods in Waterbury, one of the best restaurants in New England—just be sure to plan ahead with reservations. And whether you've actually earned it or not, be sure to check out the apres-ski scene at Idletyme and Doc's Pond.
Meaghan Agnew
never spends a weekend at home if she can help it. You can follow her adventures by following her on
Instagram
.