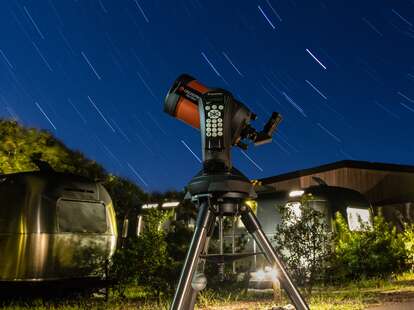 AutoCamp Cape Cod

| Photo by Timothy Little, courtesy of AutoCamp Cape Cod
AutoCamp Cape Cod

| Photo by Timothy Little, courtesy of AutoCamp Cape Cod
The night sky is an infinite sea of celestial enchantment and has a way of blanketing us with a sense of calm and quiet wonder. And even though Boston's bright lights can make local stargazing difficult, there are still plenty of places in and around town where staring starry-eyed into the ether is still a stellar experience.
Nebula newbies can start with a free app like SkySafari or take advantage of Boston-area universities' courses. MIT, for example, offers the free online course Hands-On Astronomy: Observing Stars And Planets. From there, planning a night of cozy constellation contemplations—or spending the night counting the stars in the Milky Way—is easy. Your only decision is how far you want to travel. Hop on the T for the city's phenomenal observatories or take a road trip away from the city lights, where the au natural darker skies will leave you in awe.
Whether you want to see the annual autumn light show associated with the Orionids Meteor Shower or spend the night sipping beer and making always-funny Uranus jokes, we've rounded up all the best places for stargazing in and near Boston.
Stargazing Spots in Boston
Coit Observatory at Boston University
Fenway–Kenmore
Since 1967, Boston University's Coit Observatory has been hosting free observation nights open to students and the surrounding community. Experts guide visitors who use telescopes and binoculars to view the night sky in breathtaking clarity. Though free, space and equipment are limited, and tickets drop at 11 am the Thursday before each event. Naturally, the weather pretty much dictates whether the event will proceed as scheduled, so you can call 617-353-2630 two hours before to check.
Museum of Science Sea the Stars Cruise
Seaport District
One way to get away from the city light is to hop on a night cruise for a lil' stargazing, and maybe have a few cocktails. Boston Harbor City Cruises and the Museum of Science combined superpowers to make that happen and treat guests to a presentation and some celestial strategy. Bring a light jacket, binoculars, and money for the cash bar—and let the Museum of Science Astronomy Educators take it from there. Tickets start at $65.
Stargazing Spots Within 2 Hours of Boston
Astronomy Nights at Arlington's Robbins Farm Park
Arlington
The folks at Arlington Astronomy host regular night-sky gatherings at city-adjacent Robbins Farm Park. It's dark (duh), so bring a flashlight to make your way through the park and meet up with the group. It's a very casual vibe, making it easy to let your inner Galilei shine bright. All of this is possible only if Mother Nature cooperates, of course. Clouds are a deep space dealbreaker. The outings are free, but organizers ask one favor—stash that flashlight away during stargazing time.
Distance from Boston: 25 minutes
Stargazing at AutoCamp Cape Cod
Cape Cod
Say yes to the gravitational pull of adventure and take a road trip down to the Cape. Score an Airstream, cabin, or glamping tent at AutoCamp Cape Cod, where the menu of experiences is as vast as the universe. Join local astro-landscape photographer Timothy Little who'll school you in Astro-awesomeness, including how to spot the Milky Way and deep-space objects. Pack your camera and curiosity, and the universe is your (Wellfleet) oyster.
Distance from Boston: 1 hour and 30 minutes
The Astronomical Society of Northern New England Starfield Observatory
Kennebunk, ME
The Astronomical Society of Northern New England (ASNNE) calls Kennebunk home, but members' hearts belong to the sky above—and they want to share that with everyone. Kennebunk is a quaint seaside town known for its artsy shops, beaches, coastal hikes, dog-friendly restaurants, and cozy lodging like the Wanderer Cottages. Combine that with ASNNE's Starfield Observatory, annual autumn three-day Starfest, monthly solar observation gatherings, and it's perfect for anyone who ever looked up at the sky and wondered what magic binds the universe together.
Distance from Boston: 1 hour and 30 minutes
Lake Solitude at Mount Sunapee
Newbury, NH
Watch the night sky while sitting on the quiet shores of Lake Solitude. A short hike from the base of Mount Sunapee, the lake's calm water creates a cosmic mirror of sorts, where you can watch stars skim across the sparkly night sky. After your evening of lakeside stargazing, head to Bluebird Sunapee, the hotel closest to the mountain. You can regale each other with lunar tales while indulging in the hotel's Night by the Fire experience, complete with fire pits and plenty of ooey-gooey s'mores.
Distance from Boston: 1 hour and 30 minutes
Frosty Drew Observatory and Science Center
Charlestown, RI
The Frosty Drew Observatory and Science Center in Rhode Island is the regional darling of the astronomy scene, and rightly so. The organization's prolific lineup of events, stargazing, and meteor shower parties draws visitors from New England and beyond. They also invite the public into the observatory for Summer Stargazing Nights every Friday, though the time changes with the seasons. Sometimes they even shake it up and host events with live music under the starry sky. Afterward, drive just 15 minutes to the Rhode Island shoreline and the comfort of Weekapaug Inn—a favorite among nature lovers.
Distance from Boston: 1 hour and 45 minutes
RVshare x Hipcamp
Various locations
Those looking to take their love of stargazing on the road for a truly immersive experience can rent an RV or camper from RVshare. During check-out, you'll have the chance to search through Hipcamp's RV-friendly campsite rental locations. Hipcamp's map capabilities include a dark sky feature, allowing you to select a campsite with minimal light pollution, like the 30-acre dreamscape of TurtleBend Farm in Russell, MA. So, pack your binoculars and telescope, and head out on an easy breezy interstellar-inspired road trip.
Distance from Boston: Varies
Stargazing Spots Within 4.5 Hours of Boston
Seesaw's Lodge
Peru, VT
Three hours from Boston, in the town of Peru, Vermont, a 100-year-old inn offers dark sky secrets to its visitors. The fully restored Seesaw's Lodge features just 16 guest rooms but endless astrological delights. There's minimal light pollution, and guests can easily see the Big Dipper and, depending on the season, the Milky Way. Upon request, the lodge will bring an astronomy expert on property for an expert-led stargazing sesh. Alternatively, count shooting stars while soaking in the cedar hot tub, nestled in the woods, or sitting by the fire pit and noshing their signature treat—maple s'mores.
Distance from Boston: 3 hours
Loines Observatory
Nantucket
Thirty miles offshore, Nantucket is a floating haven for amateur astronomers—or folks just looking to lay on the beach and bask in the star dust vibes. Due to its distance from the mainland, Nantucket's skies are dark enough to observe the constellations or meteor showers. The island is home to the Maria Mitchell Association and its Loines Observatory, named for the first female astronomer in the United States who discovered the comet "1847 VI" while stargazing on Nantucket in 1847. Upon request, guests at Greydon House, and other local inns, can have private access to the observatory and its refurbished antique 8-inch Alvan Clark telescope and a 24-inch research telescope.
Distance from Boston: 3 hours and 45 minutes
New England's official International Dark Sky Places
Maine
The global authority on light pollution, the International Dark-Sky Association, certifies dark sky locations across the globe. The distinctions include parks, sanctuaries, reserves, places, and communities. Luckily, we have two certified dark sky locations near Boston—AMC Maine Woods (park) and Katahdin Woods and Waters National Monument (sanctuary). Set your nav for a four-hour drive to Medawisla Lodge & Cabins to experience the best of AMC Maine Woods and its interstellar evening escapades. Or—with an investment of just an additional hour of driving—you'll reach the dark sky sanctuary of Katahdin Woods and Waters National Monument. Camp in a tent under the stars or stay at nearby Mt. Chase Lodge.
Distance from Boston: 4 hours and 30 minutes to AMC Maine Woods; 5 hours to Katahdin Woods and Waters National Monument
Melanie Carden is a private chef turned travel writer. She's equal parts adrenaline-seeker and
Golden Girls
vibes. You can find her trying new things, thrifting for treasures, grinding it out on a trail, or lounging on a picnic blanket—Aperol spritz in hand. She's fickle about social, but the sporadic nuggets are worth the wait—cricket tacos, anyone?